Kimberly
For Kimberly Schlapman, of country music sensation Little Big Town, music and family have always gone together arm in arm
Written by CAROL LINN
Photography by GEORGE HOLZ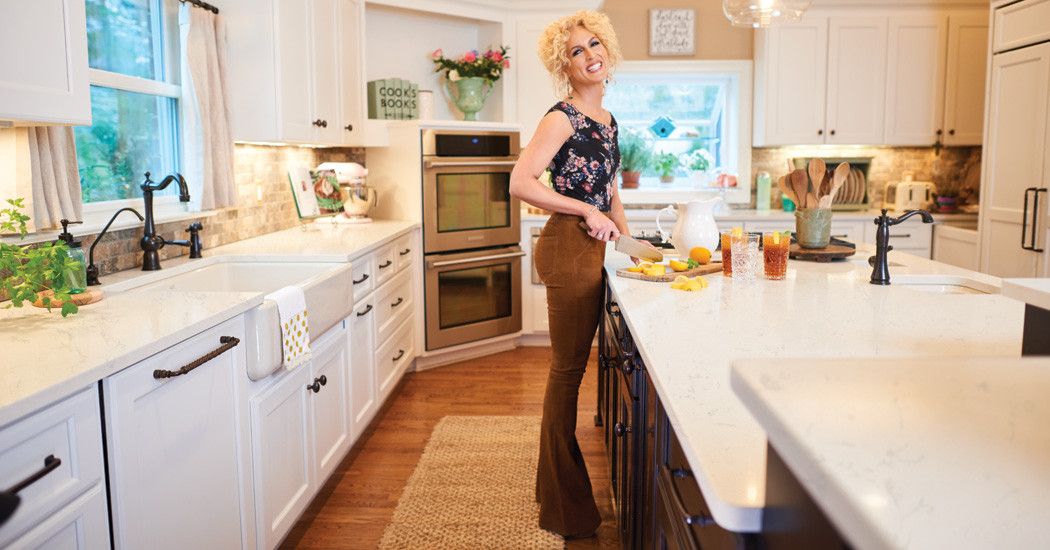 Sometimes the biggest sign of success is being able to return to the place you had to leave in order to succeed. Country music star Kimberly Schlapman left her small hometown of Cornelia, Georgia, to attend college in Alabama and then moved to Nashville in pursuit of musical fame. She got what she wanted. And then some. Little Big Town, the band she co-founded in 1998, has sold over 1.5 million records and won a slew of Grammy, Academy of Country Music, and Country Music Association awards. As if that weren't enough, Kimberly has used her culinary skills to host a Great American Country Network cooking show and author a cookbook, Oh Gussie! Cooking and Visiting in Kimberly's Southern Kitchen. She's also collaborated on a successful line of vintage-inspired kitchenware, also called "Oh Gussie!" (The expression is an all-purpose Southern exclamation, usable whether you've just won an award or dropped a heavy can on your foot.)
But at 46, her biggest joy is that soon she'll get to move back home. The Schlapman family—Kimberly, husband Stephen, and daughter Daisy—currently lives in Nashville, but within the year construction will begin on their new "forever home" on four South Carolina acres just an hour away from her hometown. It will offer breathtaking lake views and a great room with high ceilings and a fireplace will lead to a spacious kitchen with a generous farm sink. In the kitchen will be an island big enough for cooking and hanging out, and lots—and lots—of counter work space, all of it covered in Cambria Torquay™ from the Marble Collection™. "Food has been a passion since I was a tiny girl," says Kimberly in her soft drawl. "In my family, almost everyone cooks, and everybody likes to get in on the action—chopping, stirring, flour flying! I love that I'll be able to have everyone in there beside me."
Music shaped the trajectory of Kimberly's life, but family has always been at its core. She began playing piano at 8, and by 11 took over the job at church when the regular pianist left. "The congregation was small and very patient with me," she says, laughing. (Today, she still sometimes relaxes by playing piano.) When she began to dream of a singing career at 12, she entered a series of talent contests across the South. "My daddy drove me all over the place, and my mama always put a note in my bag that said 'You can do it!'" she recalls. All her relatives lived nearby and a lot of her life revolved around church. "On Sunday, we'd always go to one of my grandmothers' houses for dinner," she explains. "I was kinda the only one who left."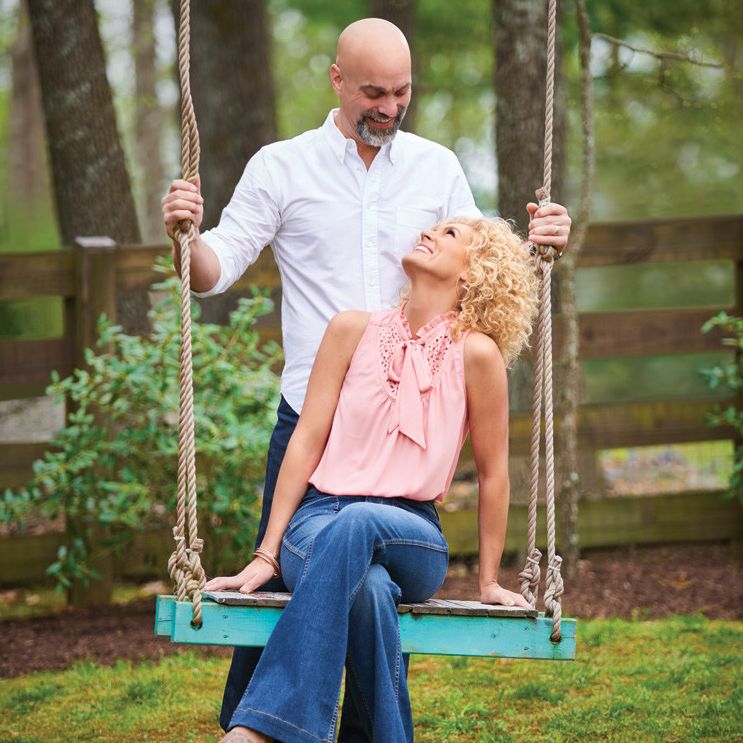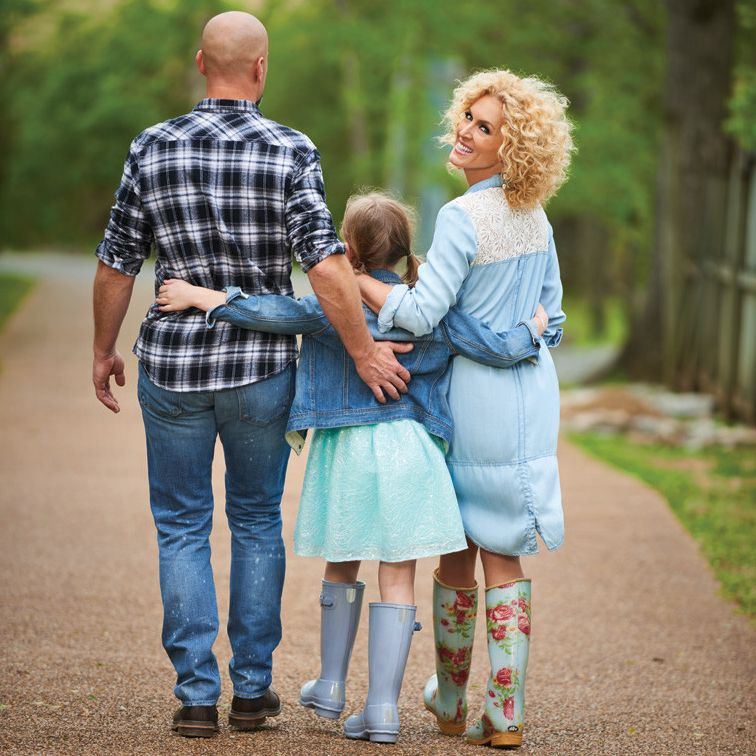 Over the years, Little Big Town has become its own extended family. Kimberly formed the band with her college friend Karen Fairchild, who she has described as being so close to that "we can read each other's minds and don't even have to speak a word." Jimi Westbrook and Phillip Sweet completed the group, and by 2006, Fairchild and Westbook had married. The group's intimacy is both emotional and very physical—during tours in the early days, 12 musicians and crew members all shared one bus. That closeness, however, provided Kimberly with the support she desperately needed when tragedy struck. In 2005, the year Little Big Town broke through with a Top Ten single, "Boondocks," Kimberly's first husband, Steven Roads, the band's lawyer, died suddenly of a heart attack. An unexpectedly deep source of solace came from one crew member, Stephen Schlapman, who'd lost a close friend and understood her grief. The friendship blossomed into love, and a year later, Kimberly and Stephen married. Her husband, she now says, "fixed me when I was in shreds." In 2007, their daughter, "the light of our lives," Daisy Pearl, was born.
Every working woman worries about balancing motherhood and career, but the equation's even more complicated when you spend your working life out of a bus. She credits country star Martina McBride, a mother of three who toured with Kimberly "while very pregnant," with showing her how she could keep her family around her even while on the road. "I knew that's how I wanted to live my life—to have my baby with me every second that I could." In fact, Daisy, who arrived three weeks early, was literally born on tour, just after a Little Big Town performance in Phoenix, Arizona. Daisy, now 8, is homeschooled so she can travel everywhere with her mother. ("We tried sending her to traditional kindergarten, but we missed each other too much," says Kimberly.) Stephen sometimes comes along too. There are two more children on the road with the band as well, Karen and Jimmy's little boy, and Phillip's little girl. Fortunately, Little Big Town's ever-growing success now allows the band to have a four-bus fleet.
"It sounds crazy, doesn't it?" Kimberly says happily. "Some venues are lush and spacious and the kids can ride their scooters and it's wonderful. Sometimes there's no backstage and we're stuck on the bus all day. The worst is when it's also raining!" It's a challenge, she admits, but adds: "We try to make life as normal as we can."
The Schlapman family schedule shows no signs of easing. In the summer and fall of 2016, her "Oh Gussie" line of utensils, décor, and dishes for Cracker Barrel Old Country store will expand to include a few clothing pieces, and even a rustic end table. Many items are embellished with daisies, in honor of her beloved daughter. And Little Big Town is more in demand than ever. The song "Girl Crush" from its sixth album
Pain Killer
was named American Country Countdown's Digital Song of the Year and a finalist for Billboard's Top Country Song. The band's 2016 tour covers cities from Washington D.C. to Wichita to Las Vegas. But on the rare, precious days when Little Big Town isn't traveling and the world doesn't call, the Schlapmans look forward to just being together. "When I'm home, I want to be
at home
," Kimberly says. "I just soak it in as much as I can." The first stage of their lakefront home has been completed, a barn-like guest house designed by Stephen, with a bedroom and kitchen upstairs, and lots of room for visitors to park. Soon, the dream house itself will be done, and Kimberly will once again be at home, surrounded by those she loves. "Family will always be my top priority," she says emphatically. "My amazing husband—my soul mate—my precious daughter, my parents, sister, brother, and their families. I know that the wonderful success I've found could fade away. But the people who love me will always be by my side."
"Food has been a passion since I was a tiny girl," Kimberly says. "In my family, almost everyone cooks, and everybody likes to get in the action–chopping, stirring, flour flying!"
JOY OF COOKING
Kimberly Schlapman admits that the choice of so many stunning Cambria designs made it hard to pick just one for the kitchen of her soon-to-be-constructed lakeside home. Finally, she opted for Torquay™ on the kitchen counters and backsplashes: "It's fresh and neutral, and goes with absolutely everything," Kimberly says. "I love its classic look." And in her redesigned bathroom, Kimberly chose a new Cambria design, the soft gray of Carrick™ from the Marble Collection™.
But Kimberly knew from the start that durable, beautiful Cambria natural stone was exactly what she wanted for the extensive counters in her new lakeview home. That's because the Schlapman family really uses its kitchen. On the rare days when the singer isn't on tour, "I'm at home, in the kitchen. It's the heart of my home, for sure. In my extended family, when someone is sick or hurt, or happy and celebrating, we cook. Cooking is how we take care of each other." Even the singer's eight-year-old daughter, Daisy, gets in on the action.
"I used to stand on a stool and help my mama make biscuits and brownies when I was a little girl," Kimberly recalls. "I've had Daisy sitting on the counters next to me since she was so little she sat in a jump seat. She loves to bake, and she's been inventing her own recipes since she was three. At first...whoo, she was very heavy on the baking soda and sometimes I had to pretend to eat what she made! But now she's really good at it. She still likes to climb up on the counter to help me. Some people might think that's crazy, but I love it."
The fact that the Schlapman's kitchen is the center of their home and entertaining life made the fact that Cambria is strong, nonstaining, and nonabsorbent especially appealing. "Durability is a huge issue to me," Kimberly explains. "Because our new home is on the lake, I know we'll have lots of guests and I won't always be there to help clean up. With Cambria, I know there won't be damage or stains. I know that the company's standards are high, and they don't compromise on quality."
Kimberly also values the fact that Cambria is American made and a family-owned company. "When the band picks opening acts for our tours, it's important that they're wholesome, and I feel the same way when it comes to associating myself with a brand," she says. "My child will learn who and how to be by who her mama is. With Cambria, I know that we share a strong belief in family values.
"I can't wait for my new kitchen to be complete," she adds. "I can't wait to have my whole family in there with me, everyone loud and chaotic and crowded together at the counters, laughing and having a ball and making a mess."