A Can't-Miss, One-Of-a-Kind Cambria Annicca Quartz Shower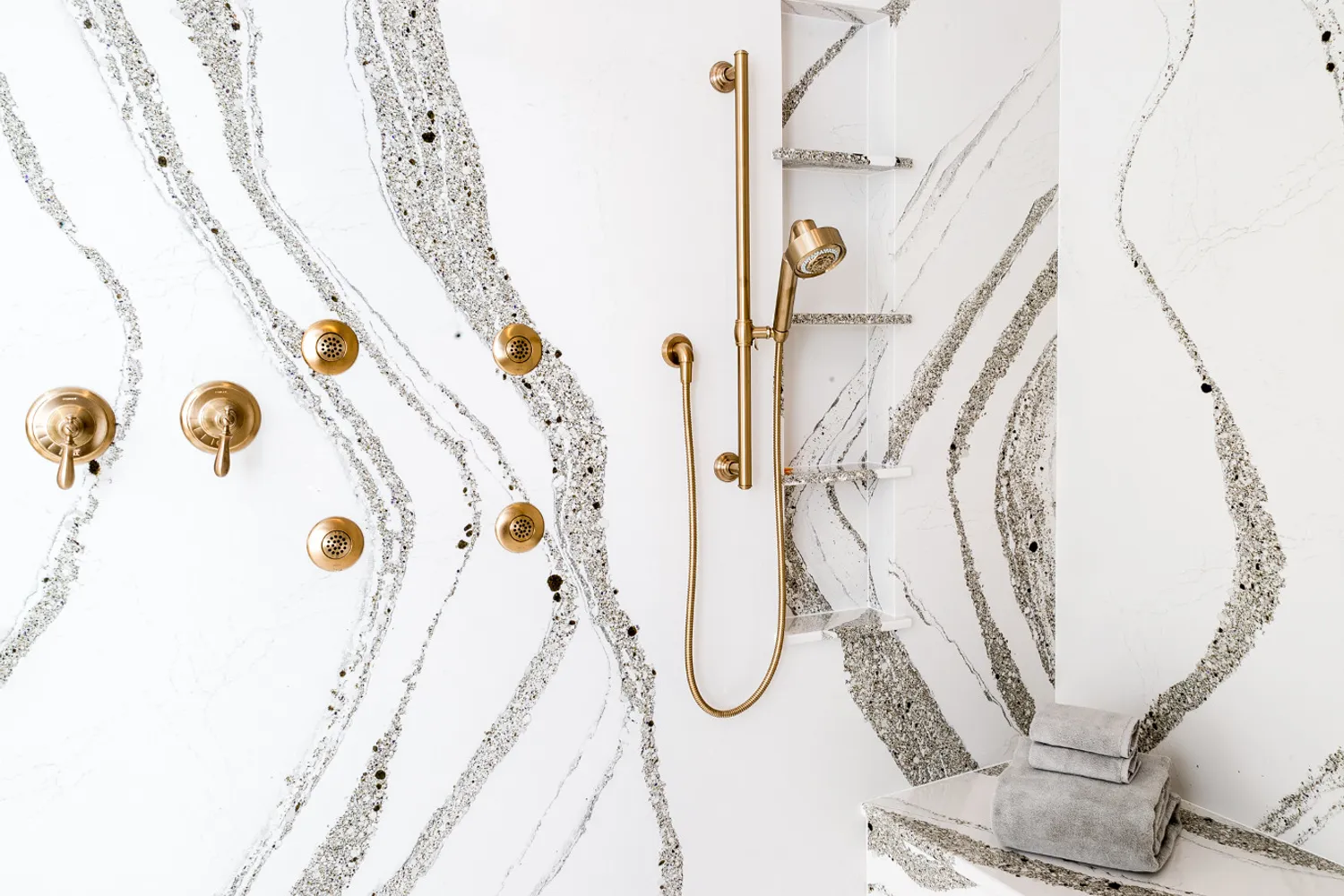 For those seeking an ALTERNATIVE TO MARBLE, Cambria's popular ANNICCA™ design is the perfect choice. Made of quartz, not only is the stone strong, stain resistant, and maintenance free, but its neutral white background with subtle gray veining and flecks of sparkling gold and purple offer a new spin on classic marble.
That's why, when the owners of a lakefront property chose to knock down the existing structure and start from scratch to build their dream house, they chose to feature Annicca prominently throughout the redesign. Oh, and the homeowner—a Minnesota native—wanted to work with local, American-made brands like Cambria, with its rich, family-owned legacy.
Marvelous Master Bath with Quartz for Shower Walls
"Annicca has gorgeous bold veining, so we knew it'd be a showstopper with the size of the shower," said interior decorator Abby Tallman, founder of HAPPY INTERIORS GROUP, who also used Annicca for the double sink and makeup vanities in the room. "Annicca has gold flecks that tie in perfectly with the brushed bronze fixture choices, plus it has a lot of white to complement the white cabinetry and flooring. We wanted something American made that would hold up well, be durable, and that we wouldn't have to be careful about or continually care for, like with marble or granite."
While not an especially unusual application—Cambria's nonabsorbent, full-slab material is perfect for bathrooms since no steam or moisture can escape through its panels and there's no grout to clean—the size and shape of the shower proved to be a challenge and required behind-the-scenes engineering.
The pièce de résistance is in the master bath where 300 square feet of Cambria's Annicca design is prominently featured in the standout walk-in steam shower, the size of which was increased to accommodate a bench.
Cambria can be installed on shower walls, shower curbs, shower casings and jambs, along with overhead applications, but the enclosure must be waterproofed first. Cambria recommends using a modified latex mortar as a bonding material, although silicone can also be used as a bonding agent.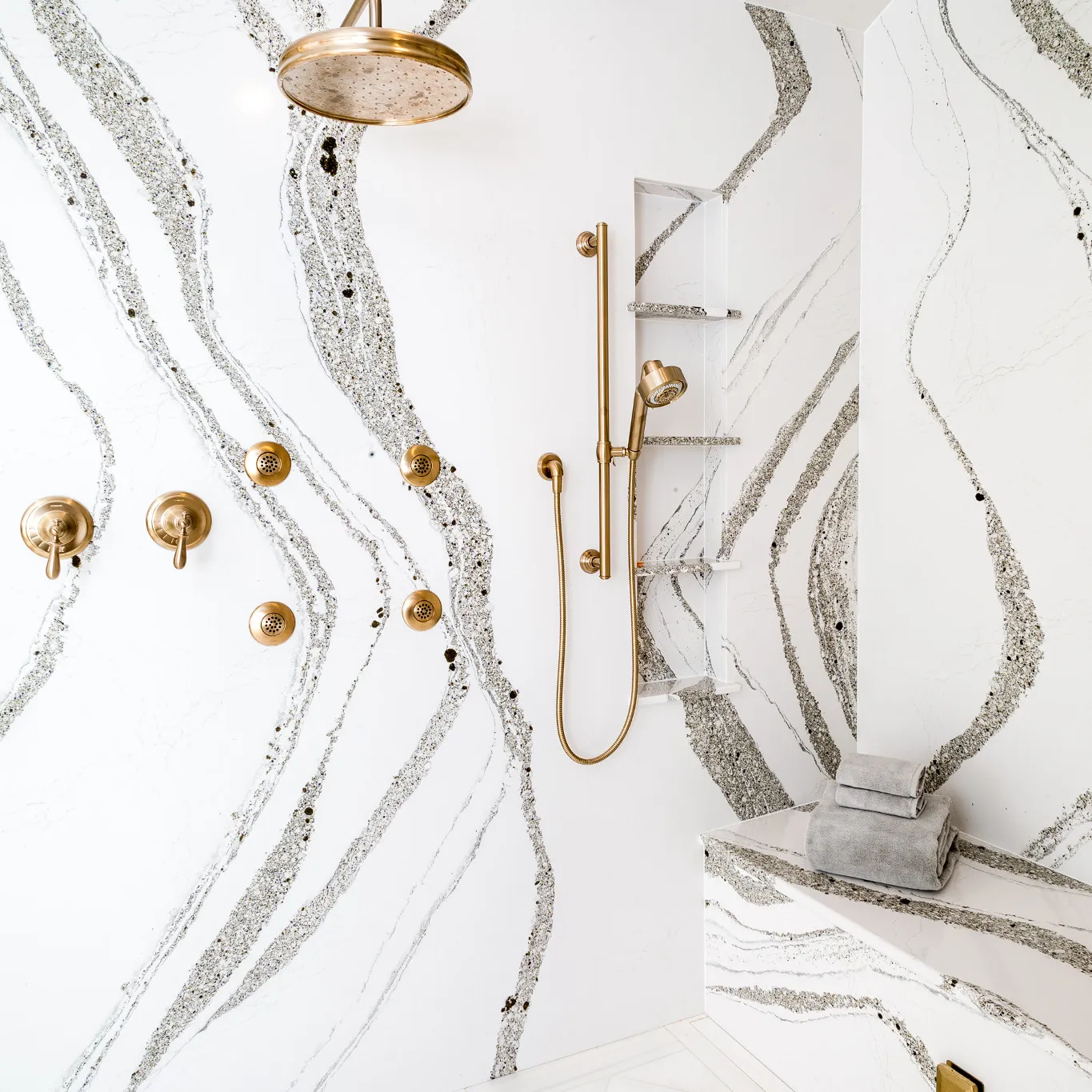 Annicca shower walls, bench, and shelving.
"Most showers have flat ceilings," explained fabricator Cory Thompson of FABRICATORS UNLIMITED. "They wanted an A-frame, angled roof, so it wasn't just slanted."
The 280-pound slabs had to be floating in place, so to speak, and the walls had to be capable of supporting the stone's weight. Thompson and his team made a custom bracket out of stainless steel to support the pieces along the eight-foot-long ceiling and put in a special request to Cambria to mill down the material to one-centimeter thickness. But on the horizontal surfaces, like the bench, the team stuck with three centimeters and, on the vertical surfaces, with two centimeters.
Cambria Annicca walk-in shower surround.
"On the Annicca pattern, Cambria will usually only go to two centimeters because of its fragility," said Thompson. "We originally thought about four pieces in quadrants on the ceiling to keep the weight down, but we didn't want to put seams together above our head. Because it wasn't a working or load-bearing surface, Cambria allowed the request to go through. It made the slabs considerably lighter. When holding them above your head at eight feet in the air, this made the project bearable."
What also made the project bearable was Cambria's Slabsmith technology, which Cambria Belle Plain, MN, FABSHOP plant manager Casey Reeder used to ensure Annicca's design flowed throughout the entire shower, like in the seams and corners, and was dynamic and jumped out at you.
"We inspect each slab, photograph it, and then import it into our system," said Reeder, who completed the job within Cambria's standard 10-day timeframe. "We spent probably 8 to 12 hours moving pieces around and then also dry seamed all of the pieces together to make sure it looked good both in Slabsmith and also live. It had to be aesthetically pleasing to the eye with no veins that died out."
Three walls were cladded with the directionality running lengthwise and vertical veining. The back wall was contradictory at the ceiling, or in line with it.
"Cambria makes large enough slabs to do panels, which make for a better surface and a better application," said Thompson. "It's an amazing look and product. I'm sure the homeowners had other options that would have been less costly and less work and involvement, but they went the best route and will be happy with the longevity."
Throughout the Home
Outside of the master bath, the homeowners installed Cambria throughout the entire light and airy space. NOT JUST FOR COUNTERTOPS, the oversize fireplace features Cambria SUMMERHILL™, which mixes several shades of white but also has large veins of silver and black sparkles that shimmer in the reflection of the lake from the room's picture window.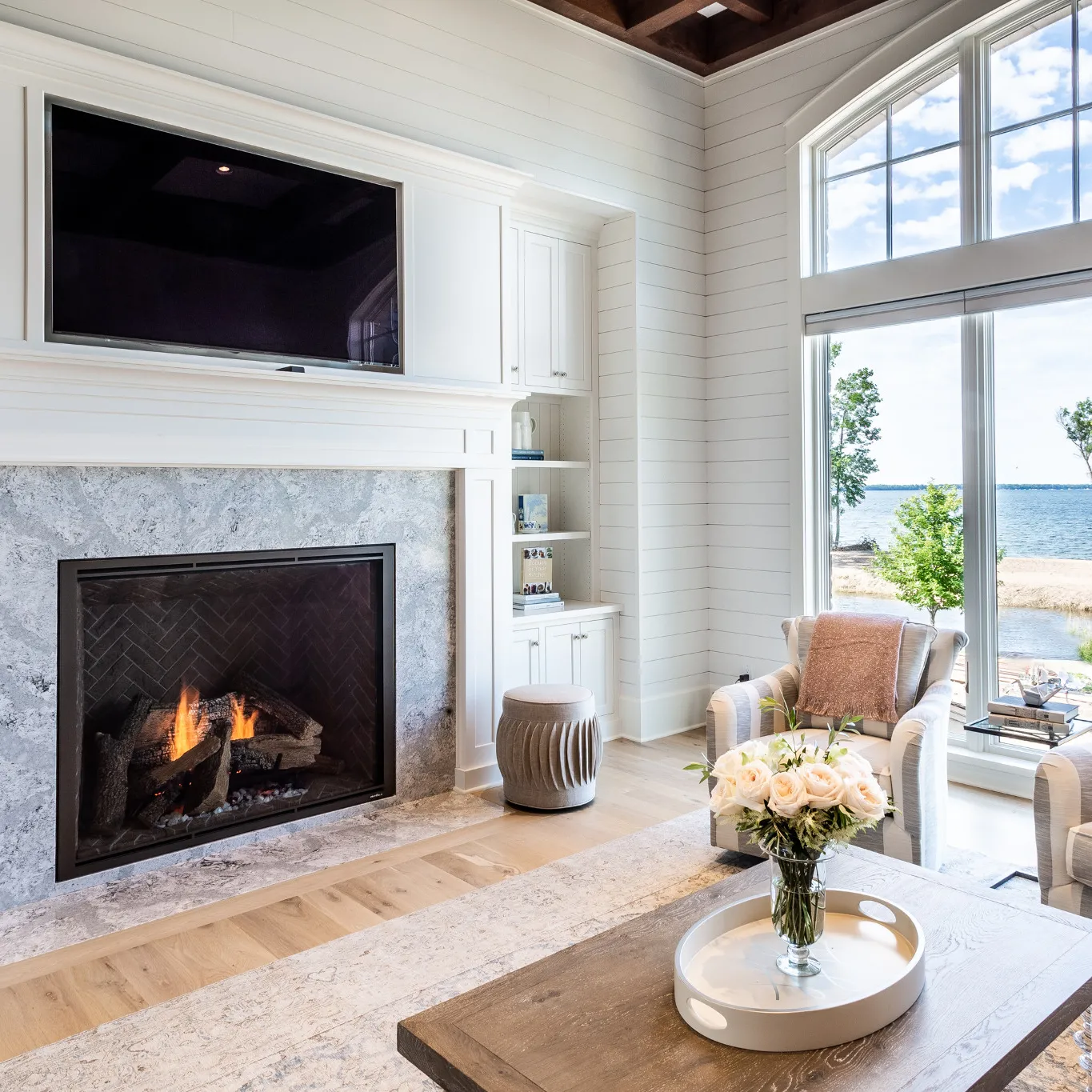 Summerhill fireplace surround.
An open-concept home, the kitchen faces the fireplace, so Summerhill is also on the island, a complement to the white cabinetry and warm wood millwork on the ceiling.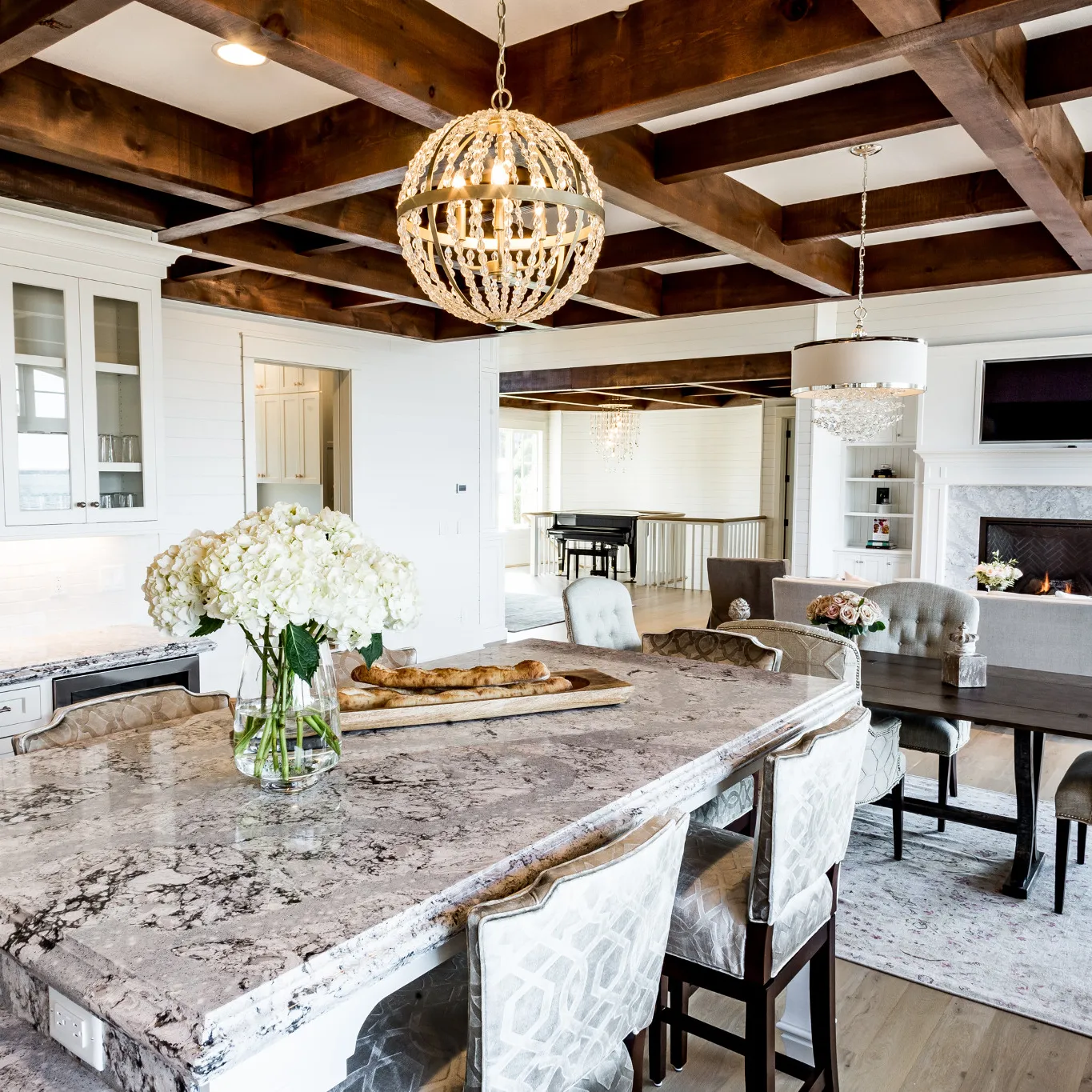 Custom raised eat-in kitchen island with Summerhill.
On the wet bar is Cambria HARLECH™, which adds dimension to the ANCILLARY SPACE with its rich copper and gold hues that pair well with the tile backsplash.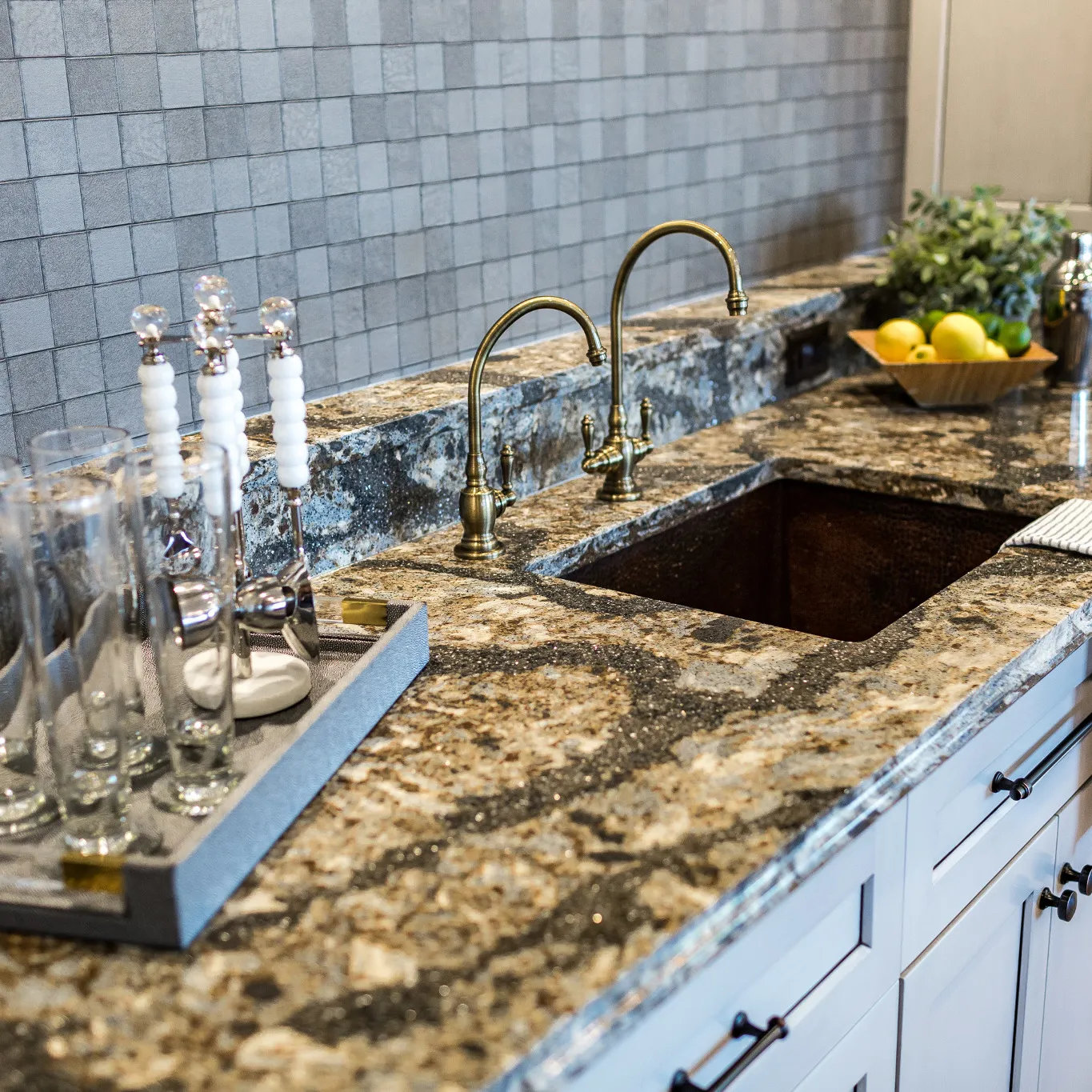 Wet bar featuring Cambria Harlech.
Explore Our Styles for A Wide Selection of Quartz For Shower Walls
Follow Cambria on SOCIAL MEDIA with #MyCambria for more standout designs.
For more information on Cambria, including performance data, product specifications, and certifications, see our PROFESSIONAL RESOURCES.
Interested in creating a showstopping design project with Cambria? ORDER A SAMPLE, FIND A DEALER, schedule a CONSULTATION with a Cambria expert, or call 1-866-CAMBRIA (1-866-226-2742) to be connected with a market representative in your region.