Torquay™ Quartz by Cambria

An instant classic, Torquay offers a beautiful marble-like appearance that's both posh and continental, much like this English Riviera town itself.
Because it is both warm and cool, Torquay is a highly versatile design, making it an easy fit for a variety of style aesthetics and meaning you can't go wrong when choosing complementary design elements. Summer Kath, Cambria EVP of Design, calls it the little black of dress of designs—an essential and timeless look that can be "dressed up" for different scenarios. And with subtle movement and shades of gray and taupe, Torquay stands out as the ultimate choice if you want a white surface that isn't stark.
Torquay adds subtle movement and interest to any space, from kitchen islands, countertops, and backsplashes, to flooring, shower surrounds, and full walls. The potential is endless with clean and classic Torquay quartz by Cambria, making it the perfect way to elevate your space, whatever your project or vision.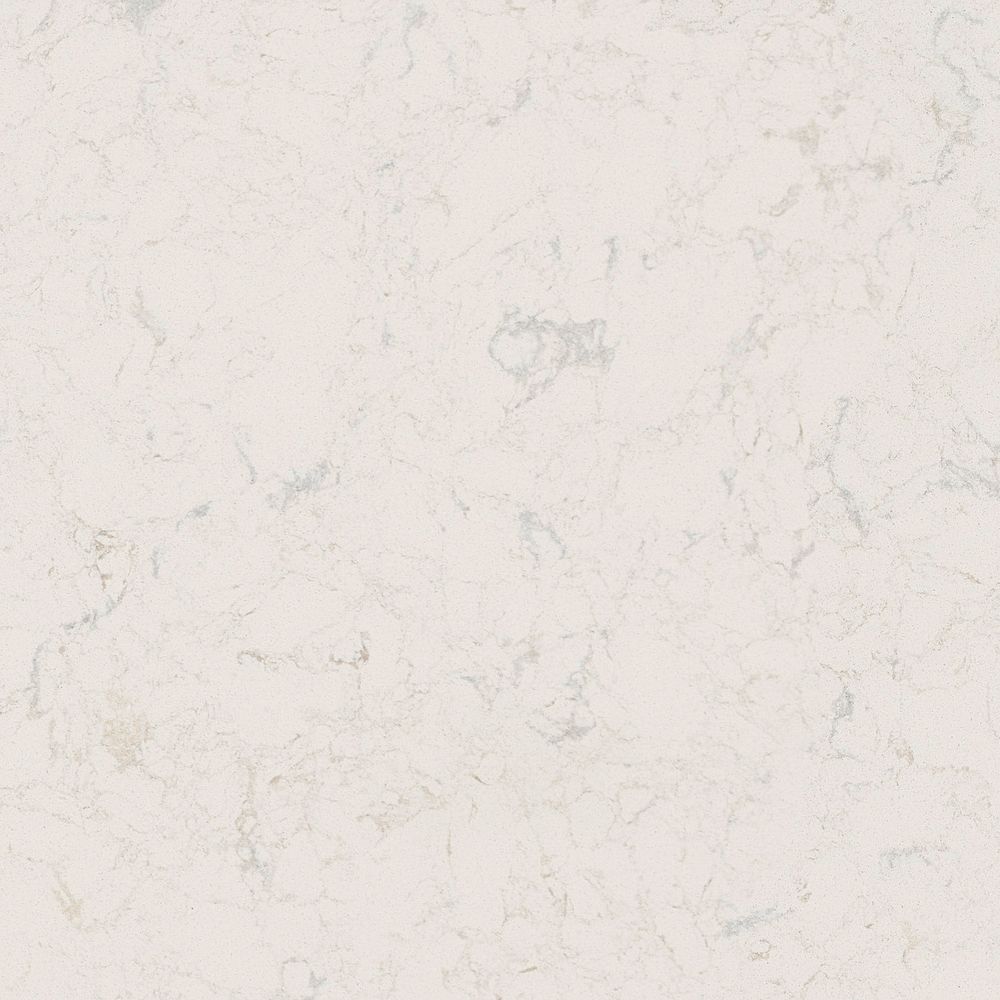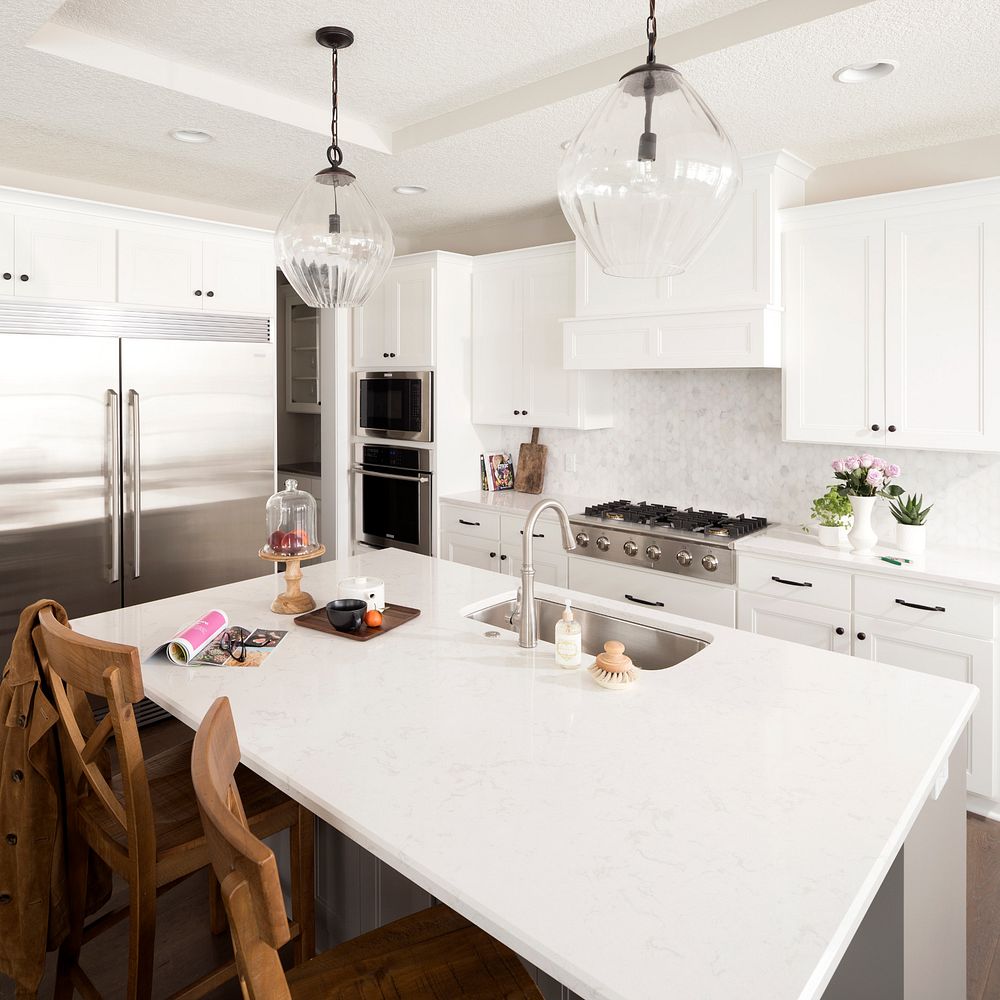 Design Inspiration
A white kitchen is always in style.
White quartz countertops like Torquay offer a neutral foundation for adding unique touches and creating a personalized look, as well as the flexibility to change it up over time with different paint colors, hardware, décor, and more (if you're constantly swapping out candles and botanicals, we're looking at you). Torquay is the chameleon of countertops: it can tie together a white backsplash and contrasting cabinetry, add natural texture in a coastal-inspired kitchen, and provide balance in a space that combines old and new.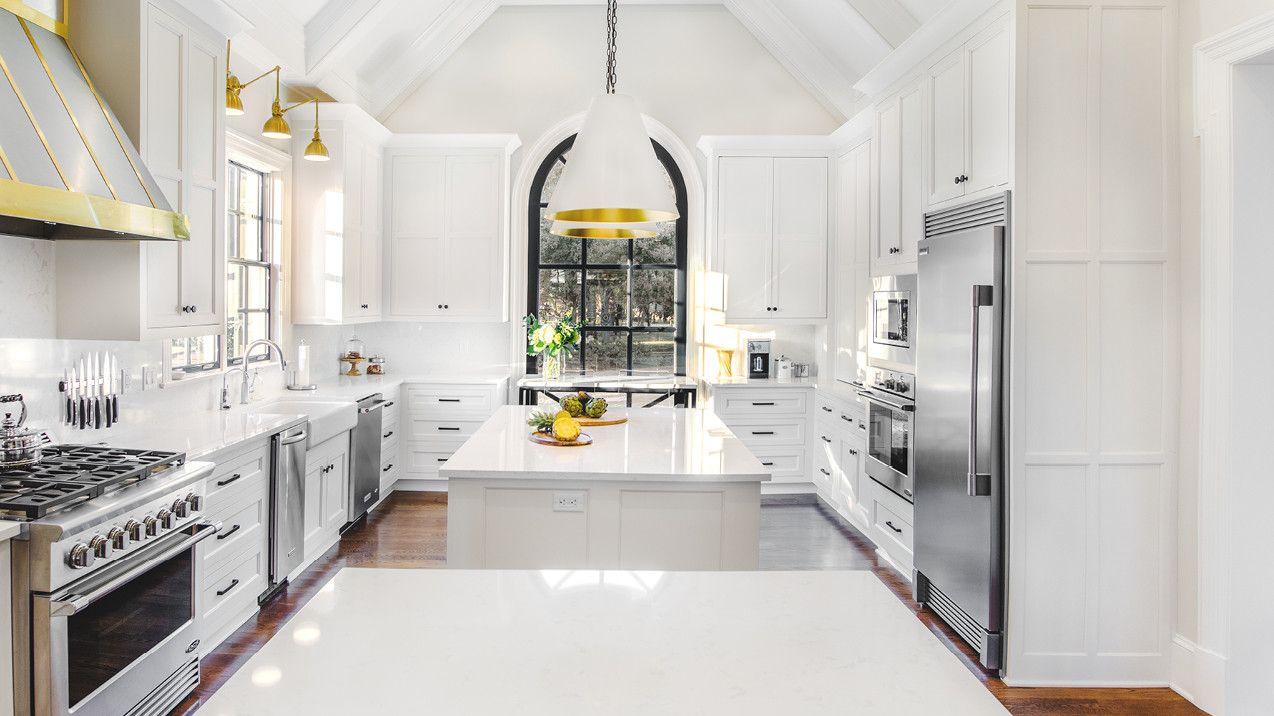 Side by side Cambria Torquay islands function as a dual prep and serving space in this luxury kitchen by designer Melissa Sutherland. This bright and airy space proves that with kitchen islands, more is more. With subtle marble-like movement, Torquay is the ideal white countertop design for this French countryside-inspired custom kitchen.
In addition to its versatility, the sophistication and soft movement in Torquay make it a captivating and versatile marble alternative. Torquay provides an elevated look with all the performance benefits standard in Cambria designs. It's nonporous, nonabsorbent, food safe, maintenance free, easy to clean, durable, and hygienic—perfect for high-traffic areas like the kitchen. And, like most Cambria designs, it's available in high gloss or matte for the perfect finishing touch.
DESIGN EXPECTATIONS
Please check with your local partner/installer/fabricator for slab sizes and thickness availability per design, including the largest slab size able to be fabricated versus slab size listed. Samples are small pieces of a large slab. To see full design characteristics, visit a Cambria showroom or gallery.