Cambria AR™
Let us help you achieve your vision and see our stunning countertops and surfaces in your spaces. The best way to see Cambria designs on your own countertops, islands, and surfaces is with our Augmented Reality (AR) app. Scan the surface, select the design, and see quartz designs in your space instantly.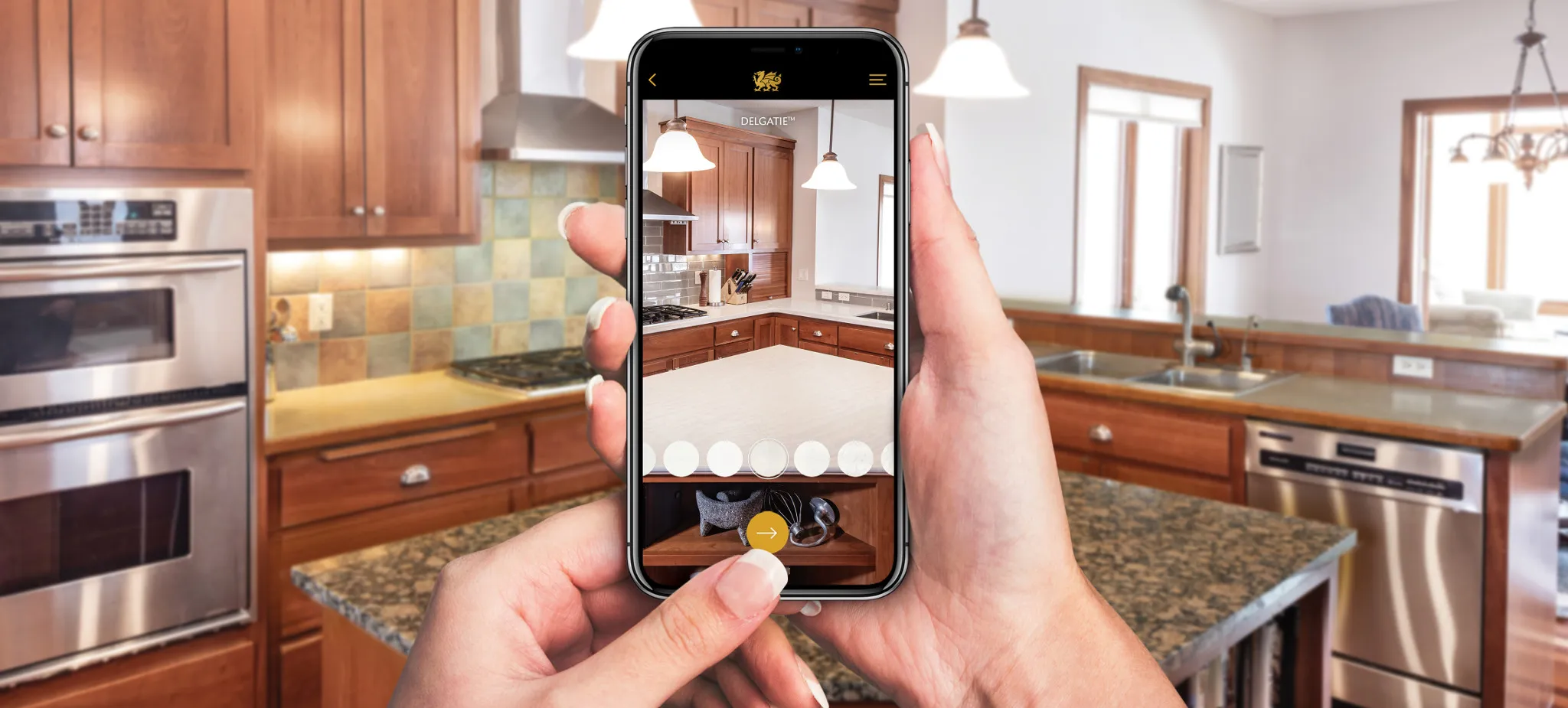 HOW TO USE CAMBRIA AR
Use your device to scan the surface, then select the design you want and you'll instantly see it in your own space.
STEP 1: SCAN YOUR SURFACE
Instructions:
Open Cambria AR and move your device around your space to scan your entire surface. Gold dots and grid lines will appear as you scan, which allow Cambria AR to map your surface. You can even scan vertical surfaces to visualize backsplashes, waterfall edges, and deeper sides, like the mitered edge profile. Once the progress bar reaches 100%, the app will prompt you to outline your surface.
Tips:
Scan slowly to allow Cambria AR to map your surface. The more gold dots you see, the better your placement of Cambria designs.
If the scanning progress has slowed, try moving around your space and getting closer or further away from the surface.
Want to re-scan your space? Tap the arrow in the upper left corner and the scan will reset.
STEP 2: MARK EACH CORNER
Instructions:
Use the cross-hair to target where to place a pinpoint and then press on the gold cross-hair button at the bottom of the screen. We recommend placing at least four markers, but you can place more than four to account for L-shaped kitchens or other variations. You can also include cutouts, which allow for sinks and other openings. We currently support square, rectangular, oval, and circular cutouts. When the border is set, press on the check mark to proceed.
Tips:
Misplaced a marker? No worries! Just press and hold on the pinpoint nearest to you to drag it into the correct position.
As with scanning, it's best to walk around your space and get your device as close to the surface when placing outline pins.
Try using Cambria AR on multiple surfaces at a time, such as a traditional countertop perimeter with an island or bar.
STEP 3: EXPLORE DESIGNS
Instructions:
With your surface area outlined, you are ready to choose the Cambria design that best suits your space and style. Scroll through the designs and tap on the arrow when you've made your selection.
Tips:
Quickly find the "hue" or tone you're looking for by using the light-to-dark slider at the bottom of the screen.
See Cambria's newest designs, or search for Cambria designs by name by using the Design Palette button in the lower right-hand corner.
STEP 4: COMPARE AND SHARE
Instructions:
Once you've selected your favorite Cambria design, take a photo and share it with your friends, family, designer, builder, or remodeler. We've made it easy to share via text message, email, or social media. And if you can't quite make up your mind, add another similar photo with a different Cambria design to have everyone weigh in.
Tips:
Want to take pictures of multiple Cambria designs? Tap the back arrow in the upper left and select another Cambria design.
Don't forget, you can walk around your space to see Cambria from different angles.
Share your photos of Cambria in your space on social media to get opinions from friends and family. And don't forget to share with your designer or builder.
Not yet working with a Cambria partner? Use our DEALER LOCATOR to find one near you.