Zero Proof
THE POPULARITY OF LIGHTER, HEALTHIER MOCKTAIL OPTIONS CAN HELP YOU LIVE IT UP WITH BOOZE-FREE LIBATIONS
Written by Angela Johnson
Photography by STEVE HENKE
A growing awareness of the health benefits of consuming less alcohol has fueled a trend toward more sober sipping. Even if you don't ever drink to excess, imbibing a little less can increase energy levels and improve physical and mental health.
Meeting the demand of a sober-curious culture is a fast-growing market of great-tasting non-alcoholic (NA) options, which is great since you'll still want your summer soirees to include delicious drinks. If you're a newbie on the zero proof scene, be sure to shop for NA options that include much of what you love in a spirited drink. Balance is key. Seek a blend of acidity, sweet, and sour.
Keep in mind, part of the experience, that sense of indulgence and luxury, are often what make a glass of wine or a cocktail seem special. The indulgence (minus the buzz) can be replicated by taking the time to create a terrific mocktail with high-quality ingredients, served in a fancy glass, and embellished with winsome garnish.
ELDERFLOWER BLUEBERRY LIME MOCKTAIL
INGREDIENTS
2 Tbsp. elderflower syrup
1–2 Tbsp. fresh lime juice
Small handful of blueberries (fresh or frozen)
1 cup mineral sparkling water
Handful of ice
Fresh mint for garnish
Lime slices for garnish
DIRECTIONS
Combine elderflower syrup, lime juice, and blueberries in a glass. Lightly mash them together with a muddler until some blueberries break and release some juice. Top with ice and lime slices, then pour over with mineral water to fill the glass. Add mint leaves as garnish and serve.
BRÛLÉED LEMON SOUR
INGREDIENTS
1 oz. sweet & sour mix
1 can Lemon LaCroix
1 lemon, sliced
Cane sugar
Vodka substitute, premade or make your own with: 2 Tbsp. of water, apple cider, or white grape juice mixed with lime juice.
1 sprig rosemary for garnish
DIRECTIONS
1. Light the grill. While it heats up, slice lemon into ⅛" thick slices. Sprinkle both sides of each slice with sugar. Reduce grill's heat, then place each slice directly onto the grill. Allow the lemon to caramelize and slightly char, then carefully flip to repeat on the other side. Remove the slices, and set aside.
2. Shake vodka substitute and sweet & sour mix with ice. Strain into a glass filled with ice and top with Lemon LaCroix. Garnish with brûléed lemon slices and rosemary.
SPARKLING PEACH & THYME MOCKTAIL
INGREDIENTS
¼ inch fresh ginger, peeled and sliced
1 11.15 oz. can Clementine and Peach San Pellegrino Momenti
1 ripe peach sliced into ¼-inch pieces
1 sprig fresh thyme, plus more to garnish
Crushed ice
Sparkling water, if desired
DIRECTIONS
1. Muddle 1 peach slice, peeled ginger, and thyme in a highball glass.
2. Layer in more peach slices, thyme, and crushed ice in the glass and top with San Pellegrino Momenti. For fewer carbs, go half Momenti, half sparkling water.
3. Stir and serve.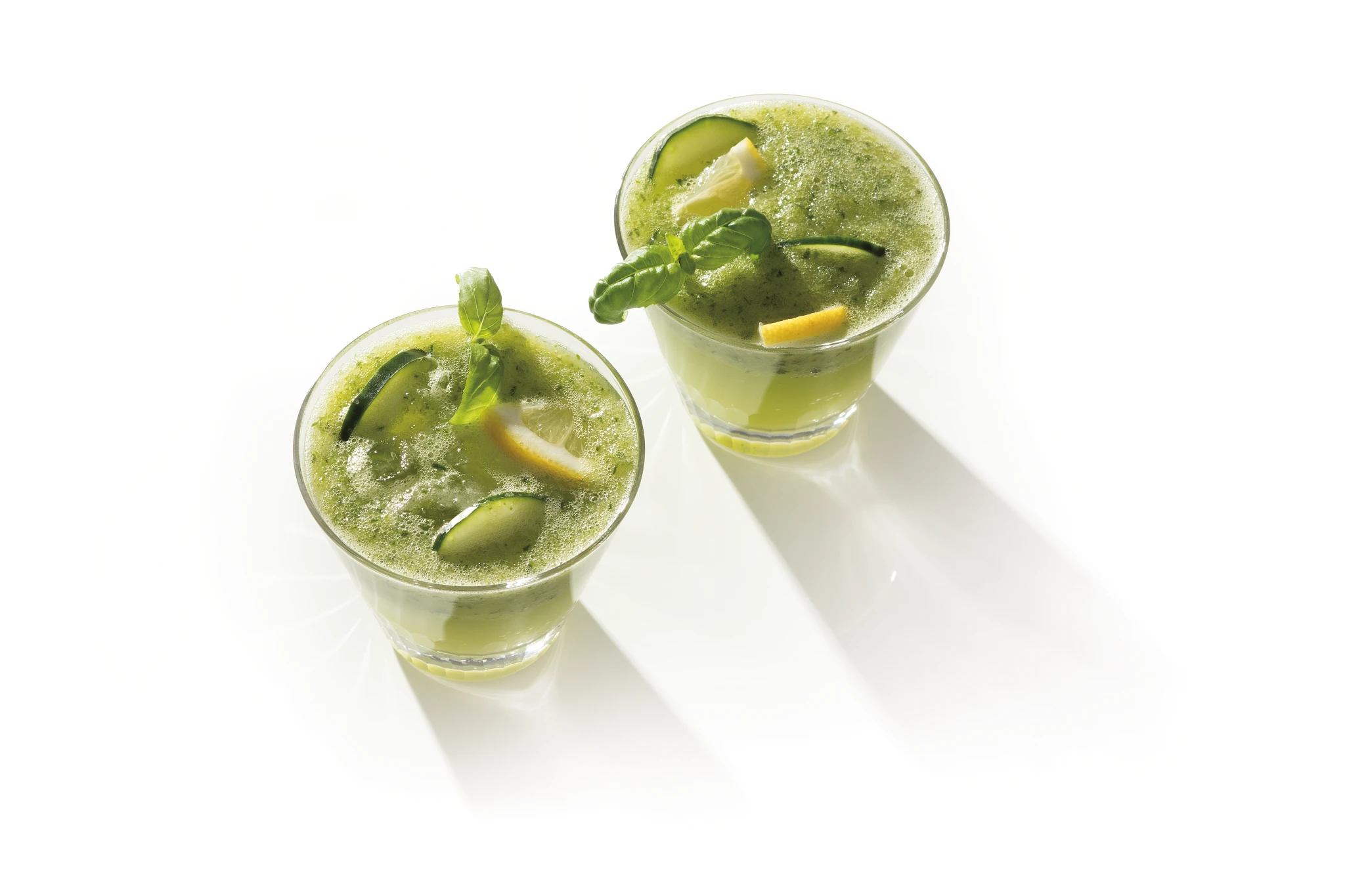 CUCUMBER BASIL SPARKLING LEMONADE
INGREDIENTS
3-inch length of cucumber, chilled and coarsely chopped (about ½ cup), plus some extra slices for garnish
2 to 3 fresh basil leaves, plus more for garnish
¼ cup fresh lemon juice, plus lemon slices for garnish
¼ cup still water
1 Tbsp. honey or agave nectar
¾ cup sparkling water, or more to taste
DIRECTIONS
1. Add the chopped cucumber to a blender or food processor with the basil, lemon juice, still water, and honey. Blend until smooth, then distribute evenly between two glasses.
2. Add the sparkling water evenly between the glasses. Drop in a few ice cubes, and garnish with cucumber slices, lemon slices, and basil as desired.
---
FUN FACT: Fresh herbs not only enhance the flavors of your favorite mocktails, they offer a variety of health benefits. For example, basil can help reduce blood pressure and its fragrance can ease anxiety; rosemary is rich in antioxidants and anti-inflammatory compounds; and thyme is often used as an herbal medicine to help soothe inflamed bronchial tubes.
WHITE PEACH FROSÉ WITH TARRAGON SIMPLE SYRUP
INGREDIENTS
For the Tarragon Simple Syrup:
4 tarragon sprigs
¼ cup sugar
¼ cup water
For the Frosé:
1 bottle rosé wine (substitute is a sparkling non-alcoholic rosé)
4 to 5 white peaches, peeled and chopped
1 cup ice cubes
DIRECTIONS
1. Pour non-alcoholic rosé into a 9x13 baking dish and freeze for about six hours, or until almost solid.
2. Make the tarragon simple syrup: add tarragon, sugar, and water to a medium saucepan; bring to a boil, then reduce heat to a simmer and heat until sugar dissolves, about 3 minutes. Remove from heat and let cool completely. Strain into a container and discard tarragon.
3. Scrape the frozen rosé out of the pan and into a blender. Add peaches, 2–3 tablespoons of simple syrup, and ice. Blend until smooth. Pour into glasses and serve immediately.