Vibrant Expression
STUDIO LYNX designer Svetlana Ryseva creates a lively abode for a young family in Tyumen, Russia
Written by Tate Gunnerson
Photography by SERGEY KRASYUK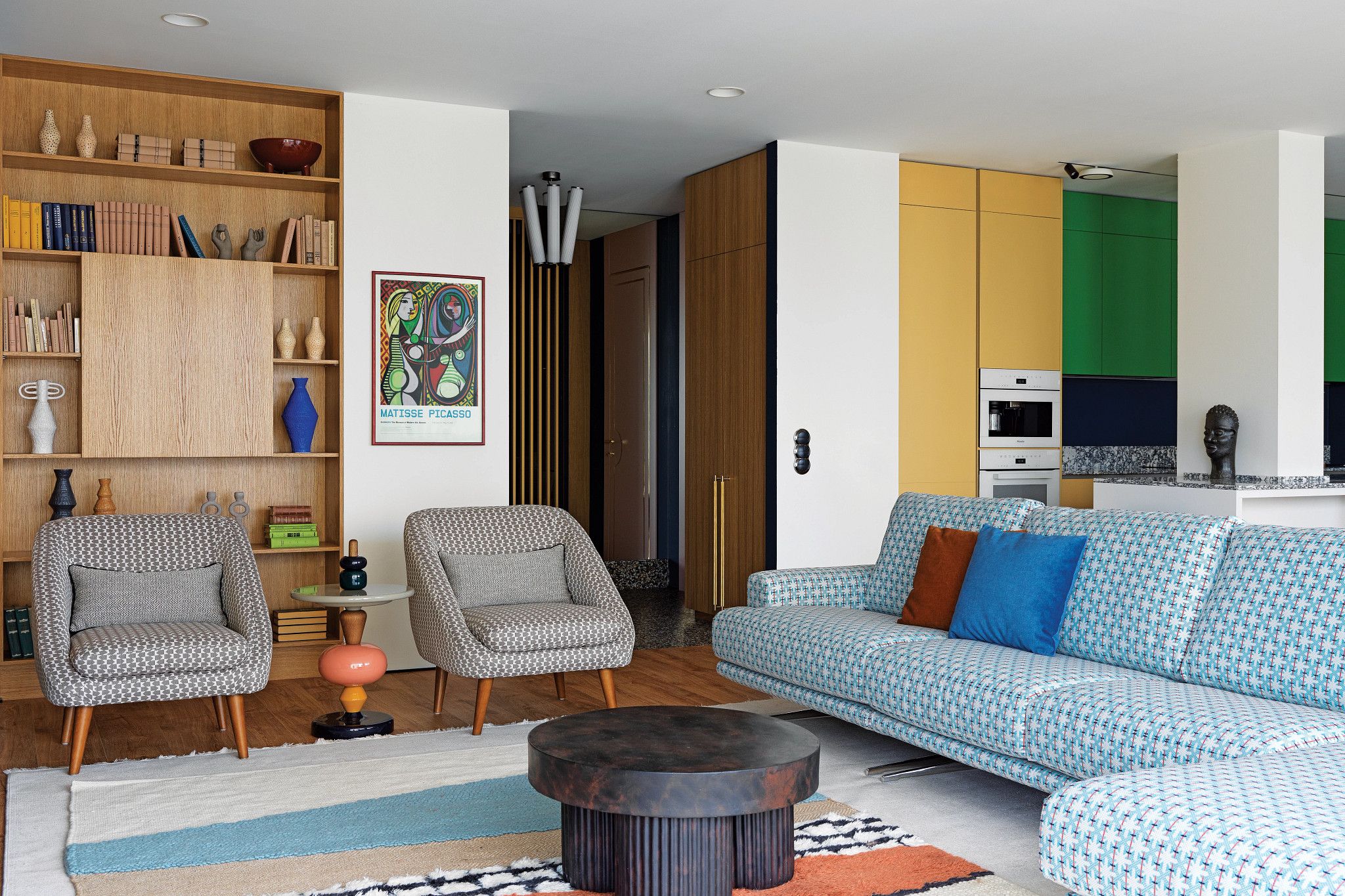 Covered in Nobilis fabric, a sofa from Calia Italia and armchairs from La Redoute create a comfy sitting area around a coffee table from Norr11. The colorful side table is from &Tradition. Cambria design shown: ROSE BAY™
Shipping delays, out-of-stock pieces, impossibly tight deadlines: Dealing with unexpected challenges is just part of the gig for interior designer Svetlana Ryseva of STUDIO LYNX in Tyumen, the second-largest city in the Russian Federation after Moscow and, located in Siberia, one of the most remote in the country.
Accustomed to curveballs, she took it in stride when her clients told her late in the design process that they wanted to combine three apartments rather than two as originally planned. After all, with a third baby on the way, the young family simply needed more space.
In contrast to many of her clients, Ryseva's clients provided very little direction about the design, requesting only durable yet beautiful vinyl flooring—a must for a family with young children and a frisky feline. Having so much freedom "may seem easy at first glance, however, it is difficult, because you have nothing to start from," she explains.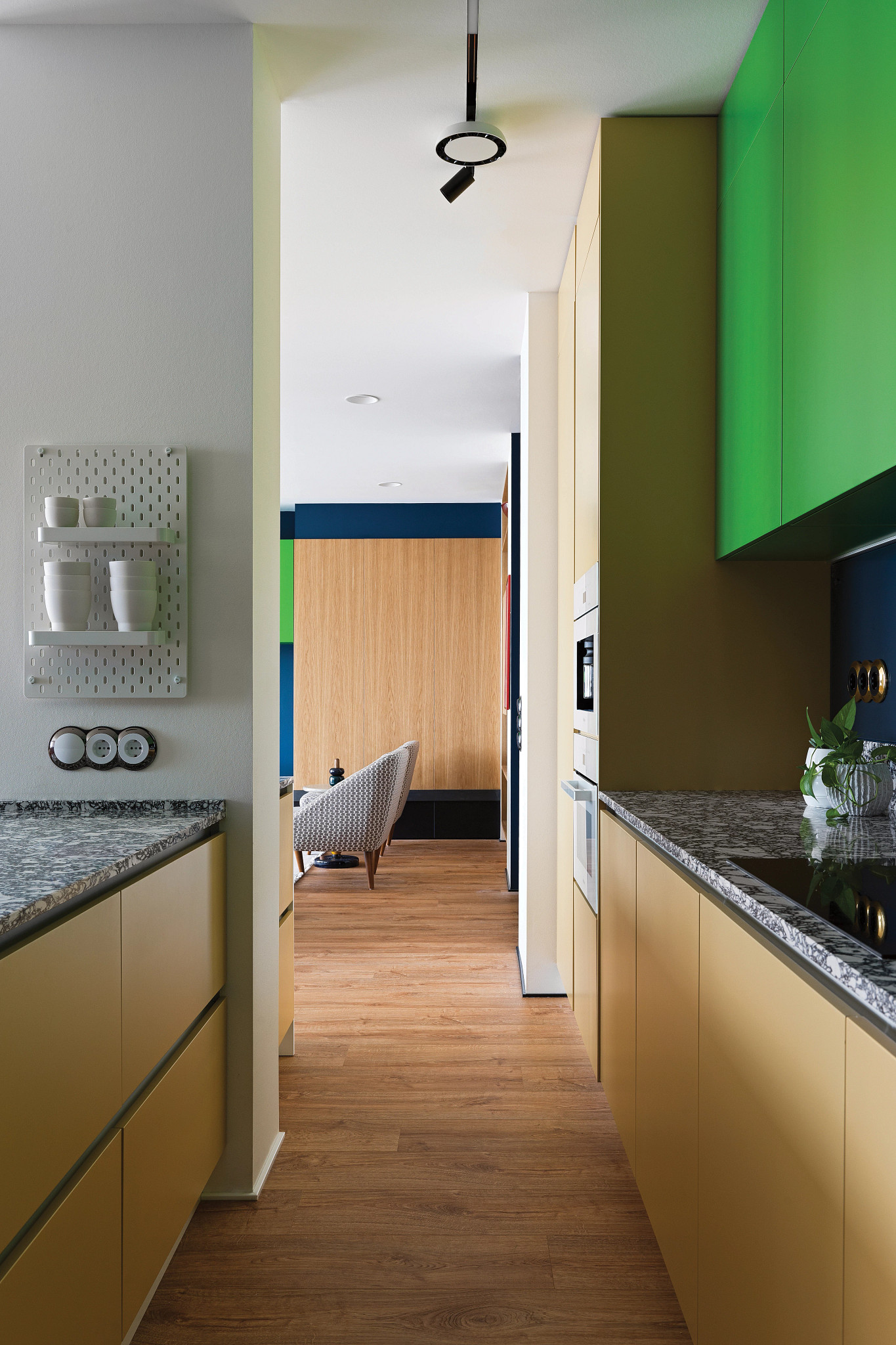 Adding texture and visual interest, Cambria's stunning yet durable ROSE BAY quartz countertop holds its own against the bright-green-and-yellow cabinetry in the open kitchen.
Having worked with the family on their country house, however, the designer had some familiarity with how they liked to live, and she believes most people want similar things from their interiors. "They want to be among immersive installations," she explains, "to play the main part in the unfolding scenes."
Ryseva quickly modified her plans, creating a split layout, the primary suite separated from the children's rooms by a long hallway. A light-filled space for the family to congregate, the center of the sprawling home features an open great room with an entire wall of floor-to-ceiling windows overlooking neighboring high-rises.
Inspired by a photograph of a parrot and colorful pieces by contemporary Ghanaian-born artist Amoako Boafo, she dotted the interiors with vibrant punches of color that perfectly suit her clients. "They are open, cheerful people, with an active social position," she says, noting it's an unusual palette for Tyumen, "where it is usually dull and lacks a lot of contrast outside the window for almost seven months of the year."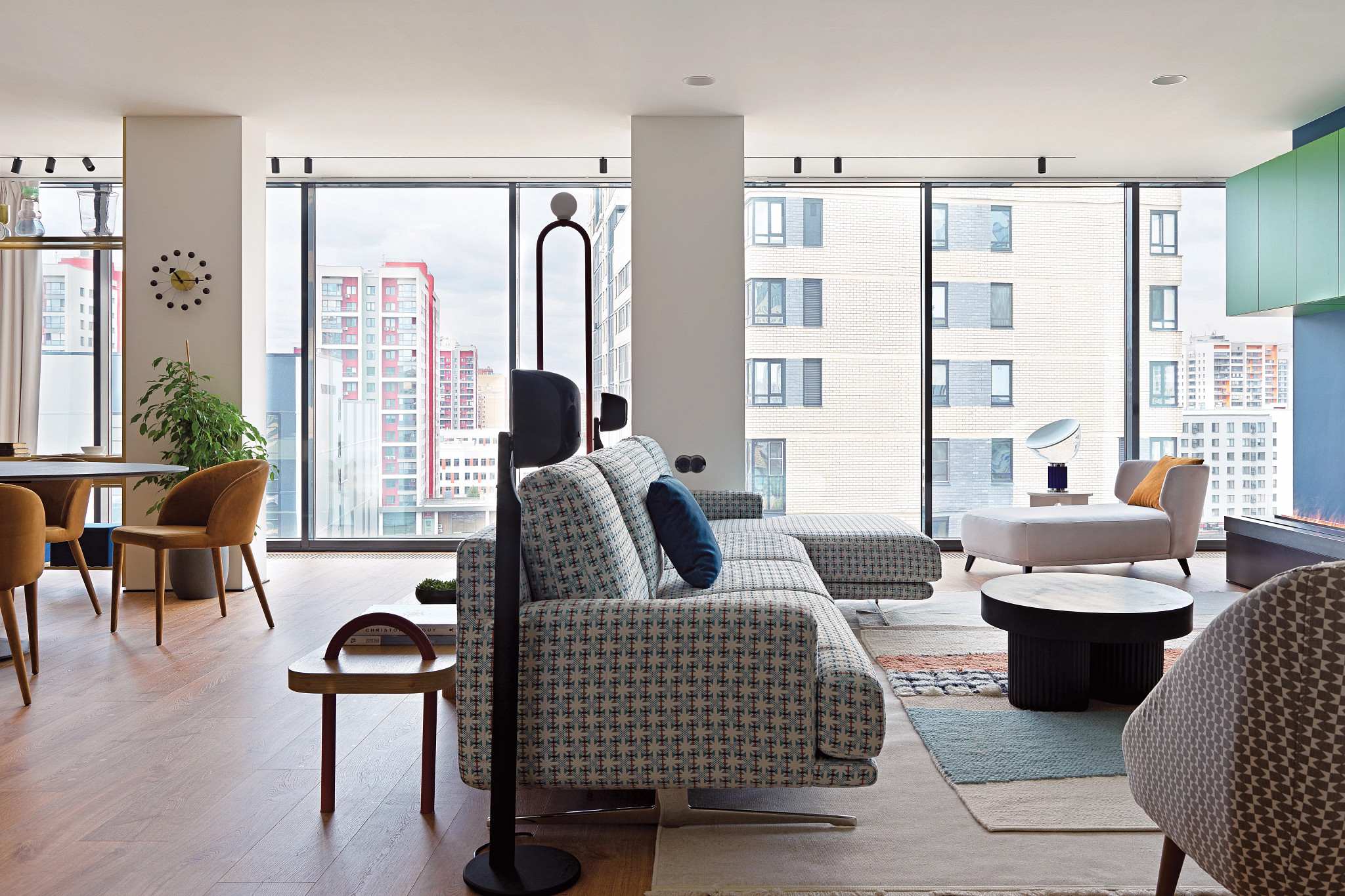 In the open living room, a contemporary sofa by Calia Italia anchors a comfy seating area around an electric fireplace by Real Flame.
The walls in the entry are painted in blue and pink, for example, and colorful pottery pops against the built-in oak-veneered shelving in the living area, where a shapely sofa chaise and contemporary lounge chairs surround an electric fireplace underneath a bank of kelly-green cabinetry. "Color adds mood and playfulness," she says.
The same shade enlivens the upper cabinets in the kitchen, a Mondrian-like space accented by graphic black-and-white Cambria Rose Bay countertops, which Ryseva discovered in a local design shop. "It has a wow factor—exactly what I needed," she says. "I wanted to give the project an impulse and energy for many years to come."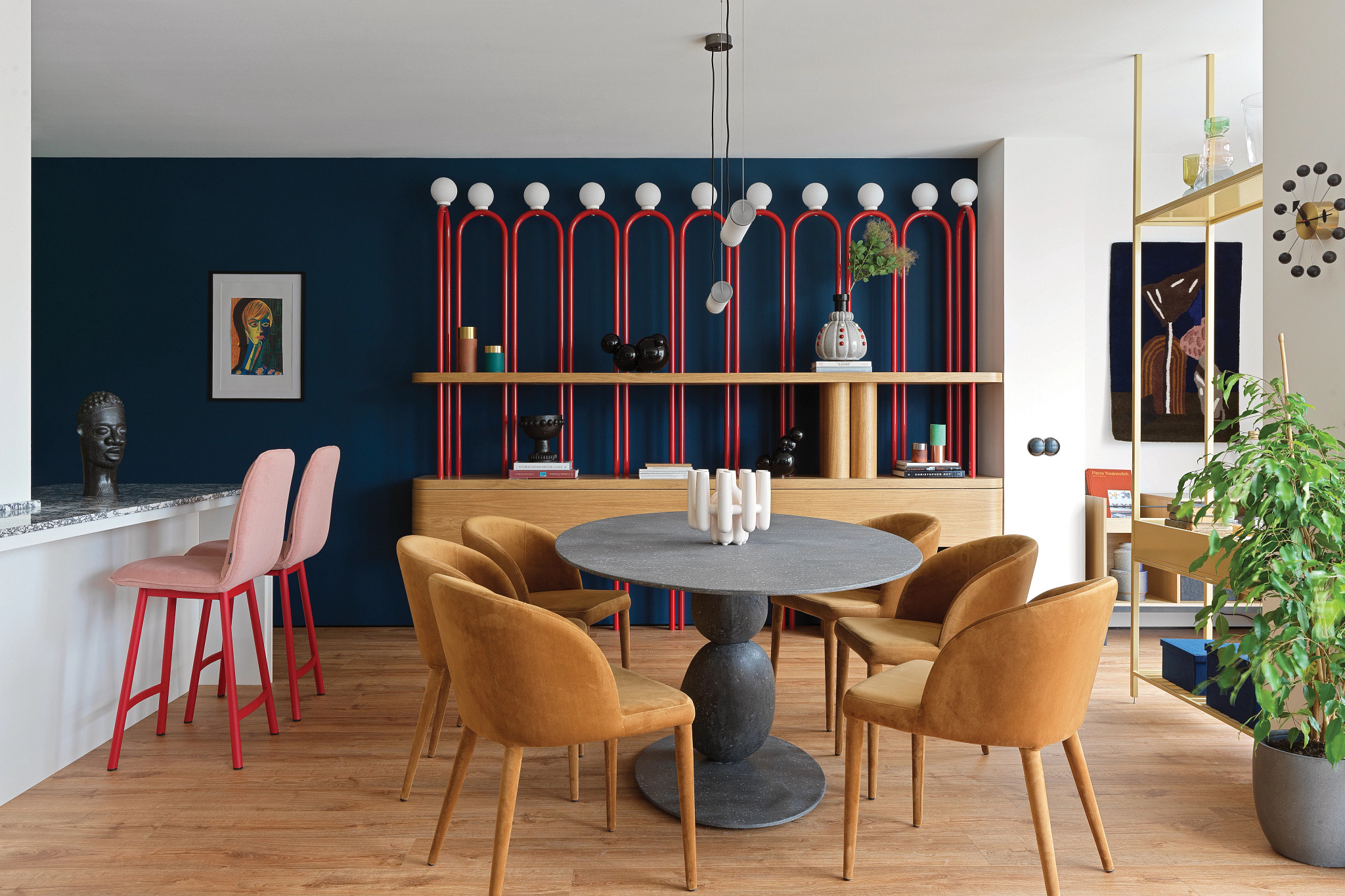 Elegant pendant lights from Norr11 illuminate a round table from Mogg in the open dining area, where a shelving unit with integrated lighting coordinates with the barstools from Mobliberica. Cambria design shown: ROSE BAY
Indeed, for the nearby dining area, she designed a custom oak-veneered shelving unit accented with red piping that resembles a series of paperclips, each punctuated with an illuminated globe. "Items that are more art-like can bring interior design to the next level," she explains. Its curves are echoed in the sculptural metal dining table base and chairs, which are covered head to toe in velvet.
While well-appointed with everything a young family needs, the interior also has ample space between pieces, evoking the feeling of a sculpture garden or modern art gallery.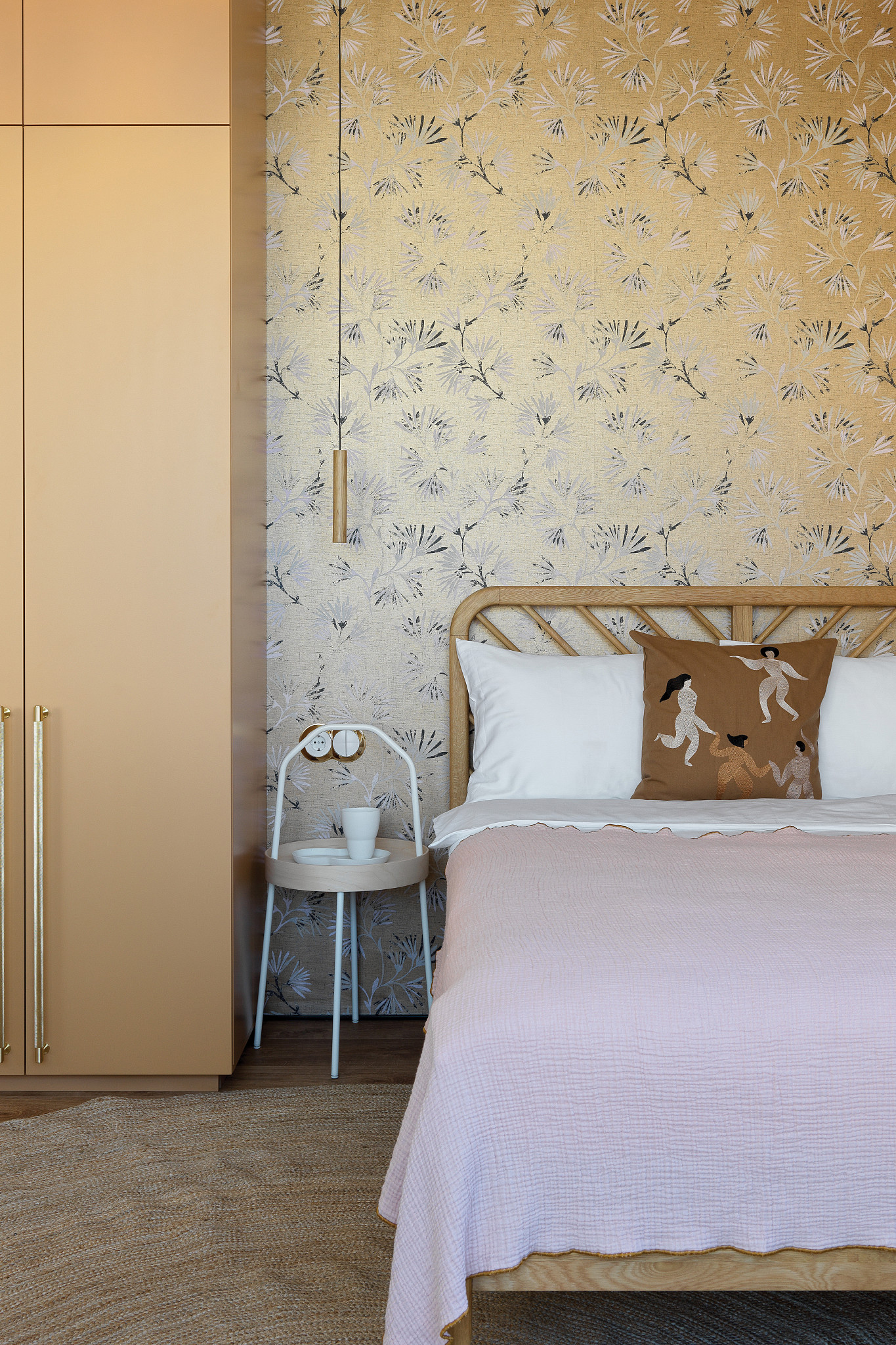 A floral wall covering by Eijffinger creates a lovely backdrop for a bed from La Redoute and a table from IKEA. The jute bedspread is from Zara Home, and the throw pillow is from ferm LIVING.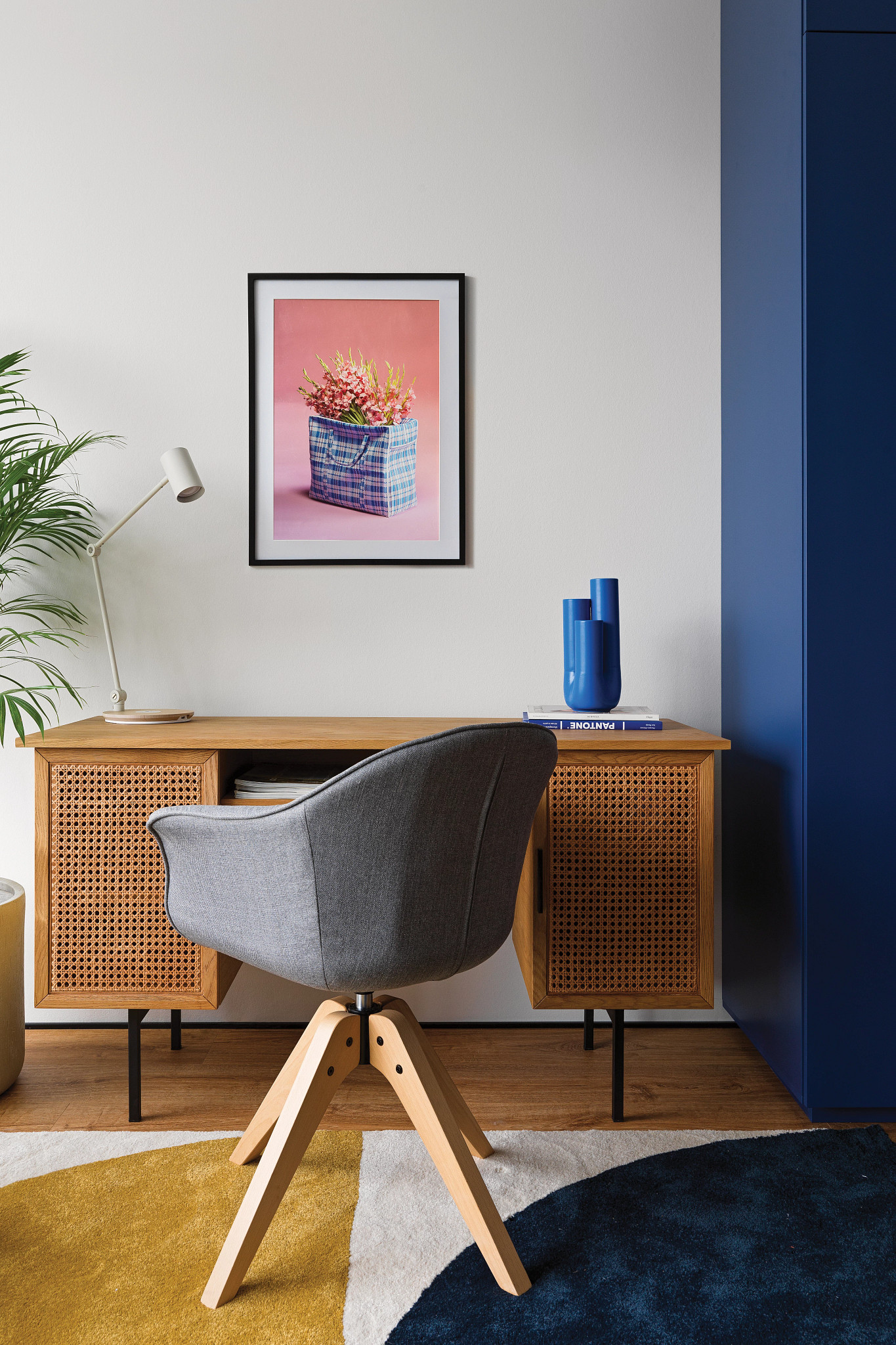 Displayed atop a table from La Redoute, a vase from Barcelona Design coordinates with the blue accent wall, patterned area rug, and artwork by Varya Shchuka in the young son's room.
Rendered in boisterous colors and dynamic fabrics, the curated selection of bespoke furnishings and objets d'art checks all the right boxes for the owners, and Ryseva is equally pleased with the results. "All the things play their own parts, without overpowering the others," she says, noting that the space "fully reflects their personalities." The way Ryseva sees it, that's what design is all about.