Designer Spotlight: Vanessa DeLeon & Her Favorite Cambria Designs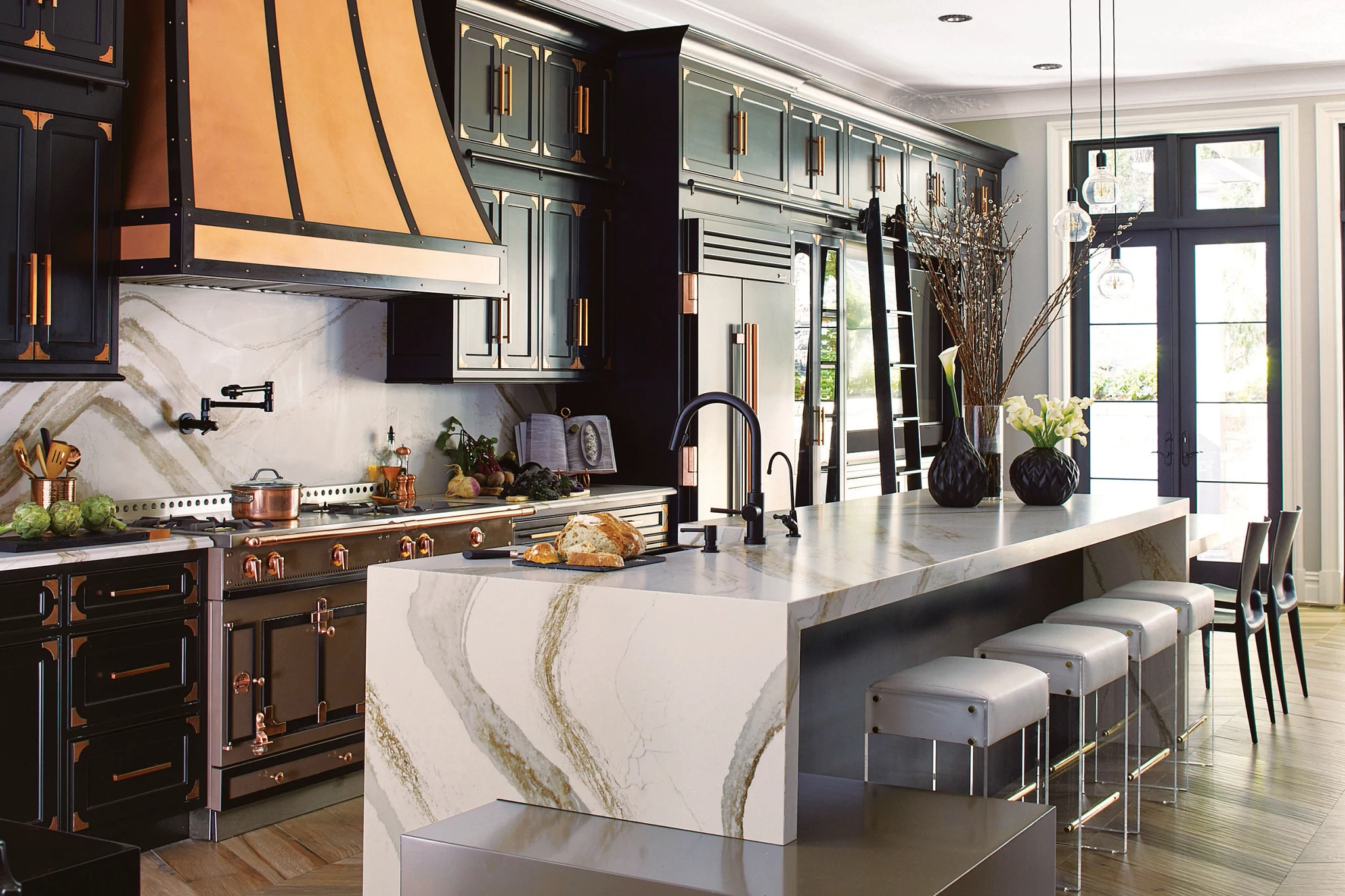 At Cambria, there's nothing we love more than working with talented interior design professionals. One such expert is Vanessa DeLeon of Vanessa DeLeon Associates, an award-winning interior design firm that specializes in residential, commercial, and hospitality interior design.
A longtime Cambria collaborator, DeLeon's inspiration is rooted in her cultural composition, and her work combines modern, stylized designs with classic décor. She often turns to Cambria for support in her projects, relying on Cambria's unrivaled palette of industry-leading designs, of all of which can be mixed and matched for a one-of-a-kind aesthetic.
"Cambria's beautiful line of products is reason enough to not just like but to love working with Cambria," says DeLeon. "They have a truly unique and extensive line of quartz to offer the industry."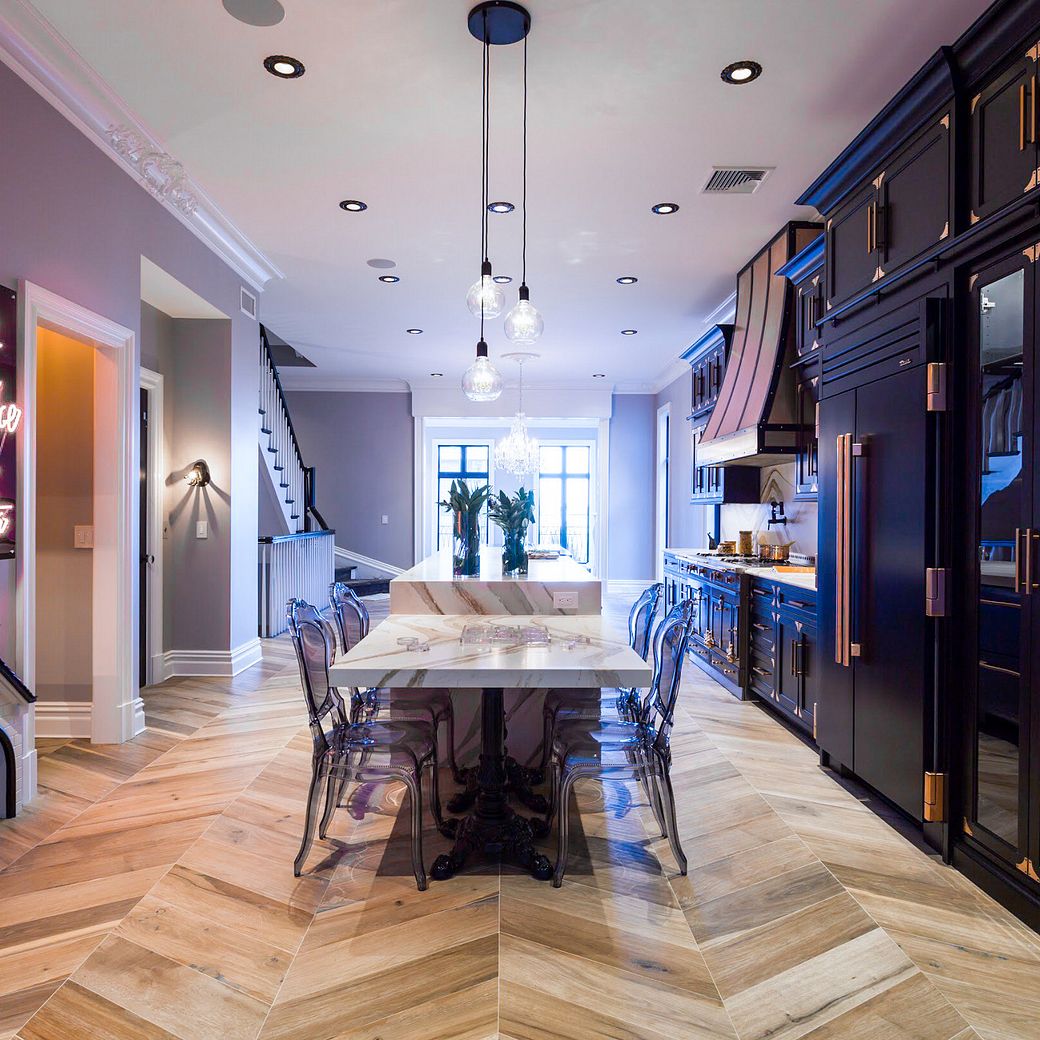 Warm earth tones against a temperate white background complete the unique look.
Looking for fresh inspiration? We tasked DeLeon with applying her expert eye to singling out what she considers to be her five favorite Cambria designs.
"It doesn't get any better than American-made and family-owned Cambria," says DeLeon. "I grew up in a family business, too, so it's a pleasure to work with the brand."
Here, her top picks—and how she'd use them in a space.
Brittanicca Gold Warm
Flowing, multi-hued streams of copper gold, fog, and translucent greige course through the Brittanicca Gold Warm design accompanied by wisps and ribbons of warm earth tones against a temperate white background.
"This one is personal because this design is on the countertops and backsplash in my own kitchen design," says DeLeon. "I love the way the translucent greige river flows and the copper valleys curve on the white canvas. I recommend it for any kitchen, bathroom, or as a sleek backdrop to a fireplace."
See more beautiful Brittanicca Gold Warm spaces here, and check out DeLeon's kitchen project here.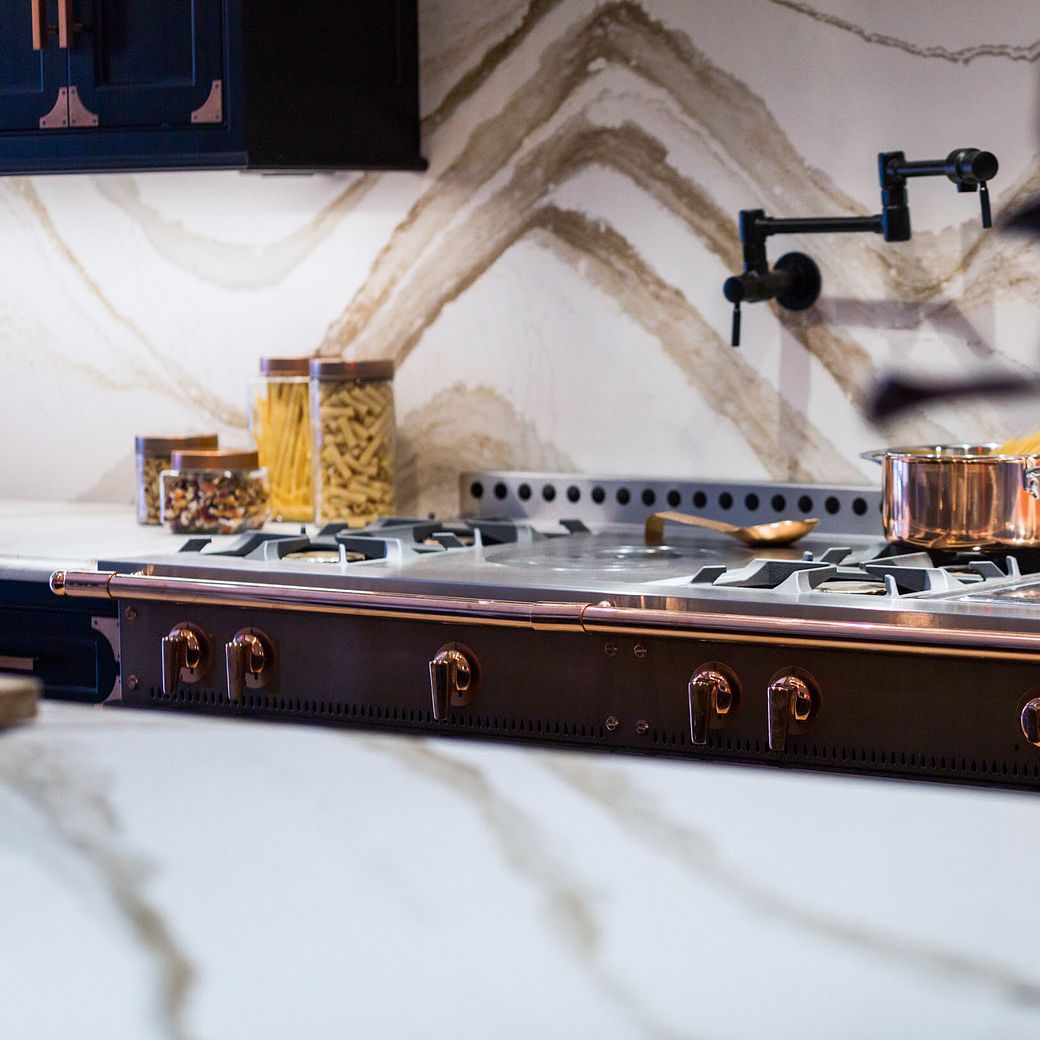 We love how the matte black fixtures pop against a backdrop of Brittanicca Gold Warm in DeLeon's kitchen.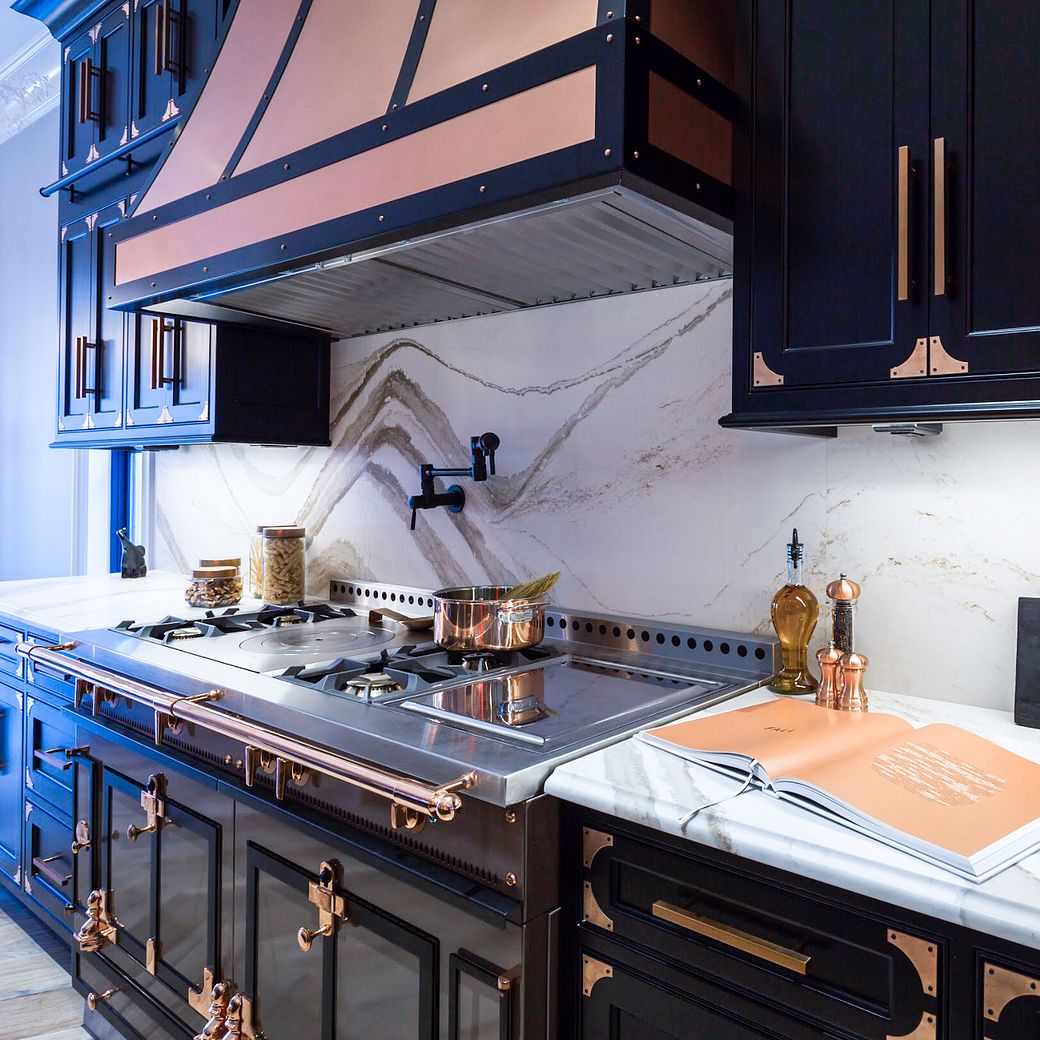 The matte black Brizo faucet and pot filler add a modern aesthetic against the massive island and backsplash in Cambria Brittanicca Gold Warm.
Inverness Cobalt
A new design for Cambria, Inverness Cobalt features stormy-blue veins with subtle flares fractured against a cool white canvas with lively intensity. Debossing throughout the veining contrasts with the smoothness of the background, giving the design a gently textured composition and beautifully organic quality.
"It's like a breath of fresh air, as the cool icy canvas meets a stream of bold navy," says DeLeon. "I like to use this in a kitchen accessorized with navy blue or stainless-steel appliances. Also, this design is a wonderful backdrop for a fireplace or in the bathroom as an accent wall and floor for a sunken tub."
To learn more about new Cambria designs, visit here.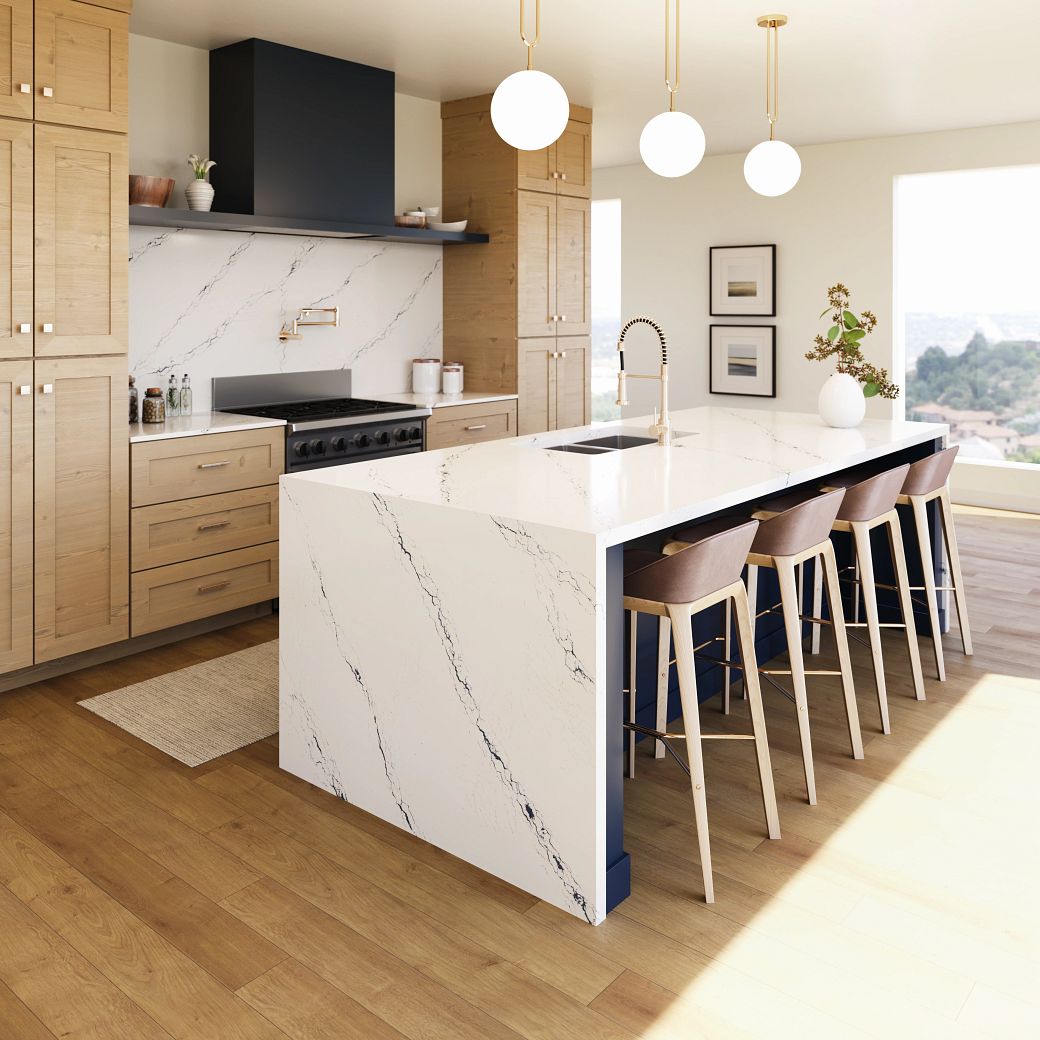 The denim-like blue tone in Inverness Cobalt goes with everything, like warm wood tones and natural light.
Clare
In the elegantly modern Clare design, bright white cool veins contrast with a versatile gray background, creating a deftly saturated design.
"The gray backdrop has a subtle industrial flair, and the cool white streaks complement the gray background," says DeLeon. "Clare is elegant and classic. I love this for a kitchen island and backsplash, but the color is so earthy that you could use Clare in just about any room of the house."
Discover more about Clare here.
Colton
Offering timeless allure, Colton is warm and creamy with rusty brownish-gray inscriptions and small white patches.
"Colton is a warmer white background with veins of charcoal with a smooth rustic undertone. This design fits well in any room of the house because of its earthy look."
Find more Colton inspiration here.
Blackbrook
White lightning-strikes dramatize a smooth black background in Blackbrook. Stark and chic, this high-contrast design is powerfully modern and elegantly simple.
"Blackbrook is an intense black with a contrast of white lines that run through it like a bolt of lighting through a dark sky" says DeLeon. "I love this design for a black and white kitchen. The countertops paired with white cabinets and a black or white sink. Consider the perfect contrast by using a white sink to create a Yin Yang effect. I also love using the Blackbrook for a bar countertop in the entertainment area of the home."
Find more Blackbrook inspiration here.