Ultimate Retreat
DeMarcus Ware designed a timeless Texas home that's built for family competition
Written by JILL SIERACKI
Photography by STEVE HENKE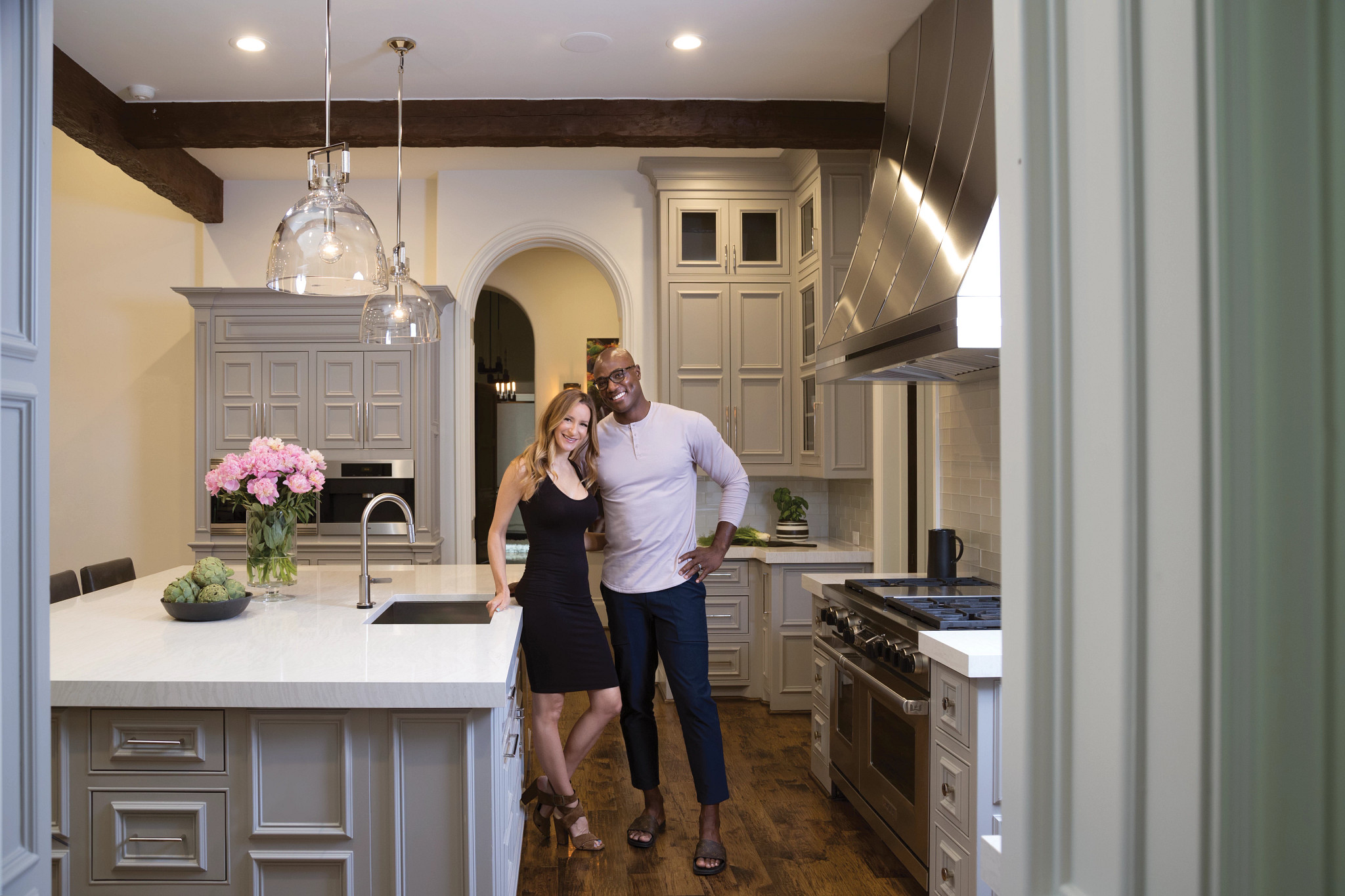 Angela and DeMarcus Ware's Cambria DELGATIE™ countertops contrast the cool cabinets painted Sherwin-Williams Pussy Willow.
For more than 12 years, DeMarcus Ware was one of the NFL's fiercest competitors, racking up awards for sacks and speed as a leading defensive player for the Dallas Cowboys and Denver Broncos. His laundry list of accolades includes trips to the Pro Bowl and a Super Bowl win, but ask him today about his playing time, and he'll fondly reminisce about locker room camaraderie and being a team leader.
Also fresh in his mind is the heavy toll of an NFL career. After a series of surgeries on his back, neck, shoulder, and arm in just 14 months, he knew it was time to retire. "It just drove me to the point I wanted to retire; I was in so much pain," says Ware, who turned his road to recovery into a second career in fitness, launching Trophy Club, Texas, gym 3Volt and interactive training app Driven to Win (D2W). "I missed football so much and being a leader and a captain for 12 years in the NFL, but I wanted to tap into people's lives outside the stadium. Fitness is the best thing because either you want to feel good, you want to look good, or you want to be healthy. I can help motivate people in that way."
With such a high-octane lifestyle, Ware wanted his home to be a sanctuary, and renovating a spacious Texas home alongside his wife, Angela, and the design experts at Cambria allowed the couple to create the ultimate retreat. "When I leave the house, I crank the music up and I'm loud and I get after it," he laughs. "But when I come home, I close the door and I want it quiet, I want it tranquil, I want it timeless."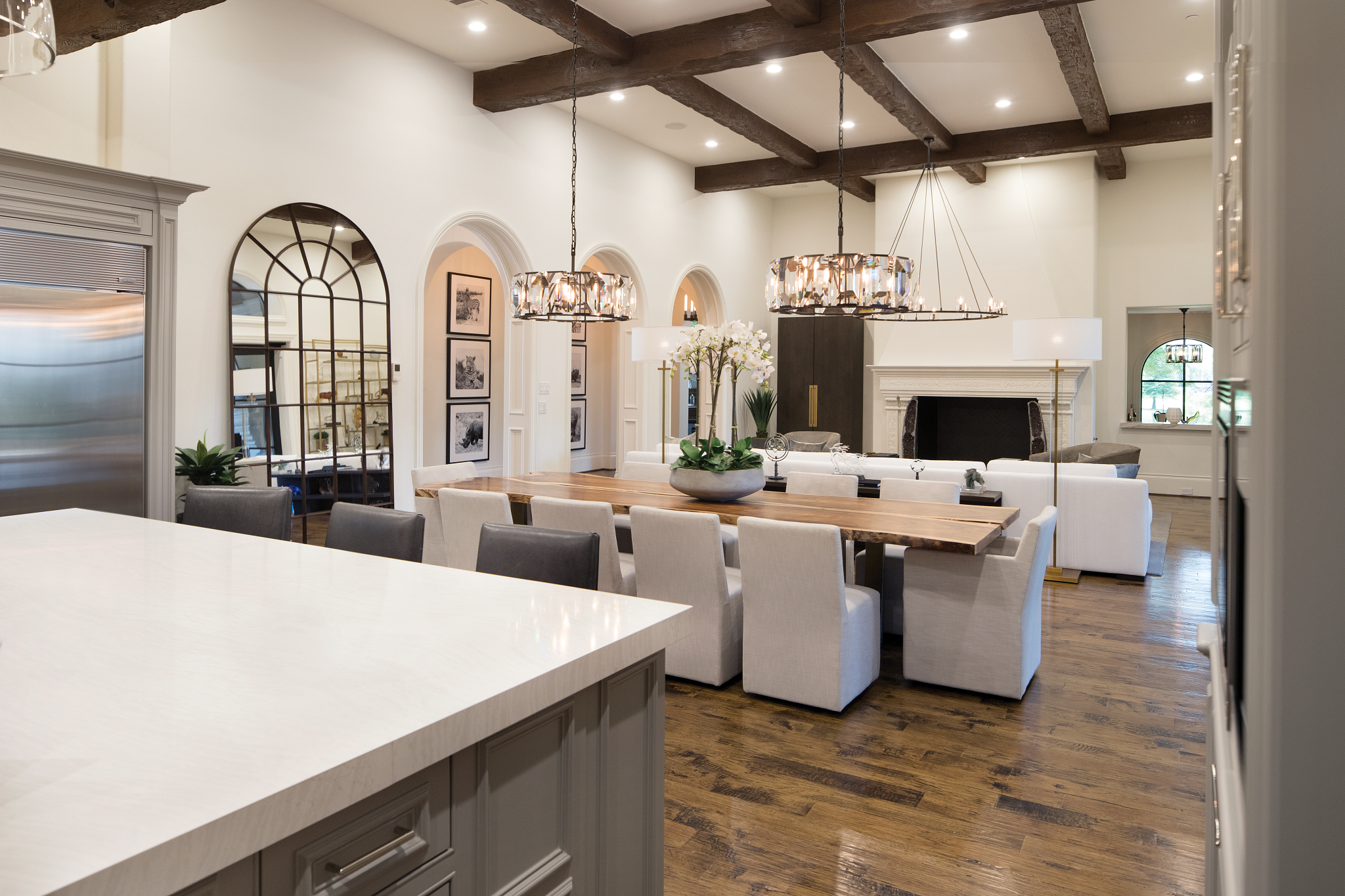 "We wanted it to be where if anybody walked in here, they would say this is my dream home," says DeMarcus Ware of the serene living-dining area.
Together the couple selected a home with great bones, but that needed a complete overhaul to match their look, which Angela describes as clean and classic with a modern twist. "We loved the floor plan, and could see the potential the first time we walked through. The home's style was very dark and outdated, but by turning it into a blank canvas, we really could create something special," she says. "The Cambria team was amazing to work with. They asked a lot of questions to really understand the look we were going for, and then gave us great options. They were always super responsive and had great suggestions for creative ways to use the product to make a statement in the home. We selected Cambria because of the quality and beauty of the product. Other stones, like marble, are beautiful but porous and difficult to keep pristine. Cambria allows you to have a stunning product that is durable and will stand the test of time."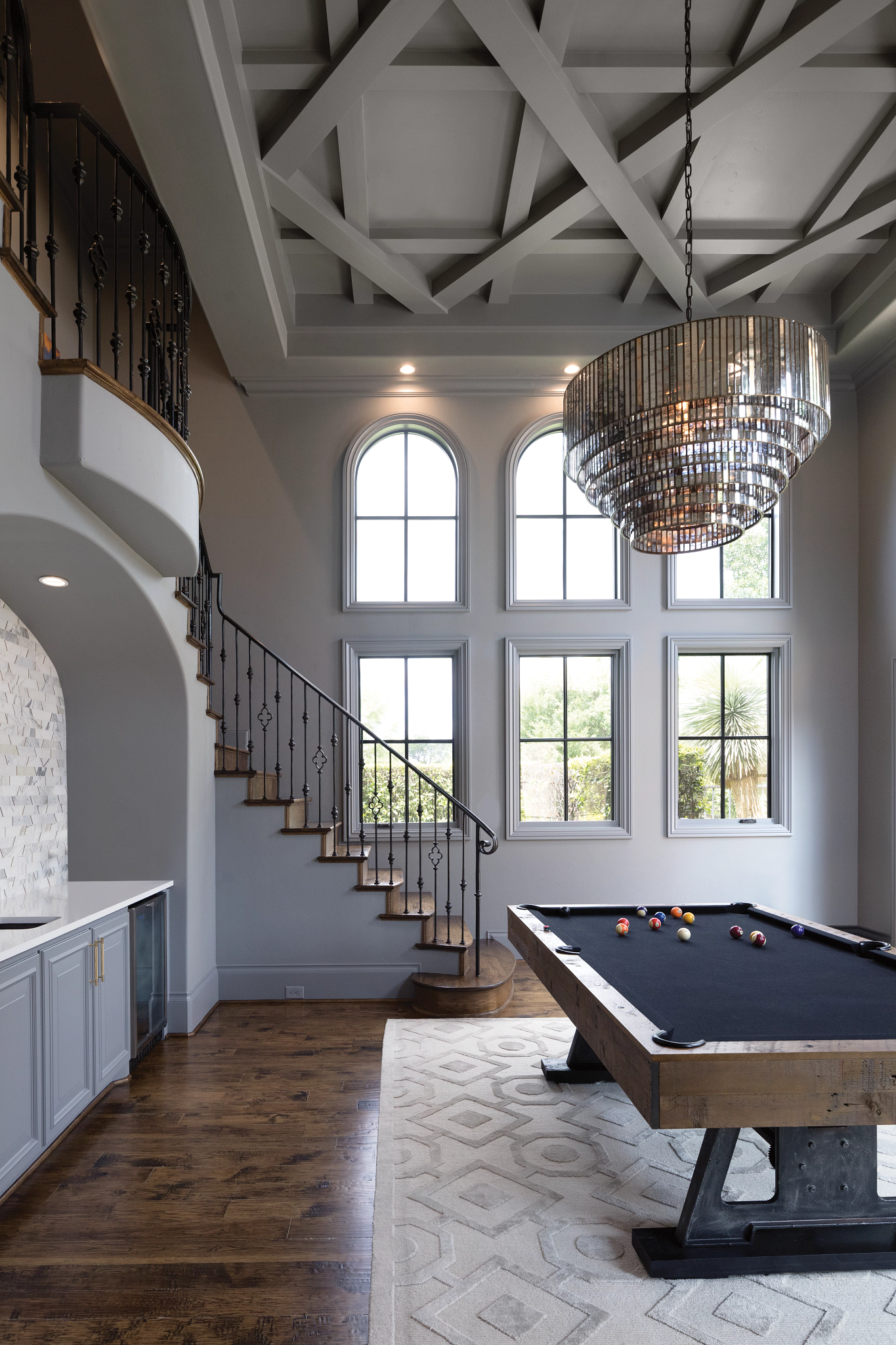 Fiercely competitive games of pool are played on the industrial chic pool table surmounted by a dramatic crystal chandelier. The Cambria WHITEHALL™ quartz-topped wet bar offers plenty of space for snacks and drinks.
In cultivating the interior, each family member was able to carve out a private nook, including the ultimate "man cave" Ware designed by gutting a former theater room. "I play golf every day, so I put a simulator in there. I put real golf clothes on, my hat, my shoes, and I close the doors, and it's like golfing on the golf course," he says. "That's my spot where I go every day for Zen time and tranquility." Ware's infectious competitive spirit thrives in the myriad spaces crafted to host exuberant card games, Jenga tournaments, or rounds of billiards. And the kitchen was specifically designed for welcoming huge family gatherings, much like the dinners for 40 to 45 guests that take place in his grandparents' Auburn, Alabama, kitchen. "I want everybody to be comfortable when they come into the house," says Ware. "We're going to have fun, and there's going to be a great joking atmosphere, but we are going to compete. And we're going to have some really nice barbecue, so don't try to count your calories if you come."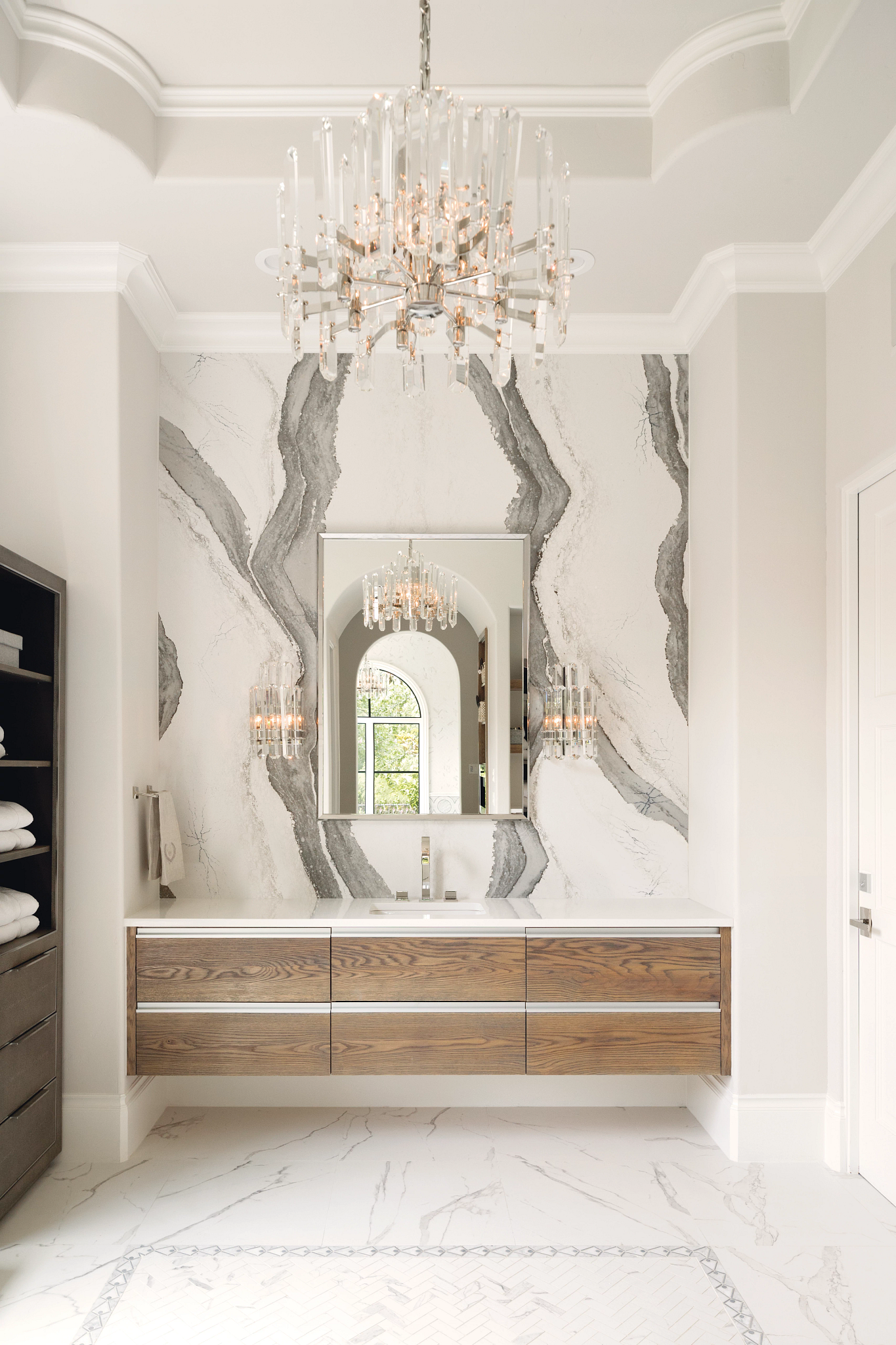 Cambria's richly veined SKARA BRAE™ makes a bold statement as the bath's backsplash while the Whitehall™ countertops and custom cabinetry add moments of tranquility. Upping the glamor factor are a dazzling chandelier and sconces.