Take a Tour of Oprah Creative Director's Hudson Valley Home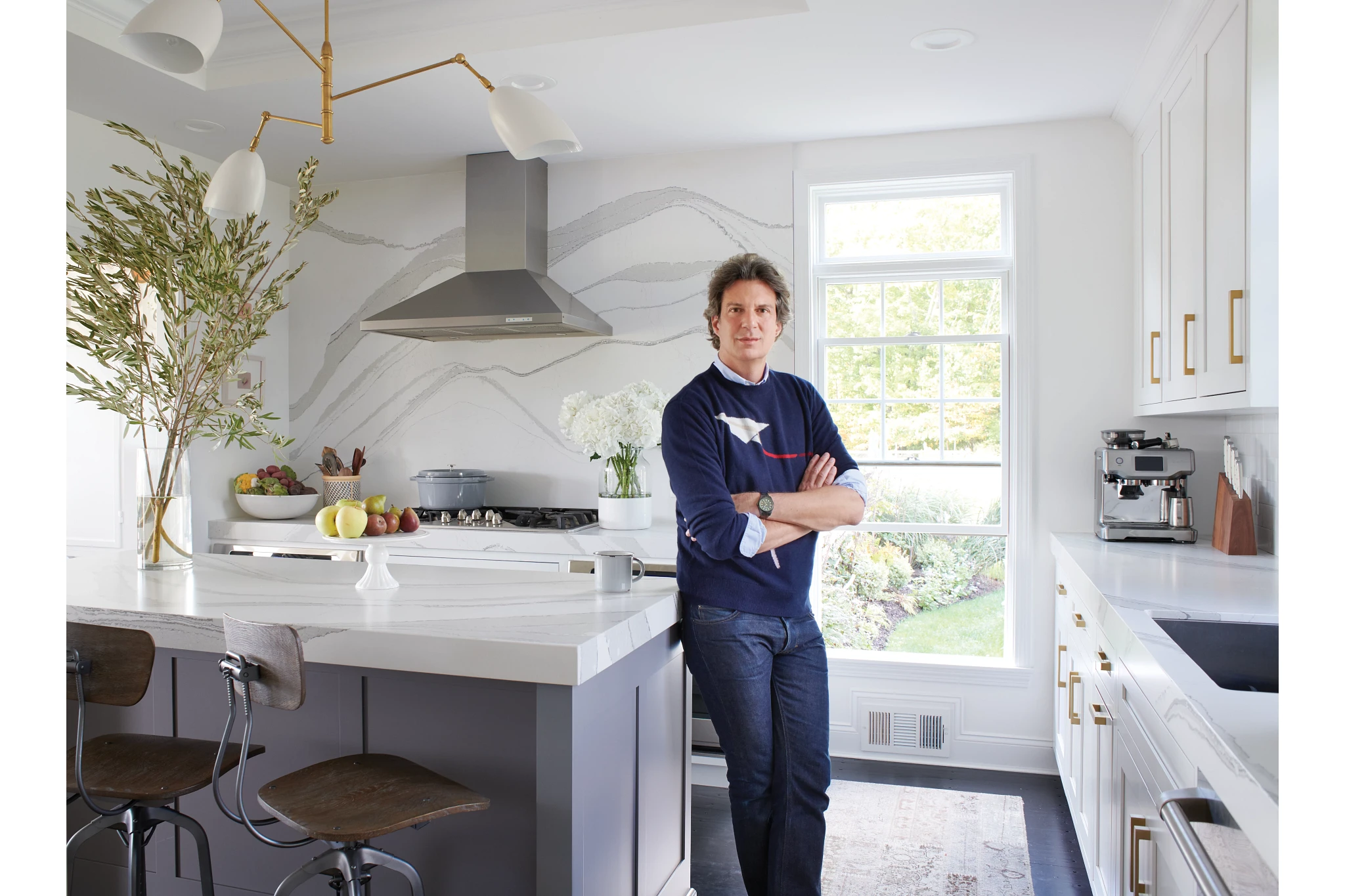 O, the Oprah Magazine creative director Adam Glassman believes in the impact of great style, so much so that he put an emphasis on both beauty and function during the renovation of his weekend home in the Hudson Valley of New York. "I wanted everything to be uncluttered and effortless to maintain," says Glassman to Cambria Style. "But I also wanted the style to make me smile when I walked into any room."
A 20-plus-year veteran of the publishing industry—with previous stints at House & Garden and Self—Glassman now handles everything from cover shoots and style pages to Oprah's annual holiday wish list "Oprah's Favorite Things" for O, the Oprah Magazine. In addition, he's also a Daytime Emmy Award-winning special correspondent for EXTRA and has been filming "View Your Deal" shopping segments for ABC's The View.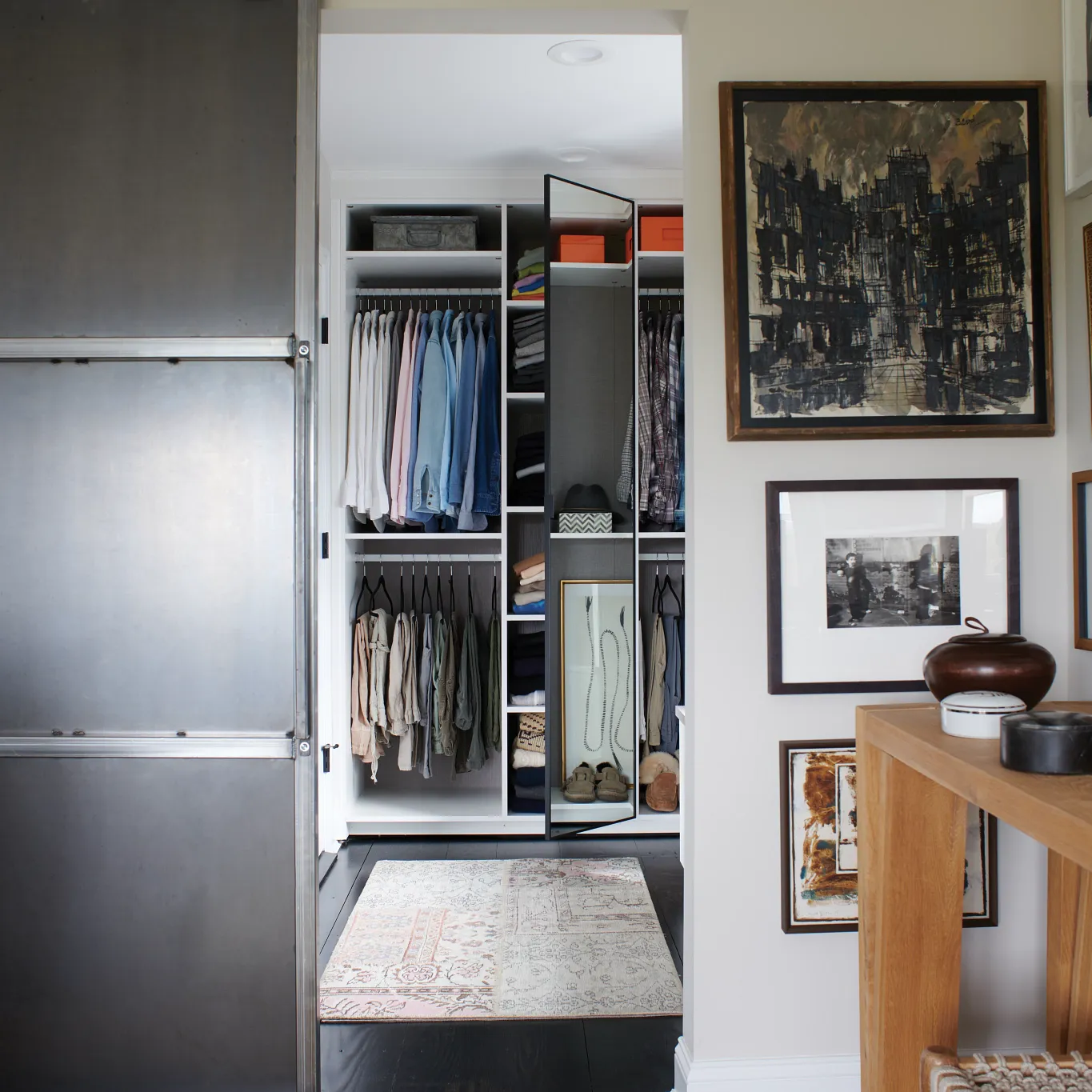 Glassman used available wall space to display his collection of modern art, which here serves as a welcome entry to the closet.
All that's to say he's in the know, so to speak, when it comes to what's en vogue. That said, Glassman wanted a retreat where he could unwind from both the demands of work and the stressors of New York City life. With the help of his contractor brother Josh, Glassman aimed to create a streamlined, sophisticated space that is carefully curated and clutter-free. "It's a retreat," says Glassman to Cambria Style. "A getaway where I can exhale."
In the primary bathroom, Glassman created a bold aesthetic fit for a man of style with a mix of Cambria Rose Bay Matte and Cambria White Cliff Matte, a pairing that combines for a one-of-a-kind oasis.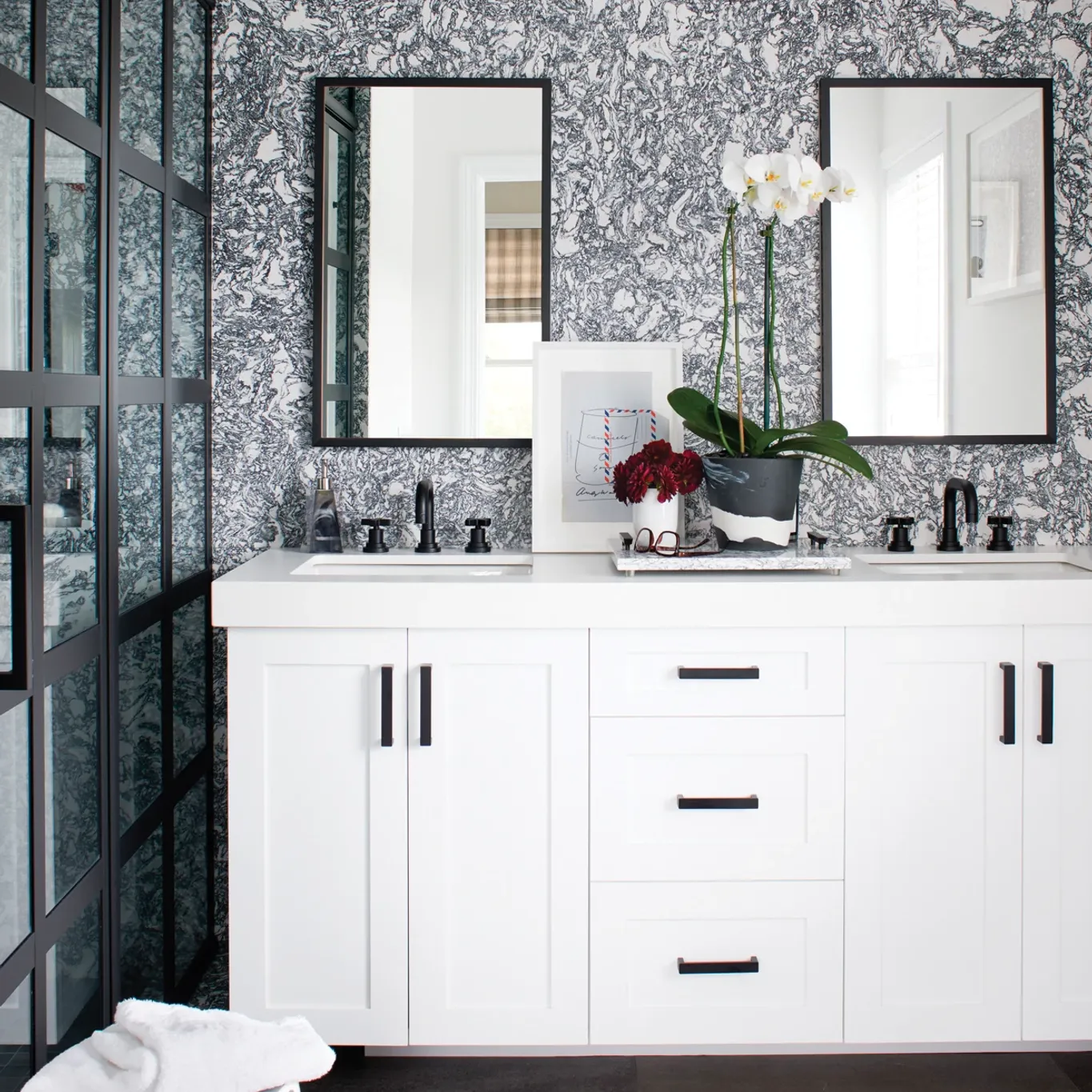 Glassman swathed the walls from floor-to-ceiling with Cambria Rose Bay Matte and complemented the bold design with versatile Cambria White Cliff Matte on the vanity countertops.
He used Cambria's Brittanicca Matte design for the kitchen countertops and backsplash, a timeless marble-like look that takes center stage against Shaker-style cabinetry and a white-on-white color palette. It also serves as the perfect, anti-glare backdrop for when Glassman films "View Your Deal" segments from home.
"I'd originally planned to hang open shelving on either side of the range hood, but once the backsplash was up, I couldn't bring myself to do it—the Cambria stone is just so darn beautiful," says Glassman to Cambria Style.
Cambria Brittanicca Matte lends visual interest to the warm white-on-white space.
Cambria Matte pairs the unrivaled durability and longevity Cambria is known for with a matte finish that evokes the subtle sheen of time-worn marble and shines with a radiance all its own. And, unlike many honed surfaces, Cambria Matte does not compromise on benefits for the silky, matte finish. In fact, Cambria Matte designs perform exactly the same as their high gloss counterparts.
With almost every Cambria design available in the matte finish, the possibilities are endless. Whether it's the look of granite, concrete, honed marble, soapstone, or just a low-sheen surface that you want, Cambria Matte countertops provide the look with none of the hassle.
Glassman also entertains during holidays like Thanksgiving and Father's Day and wanted the countertops to be particularly durable and no-fuss, so marble was not an option.
Cambria surfaces, comparatively, are made of pure, natural quartz and feature unparalleled strength and durability. They're nonporous, nonabsorbent, and NSF-51-certified, so they're food safe; are scratch and stain resistant against common household items like coffee and wine; and they're maintenance free. You can wash them with warm water and mild soap. Plus, Cambria backs everything with a transferable Full Lifetime Warranty, so they were an obvious choice.
Still not sure whether a low sheen look or high gloss finish is right for you? Order samples to find the aesthetic that suits your personal style. Note that only a selection of Cambria Matte designs are readily available as samples, but the finish is available for almost every Cambria design. If you are seeking a specific design that doesn't have a Cambria Matte sample, order the high gloss version and a similar style of Cambria Matte sample to compare.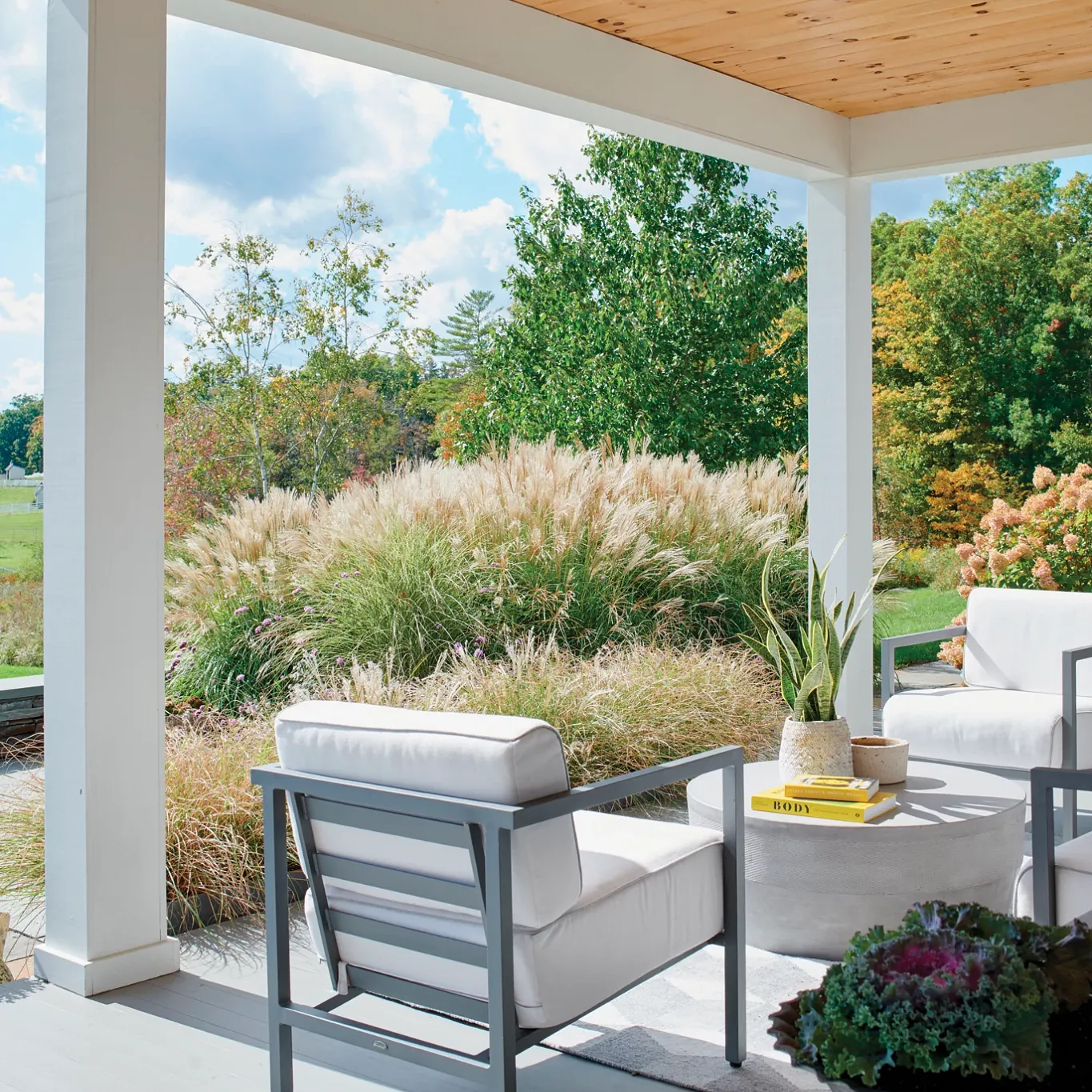 The home's porch takes advantage of spectacular views of rolling farmland and the Shawangunk Mountains in the distance.
Get the Look
Follow Cambria on social media with #MyCambria for more standout designs.
For more information on Cambria, including performance data, product specifications, and certifications, see our Professional Resources.
Interested in creating a showstopping design project with Cambria? Buy a sample, find a dealer, or call 1-866-CAMBRIA (1-866-226-2742) to be connected with a market representative in your region. Or visit our website to set up a virtual design consultation.
Featured designs: