Tour the Dallas Kips Bay Show House 2020 Featuring Cambria Surfaces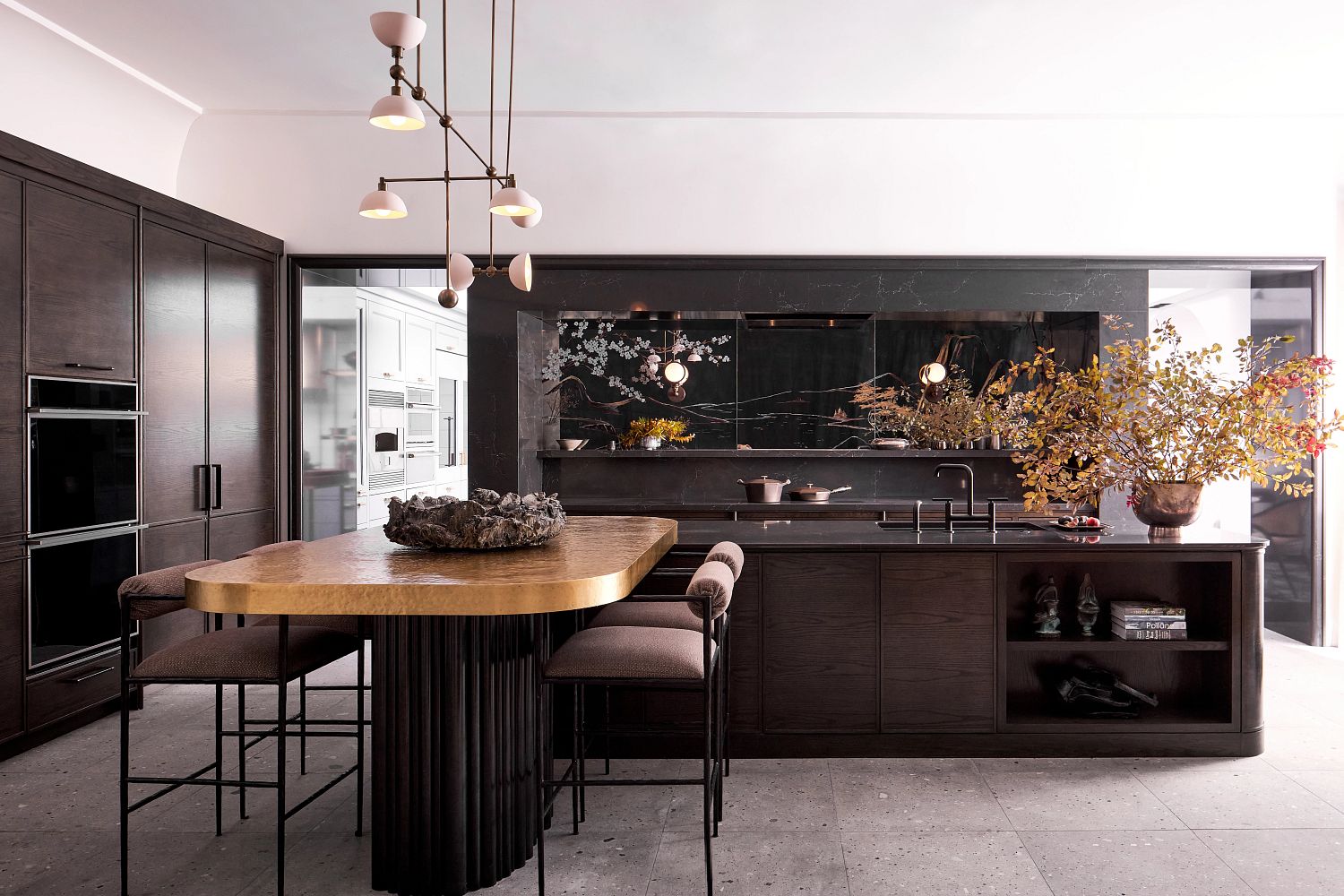 For nearly 50 years, Kips Bay Boys & Girls Club has celebrated the best of interior design by transforming a luxury Manhattan home into an elegant exhibition of fine furnishings, art, and technology, all to raise critical funds for much needed after-school and enrichment programs for New York City children.
The Show House has become a must-see event for thousands of design enthusiasts, renowned for sparking interior design trends throughout the world.
In 2017, Kips Bay Boys & Girls Club expanded the brand to Palm Beach, Florida, and in fall 2020, Kips Bay opened its inaugural Decorator Show House in Dallas, Texas. The Dallas Show House's honorary chairs were Jaime Drake of Bunny Williams; co-chaired by Steele Marcoux, Christopher Peacock, and Jan Showers; and vice chaired by Chad Dorsey and Jean Liu.
With 25+ participating designers, the home is a master class in beautiful design. Here, we tour a few standout spaces in the Dallas Show House.
Main Kitchen & Prep Kitchen by Chad Dorsey Design
Dallas-based designer Chad Dorsey creates refined interiors that balance tailored style with the spirit of modern living. For both of the Dallas Show House kitchens—a main space and a prep one—Dorsey created a conceptual client, The Beauchenes, for which to cater his work.
"Beaushints means beautiful oak, so we did dark oak cabinetry in the main kitchen, and that was supposed to be a more moody, entertaining kitchen where friends could come," says Dorsey. "It is very clean, sleek, and modern, and you don't have a lot of clutter. And then on the backside, I wanted it to be a little bit more English but still incorporate the oak, so we used natural oak."
In the main kitchen, Dorsey used Cambria's Charlestown design on the countertops, wall trim, and shelving. He also applied the design to create vertical archways between the two spaces, which helped keep the design cohesive.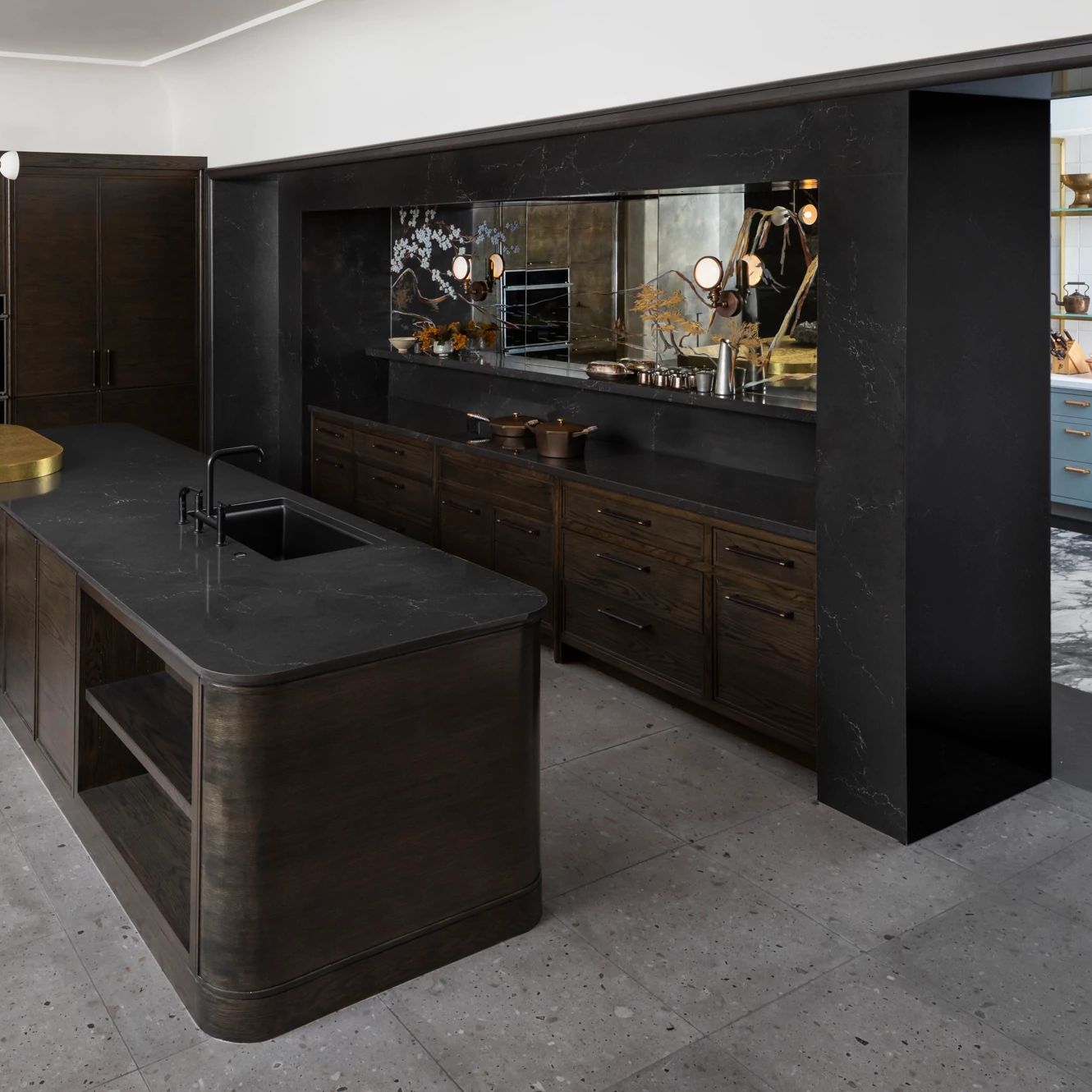 Dark oak cabinetry adds to the moody atmosphere.
Even though it is a luxury, Dorsey has been pushing larger pantries with his clients, but this prep kitchen goes "the extra mile" with a full set of appliances. He created a "focal point in the space with a cased opening using Cambria inset with a chinoiserie painting by artist James Mobley created on Industry Glass over an antique mirror."
The designer also paired a Cambria Charlestown backsplash with Foggy City Matte* countertops and Black Rock Matte* perimeter flooring for a "European elegance-meets-industrial-edge aesthetic" in the prep kitchen. *Product design consultant: Gensler
"The prep kitchen is meant to be more personal, where all of the day-to-day activities happen, like cooking, so you could keep it a bit more cluttered," explains Dorsey. "There's a work-from-home space. You can work from home, do homework, and have coffee there. But this is a bit more personal and relaxed than the front kitchen, which is a bit moodier."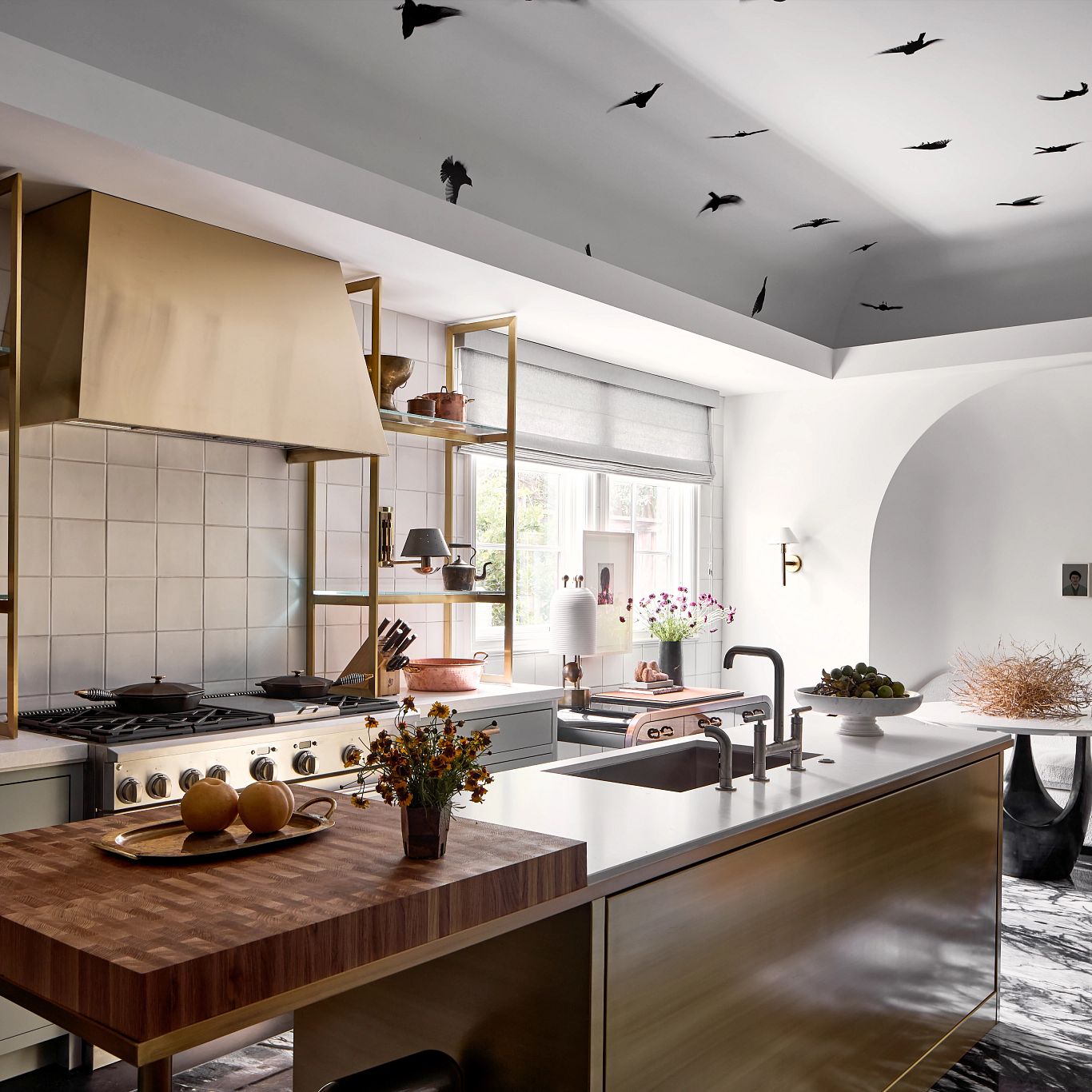 The vaulted ceiling incorporates a bird wallpaper for a unique and unexpected element.
"This was a new edge profile for us," says The Countertop Market fabricator Leo Rodriguez, who first created a digital layout for Dorsey to review and approve. "We were not sure how the vertical installation was going to go. So, we waited to template for the vertical until all the countertops were in. It was worth the wait."
Dorsey aimed to lend dimension to the ancillary space with this Cambria backsplash. "Cambria works well with all different materials, so I love to mix materials," says Dorsey. "I wanted the countertops to be clean and simple—because I wanted all of the vertical surfaces to be bright—but on the floor, I wanted it to sit on something dramatic. I used Black Rock Matte around the border and then inset a natural marble in the middle to kind of pull in the blue. It has a slight gray tint to it, so it really works with the blue millwork."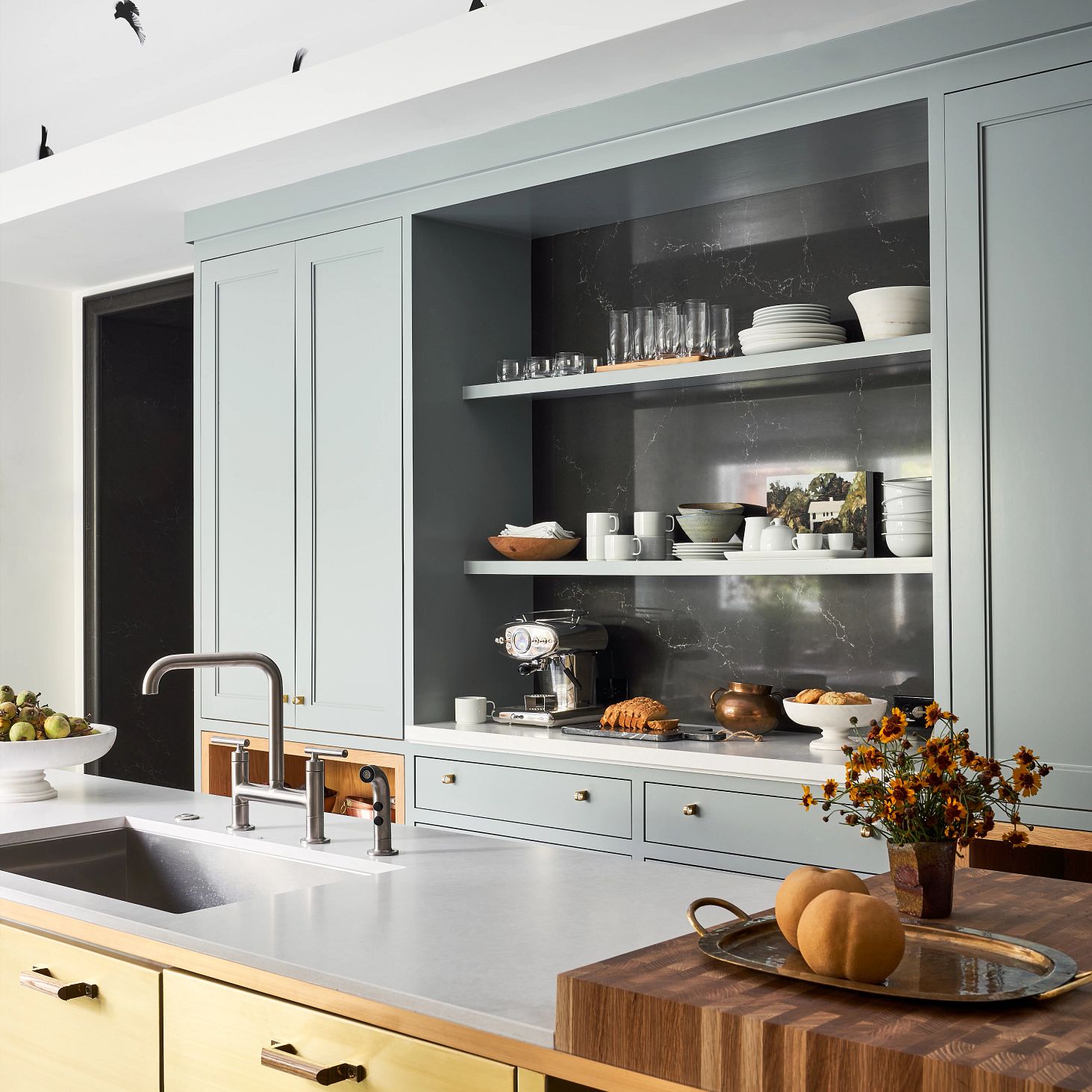 Cambria countertops complement the prep kitchen design.
The prep work on the floor was of the utmost importance in order to marry the marble and quartz seamlessly. "We actually did it in three passes to ensure it came out perfect," says Rodriguez. "The marble was just a tad thinner than the quartz, so we started by installing the marble with lasers, then placed the pieces."
The overall effect, says Rodriguez, contributed greatly to the aesthetics. "It just felt cool, sleek, and exciting to do something different," he says.
Morning Lounge by Marcus Mohon Interiors
Austin, Texas, designer Marcus Mohon found inspiration in his wife Autumn and their four kids for this stunning morning lounge.
"Our house takes a beating," he says. "Our goal for our family is to live both practically and stylishly. We want our kids to be able to use everything in the house."
That said, he upholstered furniture in the space with outdoor fabrics that wear well and also built a custom dining table from Cambria Brittanicca Gold Warm quartz, all of which was carefully considered to highlight the warm color palette of creams, golds, and grays.
"You could make this out of marble, but you would be on pins and needles all the time about using it," explains Mohon. "I want to be able to sit down with a glass of red wine and not worry about it. The table hits the mark of being both stylish and practical. And I was inspired by a vintage 1970s piece that I saw. It was marble but too small. We based the design on that and then did the bull nose edge to soften it a little bit."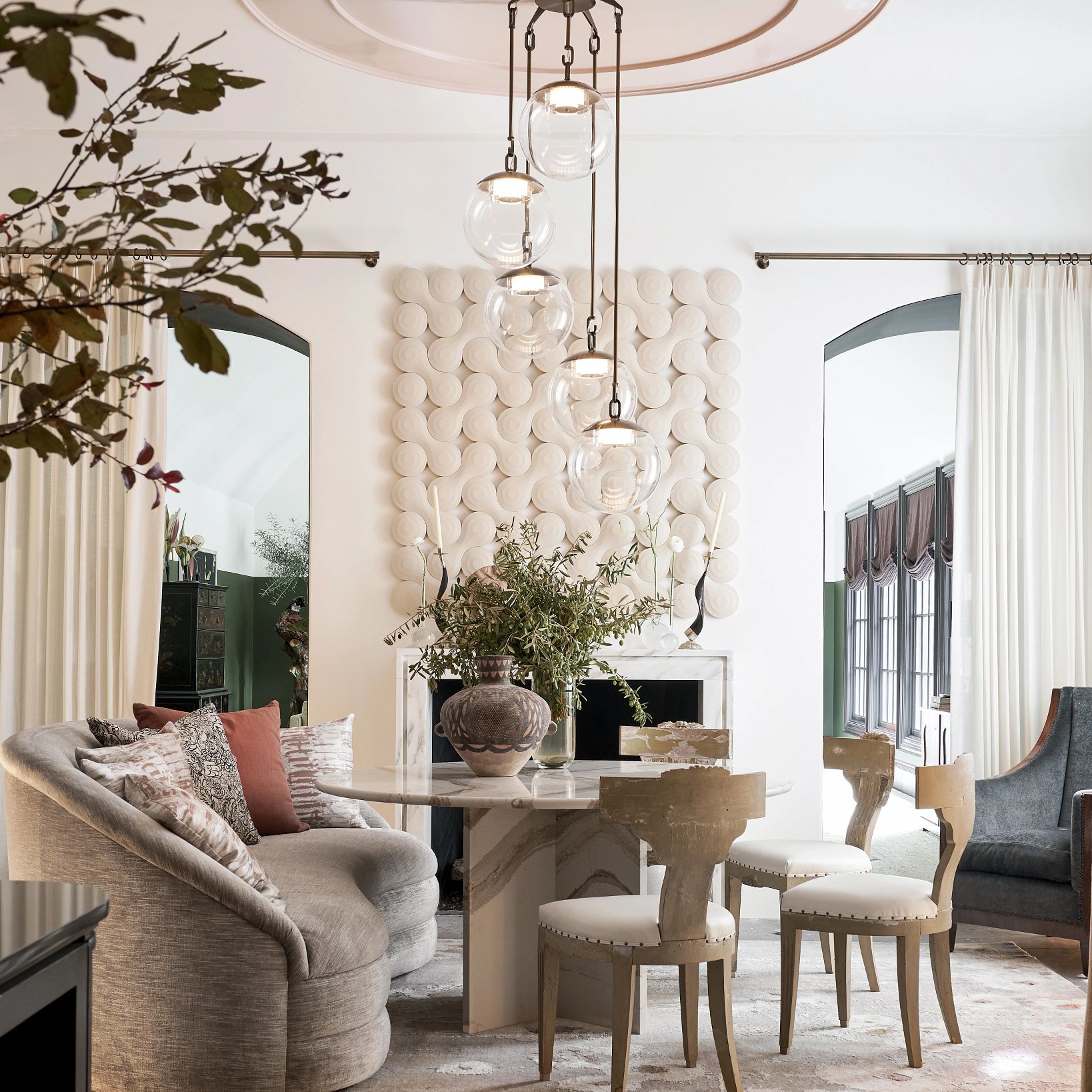 Cambria surfaces are nonporous, nonabsorbent, and NSF-51-certified, so they're food safe; are scratch and stain resistant against common household items like coffee and wine; and they're maintenance free.
For the fabrication, Rodriguez says the base was the most intricate component.
"We had to cut and run it on our KLUX to surface polish the backside of the slab," he says. "After that, we used our five point saw to make very precise notches on both sides. Once the centerpiece was ready, we dry fit the two side pieces to it. The table was actually assembled on-site, we used permanent adhesive to set it all in place."
Mohon then replicated the Brittanicca Gold Warm look on the fireplace mantle and surround.
"They're like good cousins," says Mohon. "When you have a dinner party, you want to have people who are all a little different just so there's variety. They complement and play off each other and finish each other's sentences, but they're also close enough that they work together. I love things that don't match but kind of just flow."
Powder Bath by Margaret Naeve
Where the Show House powder bath lives now was once a gallery. To maintain that original function, Houston-based designer Margaret Naeve kept it gallery-like by painting the walls white and installing contemporary art from three different artists.
"Even the art from the furniture is representative as well," says Naeve. "It's all just artistic objects, even the lights. I wanted the powder room to be super moody and to have this kind of contrast but keep the same feeling with a focus on texture, materials, and form."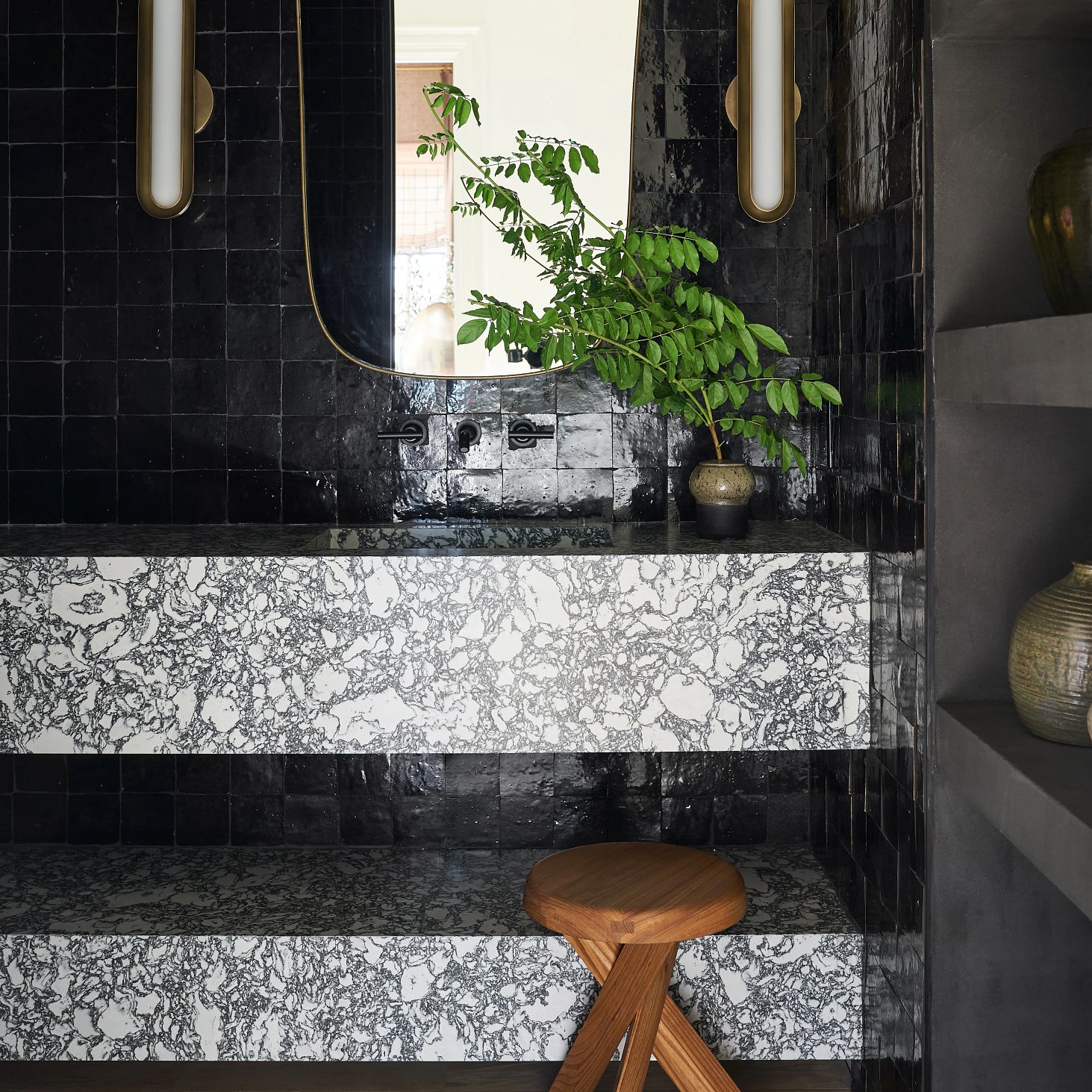 Naeve wanted the vanity size to stand out in this powder room.
To that end, she installed a wall-to-wall application of Cambria's monolithic Rose Bay design on an integrated sink paired with black clay tile, plaster shelving, brass accents, a vintage mirror, and black Kohler fixtures.
"You can focus on the vanity being the star," says Naeve. "We were playing with different materials with the matte on the vanity and the shiny on the walls and then the matte again on the plaster. It is all about those three playing together and making one complete moment."
Master Bedroom Coffee Bar by Doniphan Moore Interiors
Tasked with reimagining the 1,200-square-foot Show House space spanning the primary bathroom, coffee bar, and his-and-her closets, Dallas designer Doniphan Moore found inspiration in the home's architecture.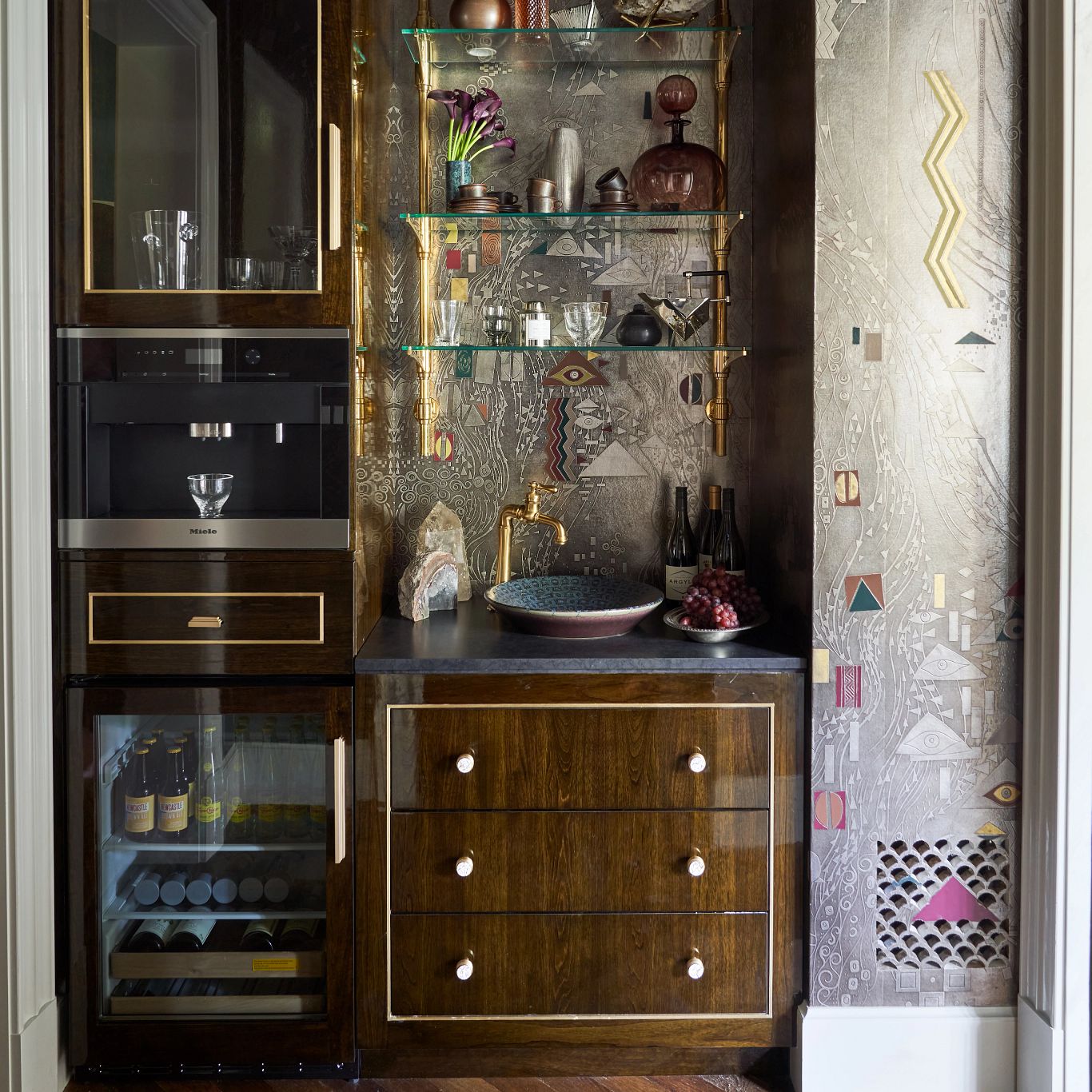 The Cambria countertops wear well in this coffee bar.
The octagon-shaped bathroom led to the creation of a menagerie of falling branches inspired by modern yet classically rooted de Gournay wallpaper. A prelude to the bathroom, the coffee bar offers a respite and features low-maintenance, scratch- and stain-resistant Cambria Black Rock* countertops that contrast with the feminine wall covering.
*Product design consultant: Gensler
Lounge/Loft by Sherry Hayslip Interiors
This hidden loft by Sherry Hayslip Interiors serves as "a contemporary place to find peace and an escape from the chaos of everyday life," writes Wicks. "It's a place to enjoy a cocktail, good conversation, or just admire the sky above."
Hayslip featured local artists' work throughout the space to support the Dallas art scene, including a submerged series of art boxes by Carmen Menza and custom skylight art.
"If true wealth is health and time, space isn't far behind, and this area is the perfect bonus to the house," Hayslip told Veranda. "When I first visited the loft, I was immediately drawn to the clouds as I gazed through the skylight. It was like a single frame of the Texas sky."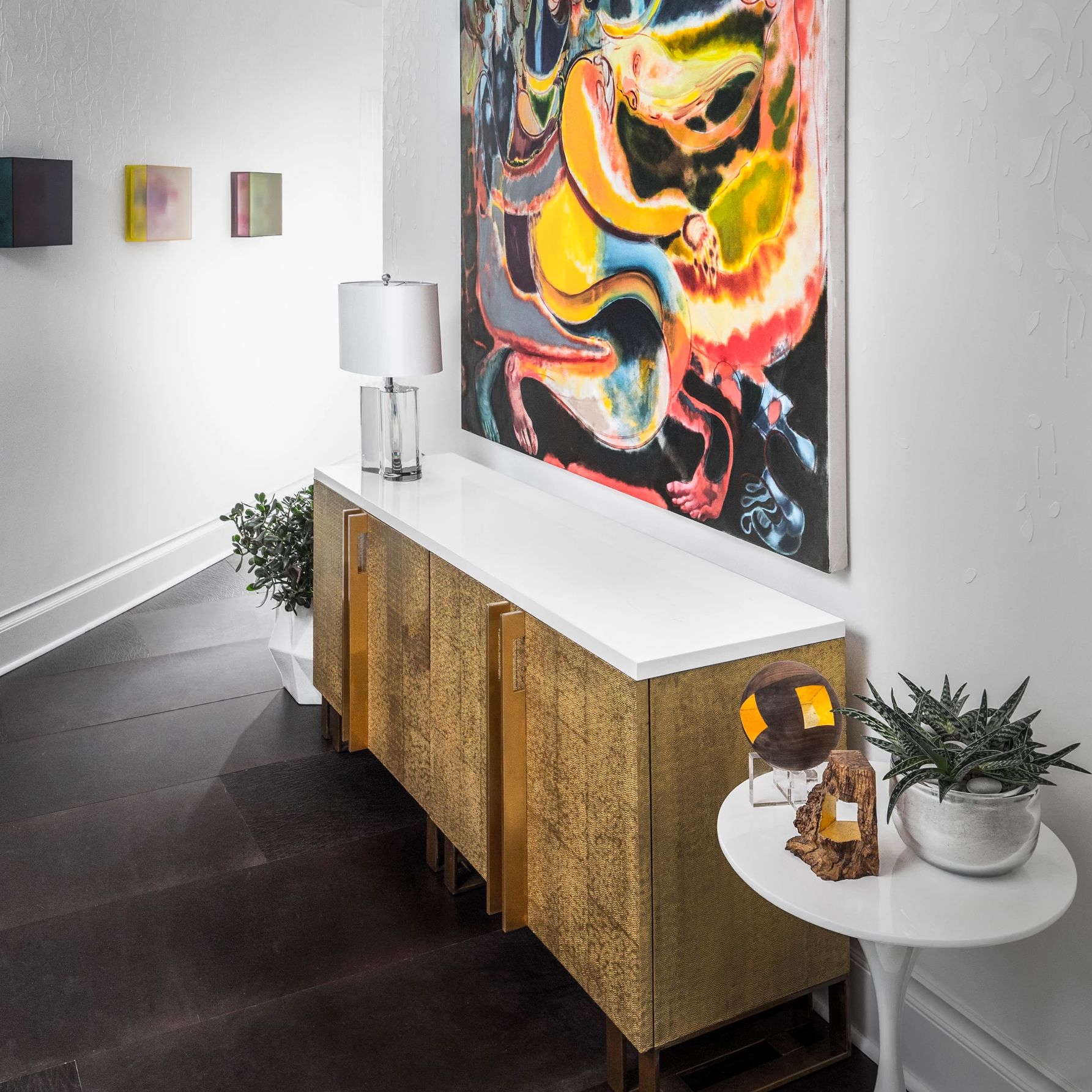 Custom media console topped with Cambria White Cliff.