Tomato Soup
Photography by STEVE HENKE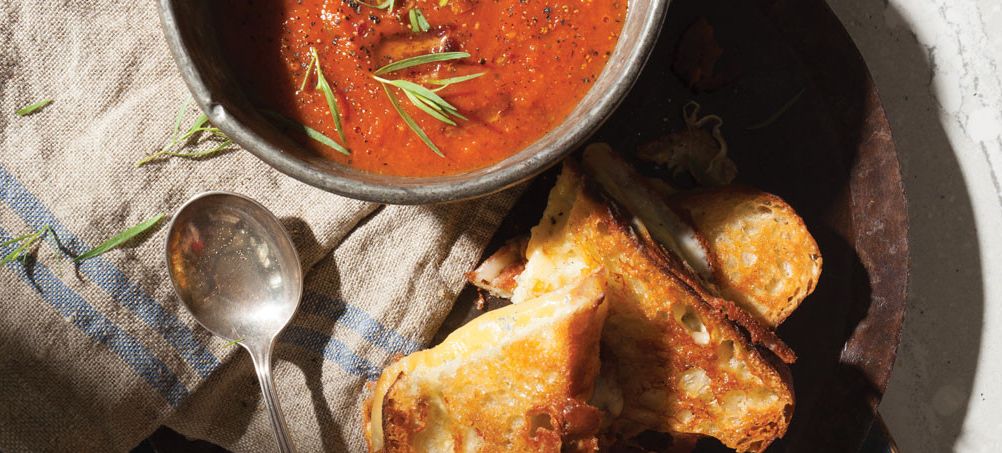 INGREDIENTS
Serves 4
4 strips of bacon
1 large Vidalia onion, roughly chopped
5 garlic cloves, minced
2 28 oz. cans diced tomatoes, drained
3 Tbsp. fresh tarragon leaves, torn or chopped
4 cups vegetable stock
½ cup heavy cream (optional)
Salt and pepper to taste
Pinch of red chili flakes (optional)
DIRECTIONS
In a large Dutch oven, sauté bacon over medium-high heat until crisp. Using a slotted spoon, remove bacon from pan (leaving fat in pan), chop, and set aside. Reduce heat to low, sauté the onions in the bacon fat until soft and translucent, about 3 minutes. Add the garlic and chopped tarragon, sauté a few minutes more. Drain the tomatoes and add to the onions, sauté for 10 more minutes. Add the vegetable stock, turn the heat up to high, and bring the soup to a boil. Lower the heat and allow the soup to simmer for one hour. Remove soup from heat. Use an immersion blender to puree until smooth.
For a creamier soup, add ½ cup of heavy cream; stir to incorporate. Add salt and pepper to taste. Garnish with bacon pieces, fresh tarragon leaves, and red chili flakes.
CUSTOMIZE IT
This fresh and bright tomato soup is naturally gluten-free.
Make it vegetarian: Substitute butter or ghee for the bacon fat.
Make it vegan: Substitute vegan butter for bacon fat; omit heavy cream or stir in almond-milk creamer or coconut milk (the latter will give the soup a slight coconut flavor).
PAIR LIKE A PRO
Leslee Miller, certified sommelier of Sip Better, an online tasting club, shares her favorite pairing.
Podere le Boncie 'Le Trame' Chianti Classico
With its mix of red fruits, licorice-y herbs, and acid, this Tuscan wine is the perfect accompaniment to the classic soup.