Third Street Pizza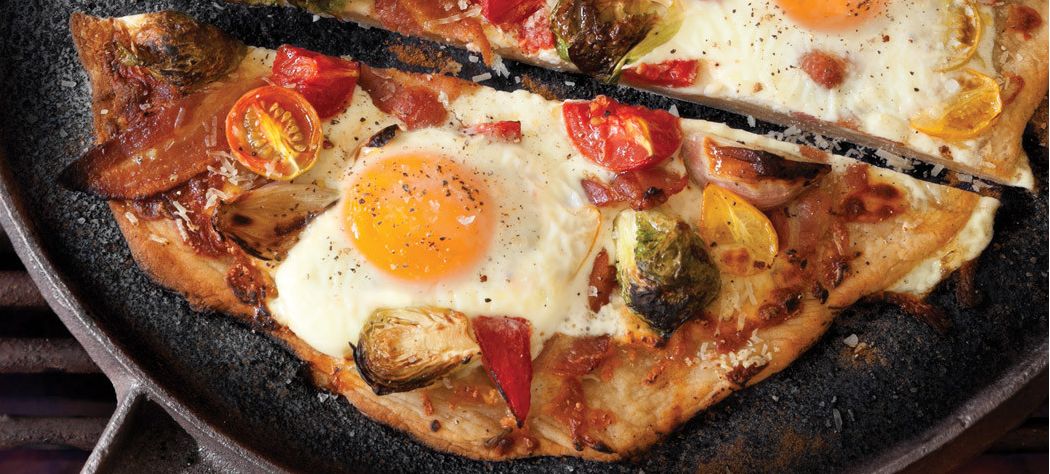 INGREDIENTS
Makes two 10-inch pizzas
¼ cup extra-virgin olive oil
2–3 shallots, sliced
10–12 Brussel sprouts, sliced
5 or 6 slices of bacon, chopped, sautéed, and drained
8 baby heirloom tomatoes, cut in half
1 14-ounce can of San Marzano tomatoes, drained and cut into small chunks
½ cup shredded mozzarella chunks
4 eggs
¼ cup grated Grana Padano cheese
DIRECTIONS
Preheat grill or oven to 400ºF. Toss shallots and Brussels sprouts with olive oil in a roasting pan, season with salt and pepper and roast for 15 to 20 minutes. Place the pizza stone on the grill or center oven rack and increase temperature to 500ºF. Brush the center of the pizza crusts with olive oil and sprinkle with mozzarella cheese. Arrange Brussels sprouts, shallots, bacon, and tomatoes on the pizza. Transfer to the pizza stone and grill or bake for 5 to 7 minutes or to your liking. Remove from heat and crack two eggs on top of each pizza-dough ball. Continue cooking the pizzas until the eggs are just set. Remove from heat, sprinkle Grana Padano on top, cut into slices, and enjoy.
PAIR YOUR THIRD STREET PIZZA WITH:
WINE
WEINGUT NIKLAS LAGREIN
Trentino-Alto Adige, Italy
This seductive red, concentrated with notes of black currant, violet, and black pepper, is best enjoyed slightly chilled.
Beer
HEATER ALLEN BREWING 'STICKE ALT'
McMinnville, Oregon
Malty, yet balanced with a bit of hoppy zing, this German-style beer makes a lovely combo with this pizza.
Cider
SOCIABLE CIDER WERKS 'SPOKE WRENCH' CIDER
Minneapolis, Minnesota
This handcrafted stout apple cider has aromas of spicy chocolate and roasted toffee—perfect with these roasty shallots and bacon.
Recipe by CHEF MIKE DALTON, Campiello, Naples, Florida
Pairings by LESLEE MILLER, Certified Sommelier of Amusée Wine