The Ultimate Guide To Brandy
One of the world's premier spirits is attracting the attention of a fresh generation of enthusiasts. Here's what's new about this old favorite.
Written by AMANDA LECKY
Photography by STEVE HENKE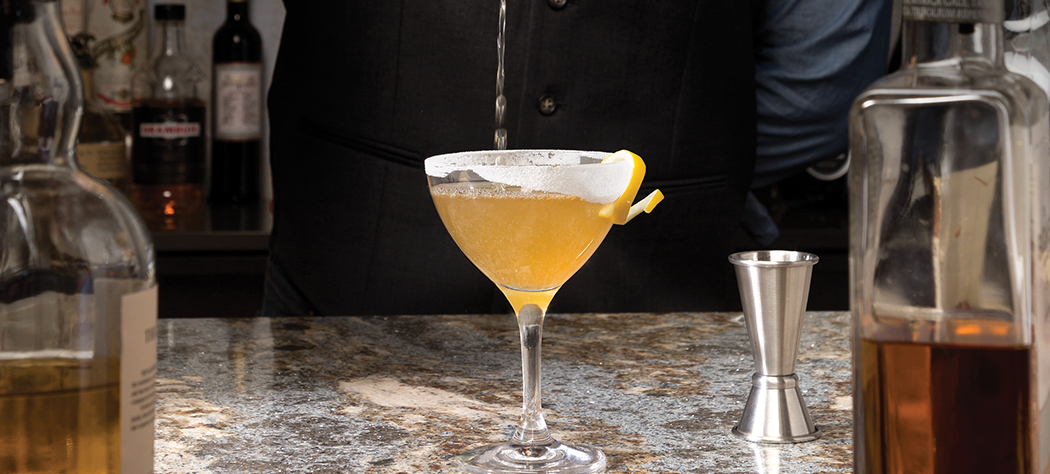 FORGET THE SMOKING JACKET
Brandy is quickly shedding its reputation as an old-fashioned drink best enjoyed in a stuffy men's club. American brandy distillers are bringing new-world ingenuity to the classic spirit and bartenders have noticed, crafting creative new cocktails that are a far cry from the traditional after-dinner snifter. This recent surge in popularity is just the most recent step in brandy's distinguished history. The Middle Ages brought the discovery of the distillation process and gave the wine-based spirit its name: brandy comes from the Dutch "brandewijn," or "burned wine." Brandy crossed the Atlantic in 1640, thanks to a distiller in Staten Island in the New Netherland Colony of what is present-day New York—and Americans have been enjoying it ever since. If you'd like to get a taste for this new-old tradition, read on: This brandy primer will help you sip like an expert.
BRANDY BASICS
Brandy begins with fermented fruit: grapes, grape skins, apples, plums, pears, or cherries, to name a few. During the distillation process, the wine or mash is heated in a still—usually made of copper—concentrating the flavors as the water boils away. Most brandies then spend some time aging in oak barrels, gathering sweetness, richness, and color from the wood. After aging, many producers intensify the look and flavor with caramel and sugar or a solution called boisé, made from a macerated mixture of oak chips, sugar, and lower-proof brandy. Next comes chill filtering, a step just before bottling that removes solids and oils from the liquid, creating a more uniform and predictable product. Some producers elect to skip this step. "We don't chill any of our brandies," says Joe Heron, co-founder, with his wife, Lesley Heron, of Kentucky-based Copper & Kings craft brandy. "We want to keep those oils in, so you can taste all the varietals in the grapes we use. We want a more individual and less mass-produced flavor. We also don't adulterate any of the brandy with sugar or caramel or boisé."
BRANDY VOCABULARY
Although many of us hear "brandy" and think "Cognac," the term actually refers to a broad category of distilled spirits. In addition to the regional differences, there are several different basic types of brandy defined by base ingredient and production process. French and Spanish brandies also use specific labeling terms to denote the age of the product. Here's a quick rundown of some words to drink by:
REGULAR
Brandy is made from white wine. In areas with tightly controlled production rules, the region determines the type of grapes used to make that wine and the length of aging (at least two years in oak barrels for Cognac).
POMACE
Brandy like Grappa or Pisco is made from the skins left over after the grapes have been pressed for wine. Unlike regular brandy, pomace brandy is typically not aged and is usually clear.
FRUIT
Brandy is made from the mash or juice of fruits like apples, plums, peaches, pears, blackberries, and apricots. Clear, un-aged fruit brandy is often called "Eau de Vie."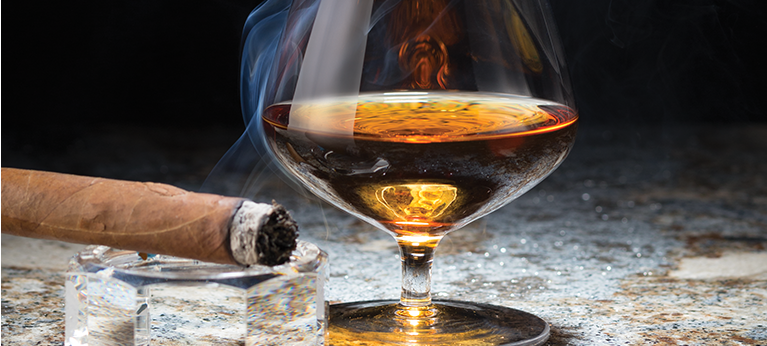 PERFECT MATCH: BRANDY AND CIGARS
A snifter of brandy and a great cigar—the pairing can be a match made in heaven. But how do you pick a combination that will bring out the best in each? A general rule of thumb is to match a medium-colored spirit like brandy with a medium-body cigar. Or, try these pairings with Copper & Kings brandy, suggested by spirits historian and cigar aficionado Michael Veach:
Paring one
DRINK: Copper & Kings American Craft Brandy
"A blend of copper pot-distilled brandy with real character and depth of flavor with a polished, velvety finish."
SMOKE: Arturo Fuente 8-5-8 Sun Grown
"A medium-full bodied smoke with delicious cedar, cinnamon, and leather tones accented by a lasting sweetness."
Paring two
DRINK: Copper & Kings Butchertown Brandy
"Robust whiskey notes with brandy fruit coming forth toward the back end. The finish is slightly tannic, with an oaky dryness that lingers."
SMOKE: Arturo Fuente 8-5-8 Maduro
"Intrinsic mixtures of dark spicy notes meld beautifully with this Toro's rich, nutty core."
TASTING TIPS
To get the best from your brandy, consider this expert advice from sommelier Leslee Miller:
PICK THE RIGHT GLASS
"Use a snifter. It pinches in at the top, which concentrates the aromas. If you don't want to stick your nose all the way into the glass you can also just dab a bit on the back of your hand, let it dry, and then sniff."
DON'T GET IT TOO HOT
"If you prefer warm brandy, just run warm tap water in the glass before you pour. It does open up the aromatics."
TRY IT ON THE ROCKS
"The cold makes the oils clump together so you can really taste all the varietals."
PAIR IT WITH FOOD
"Cognac and Armagnac can stand up to rich, heavy foods like ribeye or crème brulée. Calvados is perfect with a cheesy dip or scalloped potatoes. And Eau de Vie goes really well with bold cheeses like blue and a mix of dried fruits."
ENJOY IT IN A COCKTAIL
"The Sazerac, Sidecar, and Pisco Sour are all classic brandy cocktails, and a lot of bartenders are using it in really creative ways."