The Art of Paint
Written by JEFF JABLANSKY
Photography by KARYN MILLET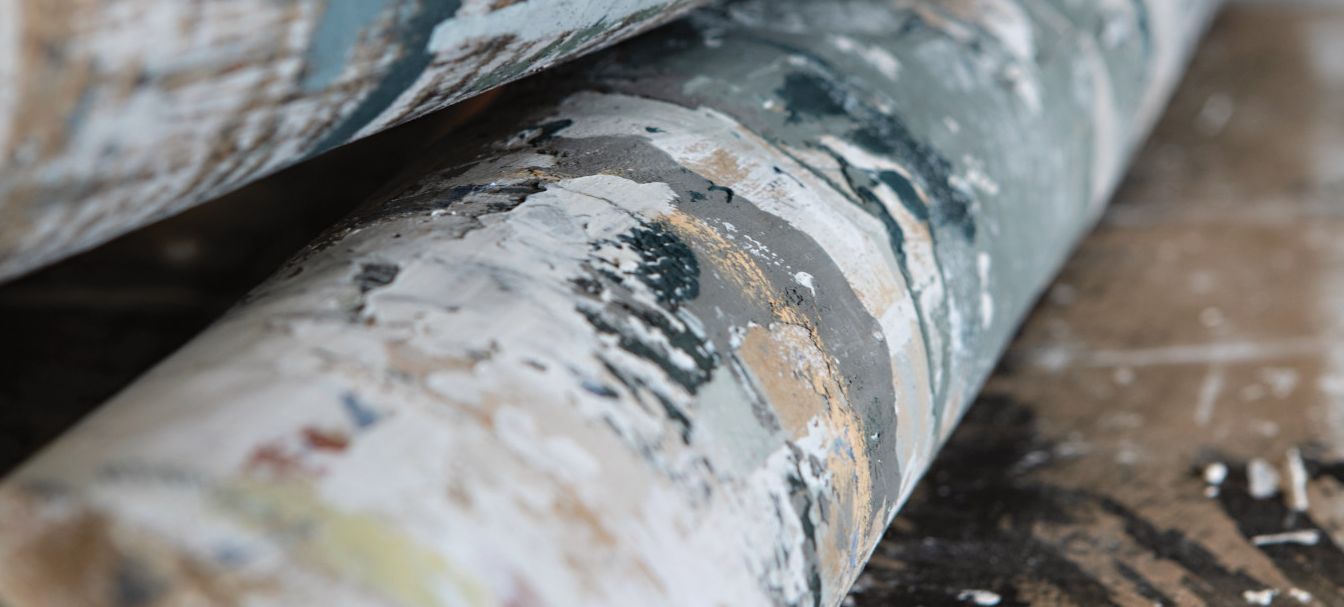 At Portola Paints & Glazes in West Hollywood, California, flipping through the fan decks is an insight into the imagination of its founders. Sure, Mont Blanc is alabaster. Costa Azul has the look and feel of distressed blue jeans. And Wet Concrete actually resembles the stuff. But what of the deeply contemplative turquoise hue of Lost Highway or the period-correct, depressingly accurate, and evocative Mar Vista seafoam? Immediately, you get the sense that there is creativity, whimsy, and humanism in these blends. "The colors aren't made from a computer algorithm," says co-owner Jamie Davis. "They're made from experience."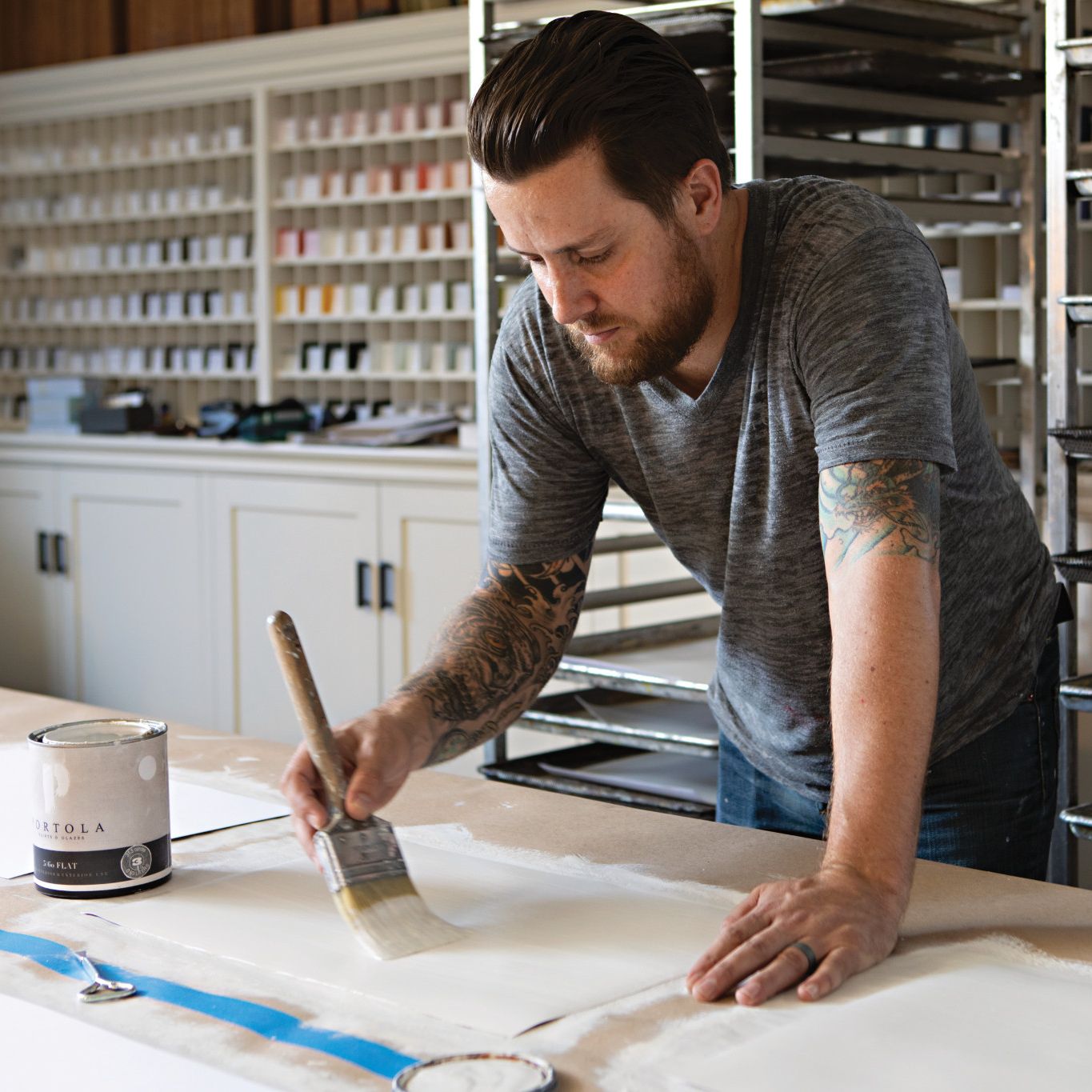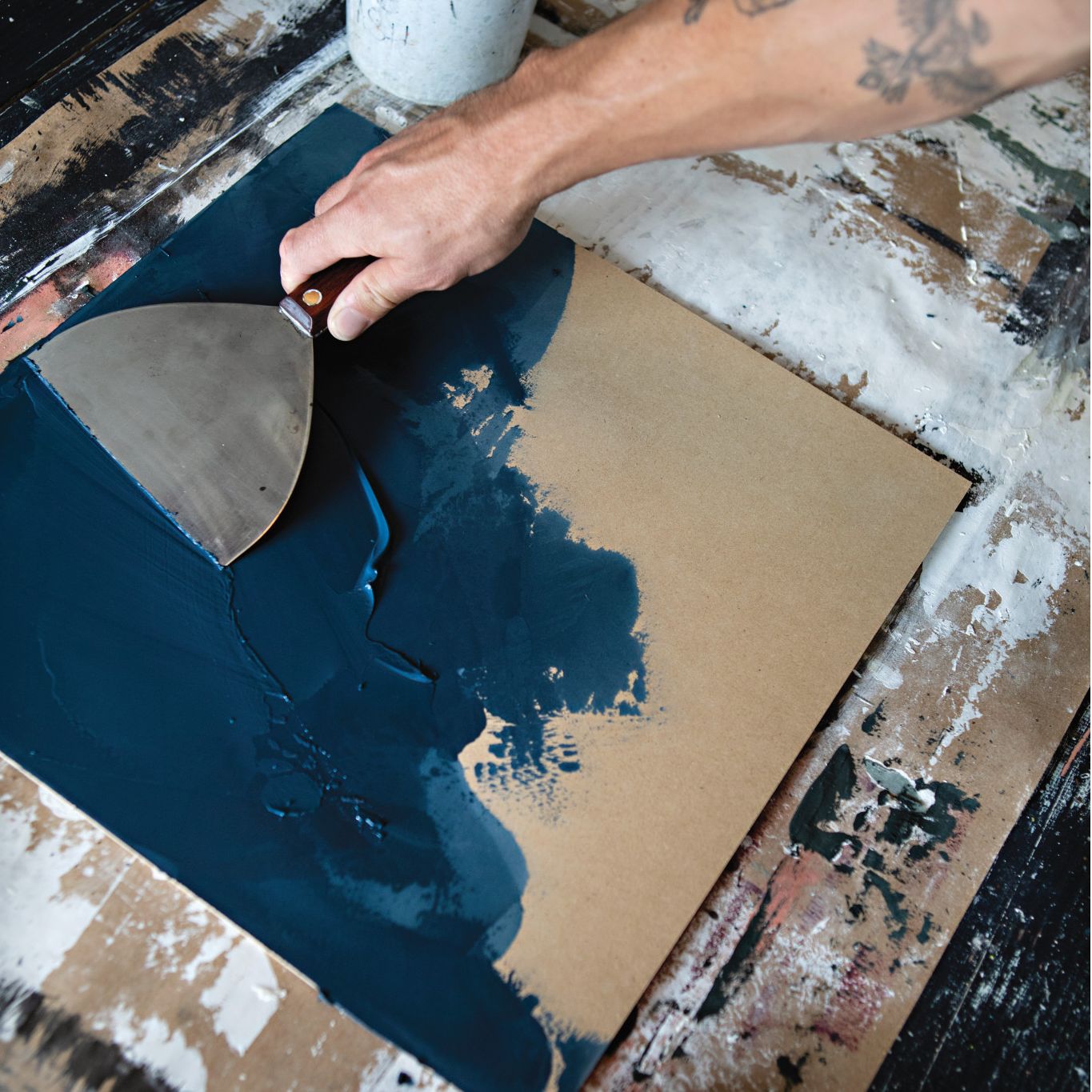 The small-batch, customized approach touches everything about Portola, which Davis has run with his brother, Casey, both deeply rooted Angelenos, since 2001. ("My brother and I were both home births in Laurel Canyon, so it's in our blood," Davis says.) What started as an endeavor by their contractor father researching lime paints in 1998 turned into a hyperlocal family business specializing in limewash and Roman clay. The matriarch of the family keeps the books.
The hearth, so to speak, of Portola's retail space is the wooden table that bisects the customer-facing area. Davis spends most of his time here among the plasterboards and butcher paper, brush in hand, using the natural, southerly light to test his work. Lining the east and west walls are floor-to-ceiling built-in shelves and cabinets crafted by the Davis brothers' father. His love for the New England Cape Cod style, Davis says, inspired the vision for the store. When the company started out, the brothers' color offerings were smaller and they did a lot of custom matching. These days, Davis is more likely to turn to Pinterest and Instagram to get a fuller idea of his clients' tastes. His sense of color is inspired by the tapestry of the city, with its cottages sitting among Spanish-style haciendas—often all on the same block. The colors that Portola makes are mixed in the area just behind the register, while the base coats are produced at a facility in South Los Angeles, which Davis posits is the last remaining family-owned paint factory around. Where possible, he likes to collaborate with the greater, like-minded L.A. community.
"When we started this company, the internet wasn't even a thing, and now there are companies that don't even have brick and mortar," Davis says. "That's going to be a challenge moving forward, figuring out how to keep the same service that's gotten us where we are, while also freeing myself and my brother to figure out how to expand the business outside of a single store."
In the loft-like space directly above the showroom is an office where Davis and his team hand-paint each swatch and assemble individual fan decks. "They're made by hand; they have to be," Davis says. "It's about staying true to what makes it special." Davis innovates by monitoring trends outside his industry, looking to fashion brands like A.P.C. and Rag & Bone. The colors that helped launch the business, Davis notes, are coming full circle. Mustard yellow and terra-cotta are slowly replacing lifeless off-whites—and there's even demand again for chartreuse. Don't bet against a brilliant response from Portola to accompany the resurgence.
What other interior product could claim the same level of impact as a can of paint? It is said to be the first thing the eyes respond to when entering a room and is typically the largest canvas for color in any space yet achieves this with the material thickness of a couple of sheets of paper. The development of low- and zero-VOC options allows us to breathe easy, and the evolution of paint chemistry means that we can cover more with less. Colors are evolving, too, with the pigment industry offering new effects and colors. The first good new blue for 200 years was found less than a decade ago, and the hunt for a nontoxic stable red is heating up. (Ferrari pays $300 million a year for its signature pigment.) Special effects such as ultra-mattes, a wider range of metallic sheens, and iridescent effects are also trending from cars into our homes via electronics. With such a large canvas, there has been an inevitable desire to innovate, leading companies to add value in surprising ways. Want to stick magnets to your wall? Need it to be a dry-erase surface? Trying to reduce noise levels in a room? All can be solved by a coat of paint—there's even a version that creates energy from sunlight, and for those of us tired of following our messy kids around the house with a wet sponge, there are self-cleaning, odor-eating, and antibacterial options. It seems that paint manufacturers have solved every challenge for reimagining our interior spaces, leaving only one problem left: which color?