Tempting Twists On The Classic Picnic
Fresh, delicious food eaten outside with friends. What better way to spend a summer day?
Written by AMANDA LECKY
Photography by STEVE HENKE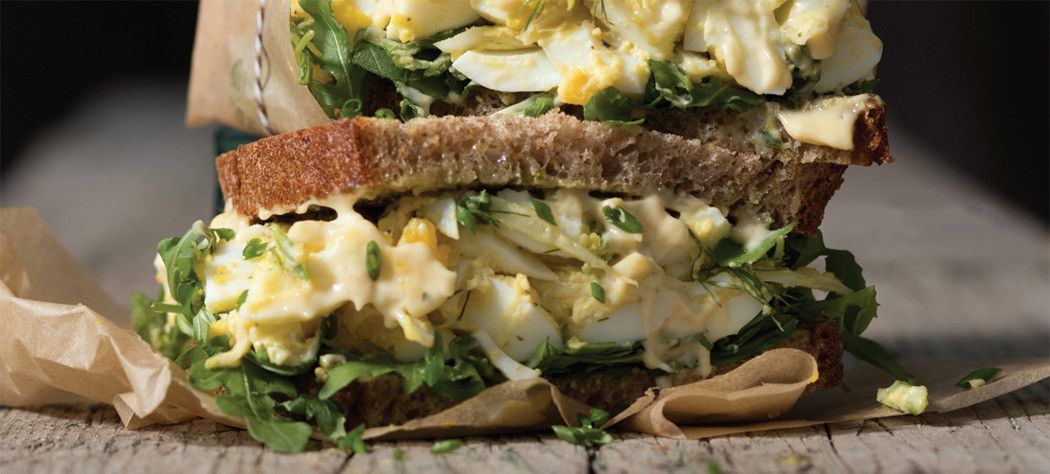 HERBED EGG SALAD SANDWICH
Serves 2
INGREDIENTS FOR MAYONNAISE
1 large egg yolk
2 tsp. Dijon mustard
kosher salt
¼ cup olive oil
¼ cup vegetable oil
4 tsp. apple cider vinegar
freshly ground black pepper
INGREDIENTS FOR EGG SALAD
8 large eggs
kosher salt
freshly ground black pepper
2 Tbsp. minced chives
1 small fennel bulb, shaved thin
3 Tbsp. chopped fennel fronds
1 tsp. finely grated lemon zest
2 tsp. fresh lemon juice
1 cup baby arugula
4 slices country-style bread, toasted, or focaccia
olive oil (for drizzling)
DIRECTIONS
Make mayonnaise: Combine egg yolk, mustard, and a pinch of salt in a medium bowl. Whisk until smooth. Combine olive and vegetable oils in a measuring glass and pour into yolk mixture, drop by drop at first, then in a slow steady stream as mixture stiffens, until all the oil has been added. Whisk in apple cider vinegar, season with salt and pepper. Set aside. Gently lower eggs into a large saucepan of boiling, salted water, and cook, maintaining an active simmer, 9 minutes. Immediately transfer eggs with a slotted spoon to a bowl of ice water and stir until cool enough to handle, about 1 minute. Drain, pat dry, and peel eggs. Chop eggs and add to mayonnaise. Gently fold just to coat; season with salt and pepper. Add chives, shaved fennel, fennel fronds, lemon juice, and lemon zest. Place arugula on bread, drizzle with olive oil, spoon egg salad on top.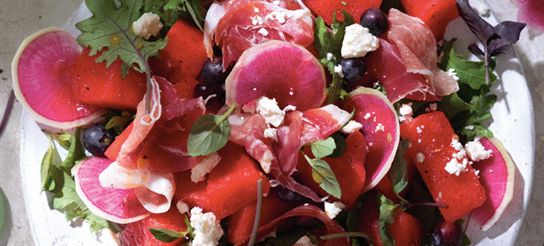 WATERMELON, BLUEBERRY, AND PROSCIUTTO SALAD
Serves 4
INGREDIENTS FOR CITRUS VINAIGRETTE
½ cup coarsely chopped baby basil leaves
2 Tbsp. white wine vinegar
½ tsp. finely grated orange zest
2 Tbsp. fresh orange juice
1 Tbsp. olive oil
kosher salt
INGREDIENTS FOR SALAD
1 2 lb. seedless watermelon, rind removed, cut into 1-inch pieces
½ cup fresh blueberries
2 small watermelon radishes, sliced thin
4 cups mixed baby greens, such as kale, arugula, spinach
kosher salt
2 oz. thinly sliced prosciutto
4 oz. feta cheese, crumbled
DIRECTIONS
Make vinaigrette: Mix basil, white wine vinegar, orange zest, orange juice, and oil in a small bowl; season with salt. In a large bowl, combine watermelon, blueberries, radishes, and mixed baby greens. Add vinaigrette; toss gently to combine. Season generously with salt. Transfer to a large serving platter. Top with prosciutto and crumbled feta.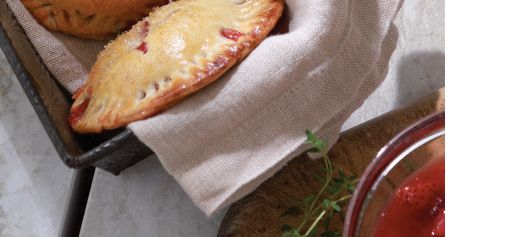 Strawberry-Thyme Hand Pies
Serves 4
INGREDIENTS FOR CRUST
1½ cups all-purpose flour
½ tsp. sugar
¼ tsp. kosher salt
½ cup (1 stick) chilled unsalted butter, cut into ½-inch pieces
INGREDIENTS FOR FILLING
all-purpose flour (for dusting)
2 cups sliced strawberries (about 10 oz.)
2 Tbsp. fresh thyme leaves
1 tsp. finely grated lemon zest
1 Tbsp. fresh lemon juice
¼ cup sugar
¼ tsp. kosher salt
1 large egg, whisked with 1 tsp. water
1 Tbsp. raw sugar
DIRECTIONS
Make crust: Pulse flour, sugar, and salt in a food processor. Add butter; pulse until it has the texture of very coarse meal. Add ¼ cup ice water; pulse, adding more water if dry, until dough clumps. Form into a disk, wrap in plastic, and chill until firm, about 1 hour. Preheat oven to 375°F. On a floured surface, roll dough into a circle, 14 inches in diameter. Using a biscuit cutter or glass, cut into 8 circles 4 inches in diameter. Make pies: Toss strawberries, thyme, lemon zest, lemon juice, sugar, and salt in a medium bowl. Brush edges of half the crust rounds with water; mound strawberries in center of each. Top with remaining crust rounds. Seal edges by pinching together or pressing with a fork. Place pies on a parchment-lined baking sheet. Brush tops with egg wash. Sprinkle with raw sugar. With a sharp knife, cut a small slit in the top of each. Bake, rotating sheet halfway through baking time, until juices are bubbling and pastry is golden brown, about 35–40 minutes (juices will run onto parchment). Transfer to a wire rack to cool. Serve warm or at room temperature.
PICNIC TIPS
Protect sandwiches by wrapping them in parchment paper before cutting in half.
Dry lettuce well and layer condiments in the middle of sandwiches to keep bread from getting soggy.
Spoon salads into mason jars. They're the ideal individual serving vessel: leak-proof, reusable, and easy to clean.
Line your cooler with frozen water bottles to keep food cold, and, as the ice melts, guests quenched.
Wrap wine bottles in a picnic blanket or tablecloth to cushion against bumps.
Remember the essentials: trash bags, picnic blanket, wine opener, sharp knife and cutting board, serving utensils, seasonings, and wet wipes.
PAIR LIKE A PRO
Leslee Miller, Certified Sommelier of Amusée shares her favorite pairings.
EGG SALAD | De Wetshof Limestone Hill Chardonnay
With eggs, I love a lightly oaked or unoaked chardonnay. Try this South African wine: the fresh apple, peach, and lemon notes add a little zip.
WATERMELON | Cava Brut Rosé "Nu Allongé"
Sparkling rosé is delicious with a watermelon salad, especially one with cured meat. The juicy notes of fresh strawberry, melon, and tangerine make this bubbly rosé from Penedès, Spain, a refreshing complement.
HAND PIES | Cleto Chiarli Lambrusco Grasparossa di Castelvetro Amabile
This Lambrusco from Emilia-Romagna, Italy, is one dense juice-box loaded with Italian herbs, sweet strawberry and rhubarb fruit notes, and a pinch of pepper.