Take a Tour of the Glamorous Betches HQ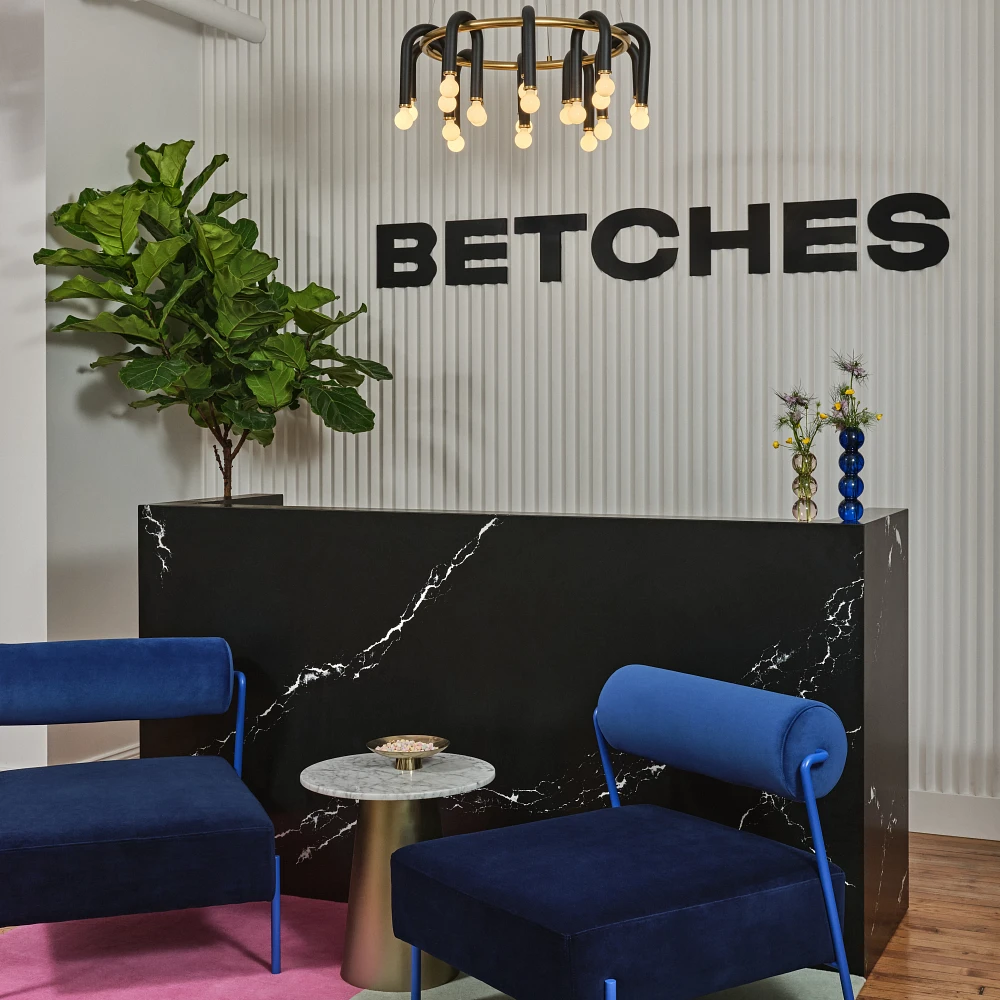 When clients come to Cambria with their unique style in mind, they trust that we will give them everything they need and more. Take Betches, a female-focused (and -led) media and entertainment powerhouse that isn't afraid to say what it's thinking, unfiltered and unashamed. When the Betches founders decided to move their headquarters into a new space in NYC, they wanted to bring the glittering spirit of their brand into every aspect of the space as well.
Betches is a millennial-women-centric brand, making being on-trend a key focus of the company. Cambria's award-winning, trendsetting designs were thus a must for the new HQ. Both young companies, Cambria and Betches offer a fresh perspective that is radical and achievable. Revolutionary goals lead to revolutionary results—and who wouldn't want that in a design partnership?
Cambria's bold veining designs were an instant point of inspiration for the HQ's new look. Bold and fashion-forward themselves, Betches wanted pieces that would stand out while bringing everything together in a look of pure, modern luxury. From Cambria's dark, rich Blackbrook Matte™ on the reception desk (shown above) and in the podcast studio to Hawksmoore Matte™ on the communal kitchen's counters and White Cliff™ scaling the walls, the Betches office benefited from Cambria's striking palette. The matte finishes on many of the surfaces added another layer of contemporary style—easy on the eyes in an office where employees work on computers and iPhones all day—giving both comfort and dimension to the space.
Betches also wanted surfaces that would be reliable. From early morning coffee rings to after-hours wine spills, cleaning Cambria is as easy as the wipe of a soft cloth with warm water and mild soap if desired. Cambria quartz surfaces are durable and scratch and stain resistant in both high gloss and Cambria Matte® finishes.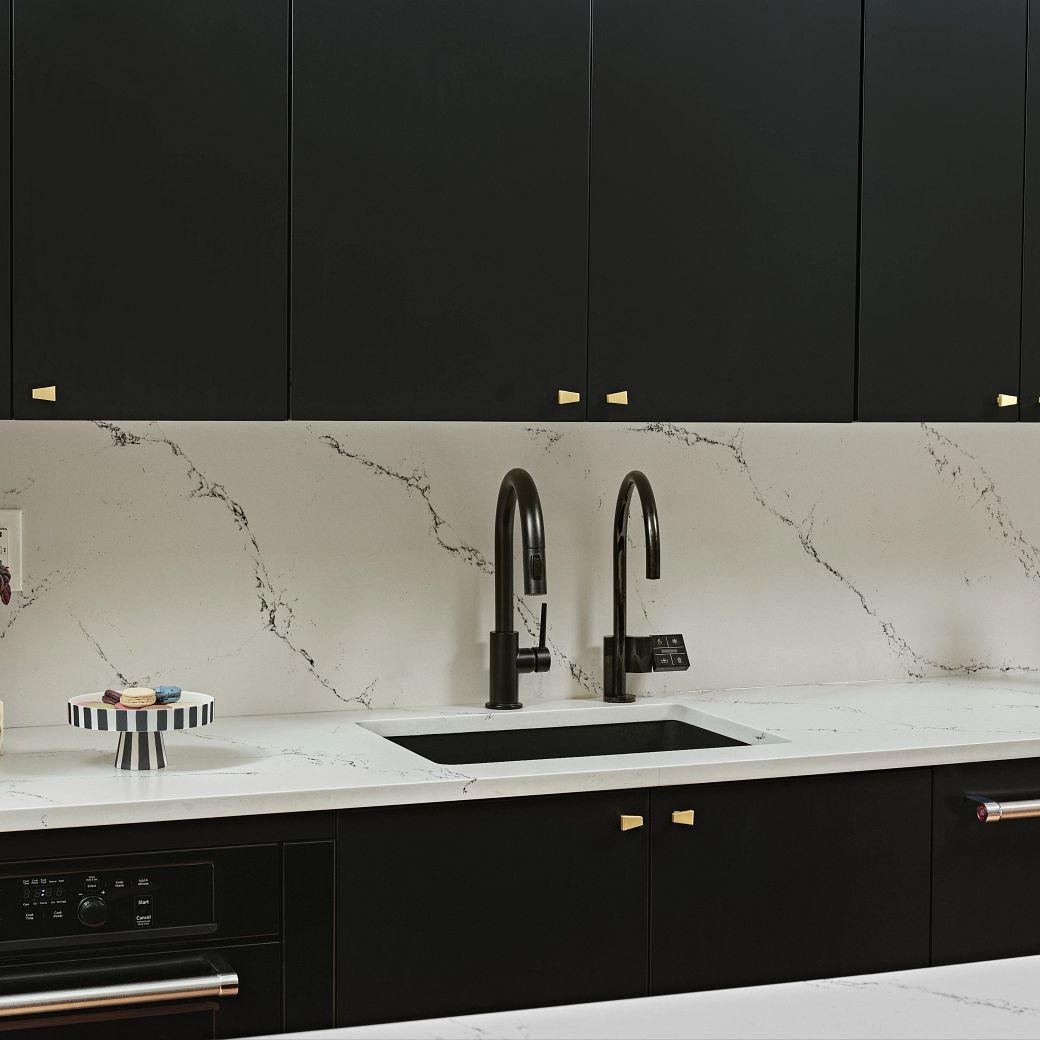 Black cabinets and mixed-metal hues combine with Hawksmoore Matte counters and backsplash to bring the Betches kitchen a minimalist, art deco vibe, perfect for relaxing during a busy day of work.
Sustainability is at the forefront of the modern mindset and was another factor in Betches' decision to work with Cambria. Cambria's eco-conscious mining and production processes keep the earth uncontaminated, safeguarding our future for generations to come.
Cambria harnesses the power of sustainability to refine the earth's strength and beauty, creating a luxurious office setting. Betches is committed to ethical sourcing and responsible stewardship, making the two companies a natural fit.
For more on Cambria's commitment to sustainability, visit here. 
The reception desk wasn't the only area of the entrance to get the Cambria treatment. Honing in on Cambria's trailblazing reputation, the Betches founders knew countertops were not the only way to benefit from the opulence of Cambria quartz surfaces. White Cliff, Cambria's purest white design, caught their attention immediately. Fluted cladding covering the walls of the entrance, White Cliff invites the striking atmosphere of unsullied design into the room, extending a welcoming hand to newcomers while setting the stage for Betches' dramatic, high-tone environment.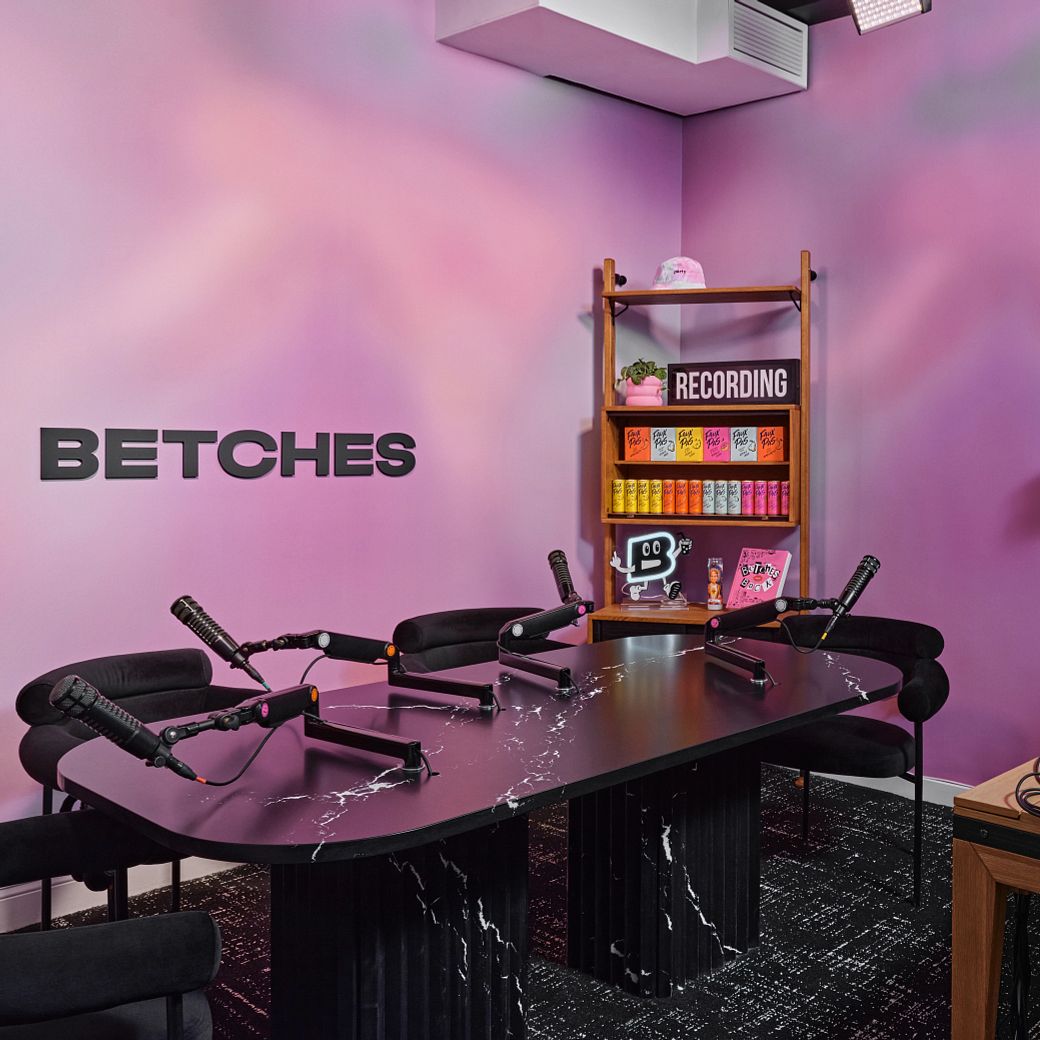 Blackbrook Matte reflects the sumptuous violet shades of Betches' podcast studio, allowing for a truly noteworthy look.
Betches' origins are in media, and though the business has expanded to include merch, books, and even comedy tours, media presence remains a crucial part of its brand. With 13 podcasts that discuss topics from pop culture to cuisine to finance, the podcast studio is a central piece of the HQ. Wanting the studio to reflect the trendsetting brand that grounds its subject matter, Betches selected Cambria Blackbrook Matte for the podcast studio's work space. No number of computers and microphones is too great for Cambria's durable surface. The ability to use full slabs was also important to Betches' podcast studio design—using Cambria meant the work space could be as large as it needed to be, with as few seams as possible. Fluted detail notes added the extra personality that Betches loves and that Cambria surfaces are uniquely situated to provide.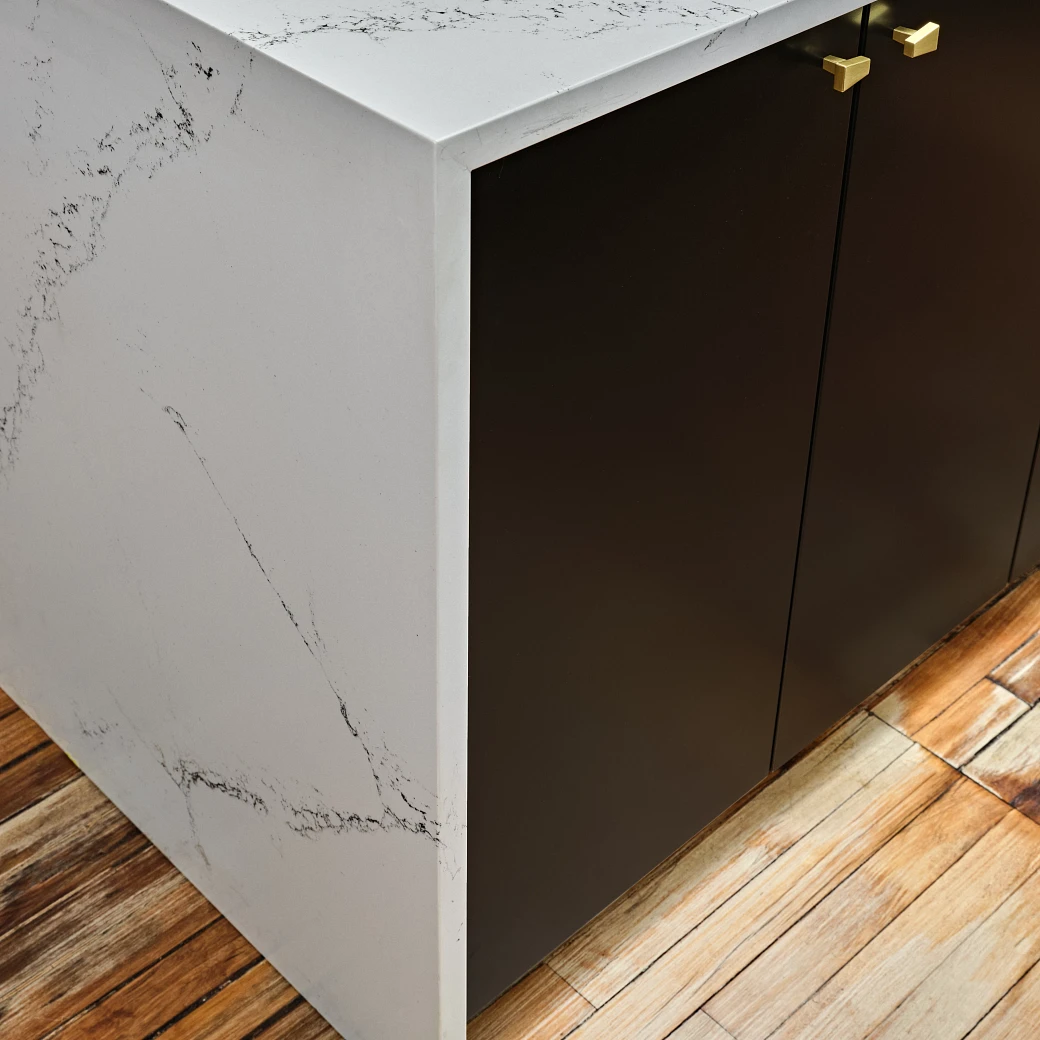 The Hawksmoore Matte waterfall island in the Betches kitchen displays 360 degrees of uninhibited luxury.
Cambria's Hawksmoore is an unabashedly magnificent marble alternative. Marble offers a luxurious aesthetic, but Betches didn't just look at aesthetics when choosing its surfaces. Performance was equally as important—long-lasting products show an investment in sustainability and resources—and easily cracked and stainable marble simply can't compete with the maintenance-free ease of Cambria quartz surfaces.
The Cambria surfaces Betches selected for its HQ are perfect for its bold and trendsetting lifestyle—they're unfazed by the hustle and bustle of daily life, environmentally friendly, and glamorous in every setting.
Get the Look
Follow Cambria on social media with #MyCambria for more standout designs.
For more information on Cambria, including performance data, product specifications, and certifications, see our Professional Resources.
Interested in creating a showstopping design project with Cambria? Buy a sample, find a dealer, or call 1-866-CAMBRIA (1-866-226-2742) to be connected with a market representative in your region. Or visit our website to set up a virtual design consultation.