Cambria's Summer 2021 Trend Report
Six designers seek delicate balances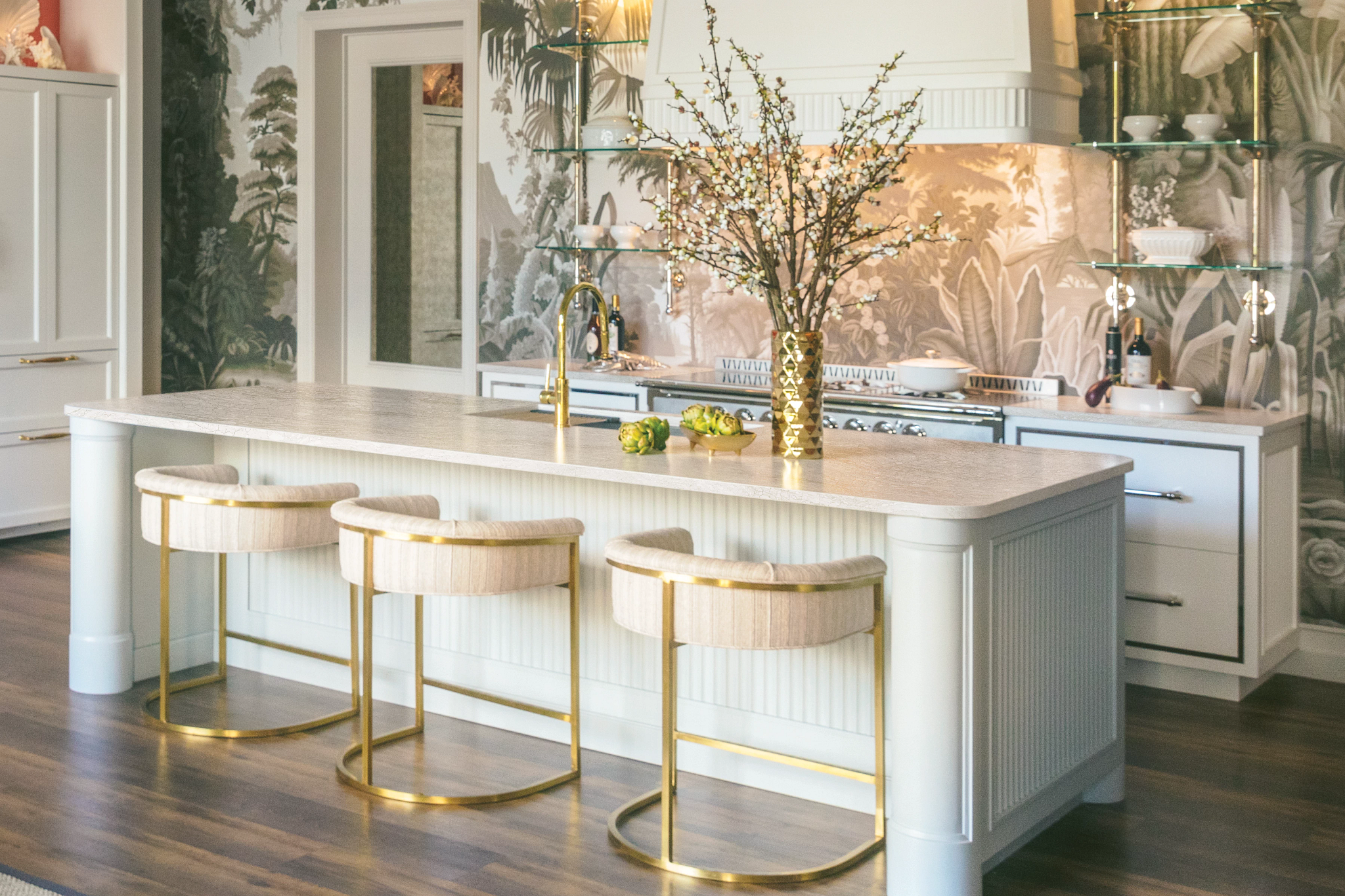 NO. 1: SET THE SCENE
Bold wall coverings—not your grandmother's wallpaper—are making a comeback in chic homes. Today, some of the most important gathering spaces are being designed around scene-stealing wall statements. That includes this dream of a kitchen by interior designer JIM DOVE, punctuated with IRONSBRIDGE MATTE™ Cambria on the island countertop and flanking the stove range. "Now, people want their kitchens to be as interesting as the rest of their home," he explains. Dove's striking background, L'Eden mural by DE GOURNAY, is shrouded behind museum-quality glass to both protect the delicate pattern and amp up the impression of prestige. With options from graphic geometrics to jungle landscapes—it can be hard for homeowners to choose. But when in doubt, consider Dove's golden rule: "I want it to look as though the surroundings had actually jumped right out of the painting."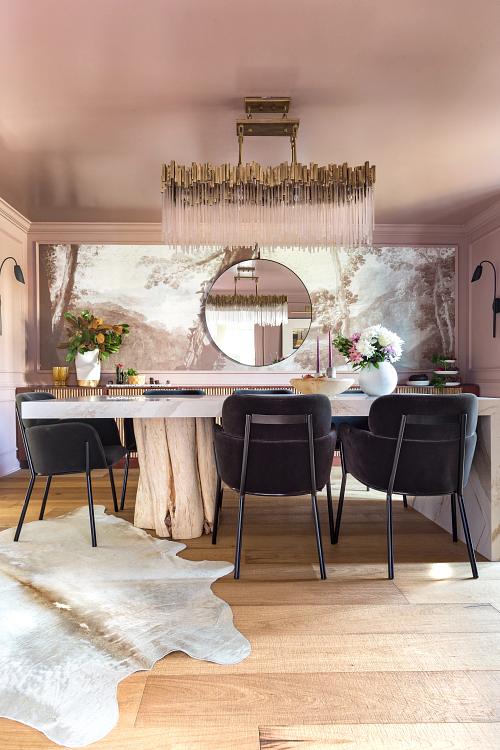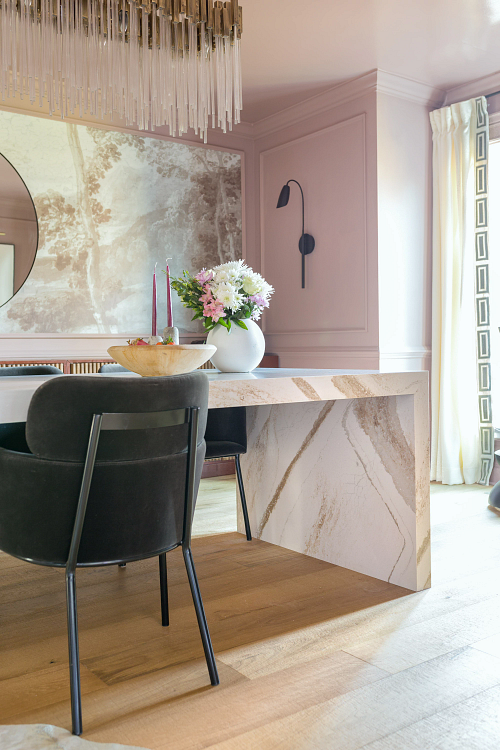 NO. 2: NATURALLY FEMININE
Clients recently asked interior designer
JEWEL MARLOWE
to capture nature's tranquility with a twist. "The goal was a very feminine take on natural elements," says Marlowe. Thus, her dining room design is a dance between strength and softness. Note how the monochromatic blush of the forest mural wall covering from Fine & Dandy "feels like a sophisticated, moody color." Cambria in
BRITTANICCA GOLD WARM MATTE™
provides a similarly sophisticated mix of beige tones, pearlized creams, and faded pinks.
NO. 3: DARK + DREAMY
Kitchens were once all white, all the time. Now, homeowners dare to embrace deeper colors and statement-making backsplash patterns—like in this cool kitchen. The room has become a central family hub for designer + contractor duo and founders of construction2style JAMIE & MORGAN MOLITOR. "We wanted the kitchen to inspire us daily," she says. "We like to think outside the box and challenge ourselves to go big and bold with any room we design." Cambria design shown: DELGATIE MATTE™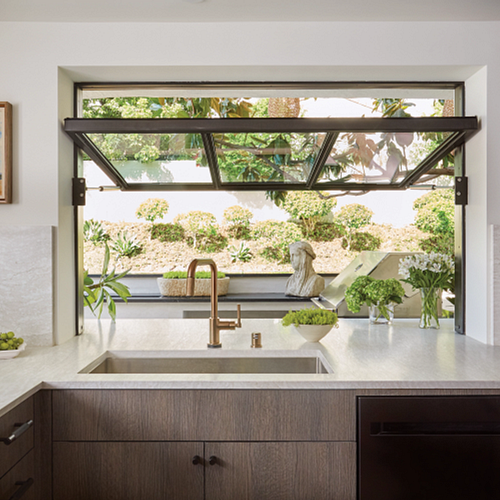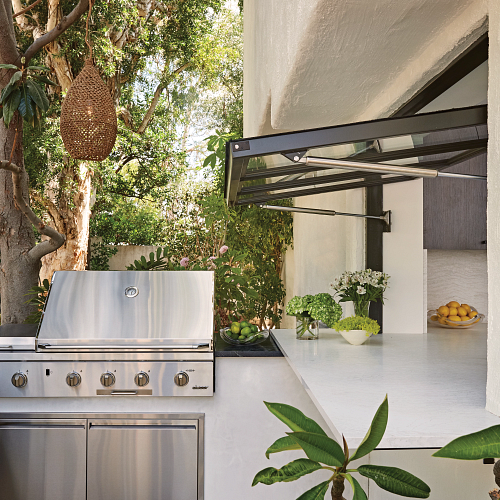 NO. 4: OUTSIDE INSIDE LIVING
For a West Hollywood home with plenty of fêtes in its future, designer JULIA WONG focused on a key feature of California living: the sunshine. With its sharp, clean lines and minimalist tone, this open-air kitchen allows the backyard landscape to take center stage. The large window above the sink opens outward to reveal an alfresco dining area. It's a perfect pass to transfer food and drink for outdoor entertaining. Cambria design shown: IRONSBRIDGE MATTE™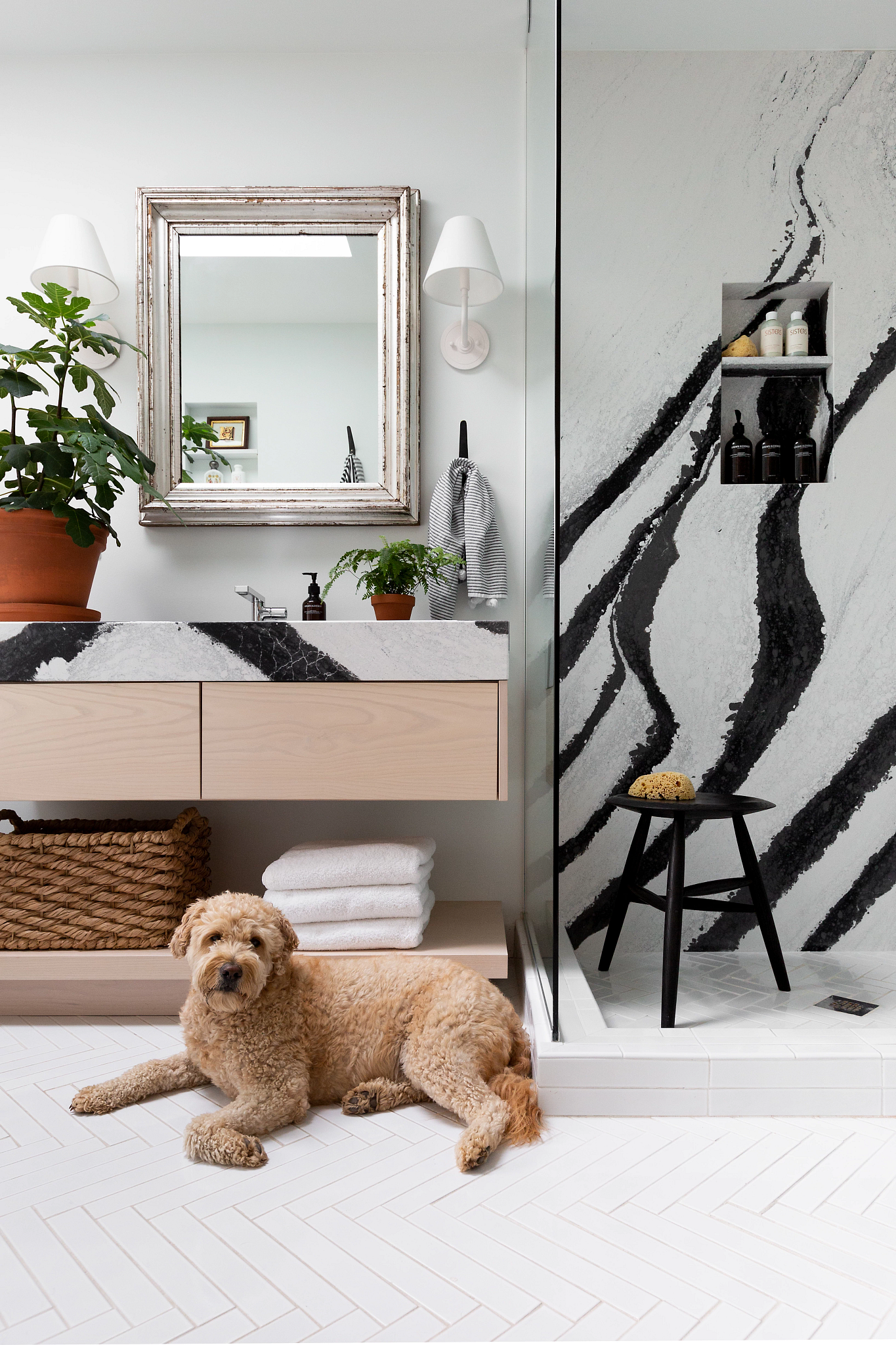 NO. 5: NORDIC NEUTRAL
Scandinavian style remains a popular aesthetic trend for the less-is-more, time-is-of-the-essence minded crowd. Thanks to its focus on clean lines, lighter wooden tones (especially the favored white oak), and not to mention the overall highly functional, nary one dish out of place doctrine, this no nonsense style is both sleek and efficient. But that's not to say you can't have any fun, says MICHELLE ADAMS, a Michigan-based creative consultant, designer, and editor. "Cambria's BENTLEY™ quartz's high contrast pattern is a showstopper. It immediately became the dominant design element in my bathroom," she says. "To balance the look, I paired it with streamlined cabinetry, crisp white walls and floors, and an antique mirror to juxtapose the room's modern aesthetic."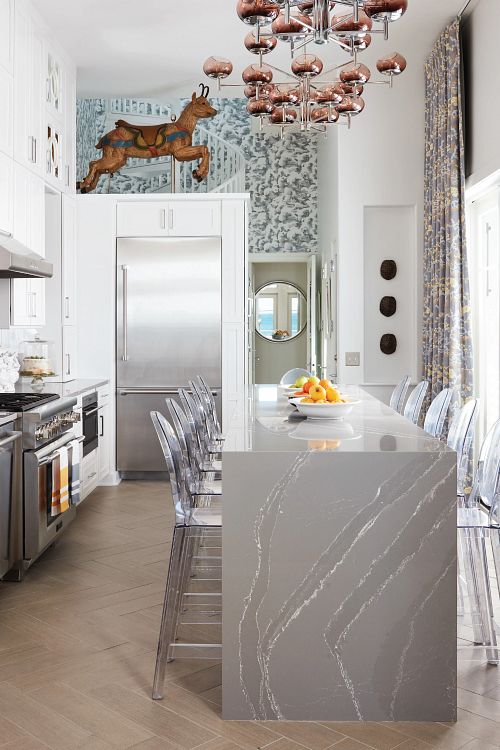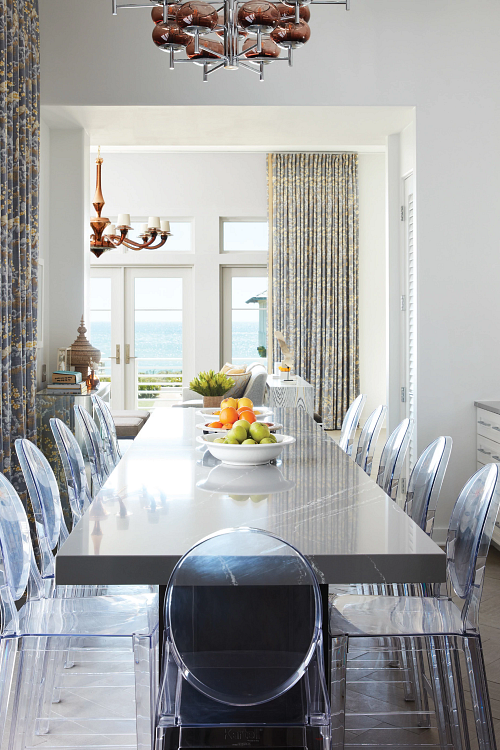 NO. 6: PLAYFUL EASE
Livability, playfulness, and timelessness: they're concepts that don't often play nicely together. Nevertheless, Atlanta-based designer and television personality VERN YIP focused on integrating all three in this thoroughly modern kitchen. Yip loves to enliven spaces with unexpected bric-a-brac sourced from flea markets—like the antique rocking horse above the refrigerator. "Nobody wants to live in a museum," he explains. "We don't live like that today." A bubbly copper light fixture continues this playful spirit, while the French doors add glamour. The overall design is sophisticated yet lighthearted.