Steven Tyler
"It's the thrills that will keep you alive."
Photography by GEORGE HOLZ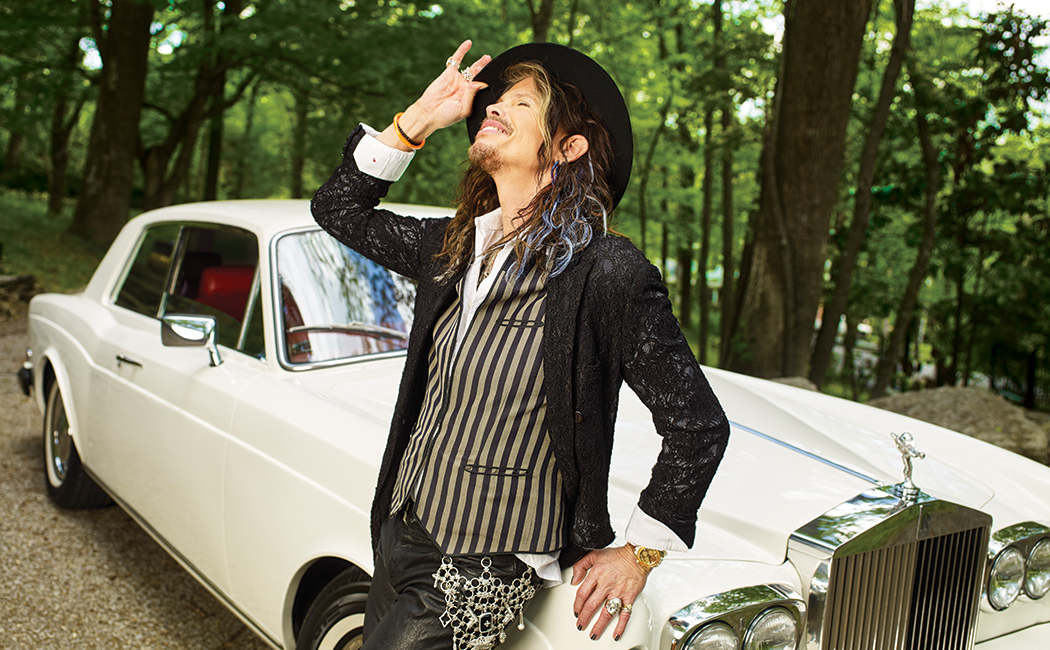 THERE ARE SOME DREAMS THAT LAST A FEW MINUTES. THEN THERE ARE DREAMS SO BIG THAT SOMEHOW THEY LAST A LIFETIME.
For Steven Tyler—one of most iconic figures and greatest lead singers in all of rock history—"Dream On" is not simply one of the most popular and thrilling anthems ever, it's also a grand philosophical statement that has served him extraordinarily well over the years. This classic song—written by Tyler himself and first released on Aerosmith's debut album way back in 1972—has become a decades-long fixture of our airwaves and was even amusingly revived when "Dream On"—and Tyler himself—was prominently featured in a funny Skittles Super Bowl commercial earlier this year. Yet if you look and listen really closely to "Dream On" today, it may also reveal the secret of Tyler's remarkable success in finding what appears to be something like the fountain of youth.
"The song 'Dream On' talks about dreaming until your dream comes true," Steven Tyler says today with the same excitement and passion he brings to virtually everything he does. "My dream has taken me to pretty unimaginable places and it's lasted—from being a kid to having kids and now even having grandkids," Tyler says, sounding a little surprised. "And the reason that dream came true is that on some level, I am still a kid. I am still dreaming, so I still live the life of a twenty-year-old—a very lucky twenty-year-old—without a lot a cynicism and with my eyes and heart open." For Steven Tyler, that ability to remain so thoroughly engaged in the here and now is why he is not simply one of rock'n'roll's greatest—and arguably, most surprising—survivors. It also helps explain why at an age when other surviving rock legends seem bored or blasé, Tyler is still savoring his life and boldly taking on new challenges, including his first-ever solo album, a country-music-themed effort coming out later this year, and his first solo tour, which he has just embarked on.
"To quote another song I've sung a time or two thousand, it's 'Crazy' how I watch other people lose interest, and check out," Tyler explains, enthusiastically. "Sometimes other musicians will say to me, 'Steven, why worry and try so hard? Why take so much on?' And I say, I like to worry. I like to keep trying things, to keep learning, to keep dreaming. That's not a cheap thrill that can kill you—I've done those. Now I like the thrills that will keep you alive. I know, because Lord knows, I've tried both over the years. But like, right after our first show of this solo tour, I had an amazing time with some of my kids and my grandson, Milo, just hanging out like we were all kids. Which in a way, we are. For me, that wild-eyed, childlike wonder is part of the reason I'm still here."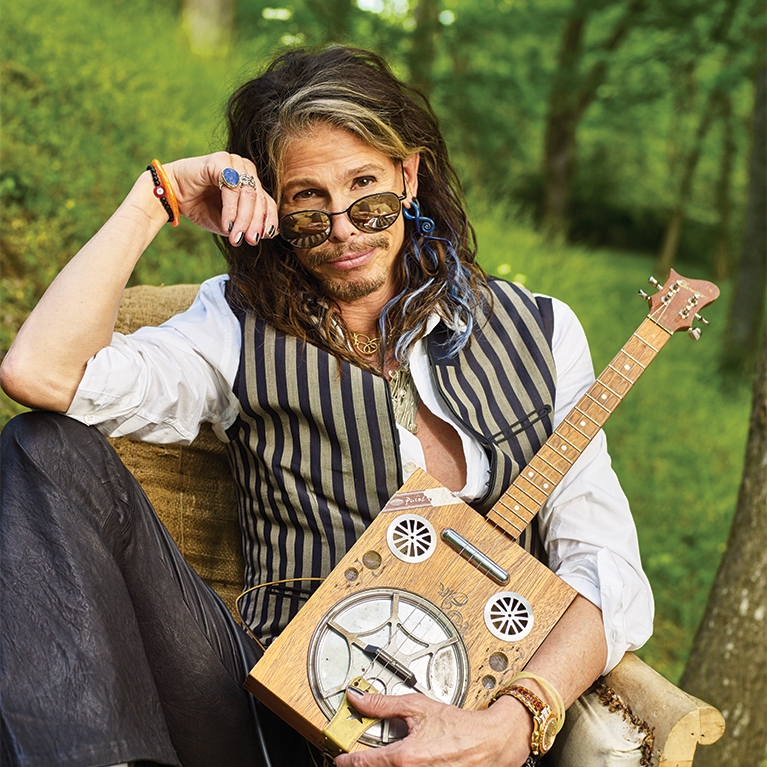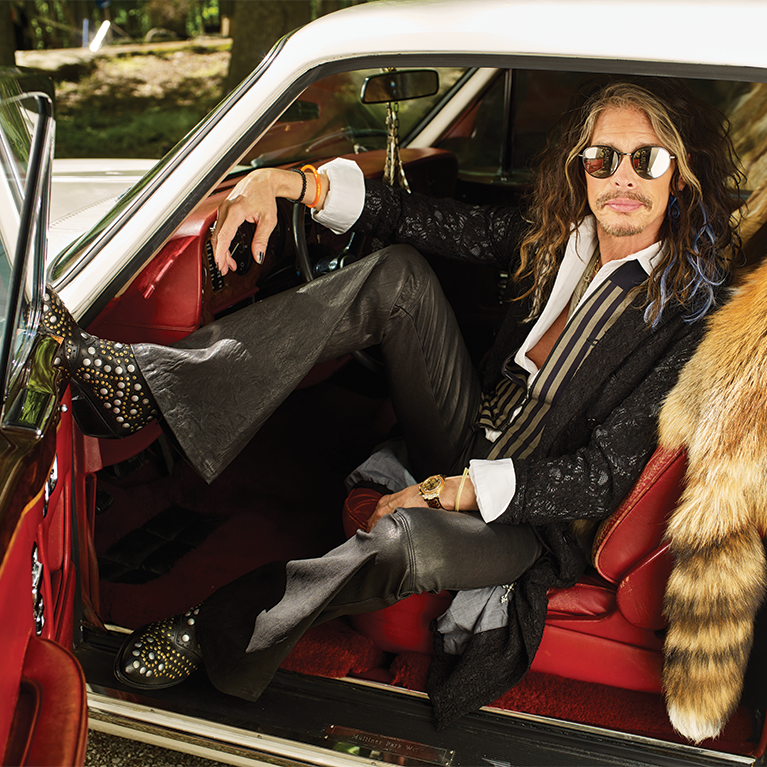 It's a message that Steven Tyler would like to share with generations of adoring fans as a kind of public service. "I believe there are kids in the playground around today who will live to be 150 years old, and I am here to say that they better try and take good care of themselves," Tyler explains. "Because after all I've been through—and all I've done to self-destruct over the years—I think I've finally figured some things out. And to let your body, your brain waves, and your mannerisms get old is to lose the game of life. And let me be clear—I want to win."
To know Steven Tyler is to stand in awe of his singular lust for life and virtually everything that goes with it. That lust for life and authentic nature is much of what drew Cambria to Tyler, if you ask Marty Davis, Cambria President and CEO. Tyler's iconic style, relentless internal drive, deep desire to give back, and strong belief in family are all values that Cambria not only embraces, but also invests in daily. Granted, Tyler's biography is a rollercoaster that includes some of the highest highs and lowest lows, yet, like Cambria, his dedication to excellence in his craft has remained amazingly consistent year after year.
"To know Steven Tyler is to stand in awe of his singular lust for life and virtually everything that goes with it."
When I first had the pleasure of meeting this wonderfully winning man more than a quarter-century ago, I was writing a cover story for Rolling Stone, and he was already in the thick of one of the most amazing Second Comings in Rock History, as Aerosmith was riding high with their 1989 album Pump. That album featured hits like "What It Takes," "Love In An Elevator," and the Grammy-winning "Janie's Got A Gun," which arguably took the band to even greater commercial heights than back in its original Seventies heyday.
Then, as now, Steven remains one of the sweetest, most openhearted, and least cynical world-famous people you would ever want to meet. This is not to suggest for a moment, however, that Steven Tyler is or has always been a saint. Rather, Steven is, has been, and always shall be a defining and definitive rock star. (He and the band were inducted into the Rock and Roll Hall of Fame in 2001.) I will never forget that the very first time we ever spoke, we were mid-air on Aerosmith's private plane, dubbed "Aeroforce One," flying to the band's next arena gig when—over considerable in-flight noise from the plane and the band—he regaled me with stories and anecdotes so brilliant and funny (and risqué) that decades later, I can't repeat them here. At moments like that, one realizes that for all his down-to-earth charm, Steven Tyler has been a legitimate, lusty Rock God so long that he might not fully understand how life plays a tad differently for him than for the rest of us mere mortals.
But Tyler says he is also the product of a loving, but crazy, Italian family that shaped him to become the hyper-verbal sensation that he still is. "I think a lot of who I am and how I am has to do with growing up Italian," Tyler explains. "I think I got my perspective on life from sitting around a table having breakfast, lunch, and dinner with a grandma, a grandpa, an aunt, an uncle, a sister, and a cousin and constantly throwing comments, throwing food. Italians talk and talk and talk. Italians rarely do not talk. A lot of it was arguing, but being forced to sit at a table with lots of people of all ages was how I was brought up. And I remember being forced to sit under the piano in our apartment in the Bronx and listen to my father play the deepest of classical cuts of all time. Bach. Brahms. Beethoven. Debussy. The Classical Greatest Hits ever. For me, that was the beginning of life as usual—or in my case, life unusual. I got the language of music from my father. I got my social skills from interacting with my Italian family in the craziest ways, and that's where I got my sense for crazy wordplay that's allowed me to write so many lyrics that have lasted me a lifetime."
As for his singing voice, Tyler says interestingly it was one female vocalist that changed everything for him. "Janis Joplin is the one who turned me around," he says. "She's turned me from trying to have an angelic voice to trying to express myself. I try to sing with a kind of emotional truth. I wrote down this thing when I was young and I called it AMCED. I don't think I've ever talked about it. AMCED stands for Accumulated Memorized Cognizant Experiential Dissonance. If you think about that for a second, it's something that comes from having your eyes opened and experiencing life, which is a trip on many levels and reflecting that in your art. It can't all be harmony. You also have to experience some disharmony too. That's why I keep stretching even now—because I think it's important not just to experience the same-old, same-old."
That same passion for experiencing all of what life—especially his life—has to offer helps explain Steven Tyler's continuing interest in boldly going where few other legends would dare to go. That's reflected beautifully in his current "Out On A Limb" tour, which finds Steven entertainingly telling his own life story and singing songs old and new in a way that is daring and not simply some easy or obvious act of nostalgia. As Tyler sees it, "The experience of doing this kind of show has been so absolutely wonderful because I think to myself, how much would I pay to go see Paul McCartney or Paul Simon or any Paul who's a great artist and have them sing their amazing songs and talk about what was going through their mind when they wrote "Yesterday" or "The Sound Of Silence." I ask myself why everybody I love wouldn't do that—go up there and take an artistic leap without a net? And I guess it's because you get too rich to want to get up there and expose yourself. But for whatever reason, I still want to be out there, so I live on an elliptical machine to make sure I am still in shape for life, onstage and off."
Even though Steven is currently "Out On A Limb" by himself, he is the last man on Earth that would ever disrespect all that the brotherhood of Aerosmith has meant to him and to the world. As Steven puts it, "Once I started writing songs, I realized the songs were bigger than any of us. 'Dream On' is bigger than me. It's bigger than Joe [Perry, Aerosmith's lead guitar player]. 'Sweet Emotion.' 'Walk This Way.' These songs are a lot bigger than any of us in the band, and we know that. Songs like that should put you in your place, and make you realize that you're a lucky bastard to be a part of something so much bigger than yourself. I still hear these songs on the radio anywhere I go. They follow me and I don't want a restraining order against them. They will outlast the band; they will outlive the band. We created a monster, a fucking flat-out miracle. Sometimes you take that all in and you realize how much joy you've brought to people and it knocks you on your ass."
Over the past year or two, Tyler has been knocked off his ass in the best way possible by exploring the musical world of Nashville. As Steven recalls, "I met Scott Borchetta, who's a great executive from there who brought the world Taylor Swift and so much else. Scott said, 'Come on down to Nashville, and join my label.'" So I had a home there before I even had a home. Scott was reactivating Dot Records, a label I grew up buying records from, so I was intrigued, and I started thinking, 'Let's see what I can pull out of my hat here.'"
Once Tyler settled down to work and live in Nashville for a time, he says he instantly felt at home. "You instantly realize why Nashville is called Music City, because there are so many people there who can sing and play. Everyone's a songwriter. And it wasn't entirely new to me. There's always been country and some field hollers in what I do. I wrote 'Cryin'—which is really a country song with Joe Perry and a Nashville guy, Taylor Rhodes, years ago. Now I've enjoyed working with so many songwriters down there—the Warren Brothers, Chris DeStefano, Hillary Lindsey—I could go on and on. And I'm co-producing this album with a real legend like T-Bone Burnett. You think I don't get up in the morning, get on my knees to thank God, and wonder if this isn't all just a dream? At a stage when others are getting bored, I've never been more excited."
Asked what inspires him at this point in his life and career, Tyler laughs. "In a way, the inspiration is fear—if I'm afraid of something, then there's something there that excites me, and takes me out of any comfort zone. So I came down here, rented a beautiful place, brought the dogs, set up a couple writing sessions with people. It's the way things happen here. You can wake up and go meet someone you've never met before and instantly be in the throes of collaboration with them. After a few hours of coffee and bullshitting, you get down to business and write. Eight hours later you walk out with a full song off of Pro Tools you can send through Dropbox. It's an old tradition happening in new day and age. And it has the same appeal for me that made me such a drug addict back in the day—instant gratification. I love the creative environment in Nashville. There's only three months of winter and no state tax. And the girls like to sleep with their boots on!"
"IN A WAY [MY] INSPIRATION IS FEAR—IF I'M AFRAID OF SOMETHING, THEN THERE'S SOMETHING THERE THAT EXCITES ME, AND TAKES ME OUT OF ANY COMFORT ZONE."
Beyond all the good fun, Steven Tyler is also focused on doing good works for a great cause through Janie's Fund, a new philanthropic initiative that he has launched to raise money and awareness to help girls who have suffered the trauma of sexual abuse. The inspiration for his philanthropic work stems from his hit song, "Janie's Got a Gun," that tells the story of an abused girl. The fund's mission, according to Tyler, is two-fold: To bring much-needed public awareness to what is far too often considered a hidden, taboo subject, and to generate the financial support necessary to ensure that girls receive the most effective care to help them overcome the trauma and pain of abuse. As their partner in this endeavor, Tyler and Janie's Fund have joined forces with Youth Villages, a nationally recognized, results-oriented nonprofit that serves more than 22,000 children and families annually. "Steven has become an incredible spokesperson for this issue and these girls," says Richard Shaw, chief development officer at Youth Villages. "He's so empathic when he meets with these kids. He really listens to them and is willing to learn. Through this work, he's leaving another amazing, positive legacy beyond being an incredible artist and iconic musician."
According to Tyler: "I realized this is an issue I've always been moved by, especially as a guy with four children, three of them daughters. You know when you were born because of your birthday, but when you find out why you're born, that's the second best day of your life—that's a moment that changes everything. And for me to be able to meet these young women, who have been so broken, and see the incredible work Youth Villages is doing to help them heal and overcome their trauma, it just means a lot. To take the idea of 'Janie's Got A Gun' and lose the 'gun' part and add a 'fund' part to make it something positive and life-embracing and game-changing, it's changed my life too." Tyler's passion and commitment is at the core of all his great work, but none, it seems—as much as Janie's Fund. "This is what furthered our relationship with Steven Tyler and his team," says Marty Davis. "Really great work with at-risk youth." With this newfound friendship Tyler and Janie's Fund team up with Camp Cambria for Juvenile Arthritis with the same goal in mind—helping kids overcome their challenges.
"This is what furthered our relationship with Steven Tyler and his team," says Marty Davis. "Really great work with at-risk youth."
And though Steve Tyler has an impressive way of always living his offstage life in the present tense, he also warmly embraces the unique and wild ride that is his onstage life in music. "It's an amazing journey being a rock'n'roll singer writing songs that scare people—because that's what good rock'n'roll should do, along with making you want to run away with your girlfriend and scream outside your window the way you do the first time you hear a song like 'Black Dog' by Zeppelin or 'Mama Kin' by Aerosmith or 'Welcome To The Jungle' by Guns 'N' Roses."
Late in May, Steven Tyler took time out of his busy recording and touring schedule to honor another musical legend, Tony Bennett. Backstage, Tyler explained that he's going to sing two songs with a big band: "Smile," the standard written by Charlie Chaplin, and his band's mega-hit "I Don't Want To Miss A Thing." Before he heads onstage to blow away another audience while stepping out of his comfort zone, Tyler smiles. "This is what it's all about. I'm still smiling and I still don't want to miss a thing."
With that, Steven Tyler steps back into the spotlight one more time with his dream still very much on.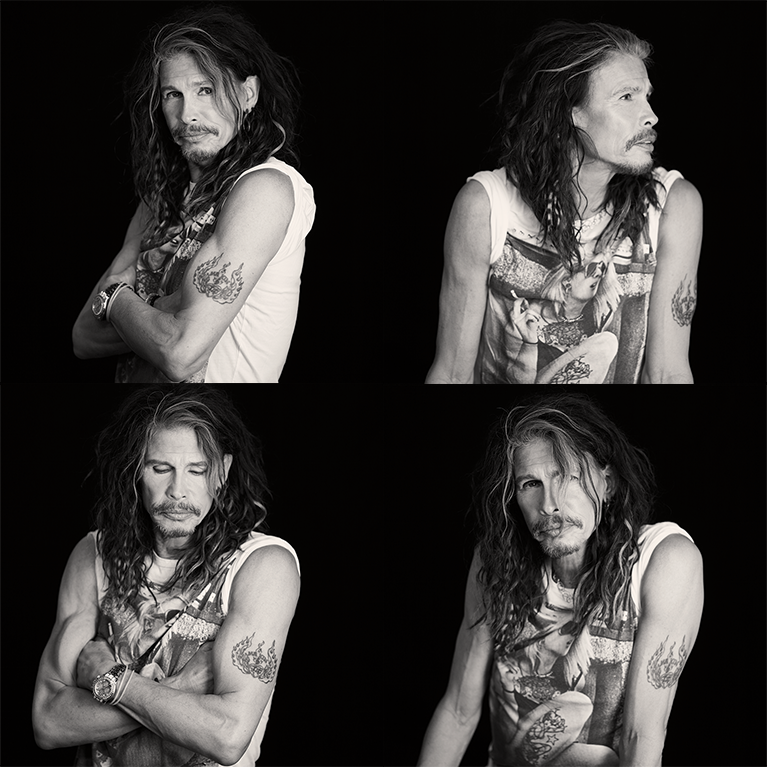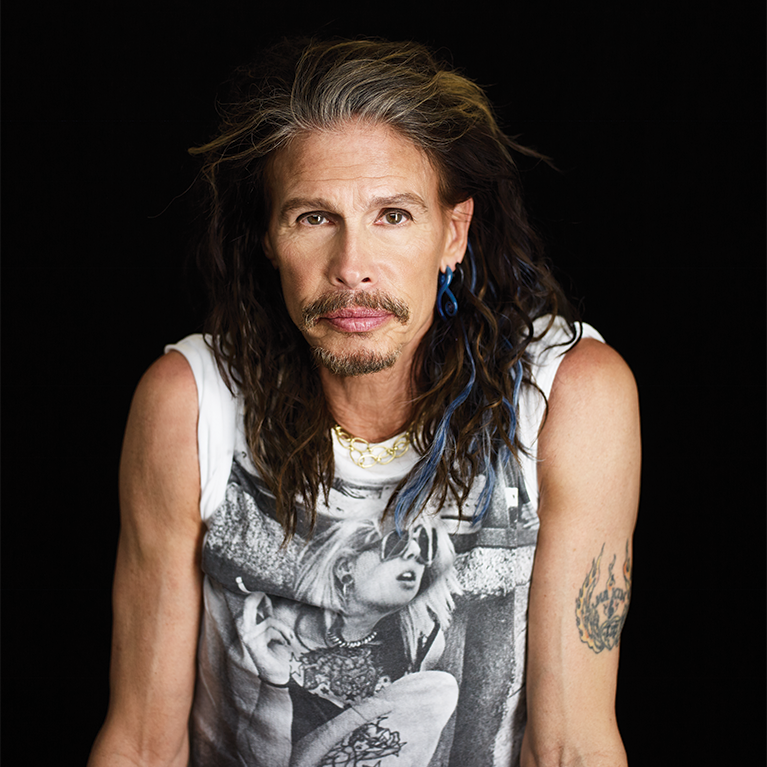 INDULGING THE CREATIVE SPIRIT
"If you think about it, Cambria and I have a lot in common," Steven Tyler says with a sly grin when asked about his burgeoning relationship with the company. "See when you get down to it, we're both in the rock business!"
As befits the man who so soulfully sings "I Don't Want To Miss A Thing," Steven Tyler throws himself into absolutely everything he does—and that very much includes his own lifestyle choices and sense of personal style. And so it's not too surprising that Steven Tyler is now very passionate and excited about his new relationship with Cambria. And though it may surprise some observers, Steven Tyler doesn't call just any place he puts his famous scarves and microphone home. He likes everything he does to have a personal touch and a strong sense of style.
As Tyler recalls, "The whole relationship began when I got to the house in Nashville, and I felt female energy there, so I went to the backyard and the pool, and the hot tub, and the little koi pond and the chairs, and I loved it all. It was like a beautiful treehouse cabin buried in the woods with a beautiful feeling bordering protected Forest Service land. I walked in. It was writer-producer Darrell Brown's place. The singer Ke$ha had lived there. Then I went into the bathroom, which was kind of small, and there's a tub where Ke$ha took a lot of baths, but the sink was not my style. See I'm a real splasher, so I need a big bowl for me to get down into and get washed and ready. So I thought before I even met the Cambria people that I would love to do something great with the bathroom—redo the whole thing.
After I went down to the Cambria Showroom in Nashville to see all the stone I thought, this is the beginning of a beautiful relationship and a beautiful bathroom, which do go together in my mind. But even more than that, the Cambria stuff is really just beautiful. You see, I'd seen Cambria before I got the Nashville house. I did some promotion for my country record last year in the Cambria Gallery in Minneapolis where I met Anne Davis, the wife of Cambria's President and CEO, and she showed me what Cambria is doing and I just fell in love with all of it. So when it all came full circle and the connection was made it really gave me a chance to rip things up and make something better, which is what I try to do with everything I do creatively. With that in mind, we are making a glowing New Brighton™ vanity, redoing the shower and all the faucets and walls, and making a bathroom that's worthy of my dreams."