Spice Trade
Stock your pantry with flavorful homemade seasonings
Written by MELINDA NELSON
Photography by STEVE HENKE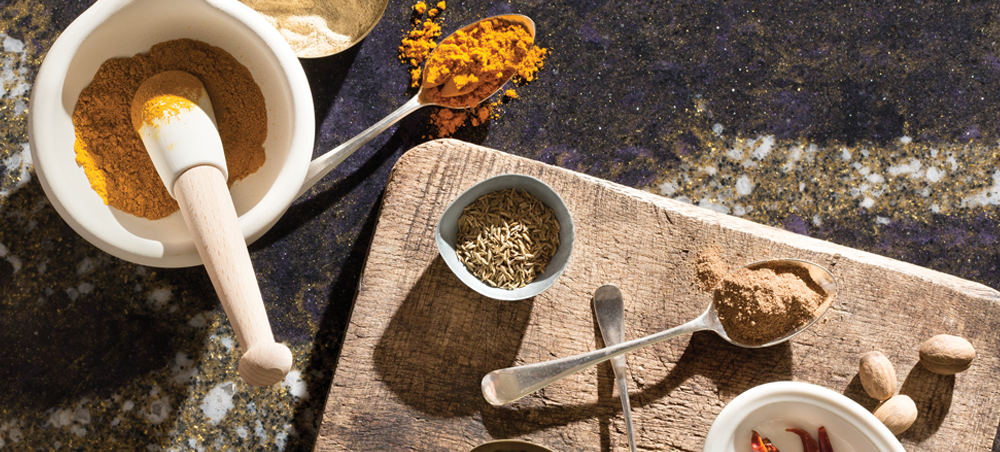 CURRY POWDER
Once you taste the inimitable flavor of homemade spice mixes and seasonings, you'll never settle for store-bought varieties again. Layered with fragrant, health-giving spices like aromatic cumin, zesty coriander, and peppery yellow turmeric, curry powder and other seasonings bring warmth, color, and exoticism to curries, soups, stews, and salads.
INGREDIENTS
Makes about 3 Tbsp.
2 dried red chiles, stemmed
1 Tbsp. each coriander seeds and fennel seeds
1 tsp. each cumin seeds, ground mace, and ground white pepper
½ tsp. turmeric
DIRECTIONS
In a small bowl, combine chiles, coriander, fennel, and cumin seeds. Cover with cold water and drain. Place mixture in small, heavy skillet and dry-roast over medium-low heat for 3 to 4 minutes, stirring occasionally until seeds are dry, slightly darker in color, and beginning to pop. Cool in skillet. Place mace, white pepper, and turmeric in spice mill or grinder and add cooled spice mixture. Grind to a powder and use immediately or store in an airtight container at room temperature for up to one week.
Recipe adapted from Bon Appétit.