Sleek Sophistication
Contemporary homes sure to inspire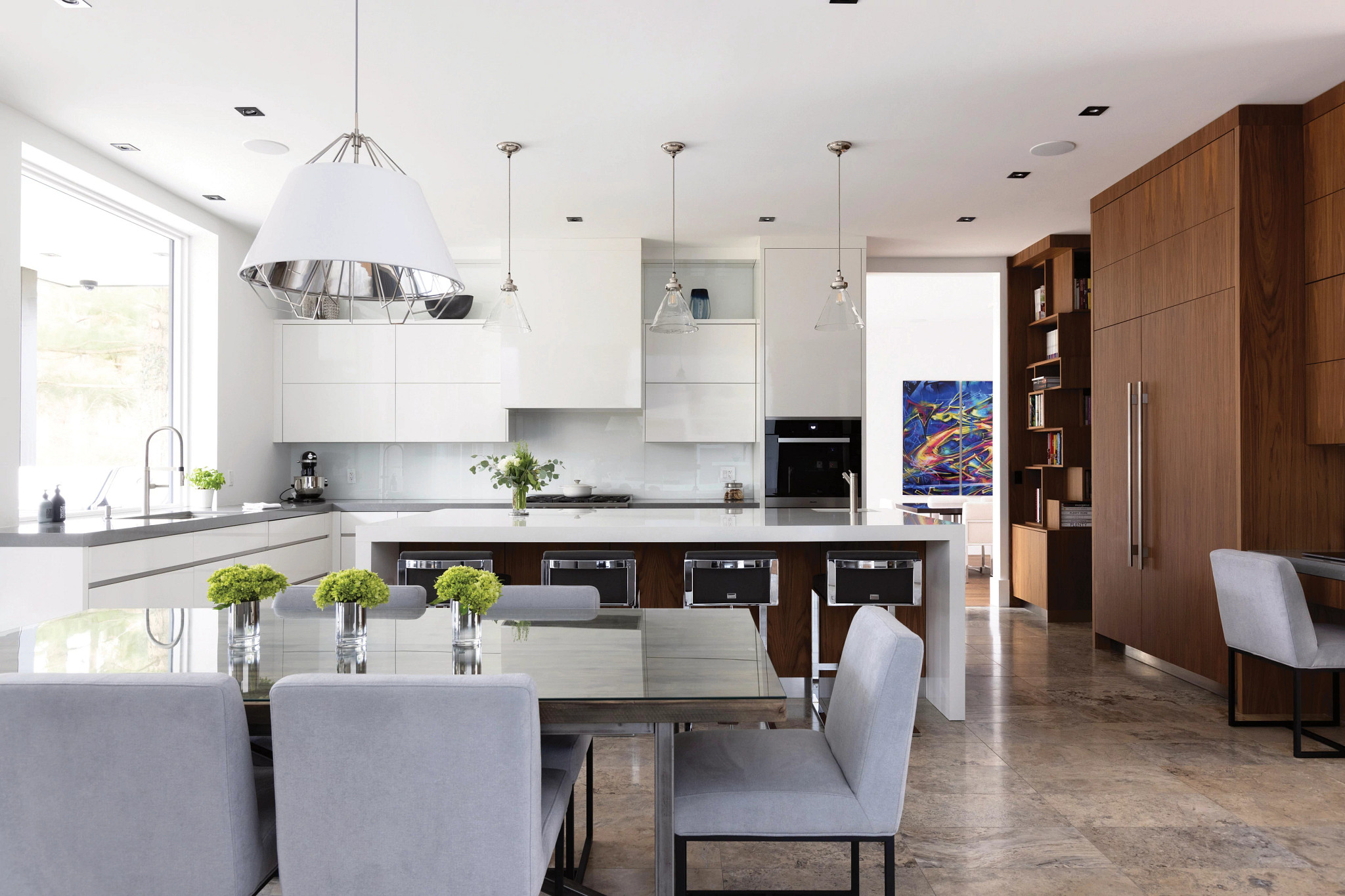 Cambria designs shown: CARRICK™ (perimeter), WHITE CLIFF™ (island)
Photo courtesy of RP Interior Design
Contemporary design is always evolving to fit popular tastes, making it hard to define. It borrows from rigidly defined styles like modernism, minimalism, globalism, and others. Thus, contemporary style tends toward clean lines and neutral palettes. In recent years, it's also taken a turn toward sustainability. By the turn of the next century, what people call contemporary may evolve even further.
So, what does contemporary design mean now? For that, we sought out designers Billy Beson of BILLY BESON COMPANY and Paula Den Boer of Ashley P. Design Studio. They told us what defines contemporary homes from their points of view. Further, we followed a family as they built a contemporary-feeling home in a setting where one might instead expect a log cabin. We also visit a piece of architectural history in Arizona to explore bringing more contemporary energy to a home built about 50 years ago.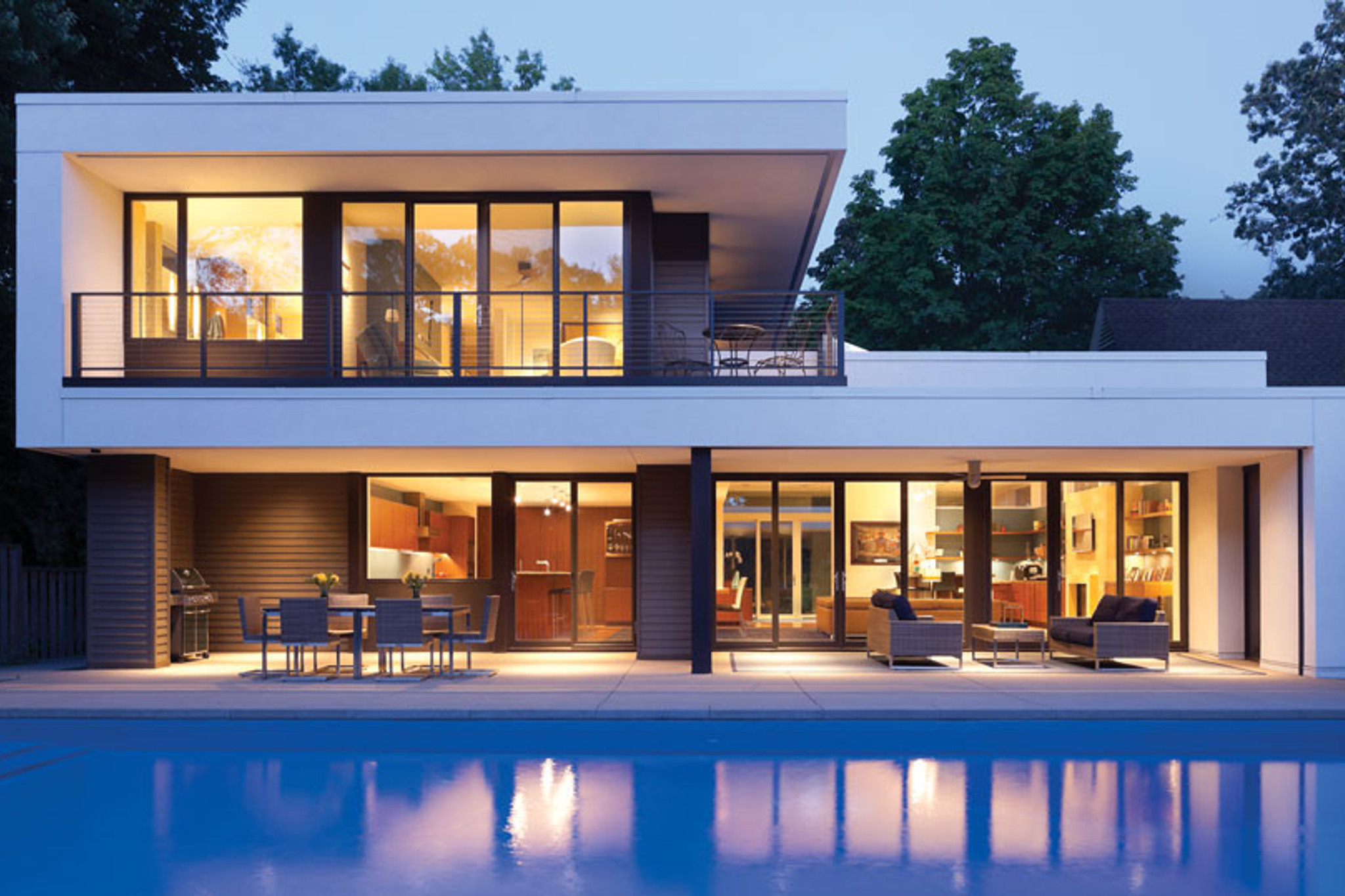 Photography by Steve Henke
How Do Designers See Contemporary Homes?
"Most of us don't want our home to look like an art gallery," warns Den Boer. "So the goal is to create spaces that maintain that minimalist elegance without feeling stark and uninviting." Designers can achieve this by carefully balancing materials, colors, and textures.
For example, contemporary homes will likely lean toward cooler materials such as glass, concrete, and metal. A savvy designer will warm it up with something that offers visual texture, such as wood with a beautiful grain. Cabinetry can really pop when paired with Cambria quartz surfaces. "I love to use a more solid pattern of Cambria in a contemporary kitchen," says Beson. "A solid white or gray like WHITEHALL™ or DOVEDALE™ stands out against wood-grained cabinets."
Despite its tendency toward neutrals, contemporary design can incorporate color, Beson notes. But rather than showcase a rainbow, it's more contemporary to strategically reference a strong color within a more neutral palette. Meanwhile, all those clean lines can often be best complemented with the curves of cushy upholstered furniture. Get more insight on making—and shaking up—contemporary design from these experts HERE.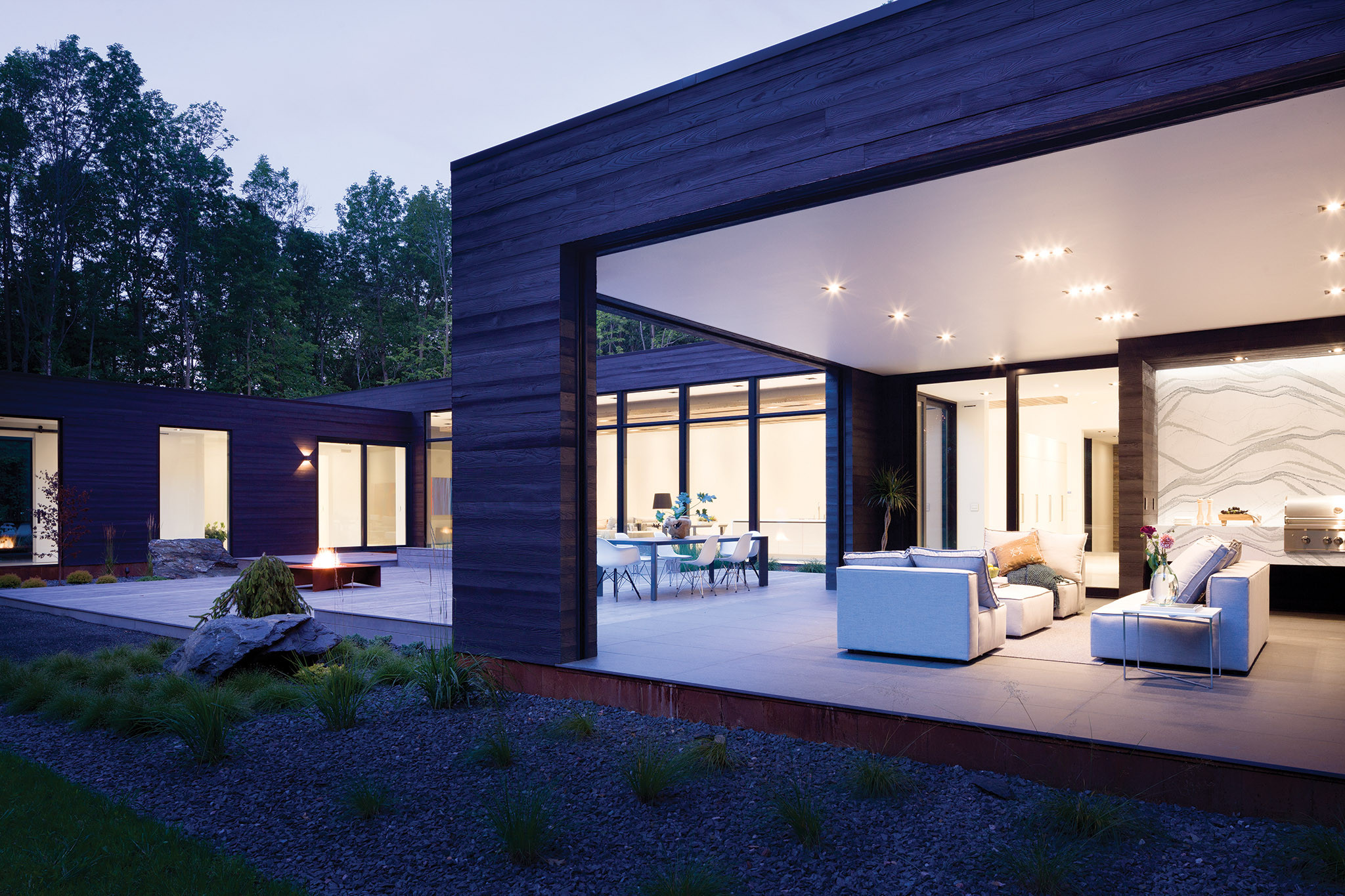 Cambria design shown: BRITTANICCA™ (countertop and full-height backsplash)
Photography by Steve Henke
Creating a Contemporary Home in a Rustic Place
What happens when a Chicago couple with contemporary taste wants to give their children a chance to live surrounded by nature? In the case of Dave and Jamie Van Dixhorn, they acquired two acres of woodland and built a house with an interior that has all the cool of a converted city loft.
Open-plan living, expansive windows, and industrial materials were all on the Van Dixhorns' list of more contemporary musts. But after years of constantly cramming themselves into elevators, they were eager to embrace the single-story simplicity of a ranch-style home. Plus, positioning its single-story layout around a courtyard created yet another gathering place to beckon the family together.
The charred cedar-clad exterior may seem less contemporary—chosen to blend with its woodsy setting. However, the material is chicly sustainable. Using an ancient Japanese technique, the charring makes the work rot-resistant and may be the ultimate combination of ancient wisdom with modern-day mindfulness.
Other portions of the exterior are less opaque. Wall-to-wall glass turns the outdoors into an ever-evolving mural of seasonal color. It also proves a vivid backdrop for a variety of Cambria designs found within. Substantial slabs of CARRICK™ frame the fireplace. Bright WHITEHALL™ pops in the kitchen. Elegant ELLA™ graces a primary bath with a whimsically placed tub. And, an impactful powder room showcasing elegant CAMBRIA BLACK™ ties the interior back to the dusky exterior again. Read more about the creation of this contemporary surprise in the woods HERE.
Ramp Up Contemporary Energy While Preserving an Architectural Integrity
What if you want to bring a contemporary look to a home with history? In the case of a Phoenix-area residence, it helped that the original space was designed by lauded architect Al Beadle whose design elements include relentless right angles, exposed steel beams, and poured concrete floors. Compared to most other buildings designed in 1973, this building boasts a generous number of windows. Sadly, the interior was too dark due to a substantial second-floor deck that soaks up the sun.
How did Brad Leavitt and his team from Scottsdale-based A FINER TOUCH CONSTRUCTION let the sunshine in? It took a major reimagining of that deck—incorporating cable railings, replacing a solid awning with a more open trellis, and cutting an opening in the flooring. Then, once the light was invited inside, Leavitt maximized it with reflective surfaces. He re-polished the concrete floors, installed glossy white cabinetry, and used Cambria's pure WHITE CLIFF™ in the kitchen, dining room, and bath. Read more about this contemporary home HERE.
Explore more designers making dream homes come true in our Cambria Style HOME TOURS.