Simpler Times
At Camp Southern Ground in Georgia, musician Zac Brown's love of music and nature live together in perfect harmony
Written by CAROL LINN
Photography by Steve Henke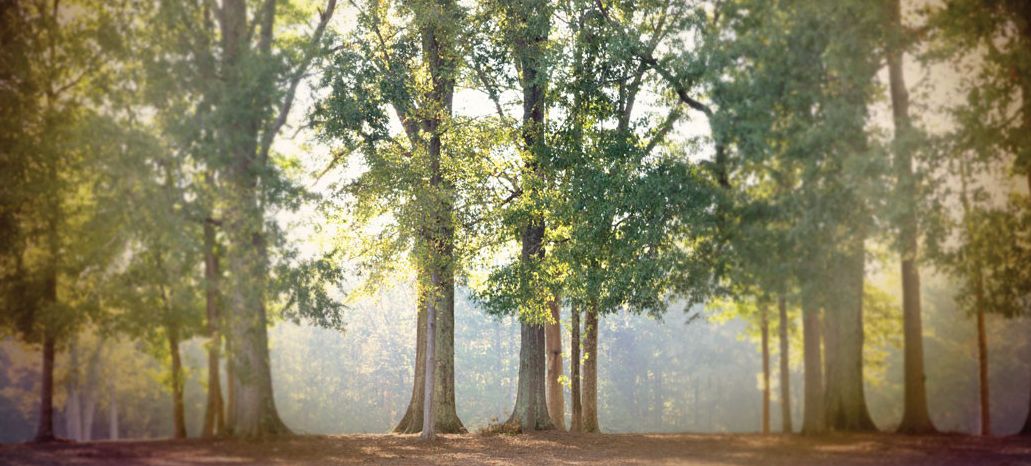 Before Zac Brown was the Zac Brown, before the multiple Grammy Awards, before the Billboard number-one albums and the record-breaking concert attendance—with tens of thousands of fans on their feet—he was a Georgia kid spending every summer at camp. Late at night, when the other kids were in their cabins, Zac would watch, enraptured, as the counselors around the campfire played their guitars, strumming, improvising, and letting the music flow. He himself was being classically trained, so this kind of informal creativity felt new to him. He decided to join in, and began to play with nothing specific in mind. Inspiration sparked—and nothing was ever the same. Summer camp changed Zac's life forever. At 14, he told his parents, "Someday, I'm going to build my own camp."
Anyone who knows Zac Brown knows that when he says, "I'm going to…," he will. This year, kids ages 7–17 arrived for the third annual fall mini-adventure camp weekend at the realization of Zac's childhood dream, Camp Southern Ground. CSG, built on 400 acres of former farmland in Fayetteville, Georgia, about an hour from Atlanta, has a quiet, dazzling beauty. Wide lawns stretch to forests crisscrossed with streams and creeks; the air smells green, and sunsets are pure magic. Even more remarkable is the camp's mission. CSG brings together special and diverse groups of kids: Those who are typically developing; those with neurodevelopmental challenges, such as autism spectrum disorders, ADHD, and dyslexia; those who are economically disadvantaged; and those from military families—Gold Star kids (who have lost a parent in action), White Star kids (who are mourning a parent from post-service suicide), and Silver Star kids (whose family lives have been changed because of a parent severely wounded on tour).
Beneath the Georgia sun, surrounded by pines that seem to reach the heavens, these children become a single "tribe," experiencing the joys of outdoor life, while supporting and learning from each other, and having their own lives transformed. "Camp changed my life," says Zac. "My hope for the children that come to Camp Southern Ground is that they find something inside themselves they never knew was there or that just needed some encouragement to come out. Camp is where I found my passion for music, and if coming to this camp can set one camper on a path to fighting for their dream and making it a reality then the work we've done here is worth it."
"It's funny how it's the little things in life that mean the most," Zac sings in his first mega-hit, "Chicken Fried," and campers will find those simple little pleasures everywhere at CSG: archery, hiking, a climbing and ropes course, singing and performing skits by the campfire. There's room to run and explore; fragrant, fresh air; and a night sky blazing with stars. The pure, natural surroundings match CSG's nurturing environment. Zac and his wife, Shelly, are big advocates of a healthy diet; so, at the center of the camp, is an organic garden, with a full-time farmer who also serves as the camp's beekeeper. There, kids can learn how healthy food is grown, and experience for themselves how good it tastes and feels. (Eventually, the garden will expand to 15 acres, feeding the camp most of its nondairy, gluten- and allergen-free meals.)
Kids will also find themselves in the middle of a camp experience like no other—and not just because most camp kids don't have Zac Brown or his friends performing at their campfires. CSG, above all, is an extension of Zac's values: philanthropy, service, love of country, and family. (Zac and Shelly have five children, ranging in age from 3 to 10.) Camp isn't about helping kids "overcome" disabilities, says CSG President and CEO Mike Dobbs. "It's about turning all the kids who attend into sensitive, aware humans." Lessons in fairness and inclusivity begin right away. "Before the kids do almost anything else, they create a 'full value contract,'" explains Stan Tucker, CSG's program director. "That's seven rules that the kids write themselves. I give them the first two: 'Treat everyone the way you want to be treated,' and 'Be open to new things.' Everyone signs the contract, which means they abide by those rules." In this atmosphere of acceptance, kids bloom and change. Counselor Mikayla Davis marveled the day one of the campers "had only one scone left on his plate, and he cut it into equal pieces so everyone around him could share."
Support for those who serve in the military has always been a big part of who Zac is, so not surprisingly, there's an ongoing emphasis on patriotism at CSG. At daily flag raising and lowering ceremonies, that lesson goes deep. Joey Jones, a retired USMC sergeant who lost his legs in Afghanistan and now serves as a camp spokesman, explains that "the ultimate form of patriotism is loving the strangers you pass on the street just because you share this country with them. Patriotism is appreciating them for whom they are, not for what they look like. Loving them in a way that says you want them to be happy and safe, and you're willing to work for that. Learning that we're not inherently able to speak our minds—that there's a cost our military men and women pay every day: that's something every kid who comes through camp will learn. In that, we serve the military community, but also the country at large."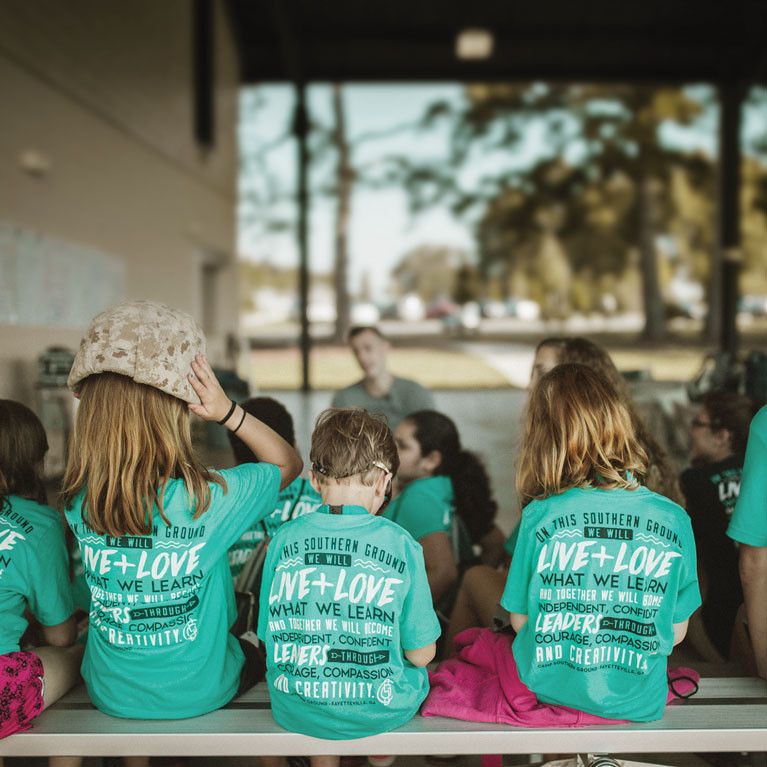 Photographs © Southern Reel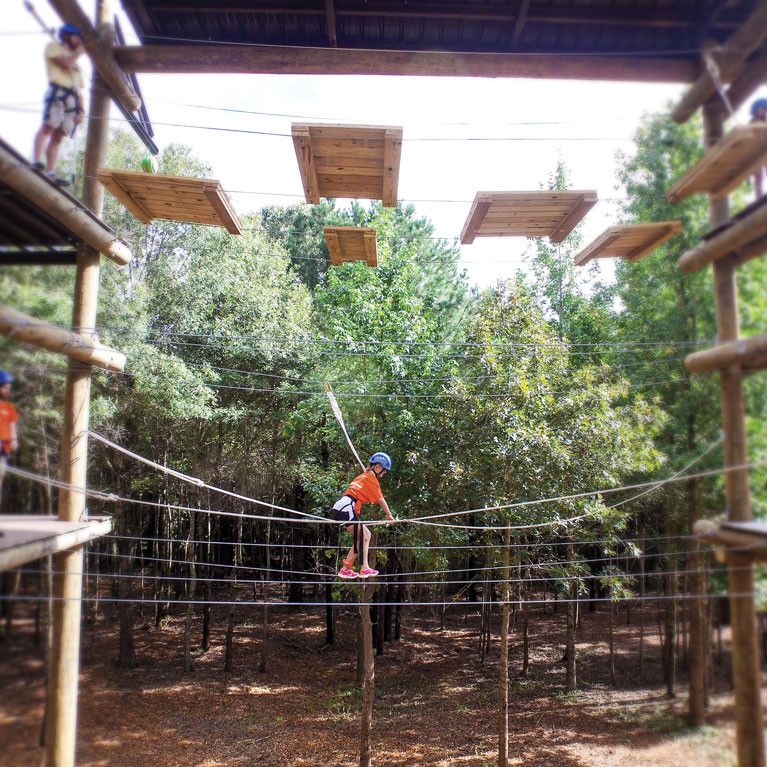 Zac Brown's always done things his way. He won't be contained or easily defined. Recently, he expanded his fan base by recording new work that includes rock and electronic dance music, simply because, as he explains it, "I have so much music in me."
And doing things "his way" doesn't just apply to music. Zac has the kind of restless intelligence that drives classroom teachers nuts, but later produces empires. His dozens of businesses, many gathered under one roof at Southern Ground headquarters in Peachtree City, Georgia, all run with an emphasis on quality and perfection, and with a goal of funding CSG far into the future. In fact, one dollar of every ticket sold for a Zac Brown Band performance goes to the camp.
The products sold under the Southern Ground brand (everything from handcrafted knives and jewelry designed by Shelly to leather goods, T-shirts, whiskey, and more) are made locally and to Zac's high standards, and the camp is no different. The numerous buildings and facilities coming to CSG, including an aquatics center to rival any water park, a music and arts building, and a technology center with a 250-seat amphitheater, aren't just functional but striking works of architectural beauty. The whole enterprise was a perfect fit for Cambria's natural stone—so much so that Cambria will be used in every available space—nothing else would measure up to Zac's standards or the camp's architectural and functional needs.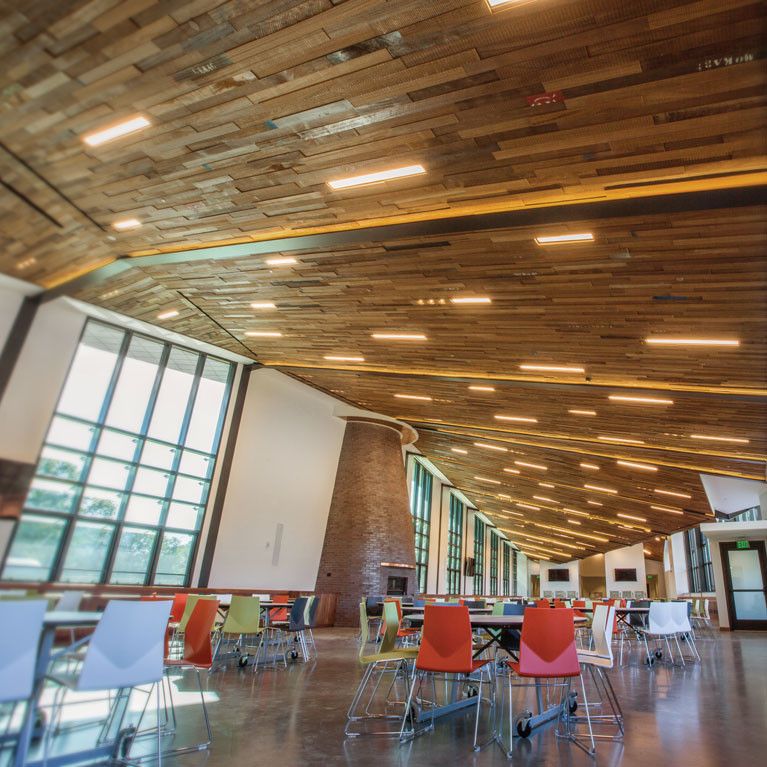 Photographs Andy Sapp/© Southern Reel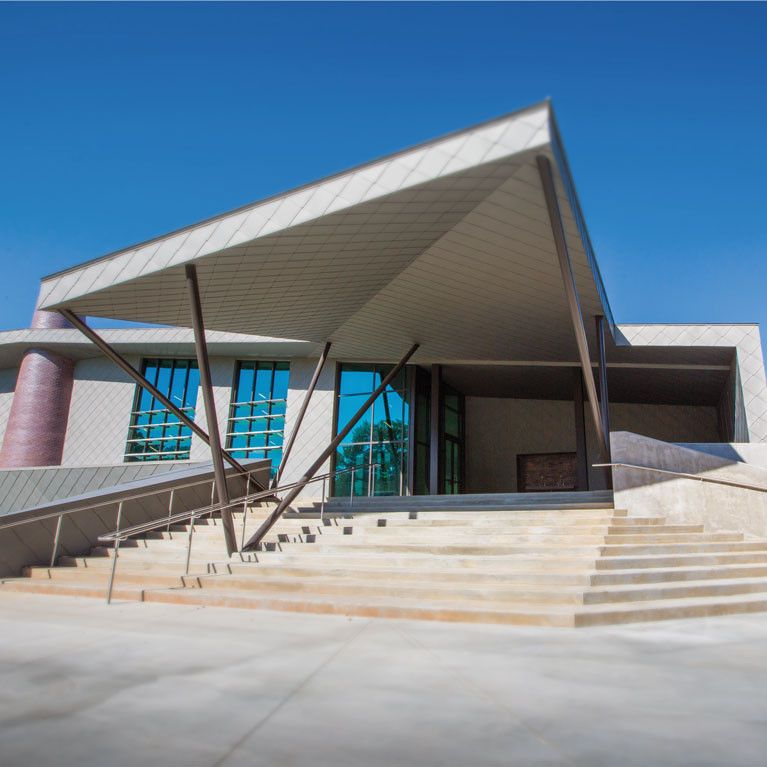 The singer already enjoyed a strong personal relationship with Cambria President and CEO Marty Davis and his wife, Anne. Together, they share a passion for philanthropy and giving back, but their closeness grew more organically. When they met, it was immediately clear that they shared the same wide-ranging interests and boundless energy. Their friendship was instant. Dobbs quips, "When you get Zac and Marty in a conversation, they go deep, like two peas in a pod." As Zac explains, "I'm a huge fan of small-batch, American-made products and immense creativity. I consider myself a collector of people, and Southern Ground is the space I bring the talented artists I find and let them loose. Through these artists' strengths we have developed—and now begun to partner with—so many amazing brands, all with the goal to support Camp Southern Ground."
Zac built CSG, but he doesn't see it as his. Instead, he insists that "it belongs to the kids," and he is working to make sure it will long outlast him. All the CSG buildings, made of concrete, brick, and zinc-coated panels, are designed to stand for a century. Regular composting of table scraps—what Dobbs describes as "farm-to-table and back to the farm"—ensures the camp practices sustainability, another of Zac's priorities. Coming soon are donated solar panels, so CSG can generate its own electricity. Many of CSG's kids attend on scholarship, so Zac also hopes to set up an endowment, providing a steady, dependable stream of funding for campers who need that help. As he puts it, "Camp Southern Ground is truly a camp for everyone, where kids can recognize and magnify their unique gifts. I believe that from this place we'll help to develop kids who will one day go on to change the world."
With the sound of kids singing and laughing through the woods, Zac's dream, which first took shape in the waterfalls and woods of a summer camp long ago, will finally become reality. Music will always be his love, but Camp Southern Ground, which promises to change lives forever in the way his own life was changed, touches him in a way nothing else does. "My music is my platform," he explains. "This camp is my passion."