Savory and Sweet
Sauces and side dishes sure to heat up your grilling game
Accentuate your summer grilling with these delicious sauces and side dishes. Try an Argentine favorite, chimichurri, believed to have been invented by gauchos to flavor meat cooked over open fires. It's wonderful as a marinade, a dipping sauce, or as a condiment for grilled meats and vegetables.
Then, skip the globe for the Mediterranean flavor of aioli. It's perfect for dipping all manner of snacks including raw or grilled vegetables or even grilled flatbread.
Speaking of grilled vegetables, you're going to want to try our recipe for grilled teriyaki cauliflower steaks. This is a wonderful alternative for a meatless summer meal that is filling and flavorful. But, if you can't imagine a grill night without meat, we've got you covered with a Cambria Style throwback favorite, sriracha pork belly skewers with cucumber salad.
Leave room for dessert because our recipe for rosemary roasted peaches with salted caramel sauce is the perfect finale to most any summer celebration. Even better, peaches are just as delicious when grilled and the rosemary sugar and salted caramel sauce can be made ahead. We want to help you be ready for any impromptu grill-out gathering.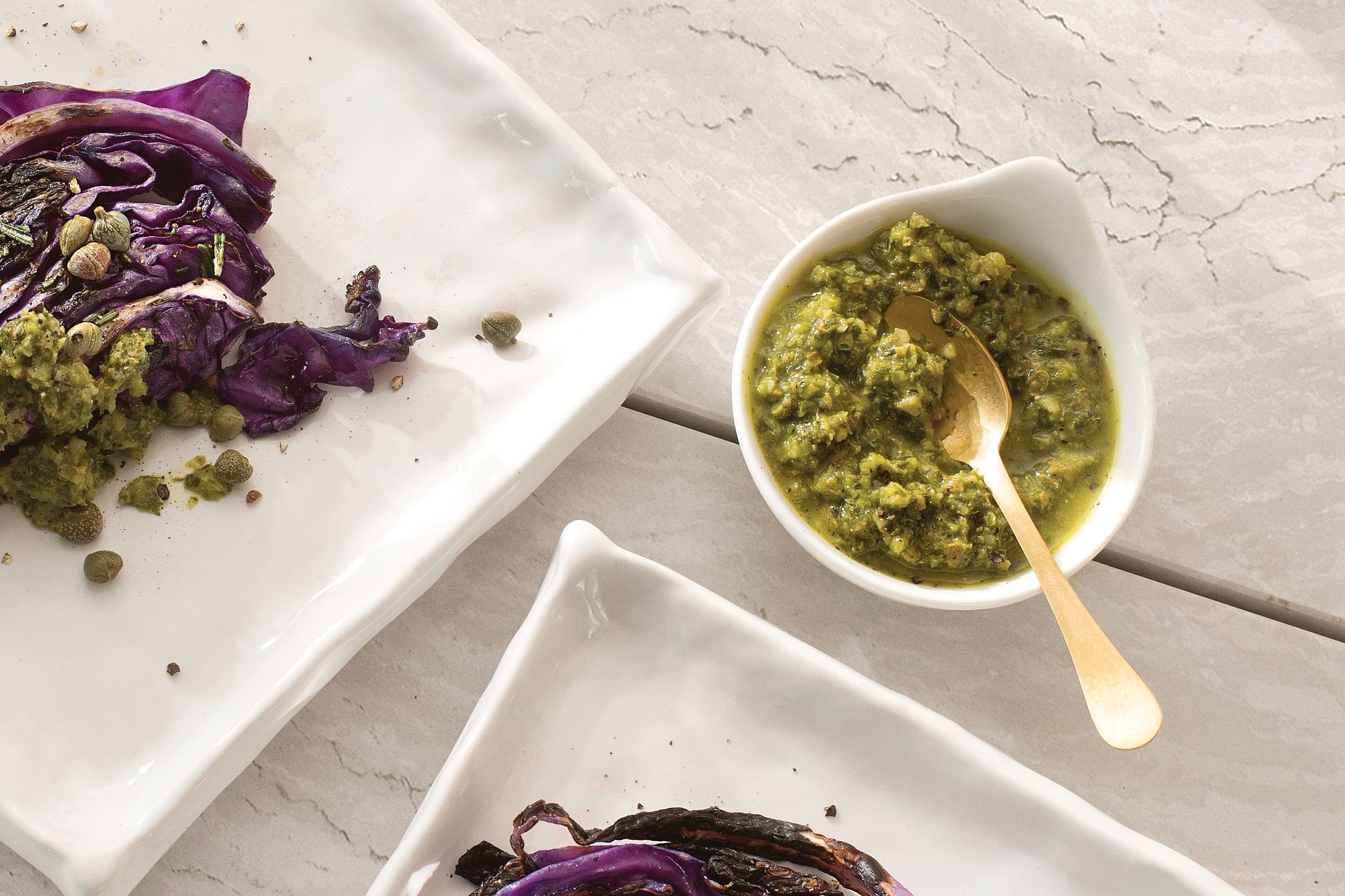 Cilantro lovers will enjoy spooning chimichurri over grilled veggies or meats. Cambria design shown: DELGATIE™
GREEN CHIMICHURRI SAUCE
Adapted from bonappetit.com
Ingredients (makes about 2 cups)
1 shallot, finely chopped
1 Fresno chile or red jalapeño, finely chopped
3–4 garlic cloves, thinly sliced or finely chopped
½ cup red wine vinegar
1 tsp. kosher salt, plus more
½ cup finely chopped cilantro
¼ cup finely chopped flat-leaf parsley
2 Tbsp. finely chopped oregano
¾ cup extra-virgin olive oil
Preparation
1. Combine shallot, chile, garlic, vinegar, and 1 tsp. salt in a medium bowl. Let sit 10 minutes. Stir in cilantro, parsley, and oregano. Using a fork, whisk in oil. Transfer ½ cup chimichurri to a small bowl; season with salt and reserve as a marinade. Serve the rest as a dipping sauce or spooned over grilled meat.
2. If using for beef, place meat in a glass, stainless-steel, or ceramic dish. Toss with reserved chimichurri. Cover and chill at least 3 hours or up to overnight. Remove meat from marinade, pat dry, and grill.
3. Spoon dipping sauce chimichurri over grilled meat.
ROASTED RED PEPPER AIOLI
Adapted from emerils.com
Ingredients (makes about 1¼ cups)
6 large cloves garlic, peeled
¾ tsp. kosher salt
2 egg yolks
1 tsp. freshly squeezed lemon juice
½ cup roasted red peppers (jarred or homemade), roughly chopped
¾ cup Spanish or other mild-flavored olive oil
Preparation
1. Place the garlic in a blender or food processor and pulse until finely chopped, stopping to scrape down the sides as needed. Add the salt, egg yolks, lemon juice, and roasted red peppers and process until well combined.
2. While the machine is still running, add the oil in a thin, steady stream until it is completely incorporated and the mixture is thickened. Taste and adjust the seasoning if necessary.
3. Serve with roasted or grilled recipes as a dip or as a condiment for grilled meats.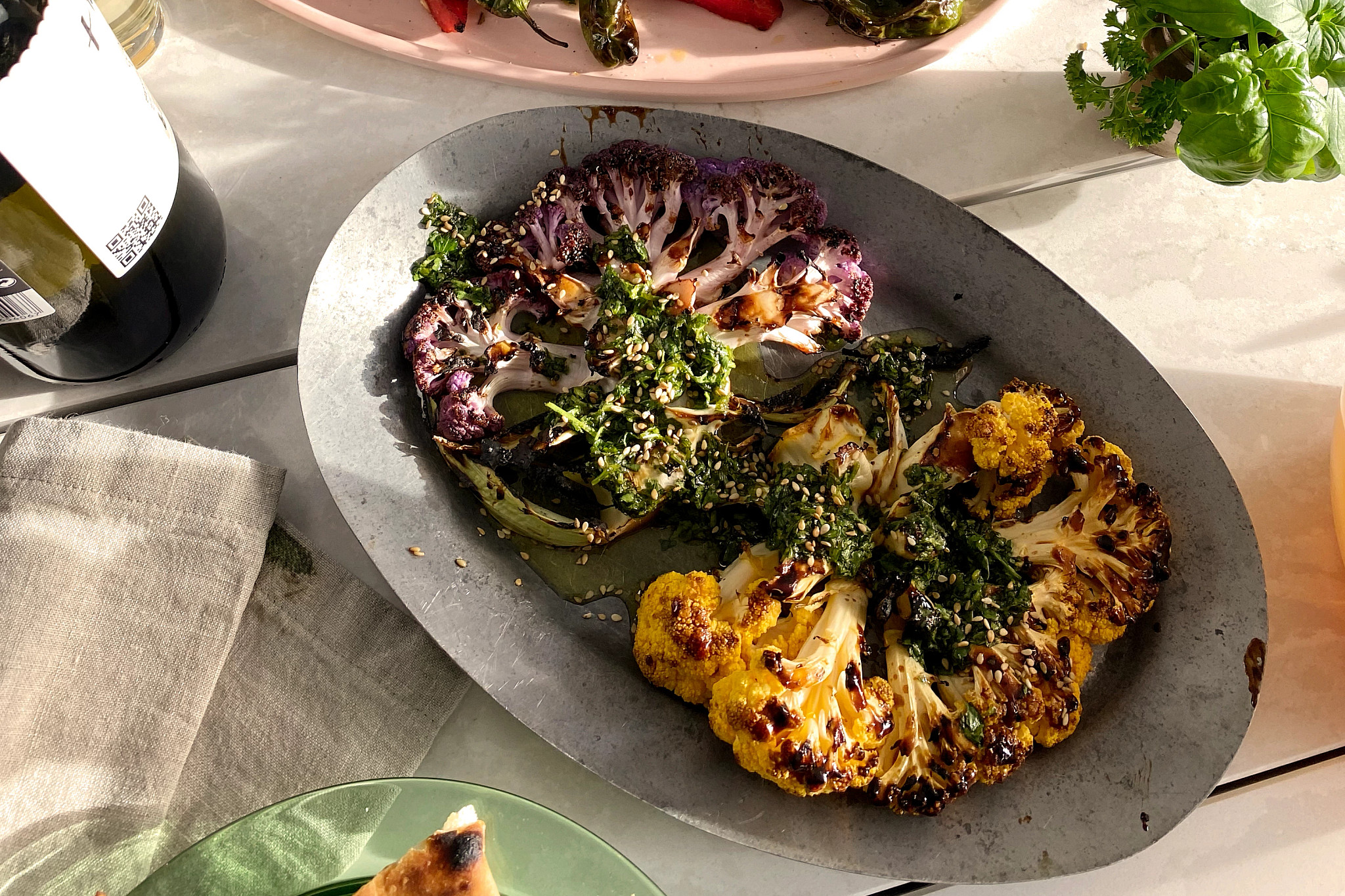 Meatless meals are easy when hearty grilled vegetables are center stage. Cambria design shown: DELGATIE™
GRILLED TERIYAKI CAULIFLOWER STEAKS WITH ASIAN GREMOLATA
Adapted from foodiecrush.com
Ingredients 
1–2 heads cauliflower
1 5-oz. bottle/package of store-bought teriyaki marinade
4 Tbsp. sesame seeds
3 Tbsp. olive oil
2 Tbsp. brown sugar
1 tsp. kosher salt
2 Tbsp. lemon zest
1 tsp. lemon juice
½ cup cilantro chopped finely
Preparation
1. Preheat grill to medium-high and prepare the grates with canola oil. Slice the cauliflower heads into ½-inch slices. Place in a baking dish and pour the teriyaki sauce blend over the steaks and carefully toss the steaks to coat. Let sit at room temperature while preparing the rest of the dish.
2. Pour the sesame seeds into a small sauté pan and heat to medium-high. Toast the seeds for 3 minutes or until lightly browned and fragrant, shaking the pan often so the seeds don't burn. Set aside to cool.
3. To make the gremolata: In a small bowl, add the olive oil, brown sugar, kosher salt, lemon zest, and lemon juice with the cilantro and mix well. Set aside.
4. Place the cauliflower on the grill and baste with the reserved teriyaki sauce. Grill for 3–4 minutes on each side or until grill marks appear and cauliflower is cooked to your preference.
5. Place on a serving platter and drizzle with the gremolata and top with sesame seeds. Serve immediately.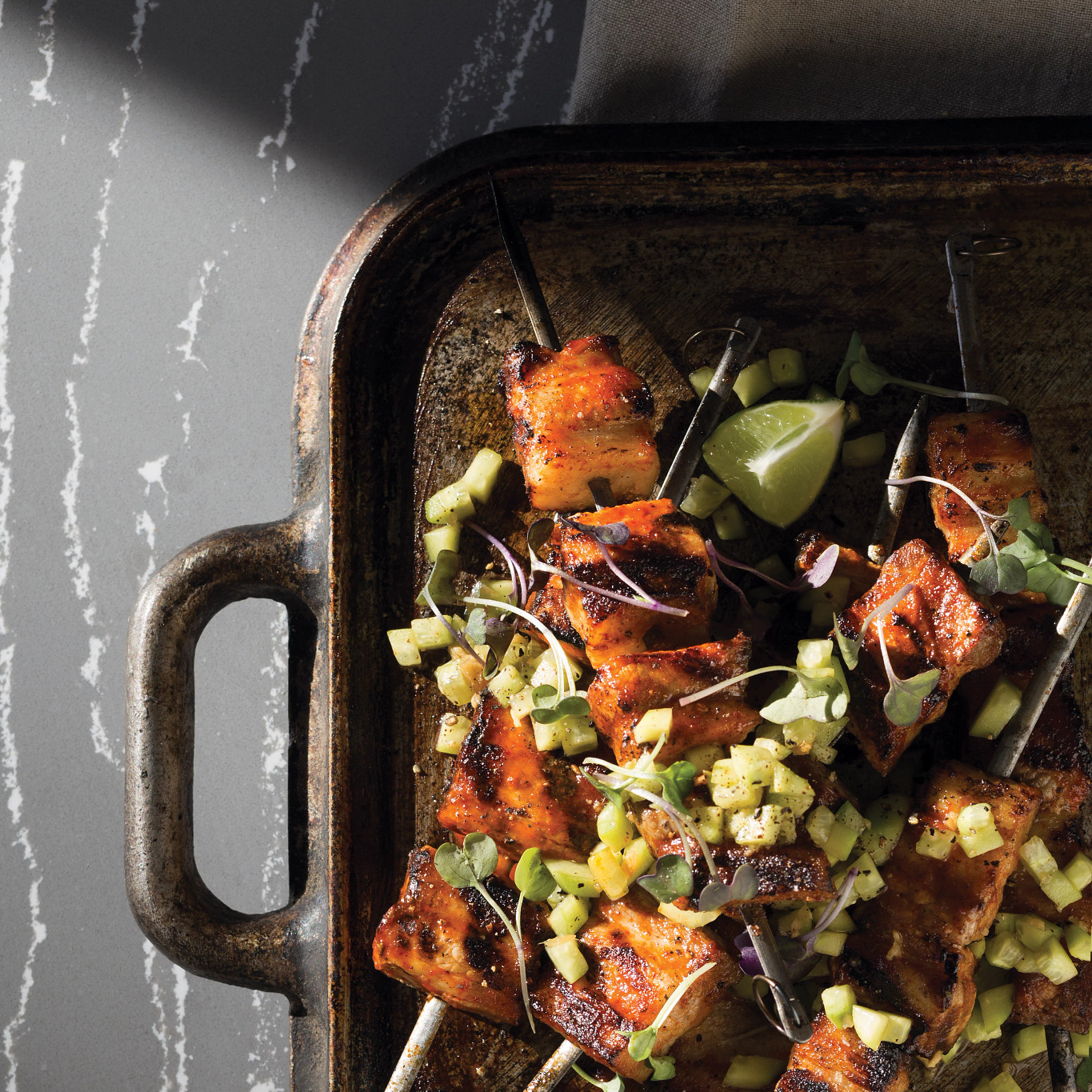 Well-dressed pork skewers are sure to impress your grill-out guests. Cambria design shown: Queen Anne™
SRIRACHA PORK BELLY SKEWERS WITH CUCUMBER SALAD
Previously published in Cambria Style, Summer 2017
Serves 4
Ingredients for pork
½ cup sriracha hot chili sauce plus extra for serving
1 Tbsp. extra virgin olive oil
2 lbs. pork belly, rind removed, cut into 1-inch pieces
Sea salt
Lime wedges for serving
Ingredients for salad
4 Lebanese cucumbers (or 1 English cucumber), peeled, seeded, finely chopped
2 Tbsp. white vinegar
1 Tbsp. grated palm sugar (or brown sugar)
1 Tsp. grated ginger
Cracked black pepper
Preparation
1. Preheat grill to high. In a small bowl, mix sriracha and oil. Set aside.
2. Thread 6 pork cubes onto each skewer. Cook skewers for 8 minutes, turning regularly. Brush pork with sriracha mixture and cook, turning and brushing twice more, for 4 minutes or until
charred and cooked through.
3. Make cucumber salad. In a small bowl, mix vinegar, sugar, ginger, and pepper. Whisk until sugar dissolves. Add cucumber and toss well. Top skewers with salad and salt. Serve with lime wedges and extra sriracha.
ROSEMARY ROASTED PEACHES WITH SALTED CARAMEL SAUCE
Adapted from food52.com
Ingredients for the peaches
¾ cup raw sugar
3 Tbsp. chopped rosemary leaves (from one or two leafy sprigs)
4 firm, ripe peaches, pitted and halved (peeling is optional)
Kosher salt
2 Tbsp. unsalted butter
Ingredients for roasted caramel sauce
1 cup sugar
2 Tbsp. corn syrup or golden syrup
½ cup heavy cream
3 Tbsp. unsalted butter
1 tsp. vanilla extract
Fleur de sel, to taste
Preparation
1. To make rosemary sugar: In a food processor, combine raw sugar and chopped rosemary (make sure the rosemary is completely dry if you've just rinsed it). Process for about 30 seconds, or until well integrated. (You won't need the full amount of rosemary sugar for one recipe, but it keeps well tightly covered, and it can be used in countless ways: to sweeten iced tea, to sprinkle over fresh fruit, etc.)
2. To pan-roast peaches: Preheat oven to 425° F. Liberally sprinkle cut sides of halved peaches with the rosemary sugar, and follow with a pinch of salt. Meanwhile, melt butter in a cast-iron skillet over medium-high heat. Arrange the peaches in the skillet, cut side down. Cook for 3 to 5 minutes without disturbing, until the cut sides begin to brown. (Note: The peaches will throw off juice while they're browning, but it will eventually thicken in the oven.)
3. Transfer the skillet to the oven and roast for about 10 minutes. Flip the peaches, drizzle with butter, and continue roasting another 5 to 10 minutes, or until tender. (The total cooking time will depend on the size and ripeness of your peaches. Peaches are also delicious when brushed with oil or melted butter and then grilled!)
4. To make salted caramel sauce: Combine sugar, corn syrup (or golden syrup), and ¼ cup water in a deep saucepan. Cook over medium-high heat, stirring once or twice, until the sugar has dissolved. Continue cooking without stirring (stirring can cause the sugar to crystallize), swirling the pan occasionally while the sugar cooks. If you notice any sugar on the sides of your saucepan, brush it down with a wet pastry brush to dissolve the sugar crystals. Cook until the sugar has reached a deep amber color, about 7 to 10 minutes total. Then, immediately take the saucepan off the burner. (Keep a close eye: Caramel can go from perfect to burnt in a matter of seconds. If using a candy thermometer, cook the sugar until it reaches 350° F.) Once the pan is off the heat, add the heavy cream (stand back because it will sputter upon hitting the caramel), and then whisk in the butter until smooth. If the caramel develops any lumps, place it back over low heat and whisk until smooth. Let stand for 3 minutes, then add the vanilla extract. Season the finished caramel with fleur de sel to taste. Tightly covered and refrigerated, the caramel sauce should keep for several weeks in the fridge; gently rewarm it before serving. Drizzle the caramel sauce over the roasted peaches, making sure you serve extra on the side. Vanilla ice cream is optional but highly recommended.