Range of Ideas
Kitchen ventilation gets a stylish upgrade with these range hoods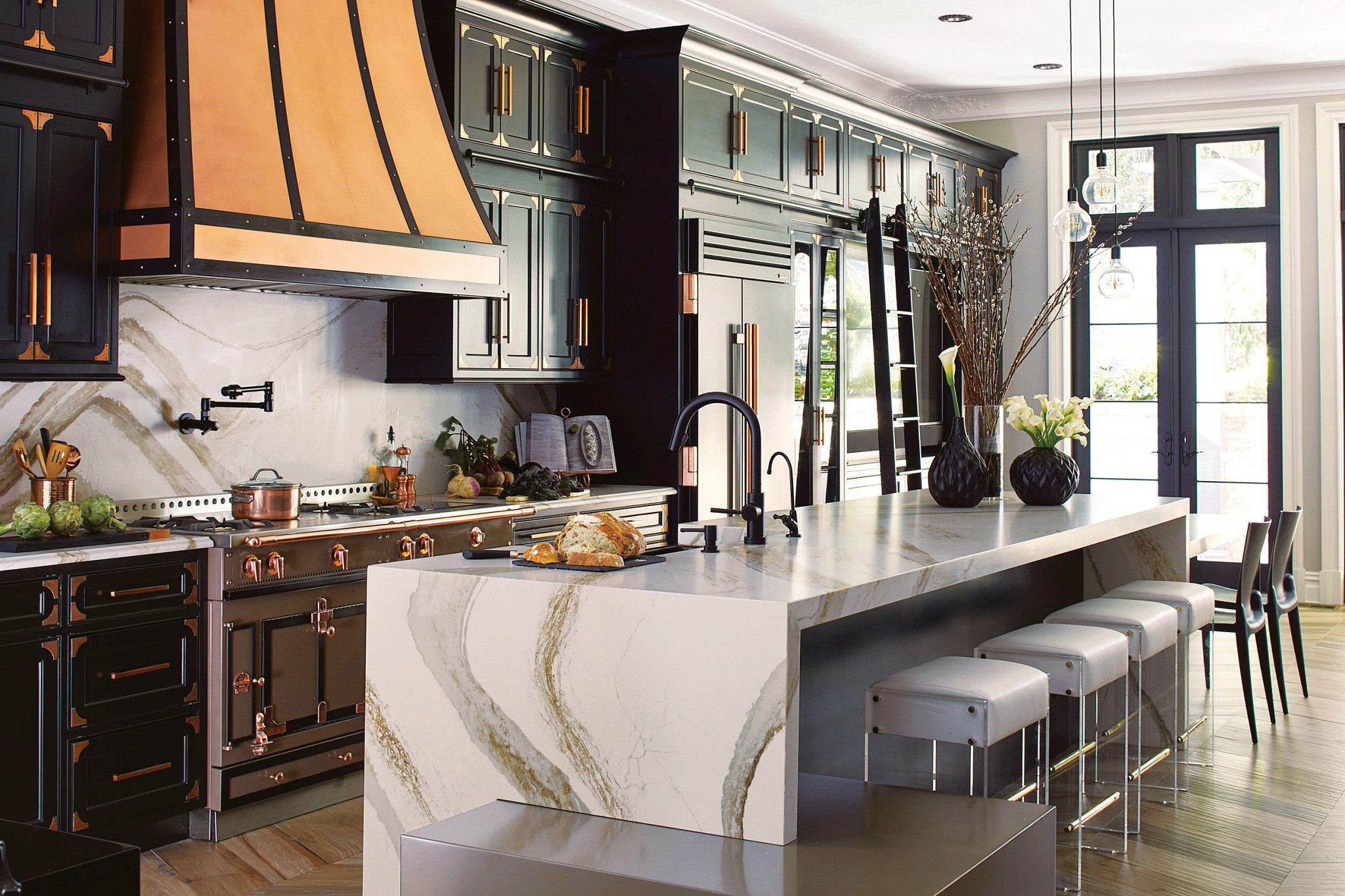 A subtle shift has been happening in kitchen design. While kitchen cabinetry and countertops attract most of our attention, make note of an important kitchen design element that, while overhead, may be under your radar. Custom, commercial, and designer range hoods have become just as visually appealing as they are highly functional.
Once upon a time, someone invented the over-the-range mounted microwave, and it was applauded as a counter space saving innovation. But, as modern kitchens continue to evolve with open concept spaces that include more available countertop via kitchen islands, there are other practical places to install microwave ovens. Lots of home cooks have also leaned into more industrial cook tops, making the ventilation provided by over-the-range microwaves less able to "take the heat."
Today, more than ever, ventilation and air quality are top of mind. Unlike over-the-range microwaves that serve mainly to cook and reheat food, with built-in ventilation as part of the package, range hoods are designed specifically to remove smoke, fumes, excess heat, grease, steam, odors, and other pollutants from your kitchen. They can even help prevent bacteria and mold growth. All of this is helpful for breathing easier, especially for anyone with allergies or asthma. Plus, a range hood can look amazing in your kitchen when enough thought is given to its style and design.
Range hoods can be either ducted or ductless, and some areas may have specific building codes to determine which is recommended or required. Ducted range hoods vent kitchen air to the outside. Ductless, or recirculating range hoods, filter your kitchen's cooking exhaust, trapping some grease and odors in the process. Either can do the job when properly paired with the size and location of your cooktop, and your particular cooking habits.
The venting power of a range hood is measured by how much air it can suck out of your kitchen in cubic feet per minute (CFM). Some rules of thumb when considering the preferred power of a range hood: For electric cooktops, multiply the width of your stove by 10. That means a 40-inch electric cooktop needs a 400 CFM range hood. For gas ranges, you'll first need to determine the total heat output of your gas cooktop burners in British thermal units (BTUs), then divide by 100. Simply stated, 100 CFM for every 10,000 BTUs. That means, a 40,000 BTU gas range should have a range hood with at least 400 CFM of venting power. For ducted range hoods, the higher the CFM, the wider diameter of ductwork that will be necessary to handle the load. The size of your kitchen is also a factor, and your kitchen designer or appliance installer should be able to help with your specific installation details.
Don't forget to factor in the way you like to cook! If you frequently use your cooktop for deep frying, preparing foods with strong odors, or high-heat cooking methods that produce a lot of smoke, consider adding 200–300 CFM to your range hood selection.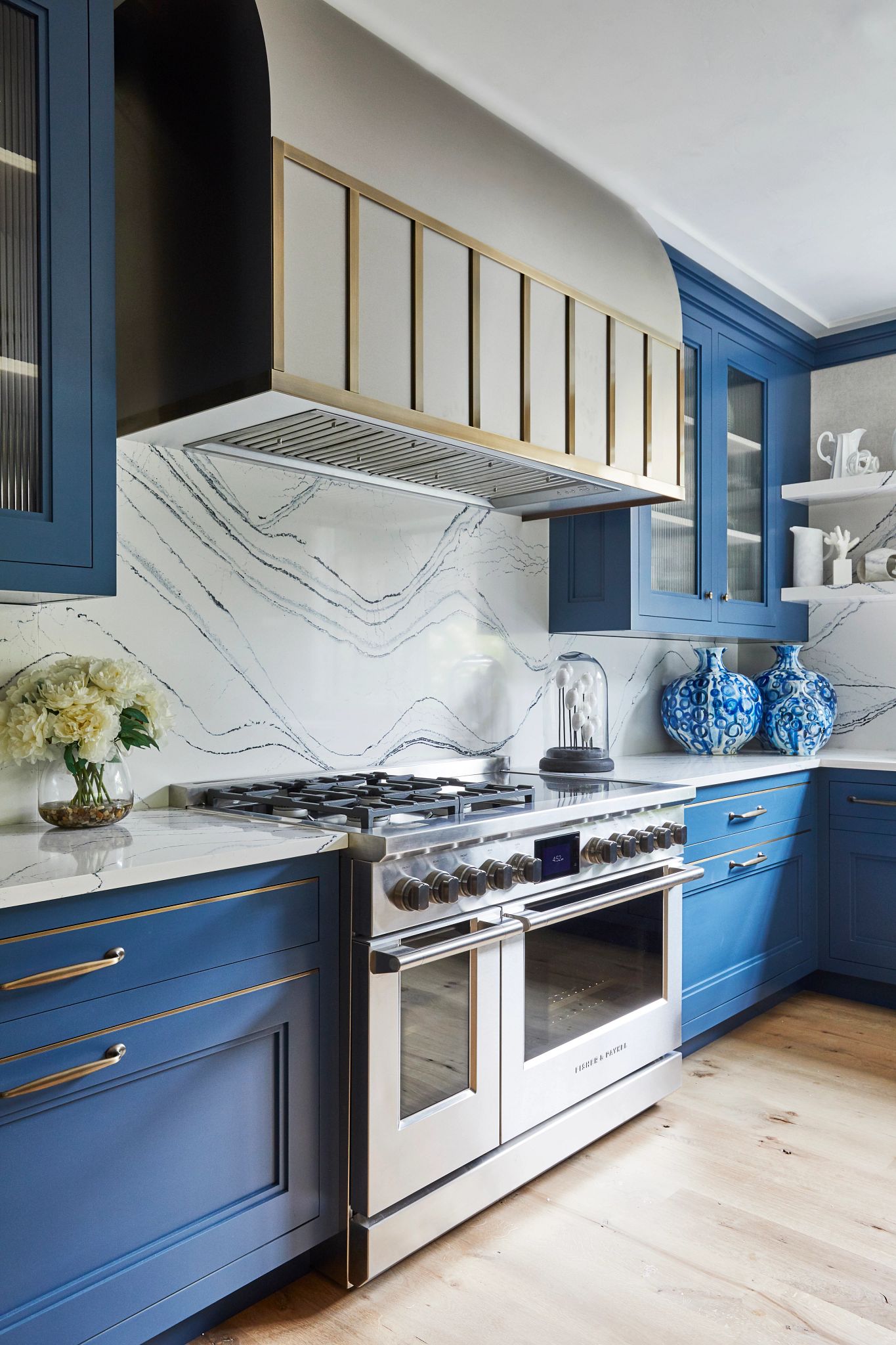 A custom range hood like this one designed by BAKES & KROPP can pull together an entire look. Cambria design shown: PORTRUSH™
Venting power isn't the only reason you might need a range hood. Some commercial grade stoves are larger in size, and a mounted microwave oven with a vent fan won't be large enough to match the oversized cooktop. It's recommended that venting overhangs the cooktop, and is also installed at the right height above the stove as some gas ranges can produce a lot of heat. Some upsides to having a larger, more powerful range hood, in addition to cleaner kitchen air, is that you can likely run it on a lower speed to accomplish the same goal as a smaller hood, only quieter. Filters are often easy to change and clean. And, most importantly, to design-minded home cooks, range hoods come in a variety of styles. Companies like Fisher and Paykel and
CAFÉ APPLIANCES
offer
COMMERCIAL AND DESIGNER-STYLE RANGE HOODS
that complement their lines of
RANGES AND COOKTOPS
. Or, you could consider a hood insert that can be installed inside a custom hood enclosure that is either wall mounted or ceiling mounted over an island. This is a perfect opportunity to wrap your range hood in
CAMBRIA
to create a sleek and stylish kitchen design element that's both aesthetically pleasing and easy to clean!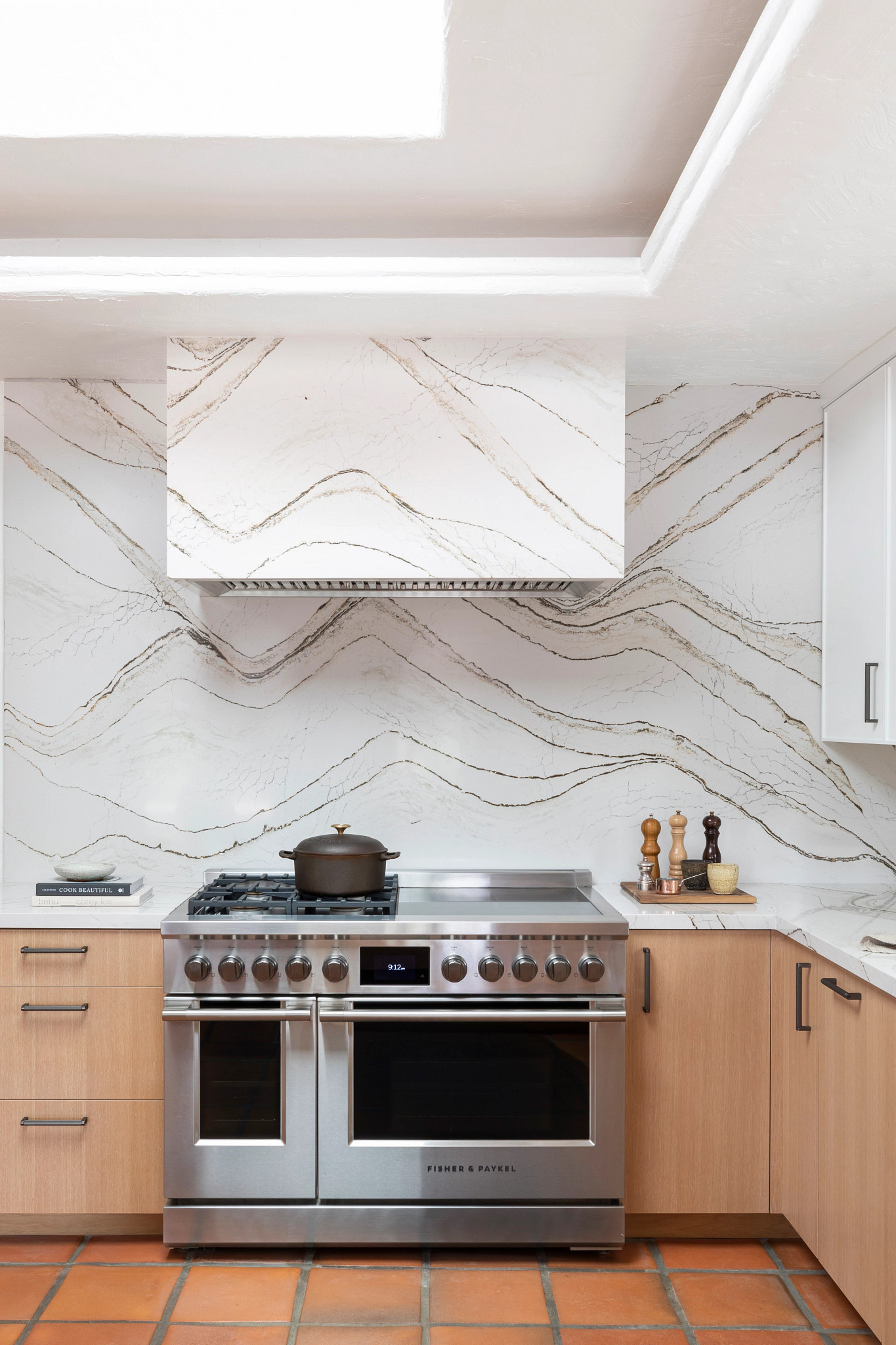 Award-winning FRENCH CHEF LUDO LEFEBVRE opted for super clean, functional design with a vent hood wrapped in Cambria to match the full-height backsplashes and countertops. Cambria design shown: CLOVELLY™
Now, you need only decide if you prefer a more minimalist look or if you want to give your range hood the attention it deserves by making it a custom designed focal point in your new kitchen.