Pure Style
You don't have to live in an architectural gem to enjoy the simple sophistication of contemporary design. Here's how to use form, material and color like a modern master.
Written by AMANDA LECKY
Photography by STEVE HENKE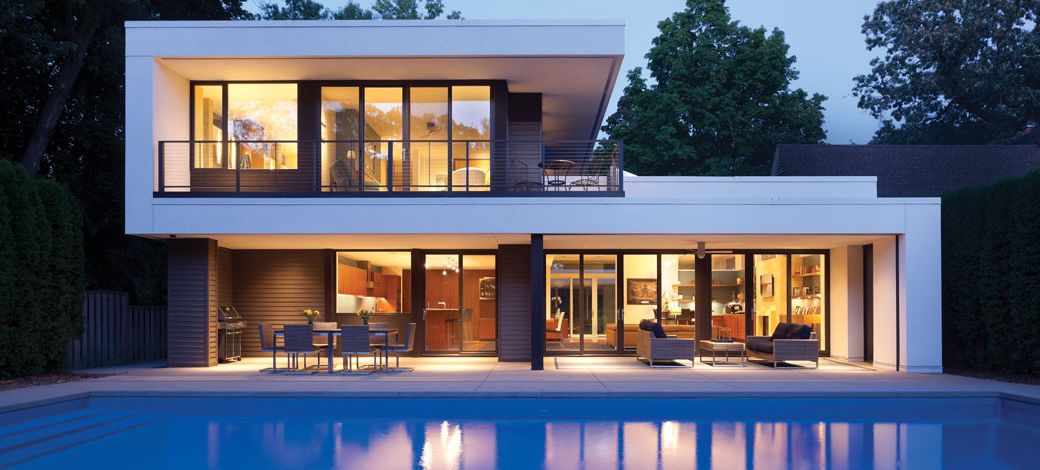 Form follows function. Ever since architect Louis Sullivan—who virtually invented the steel skyscraper in the late nineteenth century in Chicago, and whose assistant, Frank Lloyd Wright, would go on to make his own indelible mark on the history of American design—first coined the phrase, it has been this principle that has characterized modern architecture. "It's an idea that's translated quite literally into modern and contemporary design," says interior designer Billy Beson of Billy Beson Co. in Minneapolis, MN. "The architecture is pared down to the essentials, with very little ornamentation. The result is very clean, without unnecessary distractions." But while that stripped-down simplicity can be soothing, it can also be challenging to live with. "Most of us don't want our home to look like an art gallery," says interior designer Paula Den Boer of Ashley P. Designs in Scottsdale, AZ. "So the goal is to create spaces that maintain that minimalist elegance without feeling stark and uninviting." The trick, say the experts, is making careful choices throughout the design so the materials and furnishings lend warmth and visual interest, balancing the architecture. Here's how.
NATURAL MATERIALS
"Most modern and contemporary spaces have a lot of glass and other man-made surfaces like concrete and metal. The key is to balance that cold, hard shell with natural materials like wood and stone—materials that have visual texture and warmth," says Den Boer. Wood-paneled walls, floors, and cabinets work well in even the most minimalist spaces. "Look for species with visible graining," says John Hall, an interior designer in Beechwood, OH, with a specialty in contemporary kitchen design. "It adds movement to an otherwise simple design." He notes that the horizontal wood grains that have dominated for the past several years are giving way to vertical grains, often with a vintage or reclaimed look. "I'm seeing a lot of barnwood, even in contemporary interiors," he says. "It lends a lot of character."
To balance those dramatic wood grains, designers often prefer stone with simpler patterns. "I love to use a more solid pattern of Cambria in a contemporary kitchen," says Beson. "A solid white or gray like Whitehall or Dovedale stands out against wood-grained cabinets."
Hall notes that waterfall edges—where the countertop material extends all the way to the floor on one or more sides of the island—are a popular choice. And stone isn't just for contemporary kitchens. "On a fireplace wall, I'll use Cambria all the way up to the ceiling, with a floating mantel above the fireplace opening, for a polished, seamless look." says Den Boer.
"Don't be afraid to infuse the space with your own personality, and even a bit of whimsy. You don't need to feel boxed in by design style." —Billy Benson, Billy Benson Co.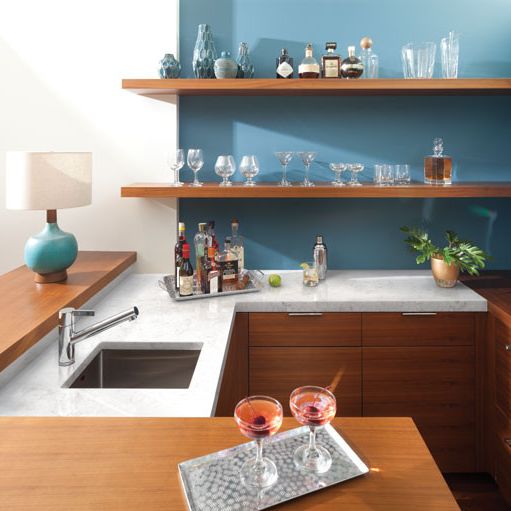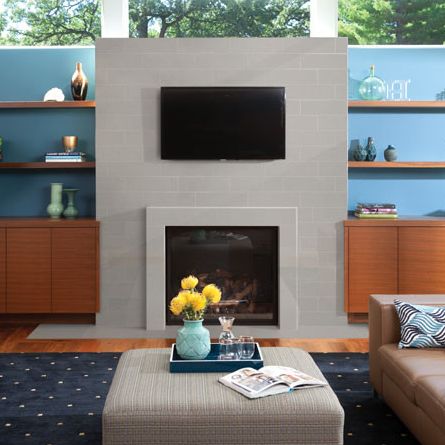 FURNISHINGS AND ACCESSORIES
"In a very simple space, each addition makes a big statement," says Beson. So, select furnishings and accessories that either repeat the geometric shapes in the architecture or add contrast—curving lines in a rectilinear space, for example. And, says Ben Doer, go for cushy upholstery. "Even very sleek, contemporary sofas and chairs should be soft. Otherwise, no one will want to stay long!" Artwork is very important in a contemporary home. "It should be graphic and colorful," says Ben Doer. And don't forget the lighting. "Light fixtures can make such a big impact if you choose a bold style, and details like undercabinet lighting and lighted display cabinets add drama," says Hall.
COLOR, PATTERN, AND TEXTURE
Unlike European contemporary design, which typically leans monochromatic, American contemporary can be quite colorful, notes Hall. "But whereas a traditional space might have many colors in the same room, a modern space might only have one strong color that's repeated in several places," says Beson. Patterns are usually geometric or overscaled—so, you could use a floral pattern, but it should be bold and graphic. Even more important in modern spaces than color and pattern, perhaps, is texture. "Use as many as you can, and layer them," says Den Boer. "You might have a very streamlined room, but because the walls are paneled wood and the hearth is stone and the floor has a nubby carpet and the sofa is mohair and the throw is alpaca and the window treatments are woven linen, the look is very rich and inviting." And don't be afraid to infuse the space with your own personality, and even a bit of whimsy. "You don't have to feel boxed in by a design style," says Beson. "The best design is never boring."