Perfectly Suited
TV & Movie actor Tim DeKay knew he wanted a timeless style for his new home— Cambria helped create the look
Written by LOUISE MORGENSTERN
Photography by G. HOLZ & S. HENKE
Tim DeKay is not exactly GQ-ready as the FBI Agent Peter Burke in the USA Network original series, White Collar. He wears his nondescript suits like a bland uniform in the popular police procedural, now entering its sixth and final season. But while his character Burke can't tell Armani from Old Navy, the 6-foot-2-inch DeKay is another story. He appreciates enduring style, whether it's in clothes or architecture
It made sense, then, for him to choose a product that can last a lifetime when he and his wife, Elisa, started choosing materials for a new home. "It's incredible how many options one has," Tim recalls of their two-year home-building project that ended in August 2013. "We limited our choices to companies that were environmentally conscious and Cambria was one of them. We started looking at their samples and really thought they had attractive designs, simple yet unique." Attracted to the classic stone look, Tim and his wife Elisa wanted to remain faithful to their environmental credo, yet still attain the appearance they wanted. The DeKays were tipped off to the advantages of Cambria by their friend, actor Bryan Cranston, who chose it in the construction of his beach house. "Bryan and I did a pilot together years ago and stayed in touch," Tim explains, citing how pleased the Cranstons had been with how the product performed, despite being steps from the sand and salt air.
Constructing a new house from the ground up was not initially on the table when the couple sought more space for themselves and their two children, Jamis, 14, and Danna, 11. "I thought we would just go buy one that was already up and running," laughs Tim. But once he saw the 25,000-square-foot property in a leafy Los Angeles neighborhood, he was hooked, despite the overgrown trees and dilapidated house. After consulting with their architect, the DeKays realized they would have to start from scratch. The house they wanted, and were determined to create, would be a relaxed gathering place for family, friends, and the household menagerie of the Sheltie-Corgi mixed-breed dog, Spice, and Russian tortoise, Dribble. In the end, they got what they wanted, and more.
What stands today is the couple's modern take on a classic farmhouse, with nods to Tim's eastern roots in rural upstate New York, such as beadboard in the master bath and vintage-style lighting. They named the house "Stone Pine Farmhouse" for the numerous Stone Pine trees on the property. "'Farmhouse' came from our desired design and my growing up in farm country," Tim explains.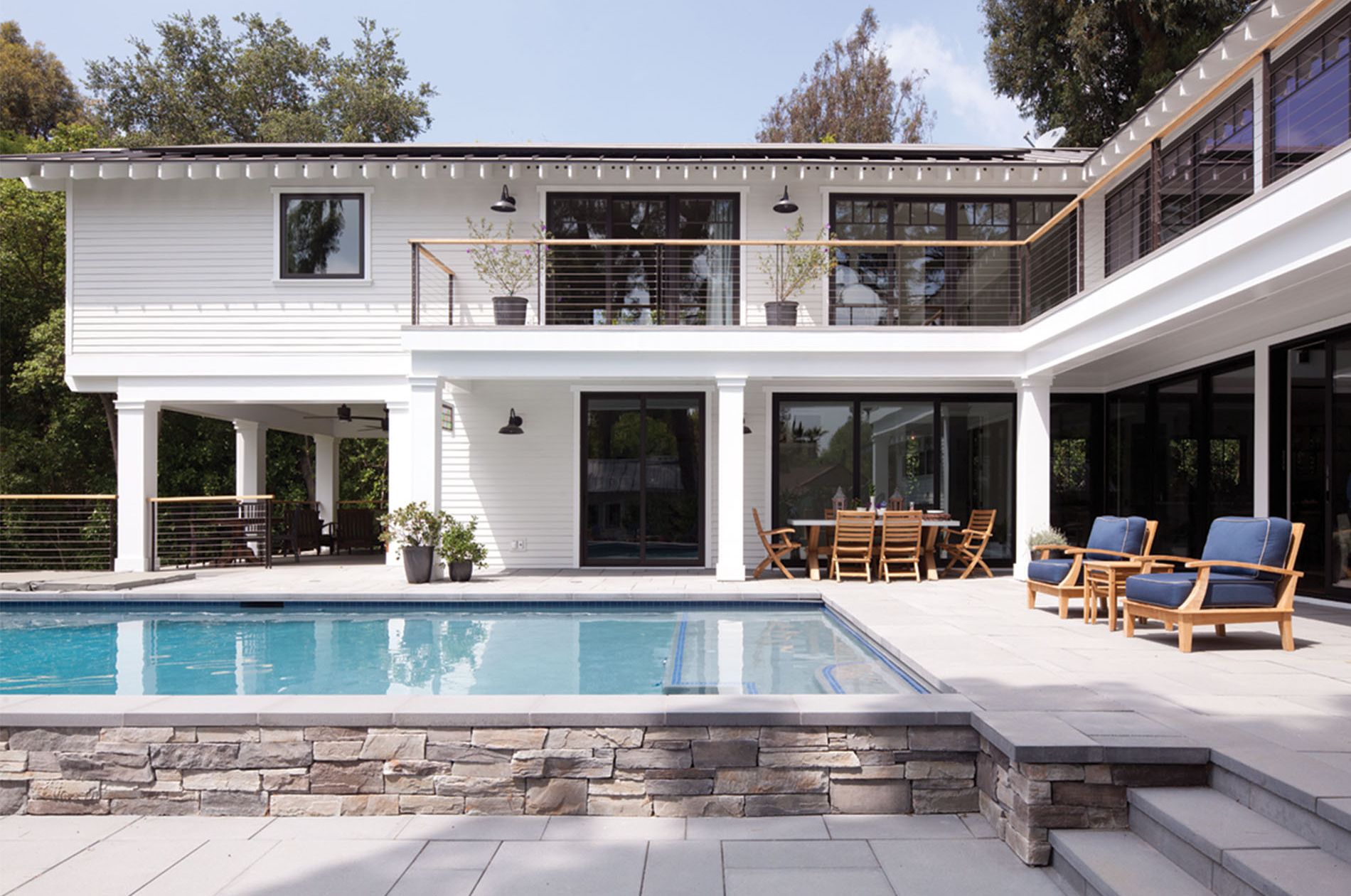 But no room gets more of a workout in the DeKays' house than the kitchen. Located at the "bend" of the L-shaped floor plan, the kitchen is the area that Elisa calls "the vortex"—mission control. A nine-foot-by-seven-foot maple island topped by Cambria in creamy Torquay takes pride of place. (Cambria's Fieldstone covers the surrounding countertops.) "The kids love to sit at the island—and on the island," says Tim. It serves as a dinner party buffet, baking center, homework hub, and crafts table. During one session of the latter, even a hot glue gun and green St. Patrick's Day paint didn't leave a mark.
The counter was recently put to the test during a birthday party for White Collar cast member Willie Garson. Guests were asked to bring a homemade dessert and they happily complied. At least 50 gooey treats were arrayed atop the island. English toffee pudding, blueberry cobbler, chocolate cream puffs, key lime pie, and dozens more—all of it easily wiped clean at the end of the evening. "Nothing penetrates it," says Tim.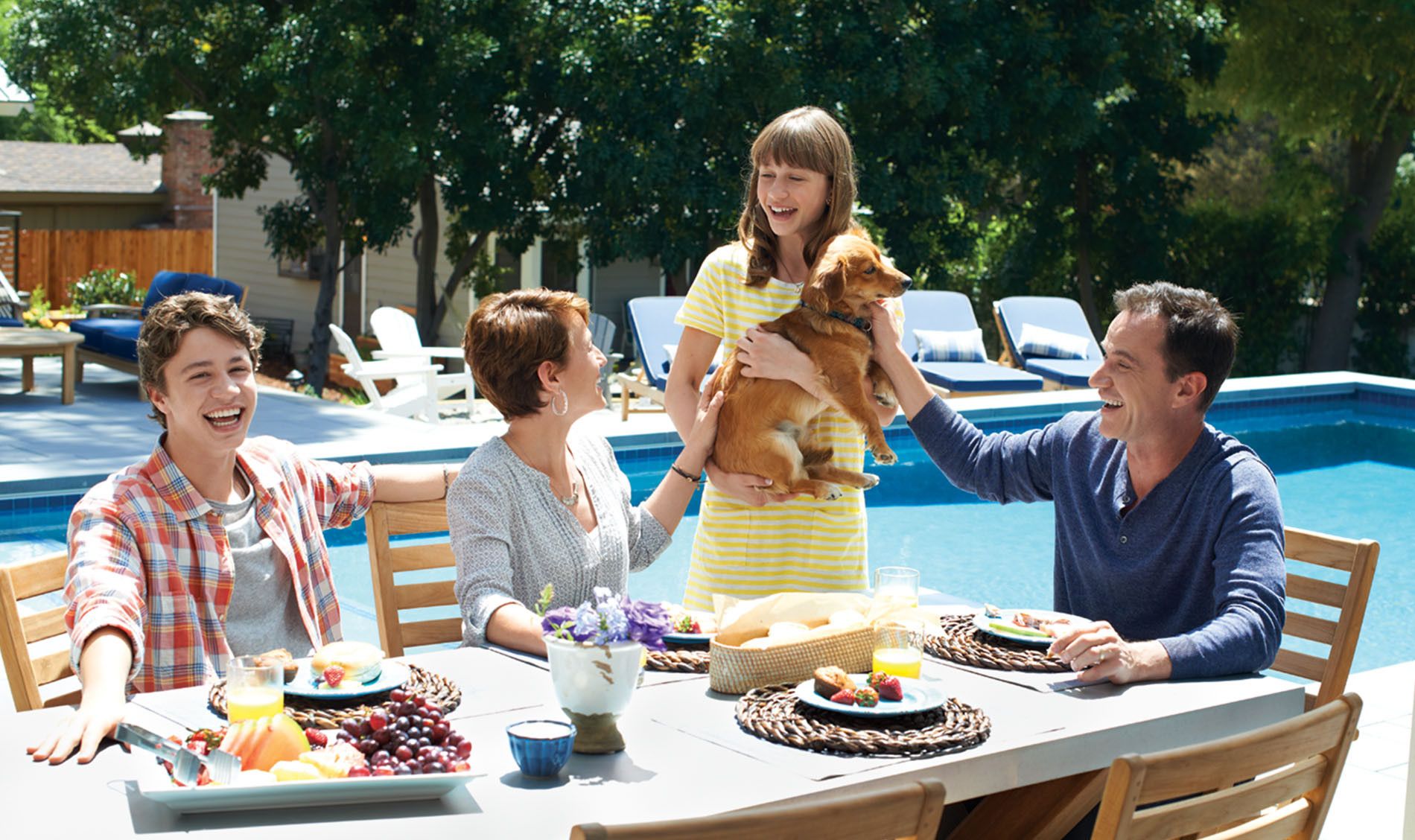 Durability and sustainability are at the heart of the DeKays' lifestyle. This is a family-centered home in the old-fashioned tradition, but with a decidedly modern and ecologically thoughtful bent. It is an unfussy "no coasters" place where the priority is family fun. Outside, chaise lounges with ocean blue cushions trimmed in crisp white piping are lined up at the edge of a pool. A fire pit surrounded by six Adirondack chairs is the site of s'mores parties. A 100-foot-by-50-foot level backyard is big enough for regulation team volleyball (Danna plays), baseball games (Jamis's sport), Thanksgiving football scrums, badminton, croquet—you name it.
"My grandfather was a dairy farmer and I grew up next to a forty-acre farm where we played Kick the Can, Hide and Seek. I wanted to re-create some of that," says Tim. For the run of the series, though, finding family time was a challenge. White Collar shot in New York from March through mid-August, with Tim flying home every weekend or two. With White Collar in its final season, Tim will film Follow the River, a western, and direct a holiday film that he describes as a cross between Noises Off and Soap Dish.
But for now, the actor is home and it is not a star-studded day. He's wearing jeans, an indigo and purple checked shirt with the sleeves rolled up, and a pair of leather sneakers. "See these shoes?" he says, pointing to the supple brown lace-ups. "These are hand-me-downs from my son. My kids have kept me hip." But things that last are really what resonate. He observes the family room from a relaxed spot in an upholstered linen armchair. Overhead, 25 feet up, thick timber beams support a dramatic vaulted ceiling.