In Perfect Harmony
Designer Charissa Surine brings a forward-looking vision to the interiors of a new home in the Canadian woods
A mix of natural materials brings a warm and woodsy vibe to this Canadian home. Cambria design shown: Buxton™ (island) and SMITHFIELD™ (perimeter)
When designer Charissa Surine of Haven Builders in Saskatoon, Canada, talks about the interiors of her latest project, she keeps coming back to the image of the clients' four children playing in the woods that surround the house site. It's their youthful sensibility—playful, attuned to nature—that informed her design. "We call this project 'the forest house,'" says Surine. "It's on a lot that's so deeply wooded you can barely see the house from the road. So, we did everything we could to connect the design to that beautiful setting."
At a glance, that indoor-outdoor connection is clear: The interiors feature a mix of natural materials, including multiple wood species, natural stone—including Cambria Buxton countertops in the kitchen and laundry room (as seen in Cambria Style's Winter 2023 issue)—aged brick, and concrete. The color palette is mostly neutral, with Benjamin Moore Simply White creating a fresh backdrop for all those natural textures, and allowing the few dark accents—the black millwork in the library, the dark metal railings along the stairs, for example—to stand out.
Everywhere you look, large windows usher in light and wooded vistas. Even the primary bathroom has a fabulous view—not to mention a freestanding tub that any parent (especially one of four children) would envy.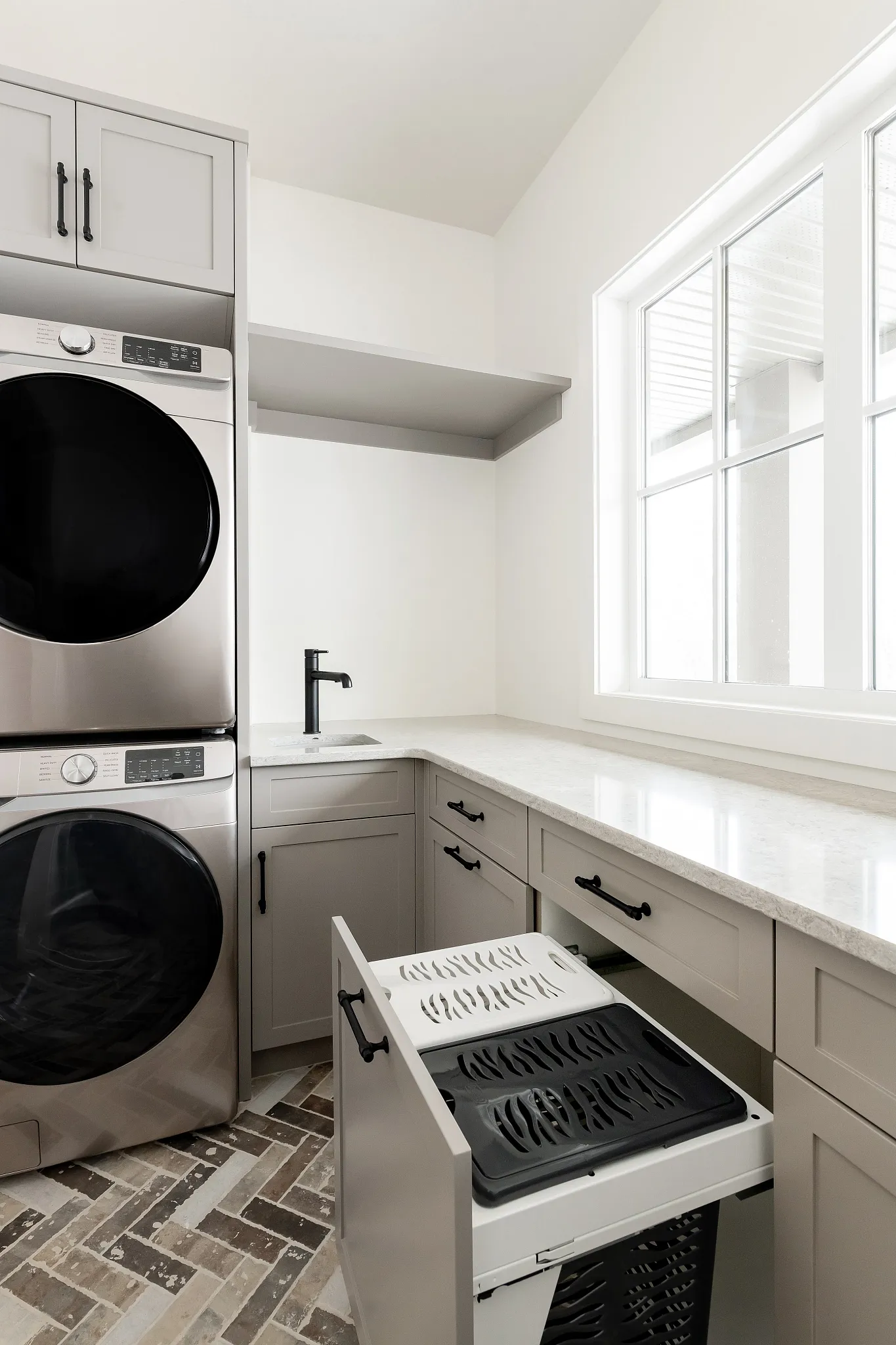 Built-in laundry baskets bring next-level function, and a large mudroom is perfect for an outdoorsy family. Cambria design shown: BUXTON
Speaking of family life, Surine takes particular care with the home's practical details, from designing a laundry room with built-in hampers and a large mudroom for all those mucky boots, to specifying hardworking materials like Cambria that can stand up to years of abuse. The designer even included a second, main-floor bedroom suite (currently used as a flex space) that the owners can move to later in life, if necessary. "We chose every detail with an eye to the future," she says. "The clients intend to grow old here. It's their 'forever home' in every sense of those words."
Please call 1-866-CAMBRIA (1-866-226-2742) to confirm design availability.