Peach And Red Onion Chutney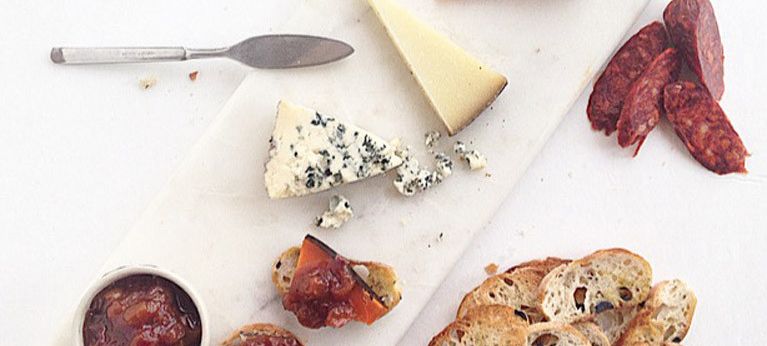 "Most chutneys are fundamentally sugar and vinegar reduced with fruits, veggies, and spices," says Mike Ward. "I've used peaches here but you could use nectarines, plums, or mangoes—almost any stone fruit would work. You could even use tomatoes, apples, or pears. You can also have some fun exploring different varieties of sugar, vinegar, and spices."
INGREDIENTS
Makes about 2 cups
3 peaches, cut into rough ¼ inch dice
1 red onion, cut into rough ¼ inch dice
Olive oil
¾ cup of brown sugar
¾ cup of apple cider vinegar (preferably MAILLE)
½ tsp. crushed chili flakes
Good pinch of salt
DIRECTIONS
In a medium pan, sauté onions and mangoes in a splash of cooking oil until soft but don't let them brown. After 2–3 minutes, add vinegar, sugar, and salt. Stir the mixture slowly on low/medium heat, roughly squashing the fruit with the back of your wooden spoon, until the mixture is reduced and thickened, about 10–20 minutes. Remove from heat and let cool.
"You can throw a healthy dab of the chutney on a chunk of cheese and eat it immediately, but don't burn your mouth, as chutney is HOT coming straight from the pan," says Ward. Serve with goat cheese or cheddar cheese, add to sandwiches or serve with curries, grilled chicken, pork, and fish. Store any leftovers in a tightly covered container in the fridge and eat within several days.
Note: If you don't plan on eating the chutney right away, you can use a boiling water canning process and store in the refrigerator.
Recipe adapted from CHEF MIKE WARD.