Outside In
A reimagined home from the 1940s holds its own today
Written by Thomas Connors
Photography by Michael Hunter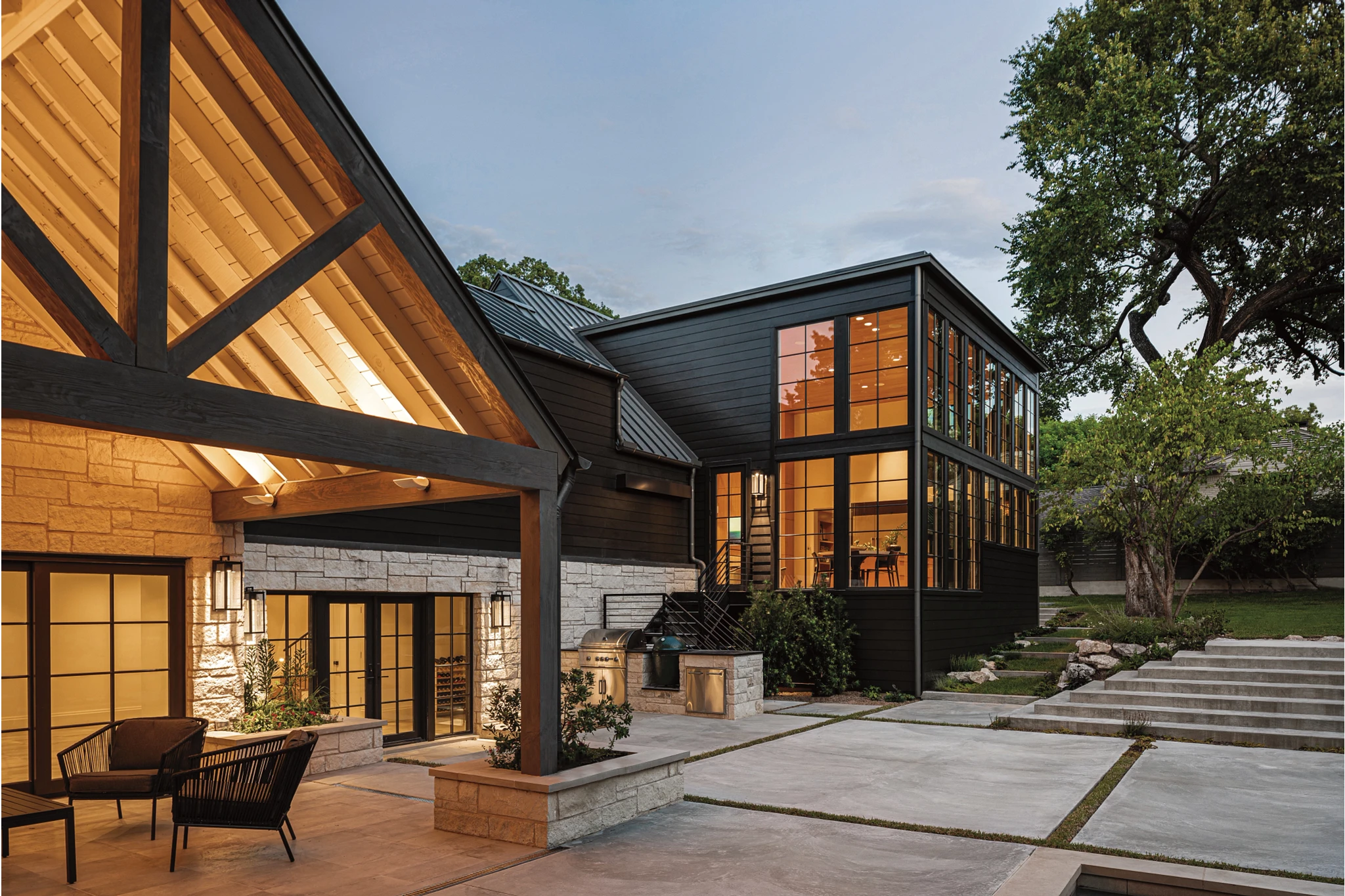 With a covered patio, an expansive terrace, and a pool beckoning, it's tough to stay inside.
When we imagine our dream home, most of us don't think small. But even if we prefer a cottage over a mansion, we don't want to be hemmed in. High ceilings and amply proportioned rooms—spaces that allow us to live large—are usually at the top of the list. But space for the sake of space doesn't make for a comfortable lifestyle. A sense of scale is essential.
When Dallas-based interior designer TRACI CONNELL took on a sizable home for a client in the city's handsome Kessler Park neighborhood, creating a smart, congenial atmosphere was one of her primary objectives. "Livable sophistication was the approach," explains Connell.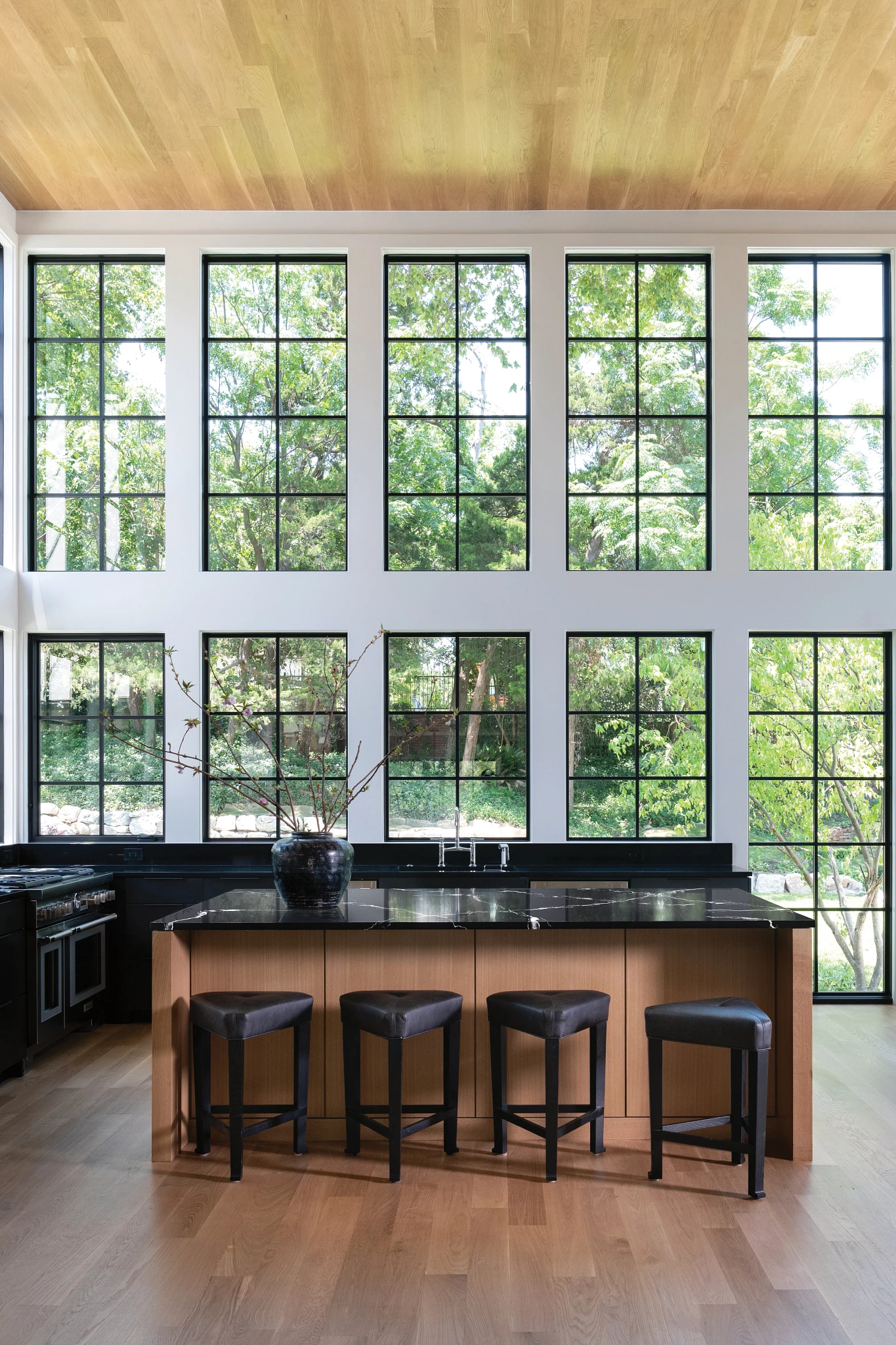 The substantial kitchen island combines rift-cut white oak with Cambria's Blackbrook™ in a high gloss for a sophisticated, artful look. Cambria designs shown: BLACKBROOK™ (island), CAMBRIA BLACK™ (perimeter)
A 1940s split-level Tudor completely reworked by local residential architecture specialists RGD+B, the house combines a period profile out front with new, contemporary touches at the back, including a loft-like kitchen and entertaining area. Defined at one end by floor-to-ceiling, multipaned windows that frame mature trees just beyond, the new addition is a stupendous, light-filled space. The black cabinetry and stainless steel appliances are offset by a warm, hardwood floor. "We took the hardwood floor and duplicated that on the ceiling to eliminate a cavernous feeling and create more warmth," notes Connell. Centering the voluminous space is an island of rift-cut white oak topped with Blackbrook™ from Cambria. A deep glassy black strung with fluid white veining, this chic surface partners perfectly with the kitchen cabinetry. Keeping the kids in mind, Connell added a whimsical note with triangular counter stools.
Connell hewed to a neutral palette that allows the architecture to really sing. Understated hues pervade the home. "Cambria was the best utilitarian choice for the bathrooms, laundry room, and mudroom," says Connell. "Simple, utilitarian, it is a continuation to the subtle color palette of the house. The family room is completely open to the kitchen, so it was important for us to bring in a subtle color palette to keep the focus on the lush outdoors," says Connell. "And with entertaining in mind, we incorporated swivel chairs, so you can easily pivot from the family room to the kitchen with your early morning cup of coffee or an evening cocktail."
Connell's utterly stylish design scheme is punctuated with the kind of pieces that make any house a home. A vintage camera collection passed down from the husband's grandfather is displayed in a modern built-in wall unit in a hallway. Books from childhood and other keepsakes—like a gumball machine now filled with marbles and a Mickey Mouse phone—decorate the game room. Just as orchestrating the scale of furniture and architectural detail is key to mastering space, this marriage of high design and humble personal objects is fundamental when it comes to achieving a true sense of proportion.