Naturally Modern
A custom home with an easygoing vibe is the perfect setting for a YouTube-famous young couple to build their family and their business
Written by DIANE CONRAD
Photography by SHELBY COOPER
When content creators and YouTube stars Jess and Gabriel Conte decided to relocate from Los Angeles to South Florida, they turned to builder J.P. DIMISA and interior designer JASON BALL to help them create the custom home of their dreams. The couple wanted to live closer to family, and to create a light, bright, open home where they could live, work, entertain, create content, and start their own family. "Most of our clients are retirees or 40-something parents of young families," says DiMisa. "It was refreshing to work with a couple in their early 20s—their energy was a lot of fun."
Because the house had to be multifunctional, DiMisa helped the couple create a flexible floorplan, with plenty of spaces for living and entertaining, as well as dedicated office spaces, and a music room. He also worked to create seamless indoor-outdoor flow with a mix of covered and open outdoor living and recreation areas, each with easy access to the light-drenched interior. Another detail essential in hurricane-prone Florida: careful attention to the windows and doors. DiMisa chose Miami-Dade County–certified models that can stand up to 140 mph winds, with eye-catching antique bronze frames that add dimension to the mostly white exteriors and interiors.
Repeating finishes and materials, like aged bronze, wire-brushed oak, Venetian plaster, and Cambria NEWPORT MATTE create a cohesive design from room to room.
With the shell of the home in place, Jess Conte led the interior design with the help of Ball. "I love design," says Jess. "We knew the look we wanted—a real mix of coastal style and design influences from Australia, where I'm from. We wanted it to be a mix of both of our homes."
The couple worked with Ball to create a pared-down, natural style that didn't look brand-new. To create that clean, organic aesthetic, they kept the palette minimal and incorporated plenty of wood finishes. Accenting with warm metallics and hints of black for contrast added dimension and a modern spin. Layers of rich texture helped create the "pre-aged" look the couple wanted, says Ball.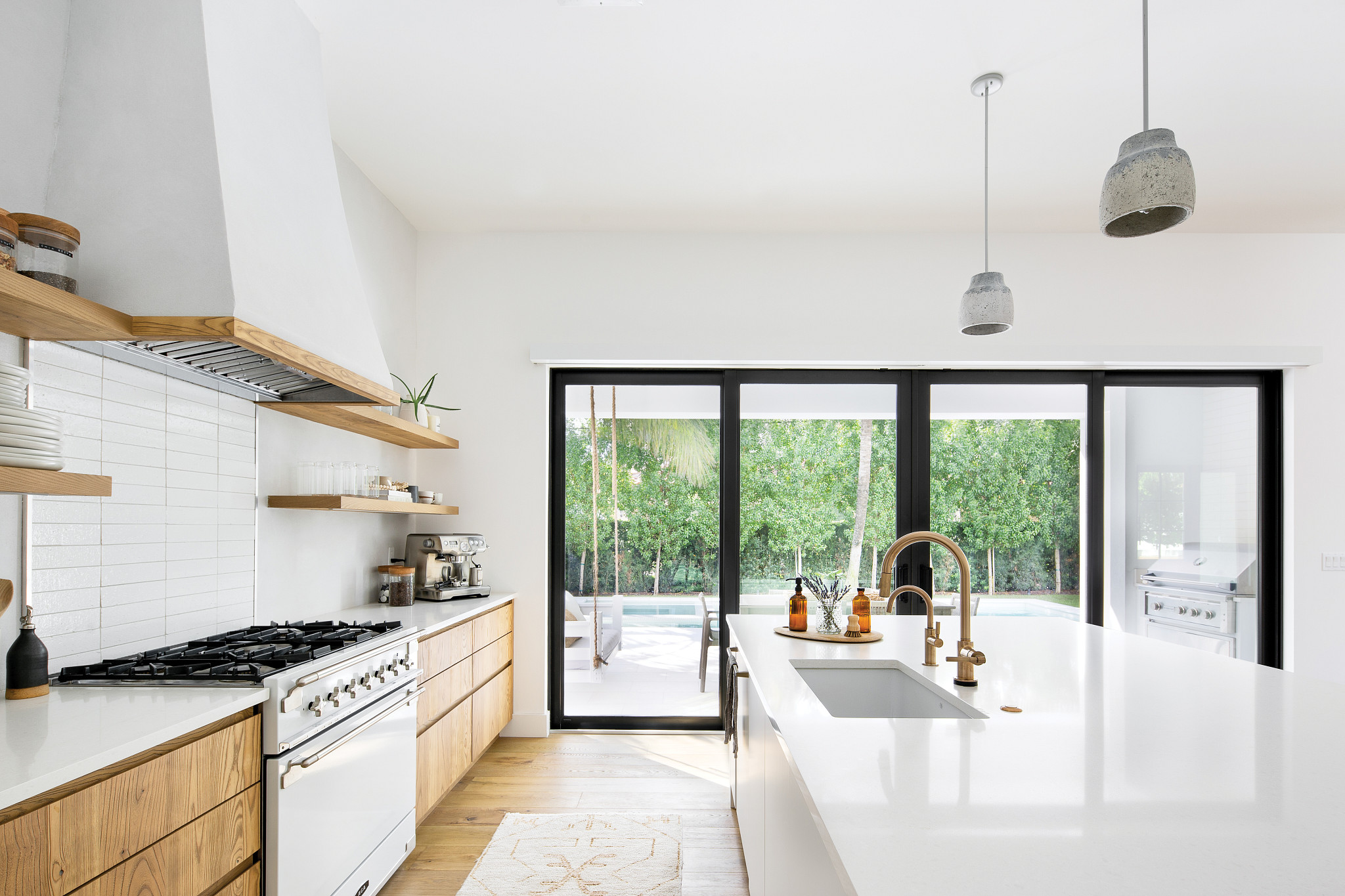 The home is largely soft and textured, which is the perfect complement for the clean, soft white of Cambria countertops in NEWPORT MATTE.
In the kitchen, for example, the design combines multiple finishes all within a white-and-cream color scheme—Benjamin Moore Chantilly Lace paint; a Venetian plaster finish on the range hood; simple stacked tiles above the range; and Cambria Newport Matte countertops—creating a light, bright look with enough variation to keep things interesting. "They're amazing," says Gabriel about the Cambria countertops. "So beautiful, and durable!" Custom cabinets in a mix of white and natural wood offer open and closed storage for easy entertaining. Decorative touches, many sourced by Jess, like island pendants with concrete shades and antique brass hardware, lend subtle personality.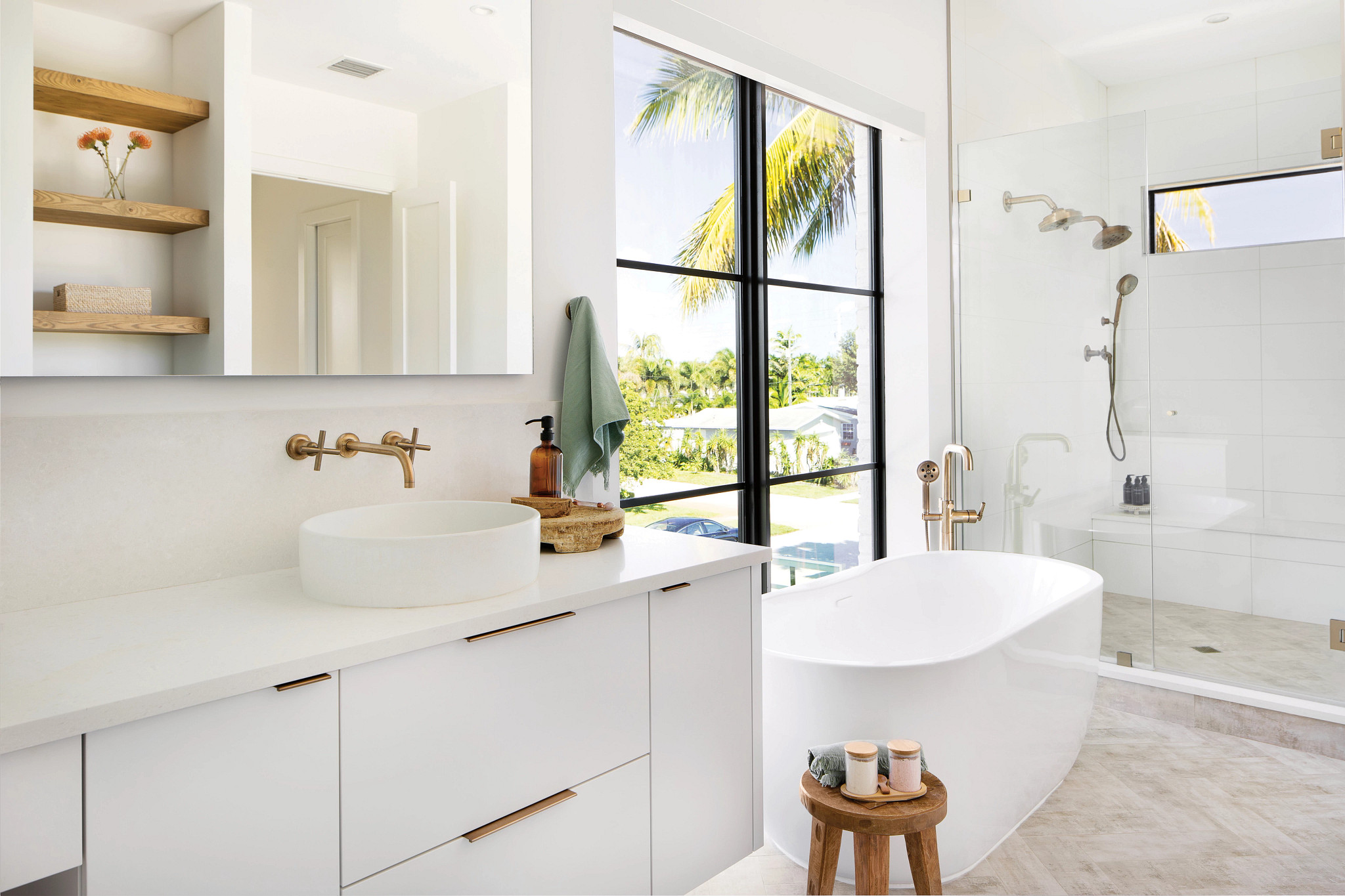 A freestanding tub and a luxe walk-in shower give the primary bathroom a spa-like atmosphere.
The kitchen flows directly into the dining and living spaces. "All the rooms mirror each other, so the look is very cohesive," says Ball. Wire-brushed oak flooring in every room helps tie the open floor plan together. And in the living area, the Venetian plaster application from the kitchen range hood reappears on the fireplace surround, creating a "bookend" effect for the two spaces. The aged-bronze window frame finish is repeated on the dramatic staircase railings. And Cambria Newport Matte tops the counters not only in the kitchen but in all the bathrooms and in the laundry room. "[Cambria] Newport has a warm undertone, which we loved for its contrast to the cool white on the walls throughout," says Ball.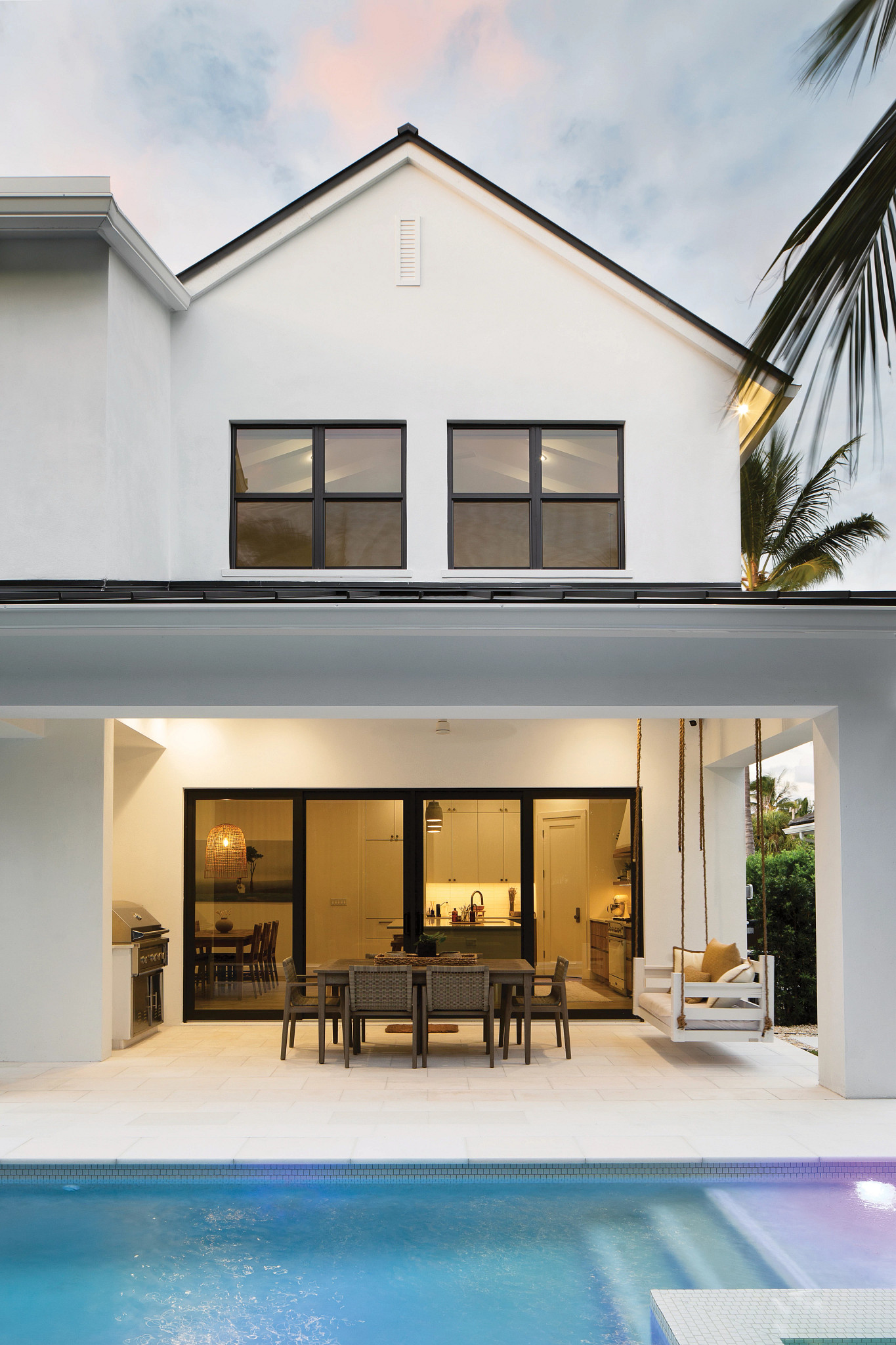 Sliding doors and large windows offer access to and views of the tropical backyard, resort-quality pool, and covered lounging and dining areas, for a seamless indoor-outdoor flow.
Of course, no Florida home would be complete without plenty of outdoor living spaces, and this one is no exception. The rear of the house opens onto a lush, resort-like backyard, with a covered dining and lounge area leading to the pool. Not pictured: the front-yard firepit and basketball court. "We're always out there shooting hoops when we have parties," says Gabriel.
Every detail of the design, inside and out, has a minimalist sophistication that feels fresh, young, and natural—like its owners. "There's just something very inviting about this house. You step through the door and you feel like you're home," says Ball. Just the place, in other words, for a hardworking young couple to put down roots and bloom.