Natural Beauty – Amy Smart
How Hollywood star Amy Smart gets away from it all and proves that green design can be beautiful
Written by CAROL LINN
Photography by GEORGE HOLZ & STEVE HENKE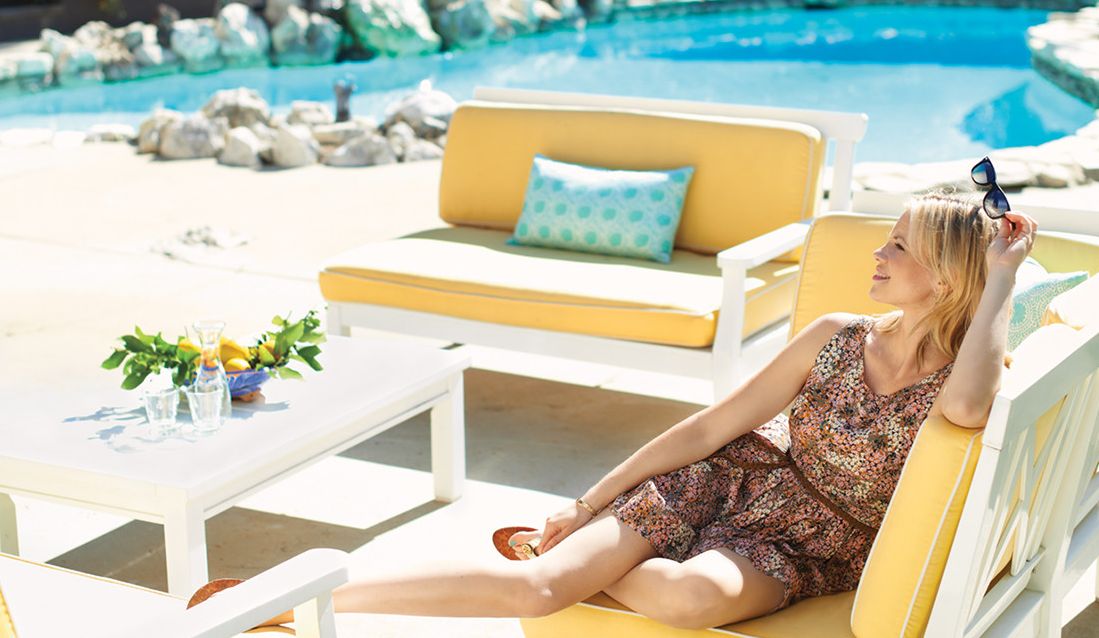 When film and television actress Amy Smart sits in her favorite spot at home, a breezy, bright kitchen nook, she looks out on a dazzling sweep of green. Her hilltop, only minutes from the manicured lawns of Beverly Hills, faces acres of gloriously untamed wilderness—chaparral-covered canyon walls, majestic live oaks and sycamores. It's the perfect setting for Smart, 38, and her husband of three years, Carter Oosterhouse, 37, host of HGTV's Carter Can and Rowhouse Showdown on the new FYI network. For this non-Hollywood Hollywood couple, love of land is a way of life. Both are ardent environmentalists, who purchased this charming, mid-century home specifically for its lush surroundings, and made renovations sparingly and with care. Cambria Torquay™, milky white with swirls of cream and gray was a natural choice for the sun-washed kitchen. "I love that some Cambria designs have the look of marble but are so much more eco-friendly and durable," says Amy. "It will last forever."
Casually dressed, with blond hair and a fresh-scrubbed beauty, Amy looks like the stereotypical California girl. In this case, appearances are deceiving. She did grow up in Los Angeles, but far outside its glitzy neighborhoods. Amy spent her childhood in Topanga Canyon, a rural enclave that's just a few miles from Malibu, but a completely different universe: a funky, rustic community "where people weren't label-oriented or materialistic," she says. Rather than passing the summer on the local beach, she traveled with her family to Traverse City, Michigan, a charming town of 15,000 on the shores of Lake Michigan, where her Florida-based grandparents rented a cabin to escape the East Coast heat. The result was not a typical city childhood.
Smart's outdoor life, along with her mother's emphasis on recycling and conservation, fostered a desire to preserve the world around her. "Having your feet on the earth every day reminds you how precious and vital it is for all of us," she says. By 18, she was working for and with Heal the Bay, a group devoted to cleaning up local coastal waters and watersheds. Through her 20s and into her 30s, as her career took off—she appeared regularly on the TV series Felicity, and in films ranging from Road Trip to Starsky and Hutch to Just Friends—her activism grew along with it. She became a Board Member of both Heal the Bay and the Environmental Media Association (EMA), which taps the power of the entertainment industry to raise public awareness of environmental issues, and still works with both. She also lobbied for a ban on single-use plastic bags in the city; an ordinance prohibiting grocery stores from offering free plastic bags went into effect last January.
It was through Amy's participation in a 2010 EMA project pairing celebrities to build and adopt school gardens that she first met Carter Oosterhouse. A friendship blossomed, though nothing more, since both were already in romantic relationships. A year later, though, that wasn't the case, and when the two happened to be in the same part of Michigan at the same time, sparks flew. Amy was visiting her parents, who had fallen in love with the Traverse City area, bought some land, and built a house there. Carter, who grew up in the area, was restoring an impossibly romantic 100-year-old lakefront Victorian and outbuildings on the nearby Old Mission Peninsula that he'd purchased some years before.
"He had an organic garden at the house," Amy recalls, "I told him I wanted to see it..." The rest was history; seven months later, they were engaged. No one who's seen Carter would be surprised: the tall, dark carpenter is strikingly attractive; most descriptions of him tend to be a variation on the word "hunky." "My husband is very good-looking," Amy agrees, laughing. "But he's even nicer than he is handsome. He's a good friend with a heart of gold who loves his family dearly. He's loving, caring, and very present. You know back in junior high there were the good boys and the bad boys? He's one of the good boys I didn't go for back then. I'm so happy I got past that."
Plenty of entertainment couples divide their time between L.A. and New York, but Amy and Carter may be the only two who are Midwestern Bicoastals. Their September 2011 wedding was held at Carter's Victorian house in Michigan, and the couple regularly return to the area and the graceful house, with its old-fashioned porch, wide lawns, and towering trees.
"I've always loved the Traverse City area, and we both have family and friends still living there," says Amy. "Carter's mother and brother are nearby and I'm still close with a girlfriend I met growing up there during the summers. We have the best time. If we're not filming, it's our goal to spend several months a year there." In fact, their Michigan roots continue to expand. The Old Michigan Peninsula area is known for its cherry trees and vineyards, and Carter and his older brother have been building a winery and tasting room there, with an opening tentatively set for this August. Carter also recently did a free remodel of the Old Mission Peninsula Fire Department building; Carter's Kids, a charity he founded to promote awareness of fitness and build self-esteem for youth through recreational facilities, built a playground in a nearby township.
Some Bicoastals eventually find their loyalties tip to one side or the other. Carter has said that he'd like to move back to Michigan full time one day, especially if he was raising a family. Amy's less sure. "We definitely want to have children at some point," she says, "but we're so busy traveling and working right now it's hard. I think Michigan would be a great place to raise kids, though I don't know if I personally can handle the winters." She laughs. "I grew up in L.A. I love the sun."
The couple's love of the outdoors includes being mindful of it in everything they do. So, keeping control on waste and making a good ecological choice of material was a priority when it came to renovating their California hilltop retreat, the couple's first home together, purchased not long after the wedding. The house itself had great "bones" and was a charming, but not at all pretentious, one-story ranch with three bedrooms and four baths. "I wanted a home," says Amy, "not a museum." Its location, atop a steep driveway at the dead end of a winding road, seduced her immediately. "We back up onto protected state land, which can never be developed, so it's really private," she says. "All we can see of other houses are the rooftops. I also loved that it was older; to me, older houses have more energy, charm, and character."
Not surprisingly for an older house, this one needed updating. Walls painted dark colors were lightened with a fresh, clean white, and floors lost some unfortunate leopard and tiger print carpets and "wood that had been sanded so many times it couldn't be restored," says Amy. The replacement was engineered wood, "the ecological choice because the wood was only a quarter-inch thick and produced by a local company," says Amy. "In general, Carter and I have similar tastes, but we weren't sure about the floor color. Dark would have been in the tradition of this house, and I'm more inclined toward tradition. But Carter said 'let's step outside the box,' and we went lighter, which turned out great. It makes the whole house feel airy."
The kitchen was a bigger challenge, says Amy. "It was narrow and a little oddly shaped. I love to cook and I wanted our kitchen to be the heart of the house." The couple pushed out a wall some six feet to make room for Amy's beloved breakfast nook, and the room is now open and flooded with natural light and fresh air, "a warm, friendly environment."
Improvements also included a kitchen island with a stained reclaimed wood top, and reclaimed tiles for the backsplash. Rich, creamy Cambria Torquay covers the counters, bar area, and a drafting table in Carter's office down the hall. Amy was thrilled with the design options Cambria offered. "We considered going with white, but I loved how the Torquay has texture and a vintage look that perfectly complements the house," she says. "As a cook, I really appreciate that it doesn't stain. It's so beautiful that it's clear no one has to compromise on style to make an environmental choice. I also appreciate that Cambria is made in the U.S. and is a family-owned business."
Both Amy and Carter continue to work at full speed. She's appeared in six films this past year, as well as holding a regular role in FX's hit series Justified. A longer-term project is a script that she is developing and hoping to produce. Performing isn't her only focus, though. "Acting's always been important to me, but it's not all of me," she says. To that end, she recently completed a year of instruction for certification as a health coach, and is a certified kundalini yoga teacher. She and Carter are restoring a "teeny, charming-but-run-down and rat-infested barn on our Michigan farm property to be my 'yoga barn,'" she says. And when that work's done, she says, some new task will surely take its place. "When it comes to renovating, I like things to be finished. Carter always likes to have a few projects going." She's also developing a line of "sustainable, clean, and nourishing" oils for the nails, hair, and face called "A Little Love." The products should be available next spring. But in her rare moments of free time, she treasures the sunlit peace of her L.A. home. "I love that we're so close to the city, but feel so far away," she says. "At dusk, we see deer coming to graze. There are hawks flying above the trees. It's like we found our own paradise."