Music For Life
Andrea Bocelli has earned worldwide acclaim for his singing, but his "passione" for home and family keep him grounded
Written by CAROL LINN
Photography by LUCA ROSETT

If a screenplay told Andrea Bocelli's life story, it would be dismissed as too improbable: A young Italian boy tragically loses his sight, then grows up to become movie-star handsome. He dreams of a singing career, but decides practicing law is more practical. Then at 34, he's discovered by an opera star and rockets to global fame almost overnight, using his golden tenor to bring classical arias to the masses.
And yet that's exactly what happened. In a career spanning only two decades, Bocelli, now 55, has reached a pinnacle that almost defies superlatives: He's sold 80-million records to become the world's best-selling classical artist, has appeared before cheering audiences in China, Australia, South Africa, Israel, and across Europe, South America, Canada, and the United States and has performed for the British Royal Family, three popes, and four U.S. presidents. "Star" seems too limited a word.

Built in the 2nd century, Athens' Oden of Herodes Atticus, provided a breathtaking backdrop for Andrea Bocelli as he performed a benefit concert for cancer research in 2010. Also known as the Herodion, the ancient venue sits on the southern edge of the Acropolis.
In 2013, he added yet another chapter to the saga, releasing his 14th studio album, Passione, a collection of love songs that includes duets with Jennifer Lopez and Nelly Furtado, and a compilation of live highlights, Love in Portofino. He also set down roots in a new country—this one. In October, he purchased a house close to the beach in Miami, a home where he and his family can have a home base during long stays in the U.S. Soon to come in the kitchen: sleekly elegant counters of Cambria stone.
It's not surprising that the Bocelli's would choose Cambria for their new house. Not only is it a product both sufficiently durable for a busy family and luxurious enough for a discerning maestro, the company has its own Italian heritage: The expertise and technology used to craft the stone comes from northern Italy. Like Bocelli, Cambria as a company strongly believes in the importance of family, and has enormous pride in remaining family owned and family run. And completing the familial connection, Cambria President and CEO Marty Davis is a good friend of Bocelli's longtime friend, producer, and collaborator, David Foster. Foster, a music industry powerhouse and 16-time Grammy Award winner, produced some of Bocelli's top albums, including Amore and Passione as well as several PBS specials, and has performed with Bocelli on numerous occasions.
"David Foster's deep admiration for Andrea in and of itself, is an awesome statement about Bocelli's prominence in music," notes Davis. "Worldwide admiration of Andrea Bocelli brings forth what an enormous and special man of music he really is. And to be so deep in his love of friends and family, he has a fullness in him that is to be cherished; we hear it all come out in his music."
Nor is it surprising that Bocelli, who has the world at his feet, would choose to settle here. "I love America," he says. "American audiences are the most special in the world." Last April, Bocelli caused a minor sensation by appearing unannounced at St. Patrick's Catholic Church in Miami Beach to sing "Panis Angelicus" while parishioners took communion. Bocelli loves America—and there's no doubt it loves him right back.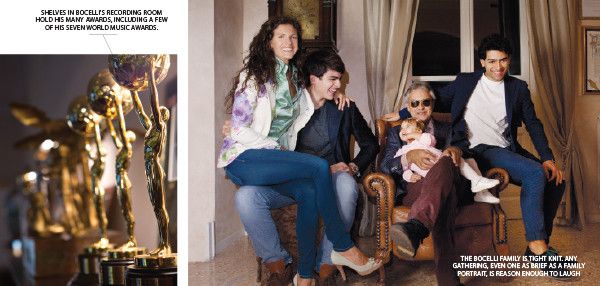 It's never been simple to categorize Andrea Bocelli as an artist; he's recorded classical music, religious songs, opera, and pop. His own "passione" is for classical music—"it's good for the soul and the brain," he says—but adds, "Every kind of music has its own depth."
Bocelli's life is a study in similar contradictions. He was born and grew up in Italian winemaking country—La Sterza, a picturesque village in Lajatico, the Chianti region of Tuscany where his family's roots go back hundreds of years. His father grew grapes, and as a child, he played in the vineyards and even helped with the harvest. No one in the family was a musician. But even as a youngster, a difficult kid whom relatives dubbed "The Earthquake," he was drawn to music. As a baby, it was what silenced his crying; as a six-year-old, he began studying piano, and before long had learned every aria from Verdi's "Il Trovatore." (He went on to master the flute, saxophone, trumpet, trombone, guitar, and drums as well.)
At 12, tragedy struck. Born with a congenital form of glaucoma that limited his sight, Bocelli took a ball to the head during a soccer game, and a resulting brain hemorrhage left him completely blind. It could have been a life-changing loss, but he refused to let it confine or define him—in fact, these days, blindness is something he doesn't even bother talking about. That same year, he entered a local singing contest, performing "O Sole Mio." As he sang, he later told a reporter, he could hear people in the audience crying; when he was done, rapturous women kissed him on the cheek. Though he went on to study law at the University of Pisa, it was clear he had found his calling, or as Bocelli firmly believes—his calling found him.
"I don't think one decides to become a singer," he later said. "It is decided for you by the reactions of those around you." During his time as a student and early years practicing law, Bocelli played and sang in local piano bars. In 1992, Luciano Pavarotti heard a demo tape Bocelli had made with Italian rock star Zucchero. Duly impressed, the opera legend sought out Bocelli and has since become a friend and mentor. In 1993, Bocelli entered the Sanremo Music Festival preliminaries and won the Newcomers section; he did it again in 1994 in the main competition. His debut album flew up the Italian Top 10, going platinum in weeks. From there, the momentum never slowed: Bocelli has earned three Grammy Award nominations and "The Prayer," written by David Foster, which Bocelli sang with Celine Dion for the film The Quest for Camelot, won a Golden Globe Award and Oscar nomination for Best Original Song. Seven albums have reached the Billboard 200 Top 10. Bocelli's Sacred Arias, which features spiritual songs like "Adeste Fidelis" and "Ave Maria," became the best-selling classical album by a solo artist in history. In 2006, he performed "Because We Believe," co-written with David Foster, at the closing ceremony of the Winter Olympics in Torino, Italy.
"Andrea Bocelli really is my favorite artist of all time," says Foster. "He is the only singer I have worked with that truly walks in two worlds—classical and pop—and he's equally comfortable in both genres. He's a renaissance man, a genius talent even amongst geniuses and his voice gets me every time. It is truly a privilege and an honor every time I get to work with him."
The hard-to-categorize quality of Bocelli's artistry is also true of his life. Part of the reason for his popularity is his liquid, seductively emotional voice and his rugged good looks. (In 1998, People Magazine named him one of the world's "50 Most Beautiful People.") Some of his most famous duets have been with striking female singers—"Con Te Partirò," recorded as "Time to Say­ Goodbye," with English soprano Sarah Brightman became one of the best-selling singles of all time.
But at heart, he's a family man. During his early tours, sons Amos and Matteo often joined him; sometimes, the singer took buses rather than planes between U.S. destinations so the boys could see the countryside. Bocelli and his wife Veronica Berti, who also is his manager, recently welcomed a baby girl, Virginia, and now she joins the family on tour too.
"It surely makes life more complicated," Bocelli says about the newest addition to the Bocelli clan. "But it's beautiful. The affection Virginia gives. The tenderness. Of course, the boys also did it. But they are now 18 and 16 years older, so the tenderness—it's a little changed," he laughs. "It's something of a new experience, having a daughter." And from the sounds of things, he's enjoying every minute.
Bocelli's life seems one of luxurious glamour. He's been on screen and television, and has performed at global society's most glitzy events—including Tom Cruise and Katie Holmes's $2-million wedding just outside Rome. At the same time, he feels a deep desire to work to raise money for good causes, singing at events like a Ground Zero memorial concert for those who died on 9/11, one in Milan that raised aid for victims of the Southeast Asian tsunami, and another in the Roman Colosseum to benefit victims of a catastrophic earthquake in L'Aquila, Italy. An endeavor that the Bocelli's are particularly proud of is the Andrea Bocelli Foundation, founded in 2011, which helps "fight poverty around the world and to help people overcome barriers caused by illness, discomfort, or disability." Its efforts include supporting the purchase of necessities for Syrians in refugee camps, and funding research that could produce new machines and devices to help the blind navigate the outside world. "When I was a boy…I knew the condition of being in need. After that, I had the chance, or better, the joy, to be able to give back."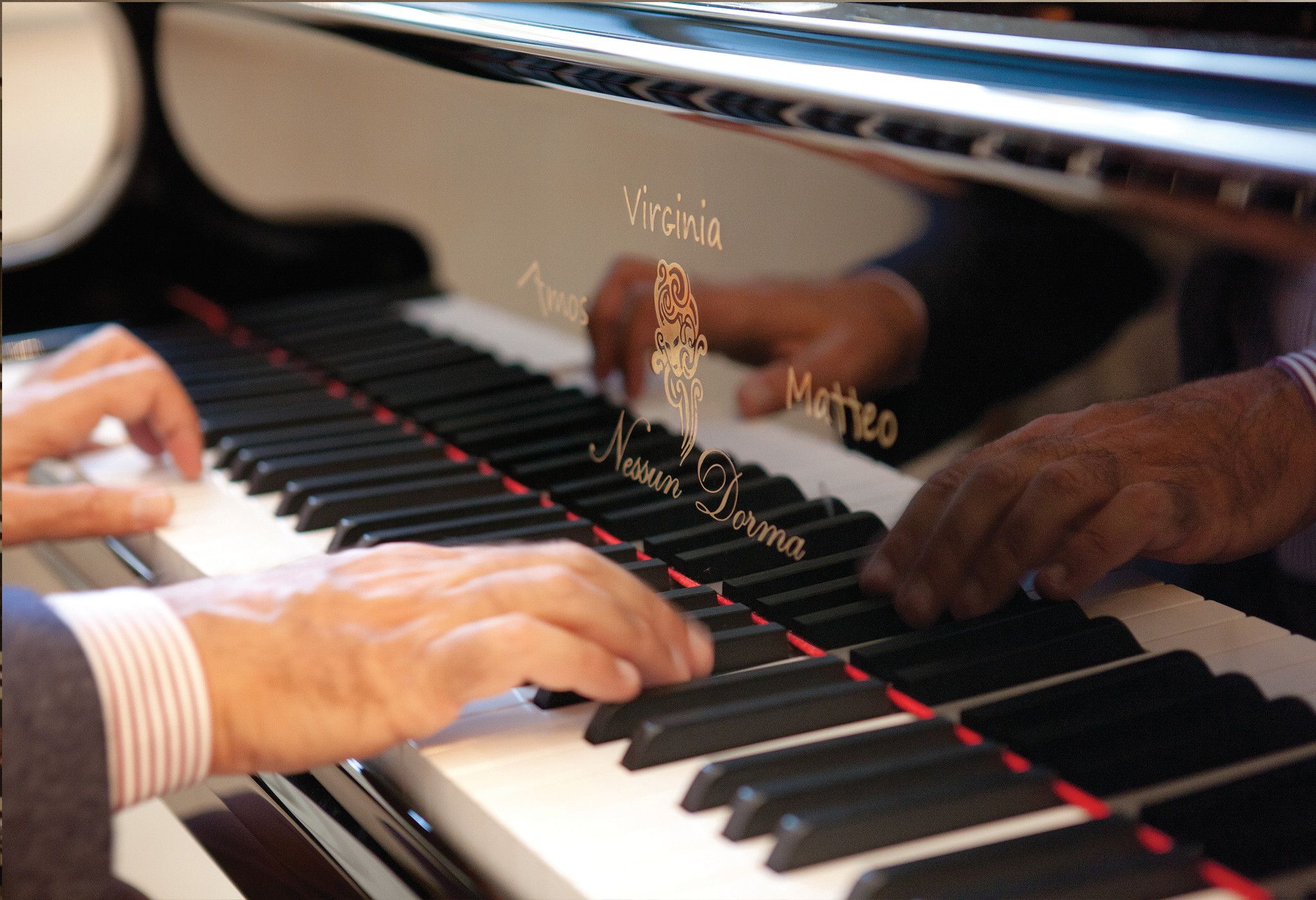 Bocelli has a demanding travel schedule. Between November 2013 and February 2014, for instance, he'll perform in Budapest, Glasgow, Leeds, Las Vegas, Phoenix, New York City, Washington, D.C., Tampa and Sunrise, Florida, Atlanta, Bratislava, and Istanbul (tour information at andreabocelli.com). He has been to almost every country in the world. But the irony is that he often doesn't experience much of the local scene during those travels—mostly just airports, hotels, dressing rooms, and stages. When he needs pampering in his homes away from home? He seeks out luxury brands like the Ritz-Carlton, whose familiar layouts allow him to move around the room easily. And his discipline is strict. He maintains a regime of silence the day of a performance, to protect his voice, and stays away from rich food and drink while on the road. His regular practice schedule is at least an hour a day. "It's like a gym," he's said. (And despite his worldwide success, he still suffers from stage fright.)
The reality is that he's happiest on familiar ground. "When I'm in Italy, I hear my language and I feel so comfortable," he says. Although Bocelli regularly returns to his family's farm to ride horses, the Bocellis live in the coastal resort town of Forte Dei Marmi, about 25 miles north of Pisa. It's a breathtaking spot—Giorgio Armani also has a house here—bracketed by the sea and peaks of the Apuan Alps. Bocelli's home, a three-story villa that was once a small hotel, is across the street from one of the country's finest beaches, and characteristically both elegant and down-to-earth. Two dogs and a parrot share the space, which is airy, light-filled and tranquil, but comfortable—a spot where a guest feels welcome to plop down on the furniture. Not surprisingly, it's filled with musical instruments. "Almost like an instrument shop," he says, laughing, "Pianos, brass, violins." Both boys have taken music lessons since they were small and still accompany their father, and many times visiting friends, in impromptu concerts. Other at-home pleasures are equally quiet: boating, swimming, reading. Whether in Tuscany or Miami, it's that peace that most pleases Bocelli. Home, he says, "is my instruments, and my own bedroom." And his music. Whatever his fame, his first love remains the sound itself. "Music," he says "is a gift from God."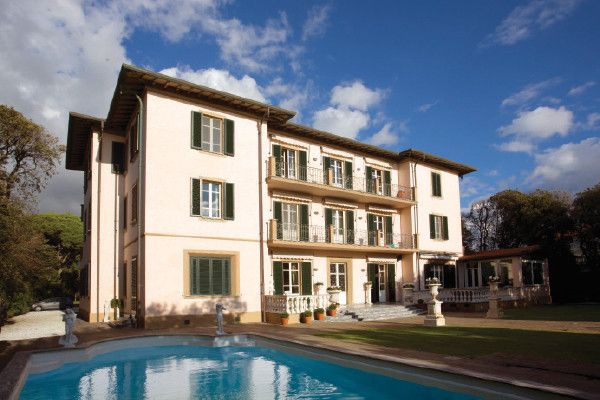 The Bocelli home, once a small hotel, offers a breathtaking view of one of Italy's most beautiful beaches.