Modern Farmhouse
Written by AMANDA LECKY
Photography by STEVE HENKE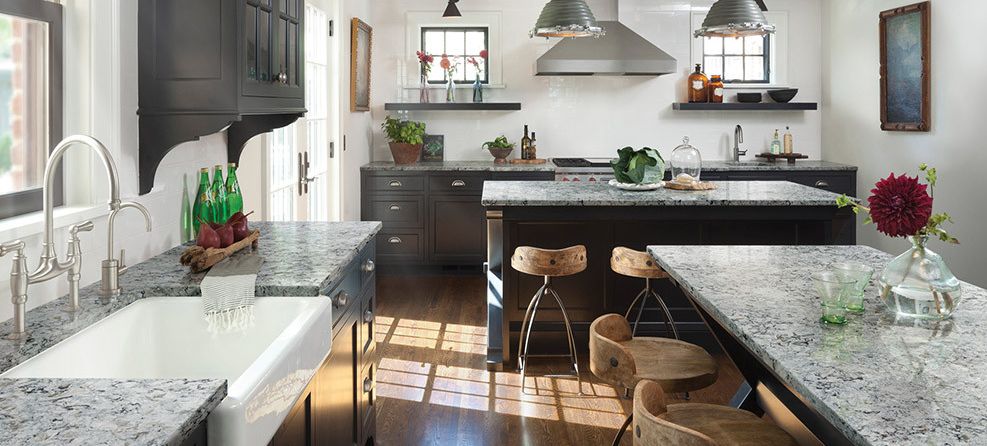 An updated take on a classic, the shallow, single-bowl sink says "farmhouse," but not "country." Floating shelves not only offer display space but make the range a focal point. Cambria design shown: Praa Sands™
As familiar as the stars and stripes, the farmhouse is a quintessentially American style. But while its functional form may hearken back to a largely rural past, that very simplicity makes the farmhouse vernacular a timeless choice today. With a few contemporary updates, the look is comfortably at home in the present—and flexible enough to feel current well into the future. The key to staying in step with the times? Keep it super-simple. "This is not the old-fashioned 'country' style we tend to think of, with frilly curtains and lots of knickknacks everywhere," says Minneapolis-based interior designer Billy Beson. "It's streamlined, with industrial edges. And it's really easy to live with."
WHY IT FEELS RIGHT NOW
Of course, farmhouses have been around for as long as people have been living off the land, but now creative designers are bringing a renewed attention to this humble form. "Many of our clients want both the clean lines of contemporary design and the comfort and warmth that you feel in a more traditional setting. The modern farmhouse style has the best of both worlds," says designer Lisa Knight of Lisa Lynn Designs in Louisville, KY. Characterized by a toned-down approach to design and decoration, with limited finishes and a distinct lack of clutter, it's a look that feels fresh and uncomplicated. "Our lives are so busy these days—we're pulled in so many different directions all the time—it can feel very freeing and relaxing to create an environment that reflects the needs of a family's individual lifestyle yet remains simple and spare," says Beson.
ELEMENTS OF STYLE
Clean lines may be the hallmark of modern farmhouse style, but with fewer design elements to create interest, each one has to make a powerful statement. Take the color palette, for example. "A largely neutral color scheme works well, but contrast is very important. Instead of muted shades of beige, think black and white," says Knight. For millwork and cabinetry, exercise restraint: Forget intricately carved moldings or highly detailed cabinet door styles; instead, opt for plain trim and Shaker-inspired cabinets in a solid, dark color. "Painted finishes are one of the characteristics of farmhouse style," says Beson. "Make it modern by swapping traditional colorful milk paint looks with bolder solid neutrals."
When choosing materials, certainly take inspiration from classic looks, but keep in mind that today's materials offer so many more options for long-lasting good looks. Instead of the high-maintenance countertops of yesterday, choose the beauty and durability of Cambria with its multitude of design offerings from classic to modern. For floors, consider distressed wood. "We love to use reclaimed barn wood on the floors," says Knight. "Reclaimed wood elements in general are a great way to add a bit of 'age' to the space." Lend your design a little extra edge by incorporating mixed metals, especially fixtures and accessories with an industrial look. "Oversized light fixtures add impact and an essential rawness. You need that kind of personality to make such a simple style feel inviting and interesting," says Beson.
MAKING IT YOUR OWN
Good news: Modern farmhouse style is a natural framework for showcasing your own personal flair. With the basic architectural elements in place, you're free to add pops of color and quirky accessories or antiques as you like. "Mixing old and new is part of this style," says Knight. "You don't want it to look like it was just decorated yesterday. Mixing in personal artifacts and treasured antiques works really well to create a layered, timeless effect."
And, don't be afraid of color in small, concentrated doses. Knight suggests choosing contemporary wall art or with collections you can easily rearrange or change if you tire of them. The only caveat, says Beson, is to know when to stop. "It's like Coco Chanel's classic advice about getting dressed," he says. "'Before you leave the house, look in the mirror and take one thing off.'" Apply this wisdom to your décor, and you'll end up with an intimate composition of beloved items that will never feel cluttered or overwhelming—in perfect harmony with the principles of today's modern farm-fresh design.
IN WITH THE OLD, IN WITH THE NEW

Give your kitchen modern farmhouse style by choosing stylish, antiqued accents that elevate everyday essentials.
GET THE LOOK
(From left)