Model of Success
In 1989, model Kathy Ireland, breathtaking in a tiny yellow bikini, dazzled America from the cover of Sports Illustrated's Swimsuit Edition
Written by CAROL LINN
Photography by TRACEY MORRIS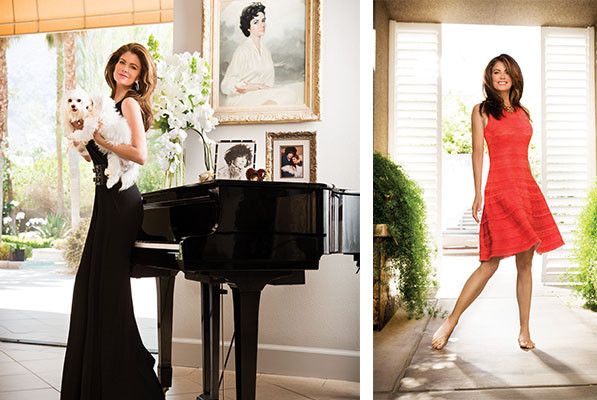 In 1989, model Kathy Ireland, breathtaking in a tiny yellow bikini, dazzled America from the cover of Sports Illustrated's swimsuit edition. Over two decades later, she still glows. A long-limbed beauty, with tousled hair and deep blue eyes, at 50, she's the ultimate mature California Girl. But Kathy also has radiance of a different sort: the kind that comes when a highly focused, ambitious woman gets exactly what she always wants. The company she founded and still heads, Kathy Ireland Worldwide (kiWW) has grown from a fledgling enterprise to a multibillion dollar international empire of style. Kathy's managed the expansion without compromising the company's longstanding commitment to creating products that are lovely, a good value, and crafted to meet the needs of real people, especially mothers. Since the company's earliest days, "finding solutions for busy moms"™ has been both an ad slogan and mantra. Our kiWW designs, says Kathy, "are beautiful—but never so precious that you can't put your feet on the furniture." That same principle guided Kathy's choice of Cambria counters for an upcoming kitchen and master bath remodel in one of her company's oceanfront destination wedding properties in Honolulu, Hawaii. Looks and practicality, she says, are the ultimate winning combination. Tommy Meharey, director of Kathy Ireland Weddings and Resorts, echoes this sentiment. "When Kathy decided to remodel the master bathroom and kitchen, here at our Hawaii design studio, we looked at every possible product," he says. "Kathy decided to select Cambria, because of its superior strength and amazing look."
In person, Kathy exudes a gracious calm. She never seems rushed, on edge, or even mildly resentful of requests for her time and attention; her favorite phrase seems to be "thank you." That cool elegance masks the fact she leads a life so full that just reading her schedule leaves an outsider exhausted. A self-described "control freak," she's not only kiWW's chief designer, but hands-on when it comes to the company's retail strategy, shipping, distribution, and sales. She's also written six books, and is active in numerous philanthropic efforts.
If that weren't enough, she's in demand as a motivational speaker, and frequently addresses corporation and stockholder meetings. And because in her trio of prime values parenting comes after faith but before everything else, she does it all while carving out time to spend with her family: husband Gregory Olsen, an emergency room physician, and children Erik, 18, Lily, 14, and Chloe, 10.
"My father told me, 'If the customer expects the paper to land in the driveway, put it on the front porch.' That's something I never forgot."
"My goal has been to drive them to school every day and spend every afternoon with them," she says. "I'm not perfect—I strive for balance, but don't always achieve it. I was 40 before I learned that 'no' could be a complete sentence. Setting priorities has meant I couldn't accept every business opportunity or go to every friend's party. But time with children goes by very quickly, and I wasn't willing to miss out on it."
Perhaps Kathy has such prodigious energy because she flat-out loves what she does. When Forbes magazine put her on its cover last year, the accompanying article described her as a model who became a mogul. More accurately, she's a born mogul who happened to spend some time in front of a camera. A sixth-generation Californian, raised in the upscale beach town of Santa Barbara, she went into business practically as soon as she could walk. At four, she was painting rocks and selling them door-to-door; at 11, a newspaper route was bringing in money she hoped to use to remodel her bedroom. If she was a less than motivated student—she admits to barely finishing high school—she never compromised when it came to work. "When I got my newspaper route, my dad told me to give the job 110 percent," she recalls. "'He said 'If the customer expects the paper to land in the driveway, put it on the front porch.' That's something I never forgot."
Discovered at 17 by an agent for the prestigious Elite Model Management, Kathy quickly hit the industry's top tier, appearing on the covers of Cosmopolitan and Vogue, and in the pages of Sports Illustrated for 13 consecutive years. That 1989 yellow bikini cover remains the best-selling Swimsuit Edition ever. But in many ways, she didn't fit in. At 18, she became a devout Christian, who was outspoken that faith was a cornerstone of her life. Her father's "110 percent" command prompted her to show up for fashion shoots early, bewildering photographers used to flakiness and drama. "I was a joke," she says. She didn't spend her earnings on clothes or fancy cars—"my friends called me cheap"—or indulge in romantic intrigue. In fact, she was 25 when she married Olsen, who she'd met two years earlier through her mother. "I was traveling a lot and she hoped I'd marry a local boy. She was working as a nurse and one day when I was having lunch with her, I noticed this very cute guy walking by. She said 'That's Dr. Olsen' and said such nice things about him...Mom didn't usually speak so highly of doctors."
Most of all, Kathy had a remarkably clear-eyed view of the profession in which she found herself. "I never believed I'd have a long career," she says bluntly. "I realized that 'success' was having the look of the moment, and that look constantly changes. I never felt secure earning a living based on how someone else perceived that I looked." In fact, the money she wasn't spending on glitz was funding a series of entrepreneurial start-up efforts. Every one of them failed, but the process of trying, Kathy says, taught her a lot. She assembled a business team of several dozen individuals, many of whom still work for her and with whom she shares a powerful "family" bond. "My father was a union organizer," says Kathy, "and I learned at a young age that people come before profits." In kiWW's Palm Springs destination home, for instance, there are almost as many photographs of the company corporate team as there are of Kathy's family, making it hard to tell which is which.
Kathy also learned that it wasn't enough to start just any business; the "what" mattered. "At one point, a friend gave me a book on making beer, which I recognized could be very profitable," she remembers. "I'm not a good cook, but the first batch turned out really well and I got very excited. The second batch wasn't so great, and I knew I needed help. Two years later, after doing research, investing, and learning, I realized that I didn't really care about beer at all. And a business has to be about more than making money—you have to have a love for it, because when you face the inevitable tough times, you need something to carry you through."
She found her calling in an unexpected way. In 1993, Kathy was carrying her first child and approaching her 30th birthday, when she got a job offer to model socks. She chose not to be insulted. "I was a pregnant, aging model with very few offers coming my way," she says with brutal honesty. But rather than merely wear those socks, she proposed a business partnership to make some that would bear her name. "I believed that if my team could create something that women embraced, it would indicate we were on to something," she says. "That we might have a brand that could endure." Indeed, the socks, carried by K-Mart, became "a blow-out success," and led to a Kathy Ireland clothing line for the retailer.
In 1998, her company expanded into home furniture, despite a lot of industry skepticism. But the owner of the Nebraska Furniture Mart—a subsidiary of legendary businessman Warren Buffett's Berkshire Hathaway conglomerate—gave her a shot. It was another triumph, and since then, kiWW has moved into numerous other areas of the home, including its Acafe Chef André line of kitchen products. All are aimed at the same audience: women who appreciate something of quality. "Value was a good place to start," says Kathy. "I knew my potential customer was too savvy to buy something just because it had my name on it. I couldn't leave the newspaper in the driveway—it had to be on the porch."
Kathy credits her success to hard work ("If there's an easy buck out there, I'm too stupid to find it.") and her team who she says "are on the same page as me when it comes to core values." She also attracted some high-power mentors who taught invaluable lessons along the way. It was Warren Buffett, for example, who advised her to stick with home products, pointing out, she says, that "fashion in apparel changes a lot faster than fashion in the home."
Another mentor was the late Elizabeth Taylor, with whom Kathy became very close. It was an unusual pairing: a Hollywood icon and a conservative businesswoman, wife, and mother, but the connection was profound for both. Kathy calls Taylor "an inspiration to me—I was so blessed to have had the chance to learn from her." Taylor pushed Kathy to be "more bold" in design, and imparted her famous love of jewelry—thanks to her, kiWW now has a luxury line. She also encouraged Kathy to invest in real estate. In fact, three of kiWW's "destination" homes for weddings, one in Palm Springs and two in Hawaii, were originally purchased for Taylor to use as getaways. When Kathy visited Taylor in the first Hawaii home, she decided the house was too small for her, and bought a second, a seven-bedroom, eight-bath walled and gated oceanfront estate with koa wood floors and cabinets and ocean views from every room. It's in this home's soaring, high-ceilinged kitchen where Aloha State Sales of Honolulu is installing Cambria's Waterstone Collection™ Praa Sands™ surfaces. Kathy fell in love with its classic creamy white palette, with swirls of warm taupes and veins of cool grays and blues that echo the colors of the sea just outside. For the master bath, she's chosen Torquay™, also from the Waterstone Collection, a rich, subtle taupe with swirls of gray and tan.
Kathy was thrilled to discover Cambria. "Elizabeth taught me to love jewelry, and Cambria is like jewelry for the home," she says. "I saw nothing else that compared. I love its beauty, richness, vibrancy, and durability." Kathy says she also appreciated that Cambria is a family company, one that emphasizes sustainability and the creation of American jobs. CEO Marty Davis, "is always asking good questions—'What drives you?, Why you do what you do?' I get excited when I meet industry leaders who are doing great things, and who can teach me. Marty's a true visionary and leader with a passion for what he does."
"Cambria is like jewelry for the home. I saw nothing else that compared. I love its beauty, richness, vibrancy, and durability."
For his part, Davis says that when he met Kathy, he quickly recognized a kindred spirit. "Kathy is so dynamic, and is so in such a humble way," says Davis. "She's an entrepreneur at heart, with a deeply rooted sense of industriousness; her character and personality in full make her an extraordinary talent." Davis observes that the support Kathy received from her family upbringing is chief among the reasons why she's been so successful. "Rarely is there such success without dedicated mentorship," he adds. "Kathy's parents must be something else."
Kathy sees kiWW's future as limitless—she hopes to expand the company's offerings still further, to feature "an explosion" of its fashion line, a foray into publishing, and "something connected to finance" to help promote financial equality for women.
"I love being of service to women, I love it," she says passionately. "There's a lot left to do." Anyone who doubts Kathy will do just what she says only has to look at her past. "People told me that what I was aiming for had never been done," she says. "But just because something hasn't been done before doesn't mean it can't be."