Mod Men
Christopher Kennedy makes mid-century modern in the Mojave Desert
Written by GEORGINA MCWHIRTER
Photography by GRAY CRAWFORD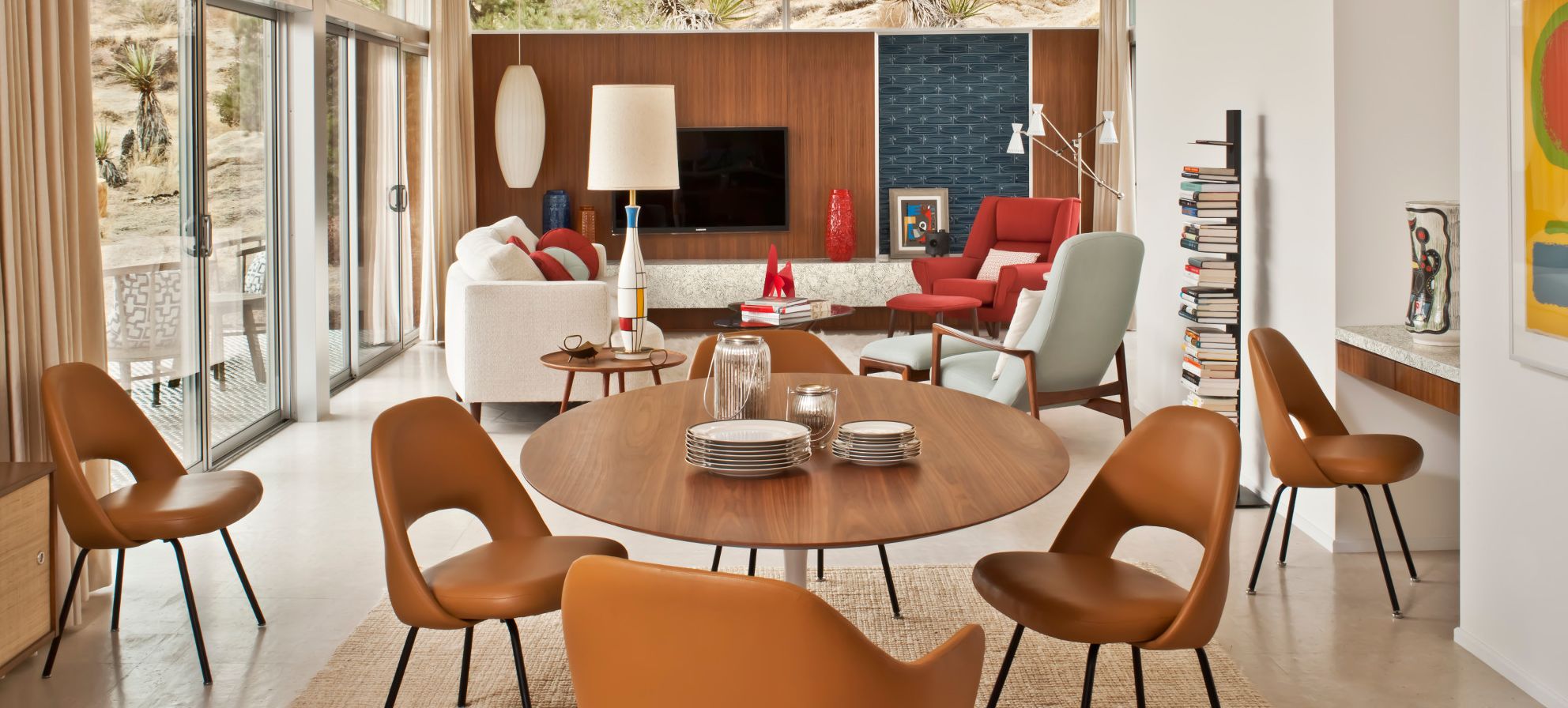 DINING AREA
In the open-plan living-dining room, the Eero Saarinen chairs are vintage, purchased at the Palm Springs Modernism Show & Sale and re-covered in a leather-look vinyl.
At first glance, one could be forgiven for thinking a spaceship had landed in Joshua Tree, California. On closer inspection, however, the silvery glint of metal in the sun reveals itself as a small steel prefab perched lightly atop the boulder-strewn desert. It's the holiday home of a Canadian couple who use it as a writer's retreat (him) and yoga refuge (her). The husband was en route to Coachella when he spotted a prototype of the building in a magazine—and lost no time commissioning architects o2 Architecture and interior designer Christopher Kennedy for one of his own. The galvanized-steel shell is decidedly contemporary: a two-bed, one-bath cube with an open-plan kitchen-living-dining area. For interiors, though, the couple wanted something...different. "We just got into this show called Mad Men," the husband told Kennedy. "Could you do a look like that?" He certainly could. In fact, Kennedy was already something of a design doyen of California modernism. He started the project by freeze-framing a scene in Don Draper's office and building a custom sofa to match. (Top marks for attention to detail.) And it went from there. Pedigreed vintage pieces—like a Paul McCobb credenza—dovetail with modern classics still in production, like the Eero Saarinen dining chairs. "It's swanky mid-century," Kennedy says. "I love it because of the incongruity. You drive down this long, winding dirt path and don't expect the level of sophistication that awaits."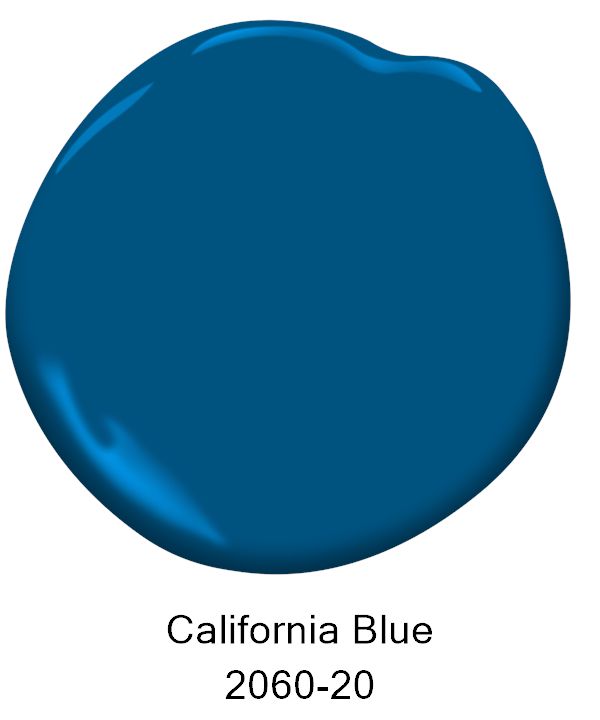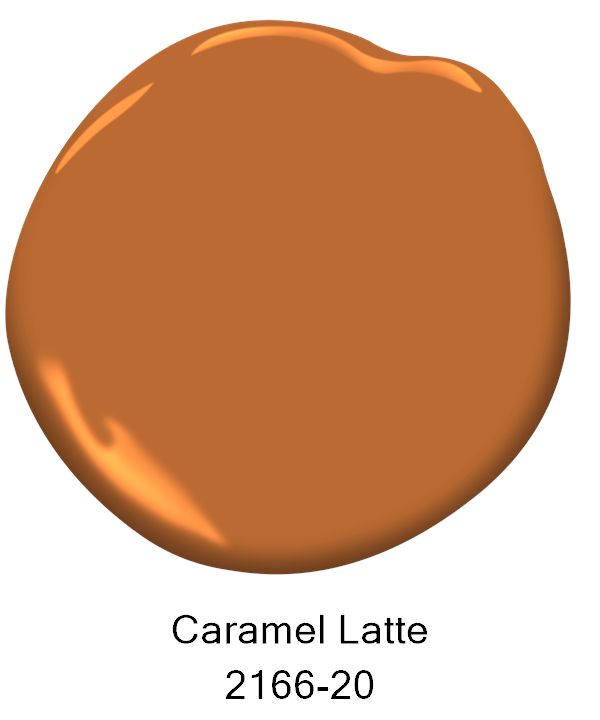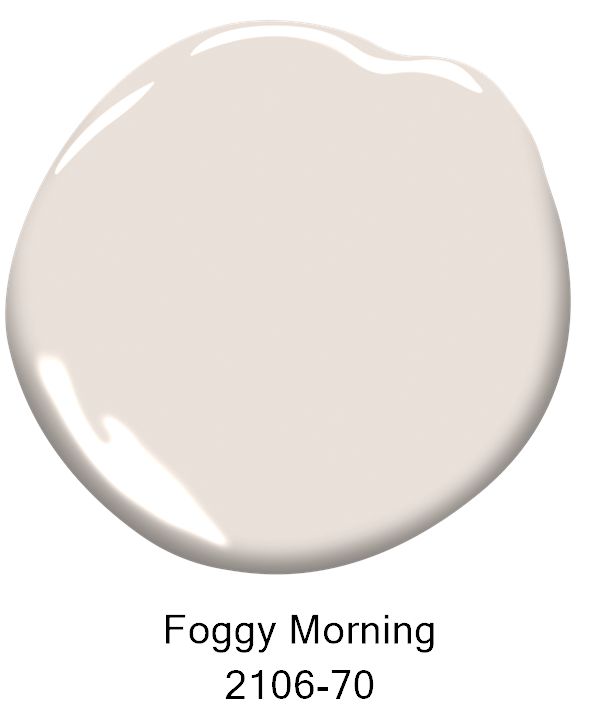 PAINT PICKS all from Benjamin Moore & Co.
Although Cambria was specified throughout, it is the living area that showcases Kennedy's favorite example—and the most unusual use—of the quartz stone. At one end of the room is what he dubs the focal point: a walnut wall inset with glazed ceramic tiles reminiscent of California pottery popular in the 1960s, anchored by a long, floating bench clad in Cambria. "We wanted durable, modern, elegant, and timeless stone surfacing. Cambria absolutely fit the bill," he says. A vintage George Nelson Cigar pendant hangs in the corner of the room, drawing further attention to the retro vignette. (Although the piece can still be purchased new today, "we wanted the patina of an original," Kennedy says.) Floor-to-ceiling, wall-to-wall drapery also speaks to the era, but that wasn't won without debate. "The wonderful architect, Lance O'Donnell, and I didn't agree on that at first," the designer notes. "He said, 'This is a contemporary home. We would normally do a roller shade.'" Kennedy argued that if you look at the clean-lined mid-century houses in the Los Angeles hills in those great black-and-white photos by Julius Shulman and the like, they all have draperies. O'Donnell was duly convinced, and the couple loves the cozy yet airy note they lend.
"WE WANTED DURABLE, MODERN, ELEGANT, AND TIMELESS STONE SURFACING. CAMBRIA ABSOLUTELY FIT THE BILL." —Christopher Kennedy
For all his attention to historical accuracy, Kennedy is quick to point out that mid-century for him is not just about "nostalgia for a certain architect, lamp, or chair. As society becomes increasingly ugly and fractured, I think we have a collective yearning for a time when kids could ride their bikes until sundown and a family sat down to dine together, not just texted. There's a certain graceful beauty that's been lost in our society and our manners. I want to infuse my interiors with the best of that era in terms of its ethos as well as its style and sophistication." Amen to that.