Mid-Century Modern Masterpiece
A home with pedigreed architectural heritage gets a new lease on life
Written by AMANDA LECKY
Photography by STEVE HENKE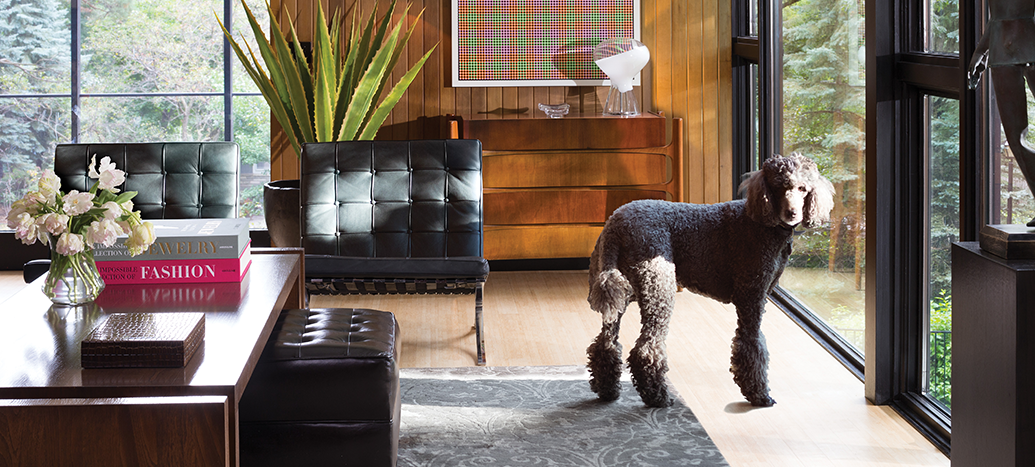 LIVING ROOM
Classic mid-century pieces like Mies van der Rohe's Barcelona chairs join a cocktail table designed by homeowner and designer Greg Walsh.
Sixty-four years ago, architect Curtis Green—co-founder of famed architectural practice HGA, designed his home in Minneapolis's Golden Valley as a testimony to his fledgling firm's modernist style. With its spare geometric lines, flat roof, walls of glass, and wood paneling, the house was built to embody the mid-century modern movement, the hallmarks of which include an emphasis on form and material with minimal ornamentation. Green and his family lived in the house for decades, adding to the original structure over time (including an indoor pool), before selling. Successive homeowners made their own touches until the property came on the market 12 years ago. That's when Greg Walsh and Dana Swindler entered the picture.
"We'd been looking for a while when we came across the house online," says Walsh. "We were interested immediately but because of a snafu with the real estate agent we couldn't actually get inside to see it. We ended up looking through the windows. It was right after a snowstorm in February, so there was at least a foot of snow on the ground. The house looked a mess and the site hadn't been well kept. It just seemed like too big a project, so we passed."
Months later, a price drop finally got the couple inside for a closer look. What they found might have deterred other buyers: An awkward layout, a Mondrian-like color scheme of primary colors, and cheap replacement materials. But the pair could look past the surface problems to the home's appealing, clean lines. "We could see that all the ugliness was basically bad decorating," Walsh recalls. "The house had great bones and we knew that a few small changes would make a huge difference."
So, they took the plunge, buying the house and meticulously mapping out a two-phase plan to return it to its former glory, while simultaneously creating a comfortable home suited to a contemporary lifestyle. Phase one—getting the house back in shape—started with improving the floor plan by removing walls and built-ins. Two small bedrooms on the main floor became one large study and lounge that doubles as a guest room. Eliminating a mudroom created a generous, open kitchen. A closet and hallway made way for a laundry room. And removing a wall upstairs created a master bedroom.
Throughout, the design team took care to preserve the redwood strips that clad both interior and exterior walls. "It was as much a restoration as it was a remodel," Walsh explains. "The most painstaking part was labeling the paneling so it would match when we put it back on the walls. But it's amazing—when you walk around now you can't tell where we intervened."
Clearing years of overgrowth let light and views into the house through the floor-to-ceiling glass. "Before, there were buckthorn and scrub trees pressed right up against the windows," says Walsh. "Now, there's light and air and you can see the huge oaks around the property."
Get the Look
You can add a dose of mid-mod flair to your home even if you don't live in a mid-century house, says Cambria design expert Billy Beson. Here, he shares the elements that create the style.
Simplicity
"Mid-century modernism in its purest form began in the early 1950s and was based on Bauhaus principles, which emphasized a very pared-down aesthetic," says Beson. Look for furnishings and fixtures that make their impact through strong form as opposed to applied detailing, and consider eliminating hardware from cabinetry, as Walsh and Swindler did in the kitchen.
Geometry
"If you look at this house by Curtis Green, you can immediately see the rectilinear shapes throughout, and that's very common in mid-century design," explains Beson. Incorporating rectangles and spheres—note the shape of the tub and vanities in the master bath or the dining room pendant light—or patterns with overlapping geometric shapes is an easy way to get an Atomic Age look.
Color blocking
"Modernist designers used contrasting solid color to define architectural transitions or add interest," says Beson. Walsh and Swindler surrounded the open passageways between rooms with a wide border of redwood to mark the different spaces without interrupting flow and gave the kitchen impact with a trio of Cambria designs.
Modest materials
"Hard-working materials were favored by the modernists," says Beson. Concrete, metal, glass, wood, and stone all played an important role in mid-century design and can do the same in your own home. "Chrome or brushed brass furnishings and light fixtures or monochrome Cambria stone countertops are a great way to incorporate the look into any space," says Beson.
Since phase one took "twice as long and cost twice as much" as the pair had planned, they took a few years off before launching phase two: the addition of a three-car garage and second-floor master suite. This project received just as much attention to detail. The architecture flows seamlessly from the original structure: window styles match and redwood paneling clads the bedroom walls and bathroom ceiling. Furnishings and fixtures with strong rectilinear shapes echo the modernist lines of the house, and natural materials—metal, stone, leather—play a starring role.
When it came to decorating, Walsh and Swindler were led by the architecture but didn't hew strictly to a style or period. "We mixed three genres: original mid-century pieces like the Mies van der Rohe Barcelona chairs in the living room, sleek contemporary elements, and belongings amassed over a lifetime of collecting. We wanted a period edge but not museum rooms." The result is an eclectic and highly personal home that is as soothing as a retreat at the end of a 12-hour day as it is a spectacular backdrop for entertaining.
"The house had great bones and we knew that a few small changes would make a huge difference." —Greg Walsh
After two major projects and more than a decade in the house, Walsh and Swindler have settled into their roles as stewards of this architectural treasure. The success of their efforts shines through every inch of the space, as confirmed by a true expert not long after the renovation was completed. Curtis Green's widow came to visit, with her daughters, recounts Walsh. "She hadn't been in the house for at least 20 years and it took her a little while to figure out where she was in the layout. But at the end of the visit she gave me a big hug and whispered in my ear, 'Curtis would have liked you.' That's when I knew we'd done well."

Paint picks from left: Blue Danube 2062-30, Chestertown Buff HC-9, Dollar Bill Green 2050-20, Ravishing Red 2008-10, all from Benjamin Moore & Co.