Maximalist Interior Design is Having a Moment
Ideas to help your space tell a story
Written by Angela Johnson
There is no one-size-fits-all design style. But trends tend to tell us a bit about our collective mood—and the mood that's having a moment is maximalist interior design. Some may say maximalism means more of everything, that it's just too much. Actually, it's just more of what you love. It's the freedom to claim your space and make it cozy, to mix modern with vintage, and to abandon sterility in favor of telling a story. Maximalism has a range and appeals to contemporary as well as traditional tastes. It's thoughtful balance that makes it work and Cambria's quartz design palette can provide the perfect pairing to this or any interior design style you're dreaming of.
Grandmillennial Inspired Maximalist Breakfast Room
DESIGNER KIM HOEGGER created this grandmillennial-inspired BREAKFAST ROOM for the Julian Price Designer Showhouse in North Carolina. Known for its rebellion against minimalism, grandmillennial design is a bit maximalist. It embraces bold floral patterns and embellishments and combines traditional or vintage pieces with modern elements.
Hoegger is also an antiques dealer and says, "The grandmillennial style is fresh and the younger generation is excited to see what I do with antiques, how I can layer with modern things that I love, and how to incorporate old lamps and artwork to create a fresh, sunshiny space."
Cambria's DELGATIE is the perimeter countertop and backsplash design in this maximalist breakfast room. It's paired with the historic home's original cabinetry that Hoegger updated with a soft blue paint and more modern hardware. Hoegger says, "I love that the Cambria Delgatie quartz design is a white play on marble because it reminds me of that era—the simplicity of it contrasts with the use of pattern and color. Anything else would have been too much. It's clean and modern but also reminiscent of the time period."
Colorful Maximalism ComplEmented by Cambria Quartz Surfaces
In this Atlanta loft kitchen designed by Cambria Collaborator Leah Alexander, you'll find an open layout with pops of color complemented by Cambria's Brittanicca Warm quartz countertops. In Cambria Style Magazine, Alexander says, "The most interesting spaces have lots of layers—color, texture, plus something natural, and something old or very personal. Those layers are what bring any room to life."
Maximalist Kitchen Inspired by NY Fashion Week
Appliance maker CAFÉ is also in on the maximalist trend with kitchen designs inspired by New York Fashion Week. A cabana couture kitchen featured at the Kitchen & Bath Industry Show (KBIS) is described as warm yet striking. Dramatic use of color and pattern is balanced with more subtle, natural accents and chic and elegant Cambria BLACKBROOK quartz countertops.
Bold Colors & Patterns Combine in this Maximalist Kitchen
CAFÉ featured an even more head-turning maximalist kitchen at KBIS that blended classic elements with bold color and quartz countertop choices.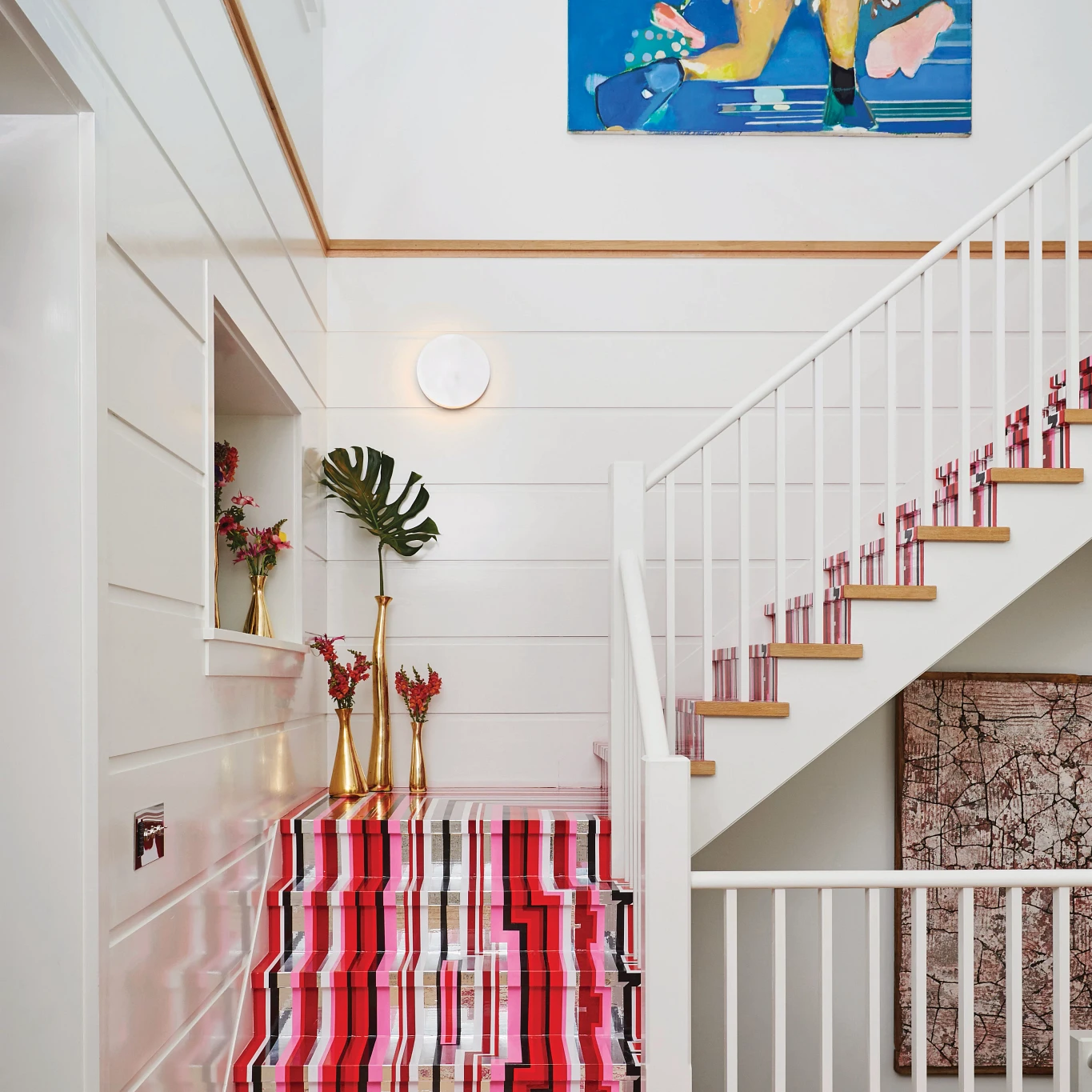 Stunning Maximalist Staircase
Not ready to maximize your main living space? Try this trend as an eye-catching element in your powder room or in a foyer. Here, swimmer's legs on Cristina Canale's "Merghulo" float high above this grand foyer featured in Cambria Style Magazine. But it is artist Jim Lambie's unforgettable staircase—a waterfall of red, pink, black, silver, and white—that makes the major statement in this entryway from designer Nicole Fuller. Gold vases by artist Jaimal Odedra add to the sense of royal welcome.
Stylish Maximalism Featuring Cambria Quartz Bar Top
Soak in some maximalist vibes at restaurant venues that have embraced this emphasis on fun and creativity. The Cottontail Lounge in Scottsdale, Arizona, is a sophisticated space with playful design choices, including Cambria BENTLEY quartz bar tops.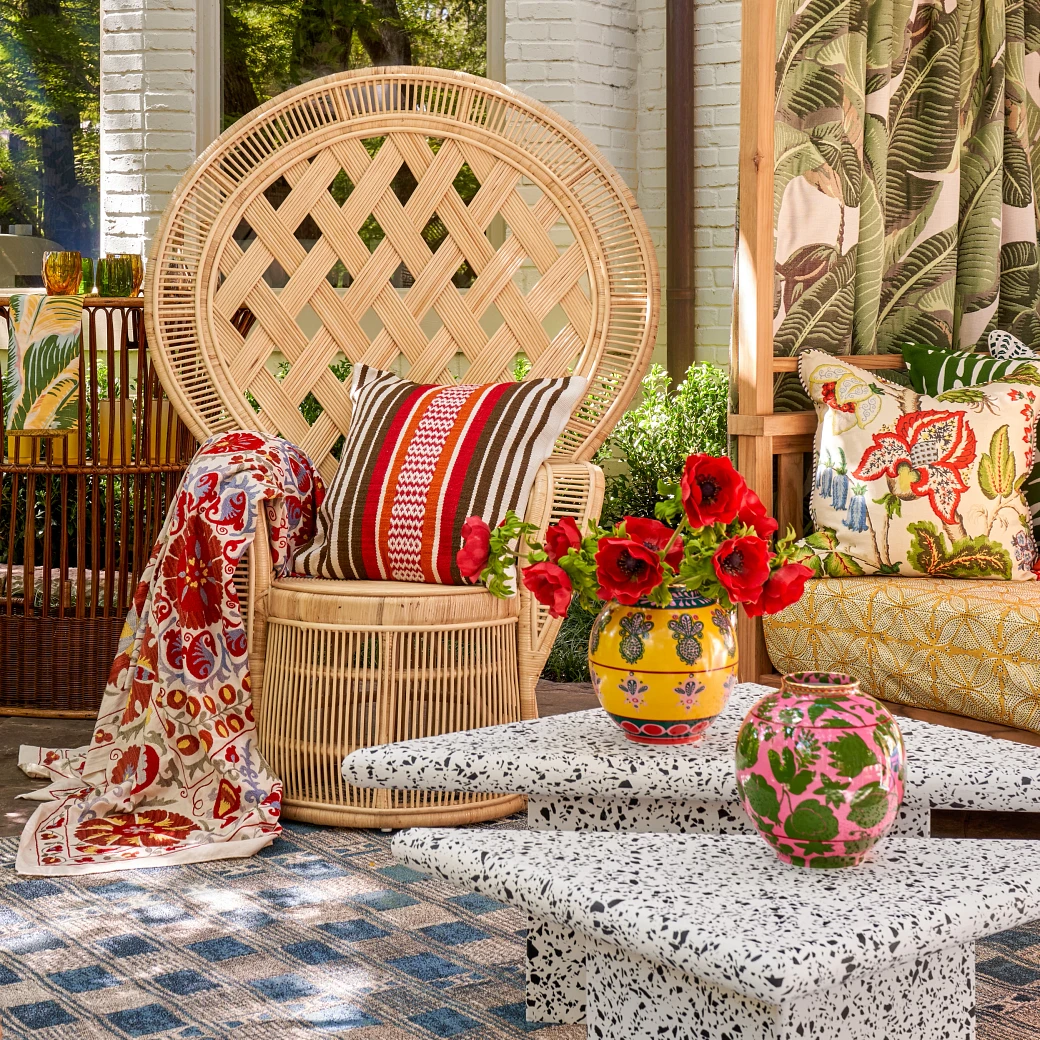 Maximalism in Outdoor Spaces
Even an outdoor space, like a covered patio, is a perfect spot to let your maximalist flag fly. This space combines colorful textiles, vintage-era-inspired seating, and custom designed Cambria quartz tables that blend modern shapes with the timeless look of terrazzo.
---
Wherever you decide to incorporate this enchanting trend, it's about being welcoming, not overwhelming. When you tell your own maximalist story with newly found treasures, family heirlooms, and a passion for creativity, you're sure to take your spaces from bland to breathtaking.
See more design trends in our 2023 Design Forecast.
*Gensler product design consultant