Living Well
Five Summer Skin Hacks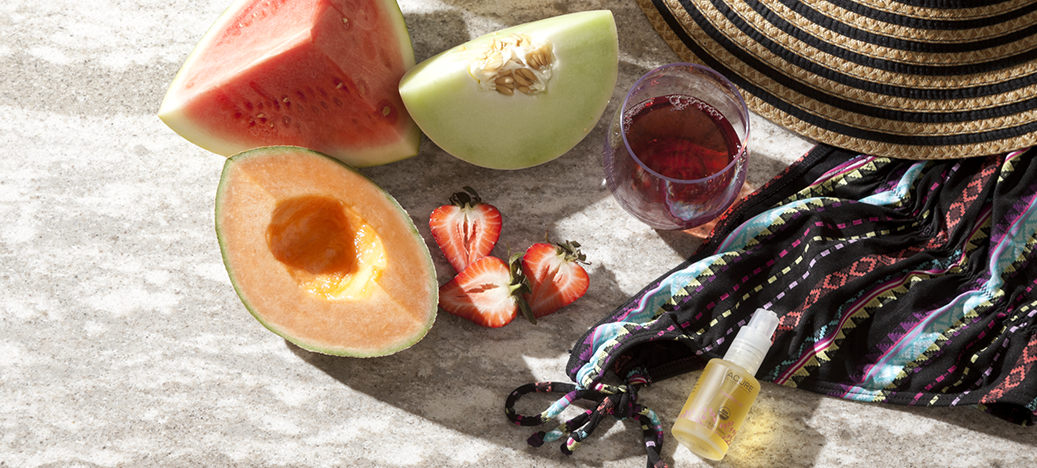 Now that summer is here, it's time to switch up your beauty routine with these fun and easy summer skincare hacks.
1. Eat Your Vitamins
Come summer, the farmers' markets are filled with fresh fruits and veggies, all packed with good-for-you fiber and vitamins including Vitamin E and beta-carotene that may help protect against sunburn. For a delicious, antioxidant-rich salad, toss together chunks of fresh, ripe cantaloupe, honeydew, and juicy watermelon, cubed feta cheese, fresh arugula, and sliced almonds and top with a simple vinaigrette made from extra-virgin olive oil, lemon juice, sea salt, and freshly ground black pepper.
2. Soak it Off
If you do find yourself with a sunburn, try these age-old remedies. For fast relief, soak a cotton cloth in cool green or peppermint tea and apply it to the burned area to reduce inflammation. For larger areas such as the back and shoulders, soak paper towels in white vinegar and leave on until towels are dry, or soak in a cool bath with a handful of ground oatmeal. After gently toweling off, apply aloe vera gel to affected areas and dust your sheets with cornstarch to reduce irritation.
3. Lighten Up
To put your best face forward this summer, try these easy home remedies to lighten dark spots on your skin. Once a day, dip a cotton ball in fresh lemon juice and rub it all over your skin. Leave it on for at least an hour and then wash it off. You can also try mixing one tablespoon of plain yogurt, which contains lactic acid, a mild bleaching agent, with one teaspoon of honey and one teaspoon of fresh lemon juice. Rub the mixture into your skin, leave it on for several minutes and then wash it off. Repeat daily but discontinue if your skin stings or becomes irritated.
4. ​Get Rid of the Rough Spots
When the weather calls for shorts, t-shirts, bikinis, and sandals, give your skin a rub-down with salt scrub before stepping out into the sunshine. To craft your own salt scrub, take a large glass bowl and combine several cups of Epsom salt, sea salt, or pink Himalayan salt with botanical oil such as coconut, grape seed, or avocado oil until the mixture is smooth but not too runny. If you like, add a few drops of essential oil such as lemon or lavender and stir to blend. Transfer the mixture to an unbreakable plastic jar and use the scrub in the bath or shower.
5. Sip Some Sangria
When it's five o'clock somewhere, skip the same-old sauv blanc in favor of Spanish-style sangria. This light, refreshing drink is made with red wine, which contains resveratrol, a substance in red grape skins that has anti-inflammatory properties and an antioxidant effect. To make your own sangria, pour a bottle of Spanish red table wine into a glass pitcher. Add ¼ cup of brandy or orange-flavored liqueur, sliced fruit (oranges, lemons, peaches, and strawberries are lovely) and stir. Serve over ice and garnish each glass with a sprig of fresh mint or basil.