Cambria Style
Legendary Vision
American-made, family-owned stone manufacturer Cambria tells its tale with a brand-new movie.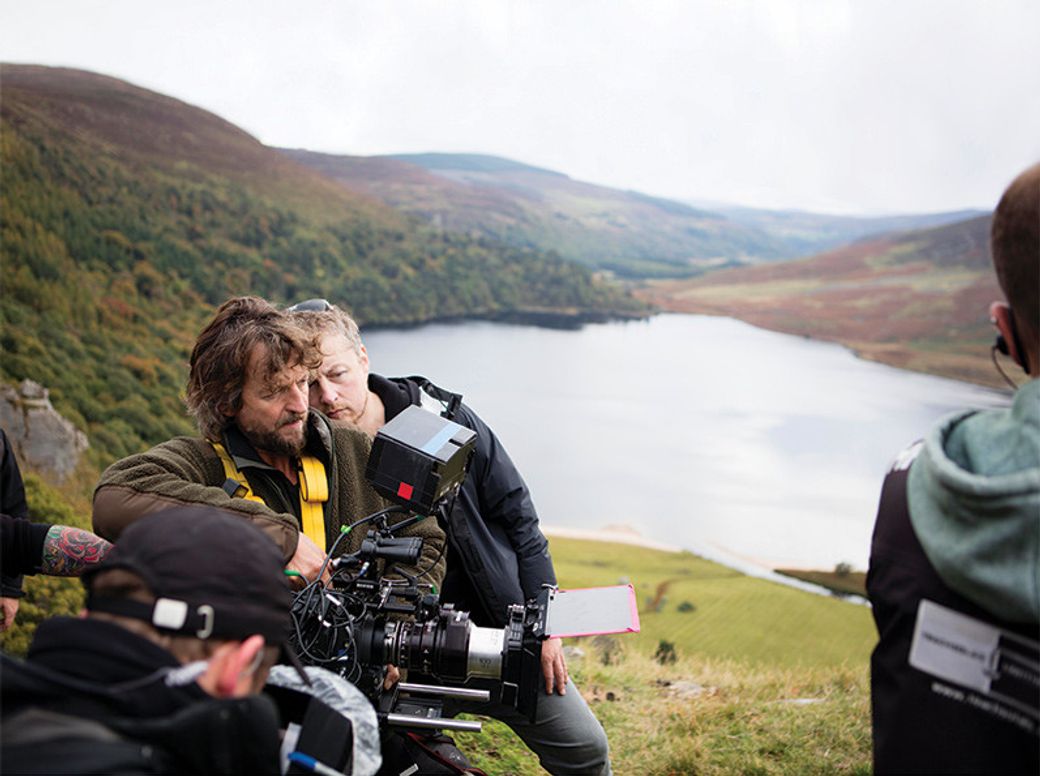 Clever-minded brands have always realized the power of good storytelling. But increasingly, the world's best and brightest are thinking bigger and bolder than run-of-the-mill television commercials and print advertisements. Companies like BMW, Lexus, and Nike are kicking creativity up a notch with micro-movies and docuseries that tell their stories in unique ways. "Branded content," a once maligned phrase that meant product placement, has morphed into a fertile playing field for innovation. Case in point: the illustrious Cannes Film Festival even has a category dedicated to the genre.
Few players, however, have pushed boundaries as far as Cambria, who barreled into the arena with an epic 42-minute, seven-part mini-movie, Legend of Cambria, that tells the tale of the company's own inspirations: the Welsh landscape and its ancient mythology.
Wales is the ancestral home of brothers Mitch and Marty Davis, Cambria's owners. Every design the company creates—each stone surface streaked with sandy rivulets or delicate tributaries—is sparked by a different facet of the enduring landscape of their family's heritage. Even the company name derives from the region: Cambria is the Latin form of Cymru, the Welsh name for Wales. And the golden dragon on the Cambria crest? It was inspired by the country's flag.
It was time to tell that story. The idea for an origin story on film was first bandied about in 2011, "but no one had really done this kind of thing on this scale before," says Shelly Nelson, Cambria's Vice President of Marketing. Not a fact that would stop Cambria. On the contrary, this company lives to push boundaries. Go big or go home, they say.
THE QUALITY THAT GOES INTO EVERY CAMBRIA DESIGN ALSO WENT INTO EVERY DETAIL OF THE FILM.
To bring that vision to life, the Davis brothers enlisted local creative agency space150 as a partner. Together, they dug deep into Welsh lore, coming across a 12th-century Celtic legend featuring Brutus, who after being banished from Rome with his three sons, discovers an island and names it Britain, after his own name. Upon Brutus' death, the three brothers divide the kingdom: Camber takes Cambria (or modern-day Wales), and his brothers rule Scotland and England. It was the character of Camber that became the jumping off point for an original plot full of derring-do, action, fantasy, and adventure—plus a soupçon of romance.
Legend was shot over 21 days across the Celtic region, in 15-plus locations and with more than 200 cast and crew members. Beach scenes were shot in the same location as the popular TV series Vikings. Undeniably, the production values are astounding. Think HBO's Game of Thrones or Peter Jackson's Lord of the Rings. (Indeed, many of the artists on Legend also worked on GoT.) That, it turns out, was a deliberate choice. "The quality that goes into every Cambria design also went into each detail of the film," explains Marty Davis. "That was non-negotiable for us. Cambria is quality, in whatever we do."
High Tech
To shoot late into the night, Legend of Cambria was filmed with sophisticated plasma lights that simulate daylight.
Alexei Tylevich, an L.A.-based pro recently named as one of "20 People Bringing 21st Century Hollywood to Life" by Wired magazine, was tapped to direct. When he first heard of the project, Tylevich sent Cambria no less than a 200-page breakdown. "It obviously struck a chord with him," Nelson recalls. "We knew immediately he was the man for the job." For Tylevich, Marty is a visionary whose commitment to quality has resulted in a truly world-class film. "The number one thing needed for creativity is trust and he gave us that."
As fans of the classical craft of filmmaking, Tylevich and Davis were in complete agreement on the importance of using real locations versus relying solely on CGI. Together, they scouted pristine locations—none of which are computer-generated. "Gorgeous designs are what people are looking for in countertops, so we wanted to inspire them with the rugged beauty found in the natural landscapes of the Celtic region," Nelson explains. Tylevich and Davis also elected to film without dialogue, for a lyrical sensibility, as if the film were an ancient Gaelic or Welsh poem. Instead of the actors speaking lines, the action is narrated by Dublin-born A-lister Colin Farrell, whose Celtic heritage and husky rasp made him the perfect fit for the gig.
Mythical Creatures
On his travels, Camber encounters supernatural creatures, from a dragon to Kelpies, mythical horses that could run on land as fast as they could swim in the sea. Playing against the genre, Camber does not slay the dragon. In the Cambria universe such creatures are sacred—there's even one gracing the company crest.
On Location
Legend of Cambria was filmed throughout the Celtic region, with beach scenes shot in the same place as the popular television series, Vikings.
The campaign kicked off with coveted commercial space during the 90th Academy Awards, which drove viewers to the multiple platforms they could watch the film, from Cambria's website to Youtube and Facebook. The reach so far? 500 million eyeballs. So, what's next? Will Legend be adapted to a feature-length movie? A TV series? Will there be a sequel? Cambria plays it coy. First, it's off to Cannes. Then, Nelson says with a smile, "You'll just have to stay tuned."
The Journey
Camber battles fate, evil, and unexpected forces on his epic journey from boy to king, meeting the love of his life along the way.