Tour the Newly Renovated Kitchen of Kyla Herbes from House of Hipsters
Written by Kyla Herbes
Photography by Stoffer Photography Interiors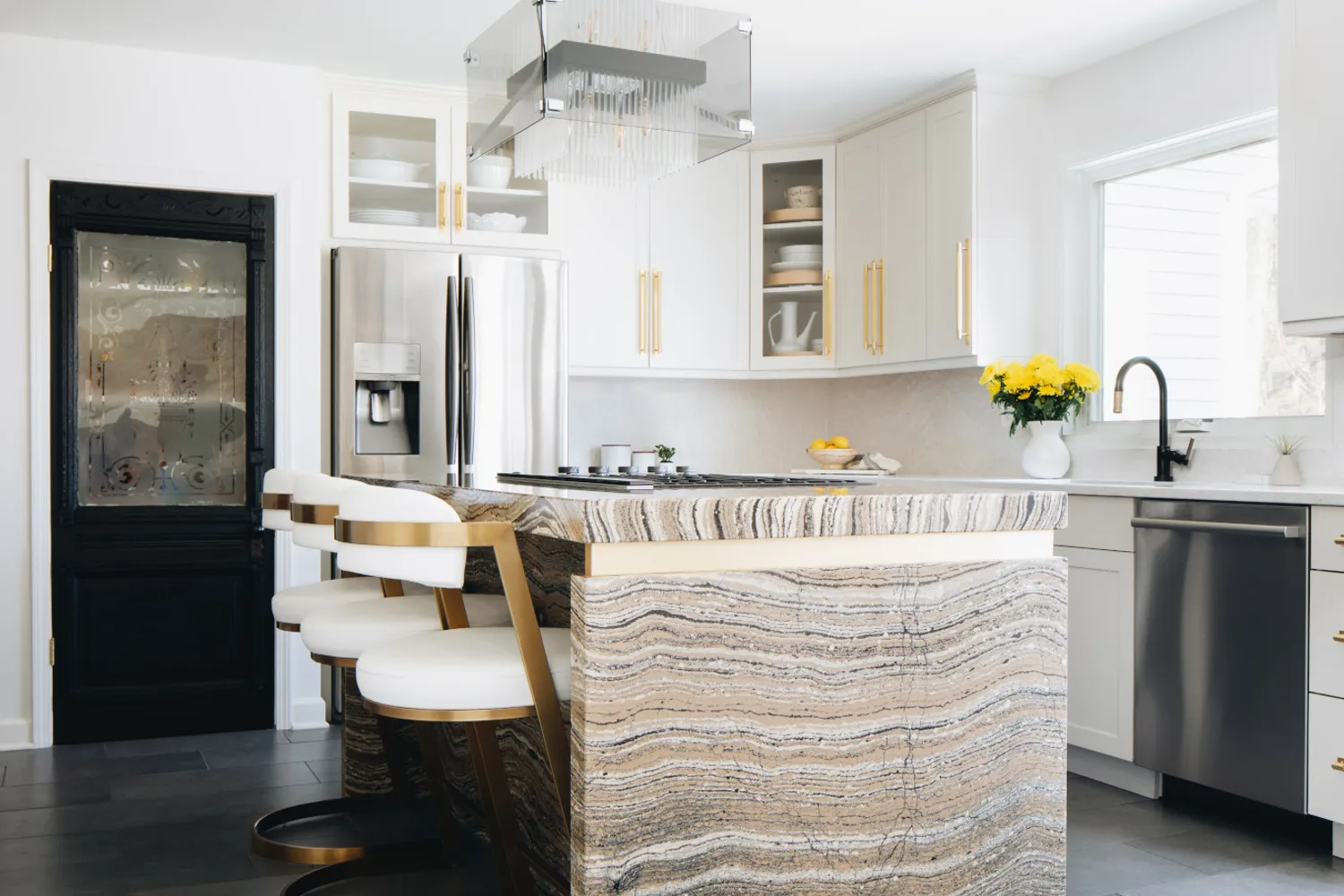 When we moved into our home in the Chicago suburbs four years ago, my husband and I talked about updating the kitchen eventually, but updating a kitchen is expensive. The former owners had done a quick flip in order to sell the house, and it was like, "How can we not spend a ton of money but make it look amazing?"
My style is definitely very eclectic. It's not the Joanna Gaines farmhouse look. It's modern with a vintage flair. I wanted the space to have this mix of old and new glam.
Meeting Cambria
A year after moving, I went to visit Cambria in Minnesota for their Design Innovation Week. When you see their quartz product up close and personal and see what you can do with it, it's like, "Whoa, I could make my space really awesome."
I saw every slab up close and fell in love with a few of them, specifically Brittanicca Warm. I saw it when we were finishing up our tour of the Cambria processing facility, and the design department told me not to take any pictures because it was new. It was so different, beautiful, and warm. It wasn't the same black and white marble look. It was a must-have for me.
I always said if we end up renovating, I'm going with Cambria. I love the way they run their business, and they are the nicest people on the planet.
Then, around this time last year, I started to want to expand my blog House of Hipsters a little bit and go into sharing recipes, but I could not do that in an ugly kitchen. It was time.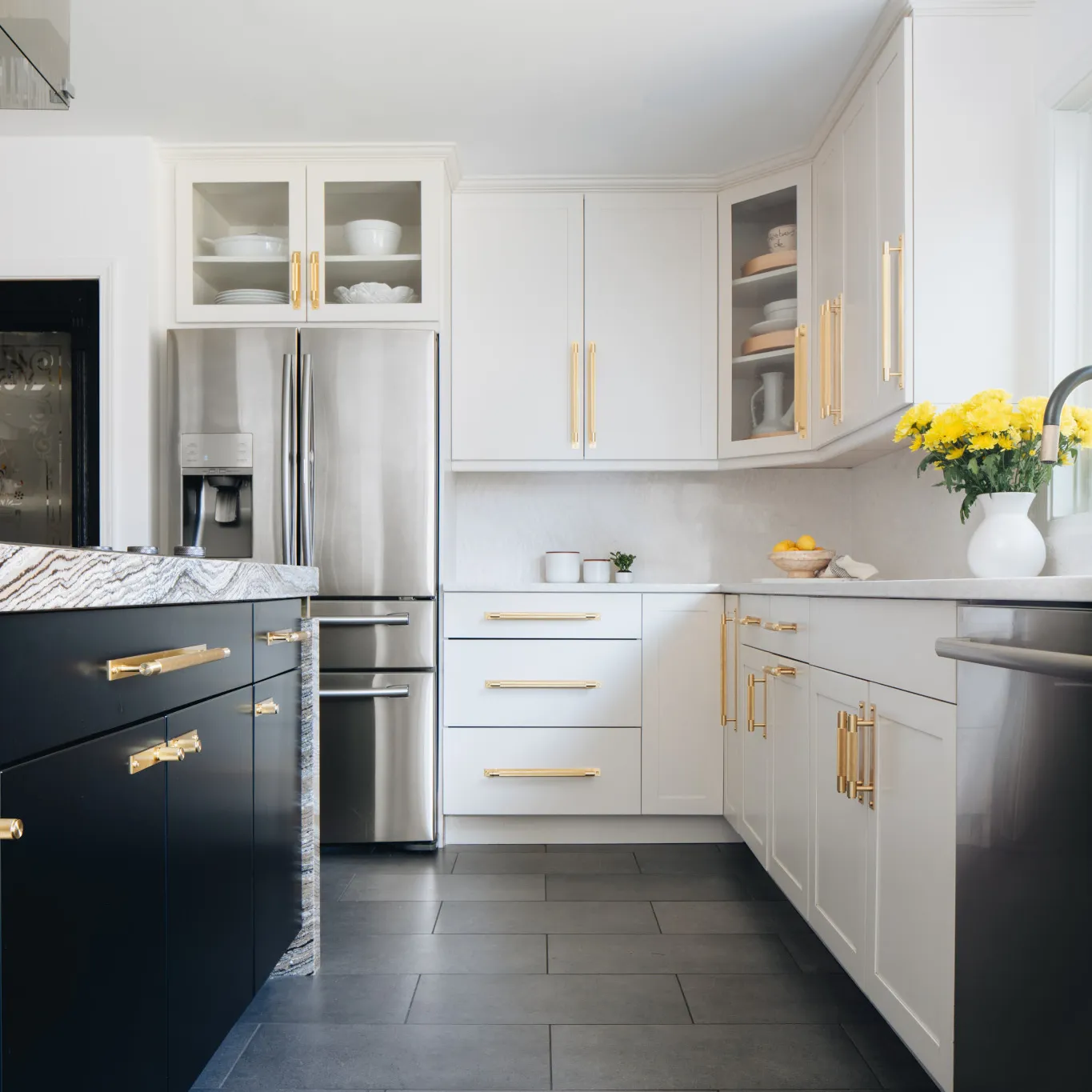 Cambria Clairidge and Ironsbridge paired with two-tone cabinets and brass hardware.
I told Cambria what I was thinking about doing design-wise, and they pushed me to be bolder like I am in the rest of my house. They did a rendering of the kitchen island with their Clairidge design complemented by a Cambria Ironsbridge design on the perimeter countertops. I didn't think Clairidge would look good with white cabinetry, but it looked rad. My husband needed a little convincing. He couldn't imagine it. It makes a statement.
Glam Details
For the island design, I showed my fabricator MGT Stone what I wanted to do, and we went back and forth about how it could be constructed. I wanted a brass piece in the middle, but it had to be something that wouldn't be crushed by the stone. It's actually a piece of wood laminated with a sheet of metal. The top just lays on it. What you can do with the stone if you use your imagination is amazing.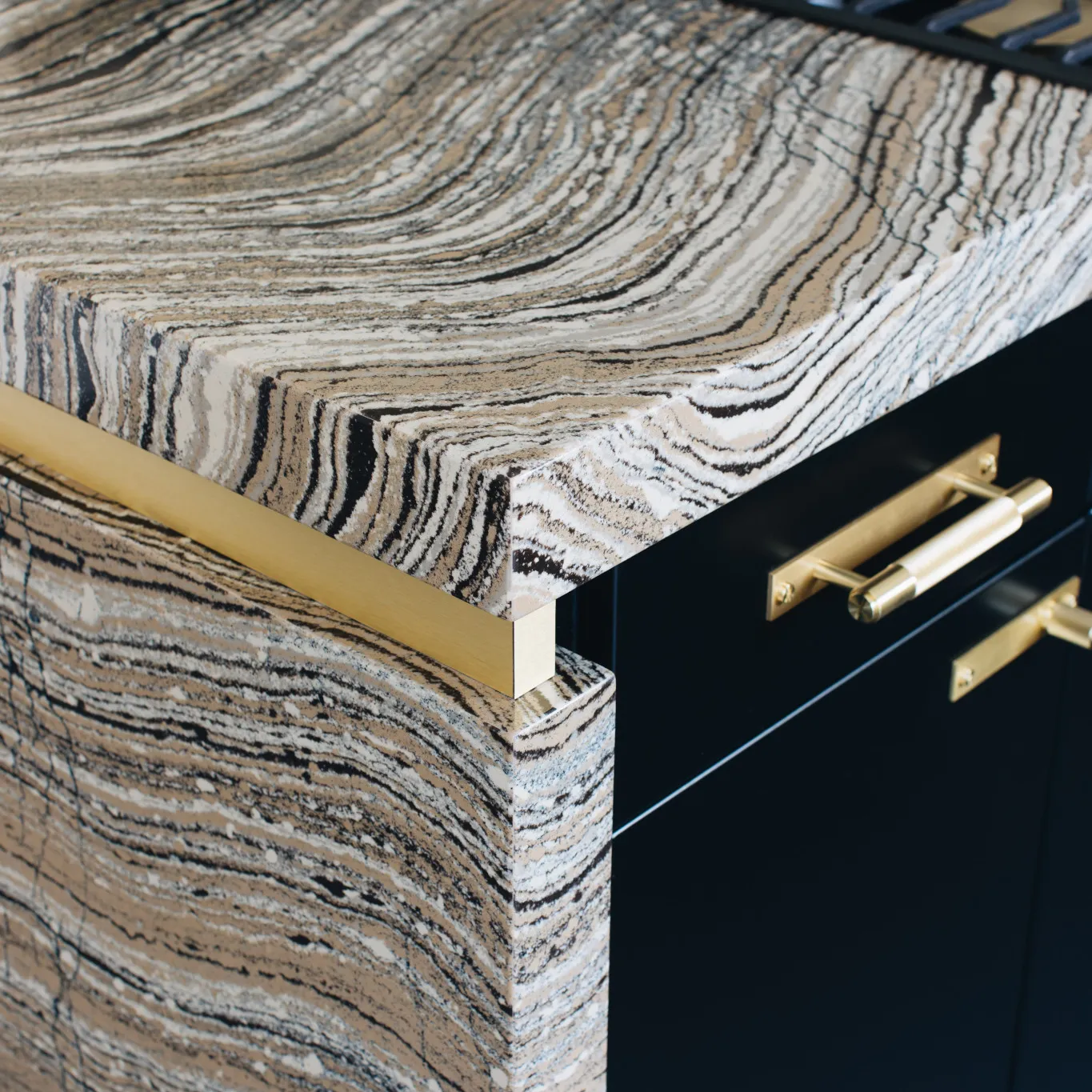 Clairidge waterfall island with custom brass insert.
It looks so much more luxurious now and really is a showstopper of an island. People either love it or hate it. It's so different and unique. No one else will have the same thing.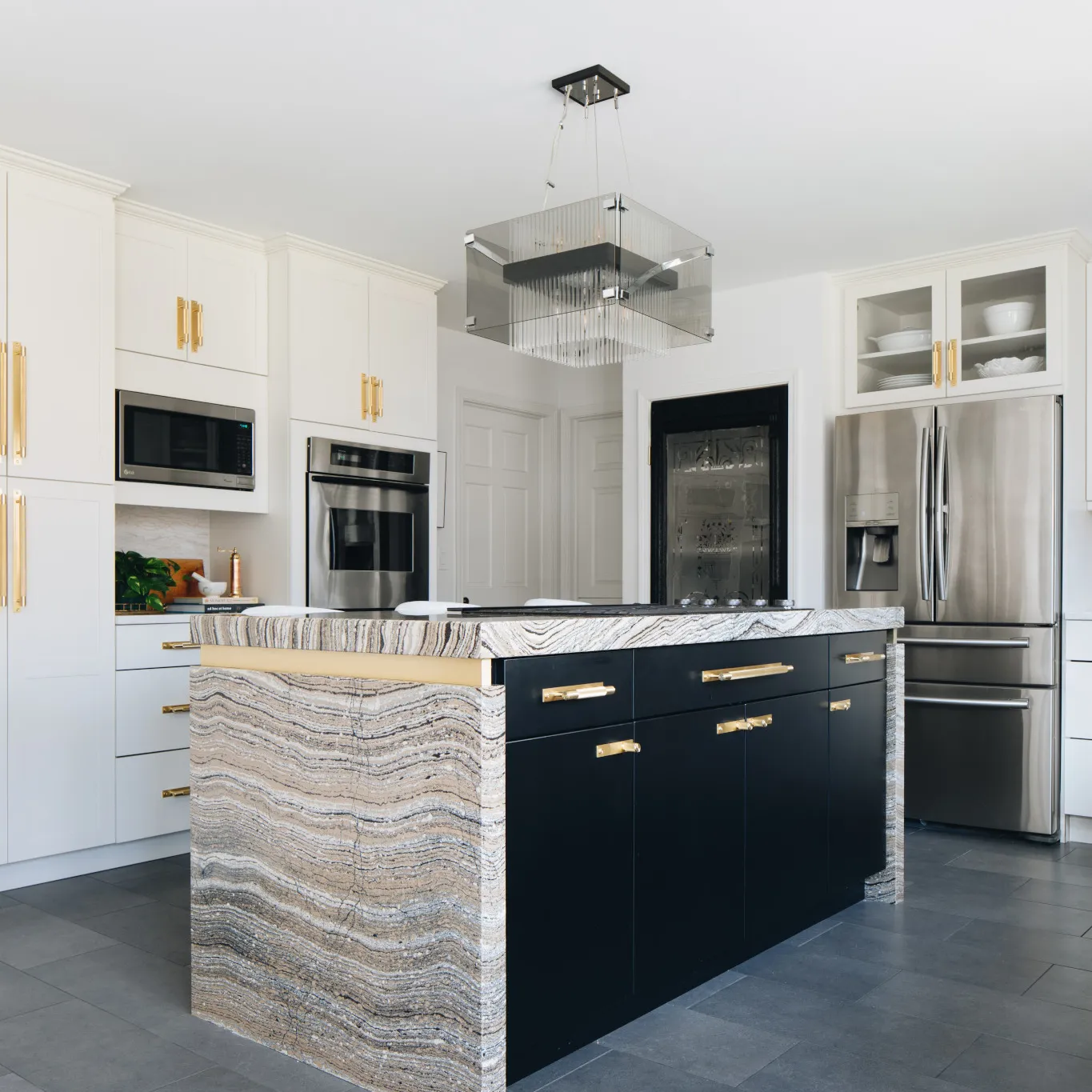 New Hudson Valley Lighting adds a modern flare.
The lighting was another big thing that needed to be swapped out. I wanted Hudson Valley Lighting fixtures. The lighting, hardware, and countertops were my three biggies. I knew that I needed to change out the hardware from the basic builder-grade brushed nickel that everyone had in 2003. It needed to be upgraded, and I'm super happy with what we went with from Buster + Punch.
The flooring and paint stayed the same. So did the floorplan. The stone really speaks for itself.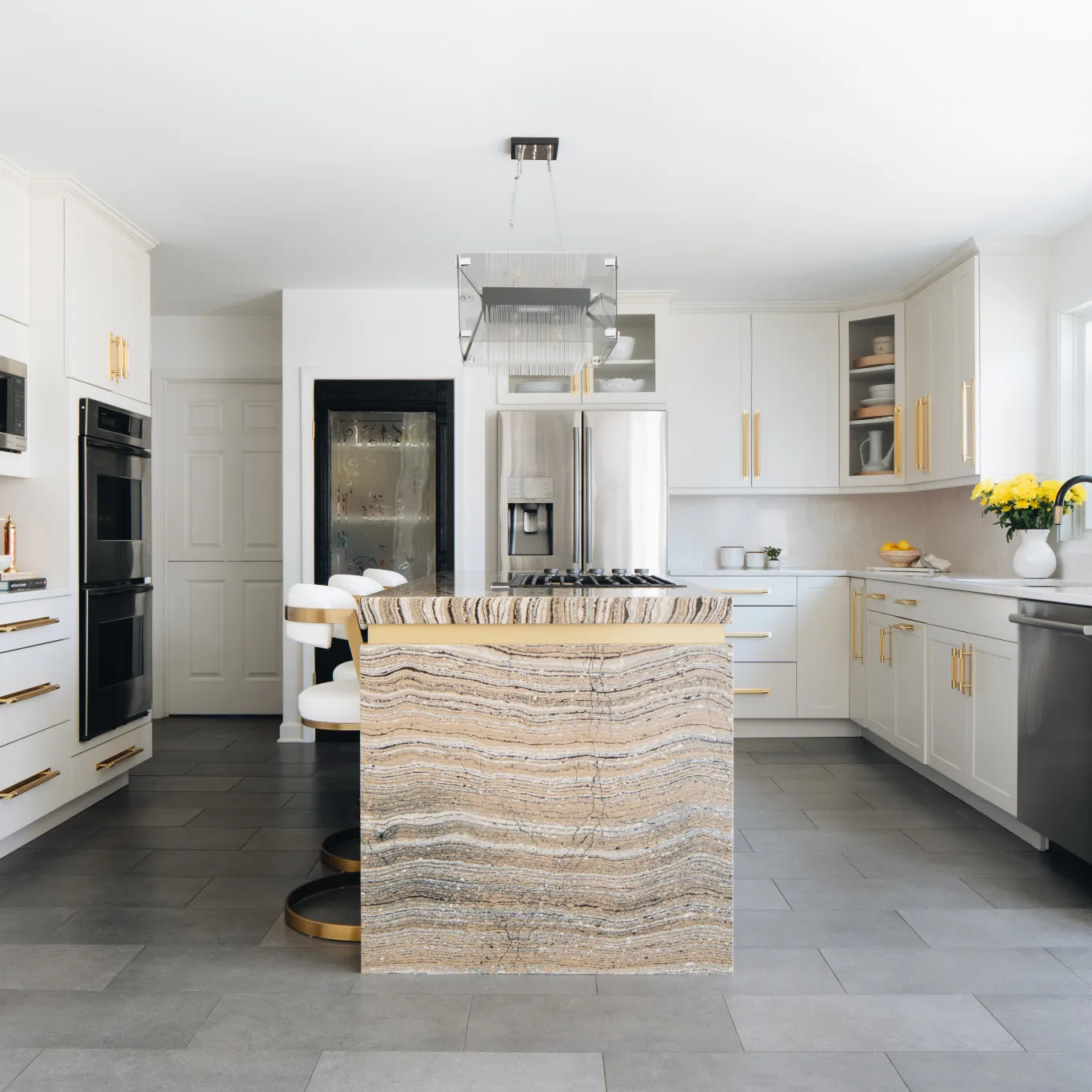 Clairidge takes the spotlight in this mixed-neutrals kitchen.
Quartz Wet Bar
I got my Brittanicca Warm in the wet bar area on the shelving, backsplash, and countertop. I love the look of open shelving. It's so popular right now and looks beautiful. I didn't need excess storage, and we couldn't do open shelving in the kitchen because I didn't want to uninstall the cabinets. It's a trend I hopped on, but the Brittanicca Warm stone makes it different and unique. Each edge is mitered so you can't see where it's seamed.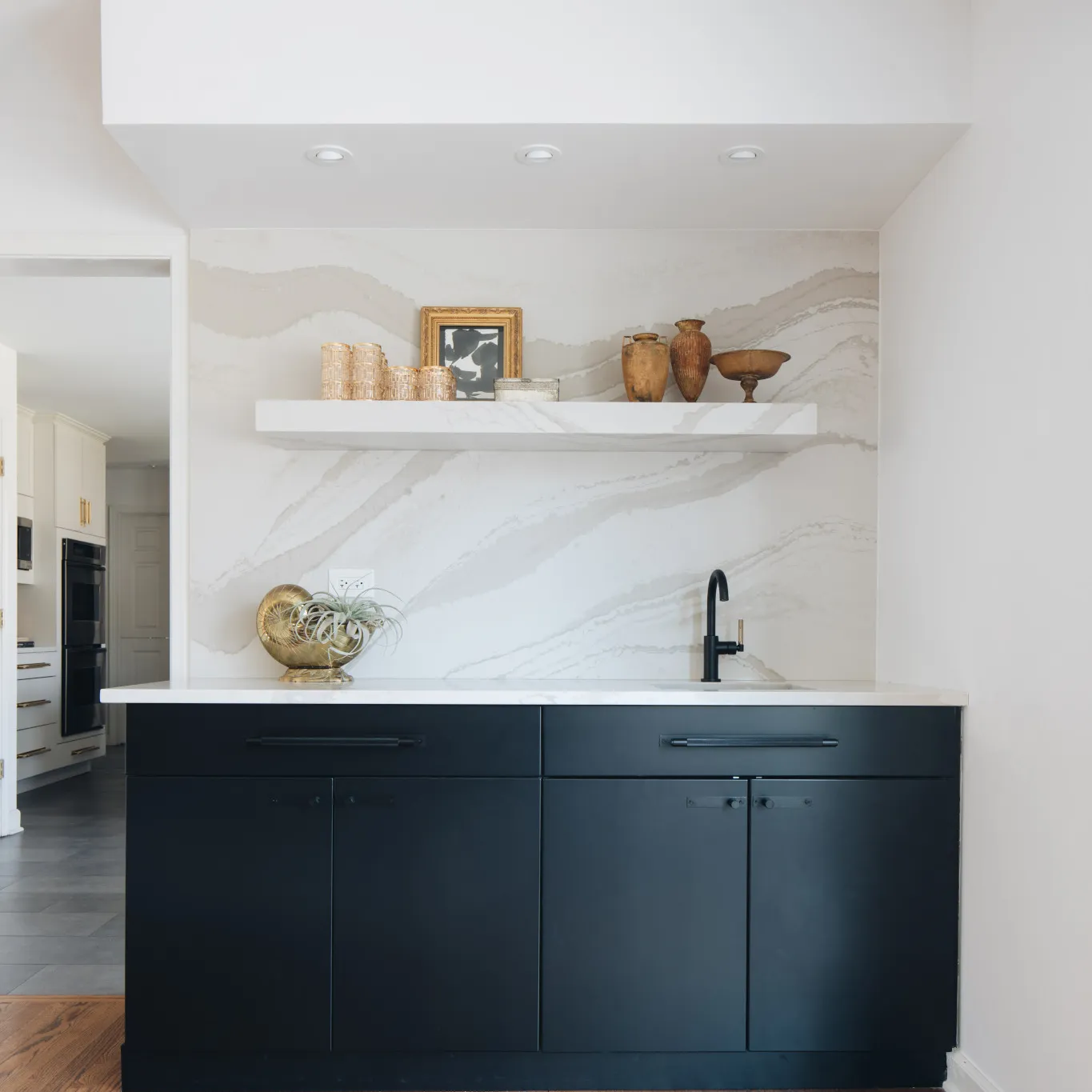 Brittanicca Warm countertops, full height backsplash, and quartz shelf.
The installation of the countertop and backsplash in the wet bar was super intricate. I actually chronicled the process on Instagram. In that space, they put the countertop in first and then came back the next day with the backsplash, but they didn't have enough room to install it. I wanted the Cambria backsplash because it would be easy to clean since it's seamless and has no grout lines.
They had to uninstall the countertop, sink, and faucet and put the backsplash on head-on. The fabricator had said the backsplash would weigh a million pounds, so we needed something strong enough to hold it. My general contractor Midwest Construction Company recommended steel brackets drilled into the studs, and Cambria made a pocket on the back of the stone to slide it in.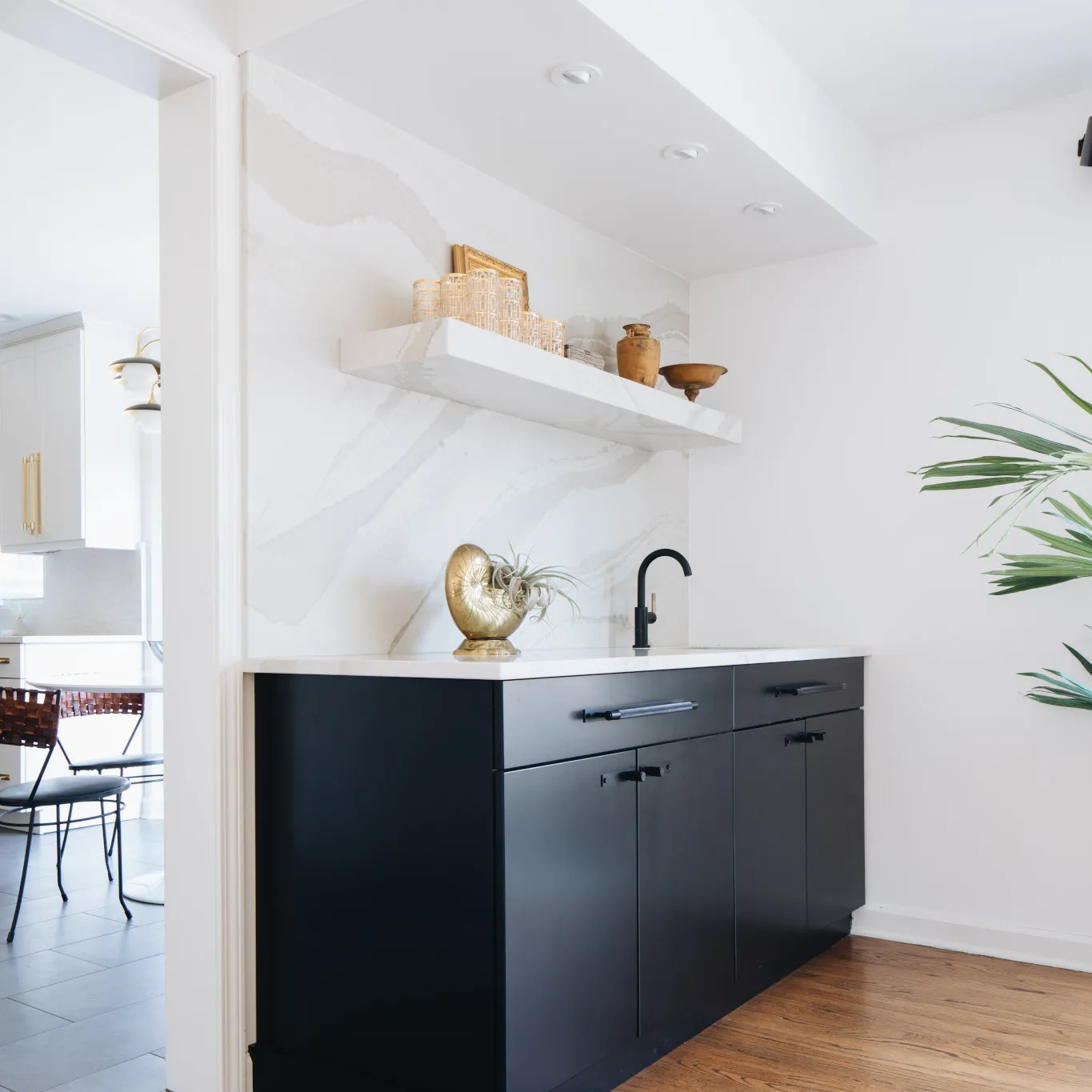 Black cabinets and accents paired with the soothing tones of Brittanicca Warm.
They had to take two crowbars to slide the countertop back underneath. There was a fierce conversation for 30 minutes about how we'd do it. I was freaking out. It was nerve wracking, so having a strong relationship between my general contractor and fabricator helped a lot. The fabricator actually recommended the contractor to me. I didn't use my normal construction guy and went with someone the fabricator felt comfortable with. It turned out great.
I have a seven-year-old daughter and a 10-year-old son, and it all holds up so well with them. They have their friends over and eat pizza, and the stone just wipes off. It's super durable, nonabsorbent, and maintenance free. We have a white dining table that stains immediately. With Cambria, everything comes right off. Now I always put them at the island. They can do whatever they want, and it won't get damaged. My husband spills coffee all the time, and it wipes right up with water.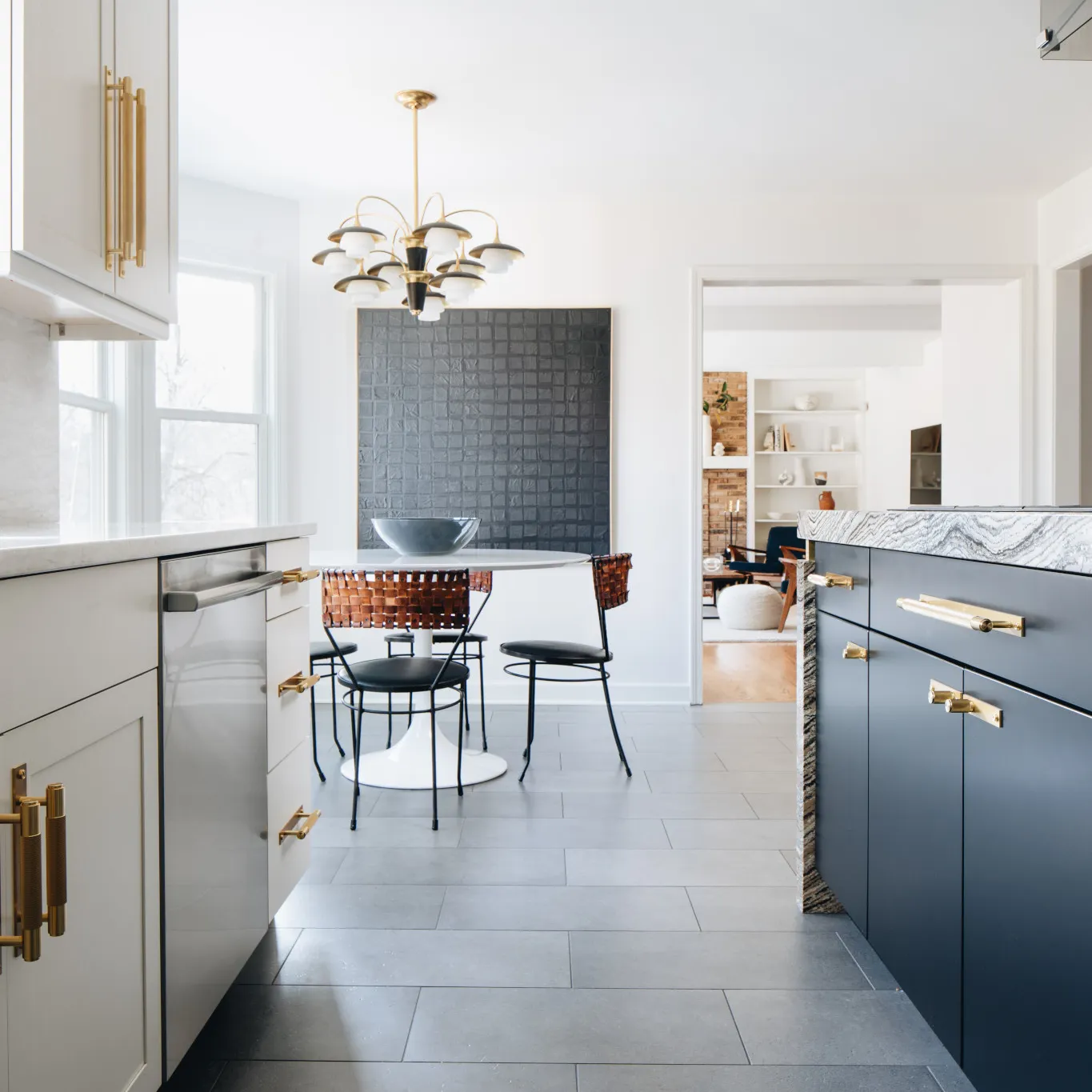 Natural light floods the dining space in this House of Hipsters kitchen.
We spend much more time in the space because it's so pretty but still comfortable. We listen to music and cook family dinners, especially now. I can't wait to entertain and not be embarrassed about the old granite. I'm sure it was beautiful in the '80s, but I'm glad the kitchen is not black and glittery anymore. We want to show it off. We are really proud of it.
Get the Look
Follow Cambria on social media with #MyCambria for more standout designs.
For more information on Cambria, including performance data, product specifications, and certifications, see our Professional Resources.
Interested in creating a showstopping design project with Cambria? Order a sample, find a dealer, schedule a virtual consultation with a Cambria expert, or call 1-866-CAMBRIA (1-866-226-2742) to be connected with a market representative in your region.