Remodeling Expert, Casey Knips, Gives His Kitchen Remodel Advice
Casey Knips is the lead carpenter with Terra Firma Building and Remodeling and has a passion for craftsmanship in building. We were excited to speak with him to find out more about his recent home kitchen remodel and get his expert tips for tackling your own kitchen project.
Home kitchen remodel process and design decisions
Knips' home kitchen is a beautiful before-and-after, going from an awkward layout with dated materials to an open galley kitchen with stunning finishes and contemporary details. The new space features dark gray cabinetry, pristine Newport countertops, herringbone tile, and mixed metal accents.
What were the drawbacks of the original space?
Knips: Our kitchen was in definite need of an update. The existing kitchen had a low soffit that closed the space off. It was not ideal, especially in our galley kitchen. The tile flooring was outdated and the original layout was not working for us. Even though it's a decently sized kitchen, we found it was frustrating to have more than one person in it at the same time. We took a look at how our work stations were laid out (sink, oven, range, fridge) and realized they were too jumbled. In our remodel, we separated the fridge and pantry from the cooking spaces so that someone can come in for snack while another person is at the range or sink and they won't be in each other's way.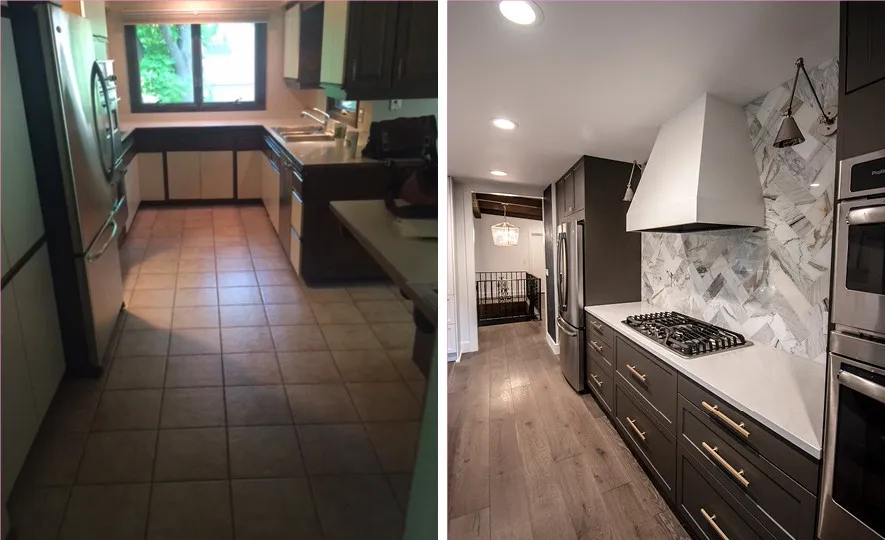 BEFORE and AFTER of Casey Knips' home kitchen remodel. The new space features Cambria Newport™ countertops, herringbone tile, and dark gray cabinets.
Did any elements change from your initial plans for the kitchen remodel? 
Knips: We were going to keep the floor plan closer to the original – there were cabinets under the window so the kitchen was U-shaped on one end. But we ended up axing those for three reasons: 1. corner base cabinets are annoyingly inefficient; 2. we wanted a double oven look with the oven and microwave combo and it wasn't a nice transition to the counter space in the corner; and 3. we really wanted a symmetrical look on the range wall with floor-to-ceiling units on both sides. Plus, it allowed us to put in a bigger window!
Did you consider a kitchen island?
Knips: If we had enough space, we would have probably installed an island in our space. But in our galley kitchen, the flow made more sense with a peninsula. People like the idea of an island because it represents an open floor plan between the kitchen and living or family room and it also provides added prep space. But you don't necessarily need a kitchen island for that. In our situation, our peninsula does both of those things. (See more on planning your kitchen layout.)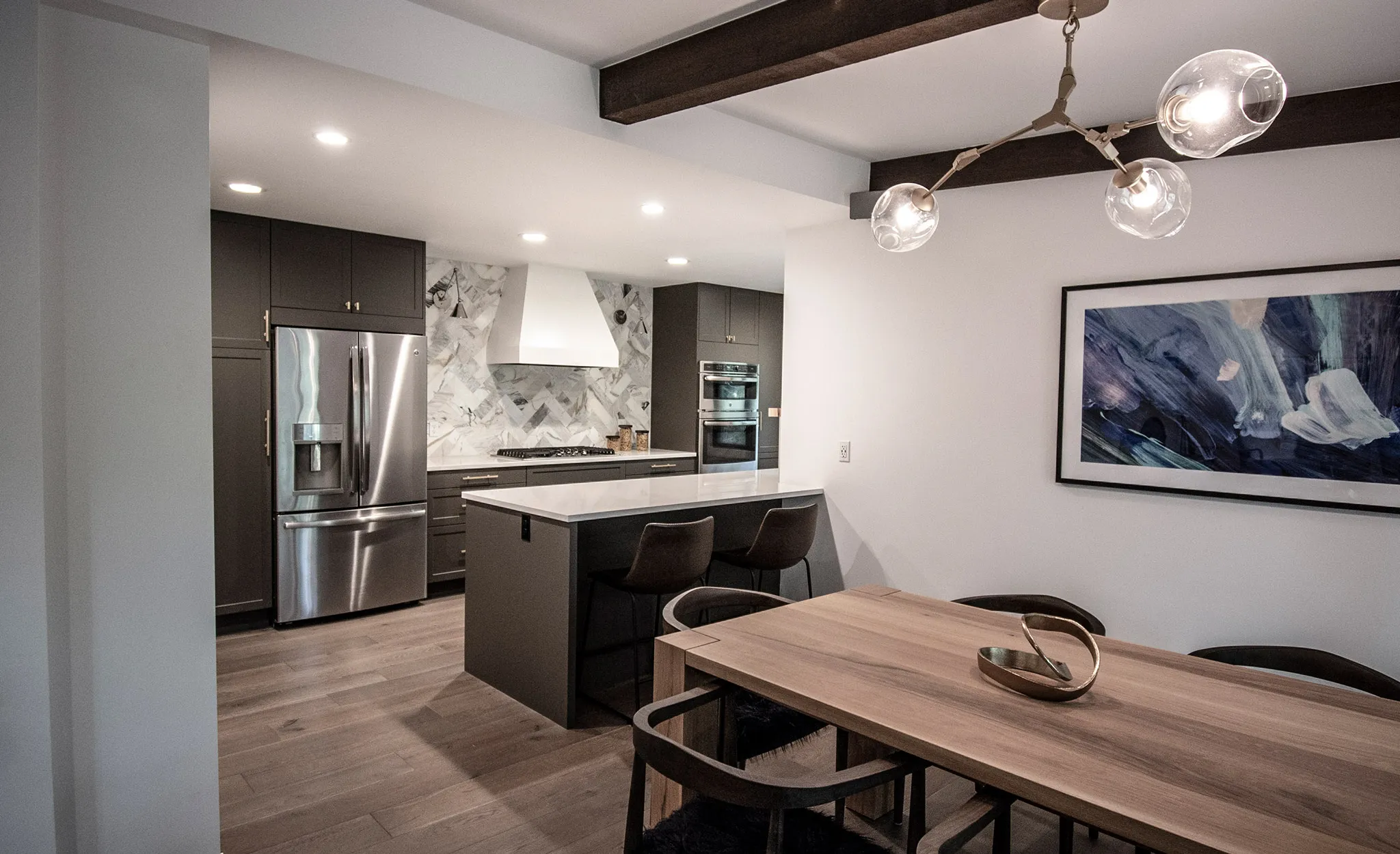 A peninsula with Newport white quartz countertops creates open flow to the dining room in Casey Knips' kitchen remodel.
Why did you choose Cambria countertops over other countertop options available?
Knips: We really didn't consider any other materials. The benefits of Cambria sold us on the product. We have a toddler and another one on the way – so the maintenance-free aspect of Cambria drew us in. We've had granite previously and could never remember to seal it on time, so we just wanted something we could "set and forget" as they say. (See more on selecting the perfect countertop.)
How did you decide on Newport as the Cambria countertop design?
Knips: We selected the cabinet color first which was a shock because we didn't set out to create a kitchen with dark cabinets, but we fell in love with this great color (Graphite, from Semihandmade). We  then decided to contrast the countertops by going white. We also live in a really wooded area and don't get the best natural light, so something to reflect the light that comes in was necessary. We wanted something white but not solid white – we still wanted some veining and visual interest. We had it narrowed down to a few options – Newport,  Summerhill™, and Weybourne™. But with the other elements in the space we just thought Newport was the way to go – and I love it every day!
(See more on high-contrast design and gray kitchen palettes.)
Why did you opt for open shelving on one side of the kitchen?
Knips: We wanted more storage but didn't want to install upper cabinets because they would make the space feel smaller. Open shelves don't have as much storage capacity as cabinets but it makes our kitchen feel bigger and we like the look of them. We also like the floating shelves to clear up counter space – things like your produce bowls and cooking oils can get off your counter so you can see it.
But I would also caution people to remember that open shelving is very on trend right now – but that doesn't mean you have to or even should do it. It all just depends on the space. We have so much floor-to-ceiling cabinetry that we were able to compensate for the loss of upper cabinets.
What was the biggest challenge during the remodel process? 
Knips: The hardest part would be living in our house and only being able to work on it during nights and weekends. Also we had a six-month-old at the time – and that got really challenging because we were working around nap times too! This is the second kitchen that I have remodeled for ourselves, so I knew what to expect going in. Also, I wanted to do as much as I could by myself, so everything took a little bit longer.
Now that you have lived in the space, what do you most appreciate about the new layout and flow? 
Knips: When planning the remodel, we contemplated not having seating at the peninsula because we thought it would be too close to the dining room table. But after living in the new kitchen, it's so nice to have that space. Also, moving the range a bit closer to the opening of the kitchen has been nice because now we don't feel so separated from everyone when cooking.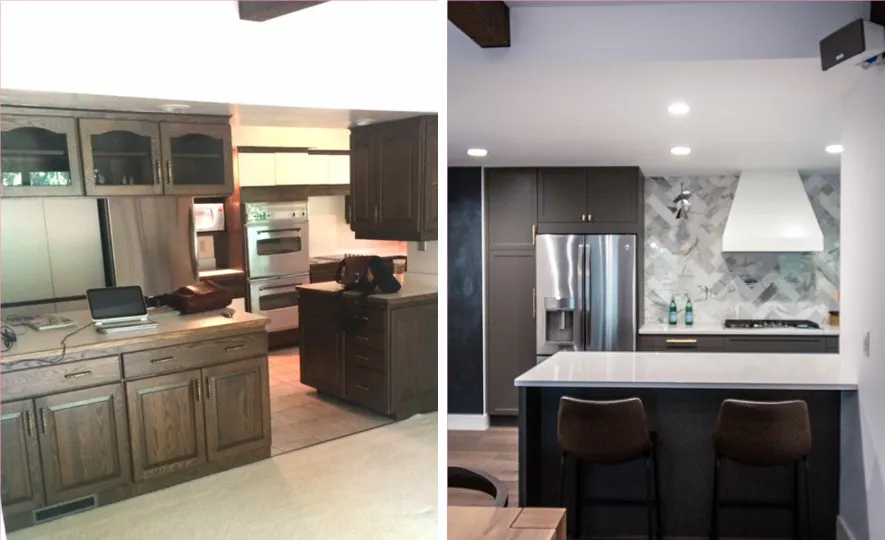 BEFORE and AFTER. Seating at the peninsula adds a convenient, casual dining space in the remodeled kitchen.
Kitchen remodeling tips
We also spoke with Casey Knips about general advice for planning your own project, including ways to save money on your kitchen remodel and what to leave for the pros vs. DIY.
How much time should you anticipate for a kitchen remodel? 
Knips: This is hard to answer because there are many considerations that go with it. It depends on whether it's a full gut or just a facelift. Will there be any structural changes to the space? Is it an older house with more potential for issues? Unfortunately, there are many things that can happen during the remodeling process and can add to the timeline. Don't be surprised if the project lasts longer than you think.
How do you find the right pros for the job?
Knips: Do as much research as you can. Make sure they are licensed and insured. Also, see if they have social media accounts. Social platforms such as Instagram are great ways to check on their work. Look for the obvious red flags, such as: Will they pull a permit? Are they up front when problems arise or do they try to hide them? Once you have someone in mind, ask for several references to check the quality of the work.
Any tips or tricks to living without your kitchen during the remodel process?
Knips: With the kitchen being such a vital part of everyday life, it is difficult to go without one for months at a time. Even if you have a temporary kitchen set up downstairs like we did, it is not ideal for long periods of time. My advice would be to know that it will not last forever and try to make the best out of it – remember when it's done, it's worth it!  We used our grill a lot. But more than anything else, the best thing you can do is to take the time to protect the rest of the house from dust. Make sure you plastic off your working area, cover any venting in that area, and keep it as clean as possible while you work.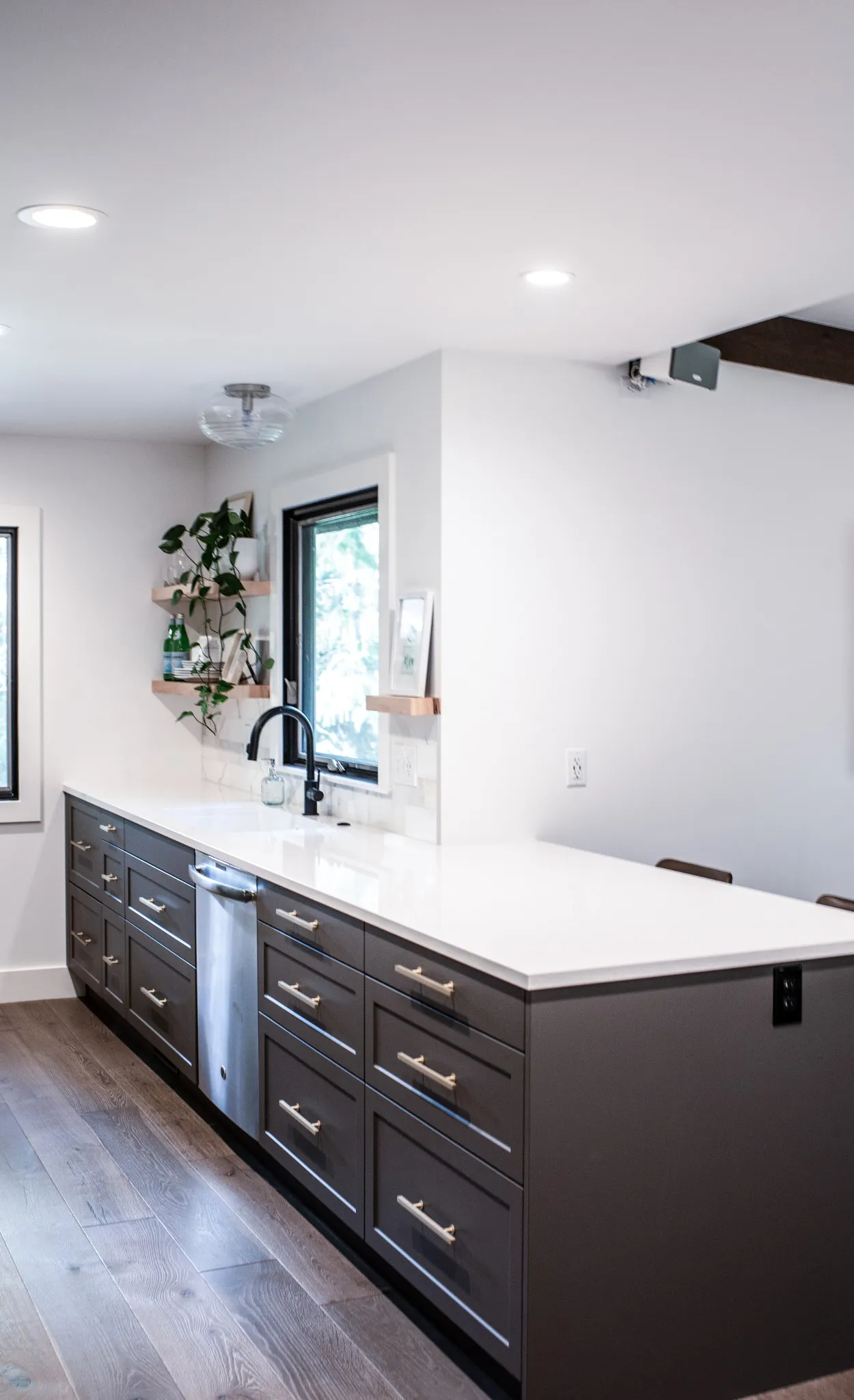 While a kitchen remodel has its challenges, a beautiful, functional kitchen is worth the wait.
What are some small changes you can make to update a kitchen without a full remodel?
Knips: If the changes you are after are purely cosmetic – think about painting cabinets, changing pulls and knobs, adding a backsplash, changing lighting, or changing plumbing hardware. These are all easier than a full remodel but can make a huge visual impact. However, if size, layout, or cabinet quality is the issue, you will want to investigate a fuller remodel.
What are some things to keep in mind if you want to change up your layout?
Knips: I think the biggest factor on whether or not your layout is working for you is: Do you enjoy being in your space? Something to remember, however, is that moving water or gas lines will create additional cost. Expanding the space by removing walls can be great, but if the wall is load bearing, there will be additional cost to secure the space.
Are there any DIY projects you recommend to save on some costs that someone who's relatively new to it could take on? What are some potential DIY pitfalls? 
Knips: Do not perform tasks that you are not comfortable with. It's easy to try and save money and do as many projects as you can, but some things are better left to the pros. It's important to keep your safety in mind as well – electrical work especially can get scary real fast. Something that I think people enjoy trying to tackle on their own is backsplash. However, if you're creating a complex pattern, it can get tricky, so I would stick to tile that comes on 12×12 sheets or subway tile in a simple layout like a running bond.
What are your thoughts on DIY countertops?
Knips: I would NEVER DIY your countertop. Bad countertop installs are something that you cannot hide – it will stare you in the face every day and be the worst sore thumb. Always go through a professional.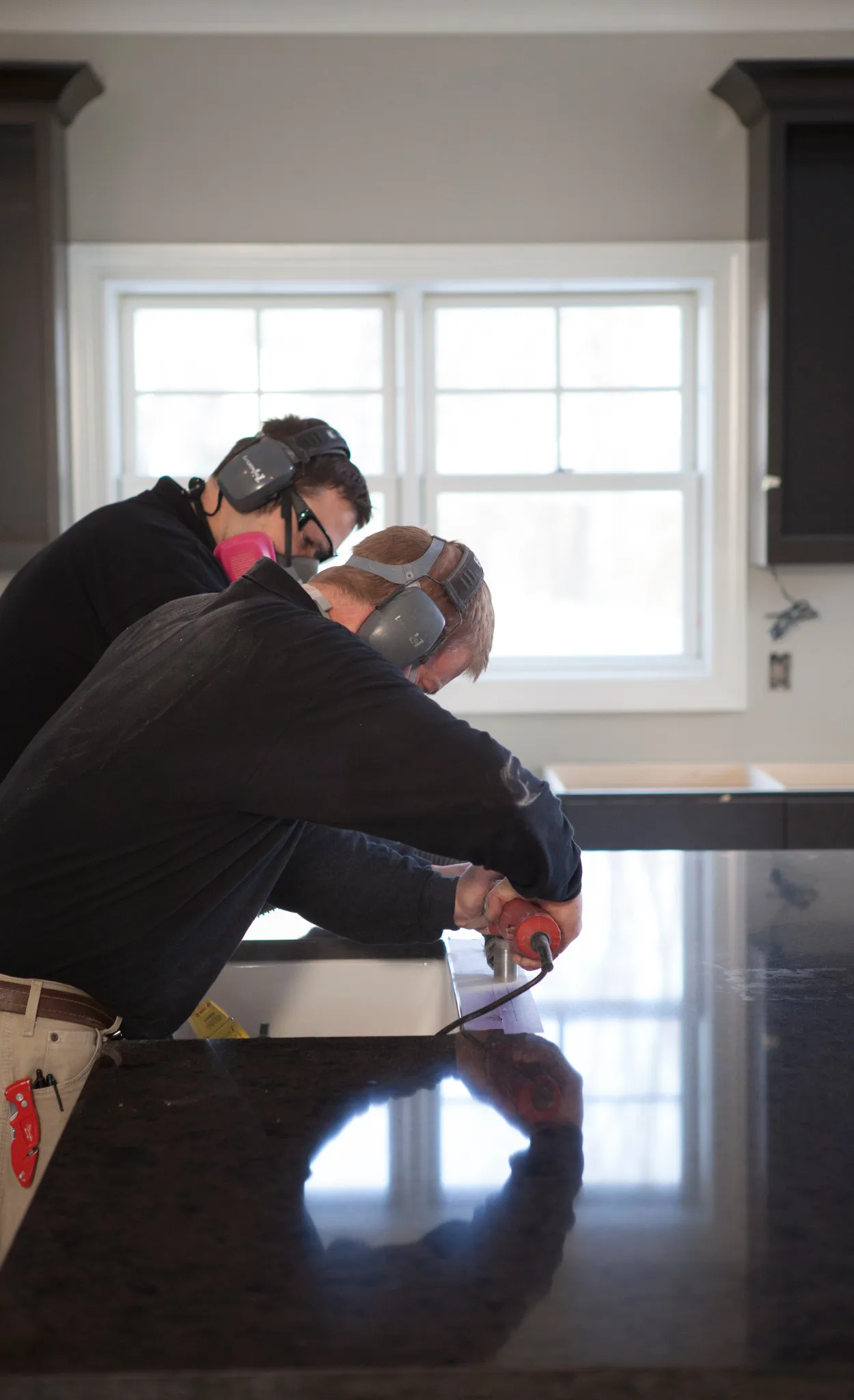 Leave it to the pros. Cambria's certified installers ensure quality every step of the way. Find a dealer near you.
Cabinets: How do you know if you should keep or replace kitchen cabinets?
Knips: Some items I would look at: Are the cabinet boxes in good shape? Look for water damage in your sink cabinet. Are the drawers and doors operating properly? In some instances, switching out the hardware can make a big difference. And don't forget what a difference a fresh coat of paint can do. But if you're looking for improved features like full-extension drawers and soft-close drawers and doors, you might want to consider replacing cabinets.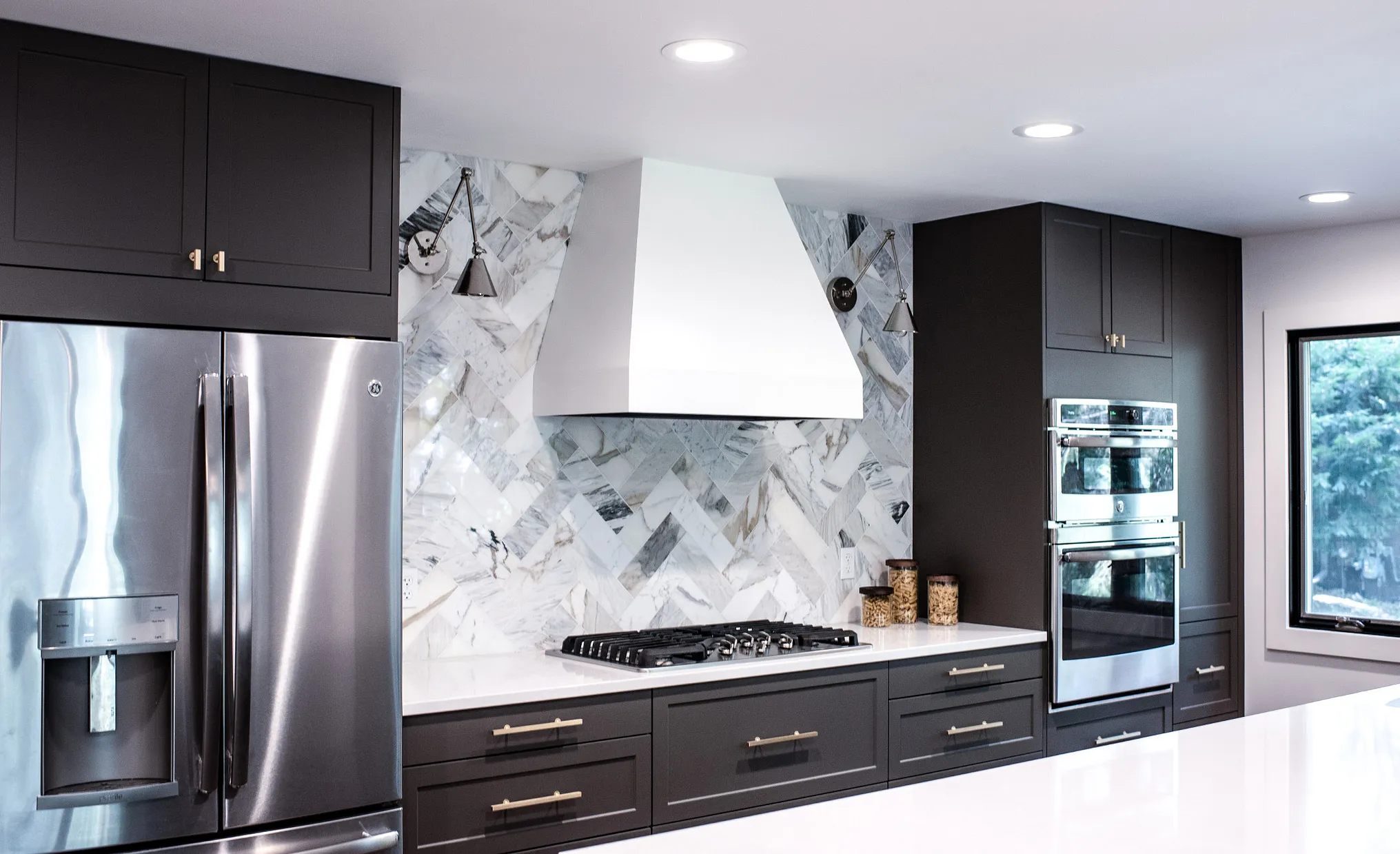 A prominent range hood creates a focal point with the herringbone tile backsplash and complements the white quartz countertops in Cambria's Newport design.
Range hood: How do you determine what's right for your space?
Knips: A large range hood made sense for us in our remodel. My wife always wanted one and it worked perfectly in our kitchen as a focal point. But while I do like the look of a range hood, you need to take into account how much space it will take up. And if you are a taller person, it could get in the way based on how far it will stick out from the wall. Also, each hood has a maximum distance off the countertop for optimal performance. It can also add expense if you have to change and/or add venting on an existing range.
Kitchen lighting: Which types of lighting do you recommend for a high functioning kitchen?
Knips: I like task lighting in major work spaces – over the range and over the sink. I like to use a dimmer on these lights so that after the cooking is done you can create a nice mood in your kitchen. Also, under-mount cabinet lighting can be a great way to add some dynamics to your space.
Kitchen floors: Which flooring materials work best for a kitchen remodel?
Knips: I think there are a bunch of budget-friendly options for flooring these days. Flooring takes a lot of abuse, so try to search for options that will be able to take that wear. I would stick with flooring that can be easily cleaned, especially in a kitchen such as wood, tile, and some types of luxury vinyl tile (LVT).
Kitchen seating: What are some considerations with including seating in a kitchen?
Knips: Seating is a good way to bring in more color and texture. It's easily changed and can add some pop to the space. But make sure the seats are comfortable. Does it work to have a back or will a stool fit better? It all depends on the space.
Kitchen appliances: Any advice on selecting appliances for a remodel?
Knips: Normally, you will save money if you buy all the appliances at once. Look for sales during the year, which may bring the appliance prices down further.
Thanks to Casey Knips for sharing his insight with us. Follow @CaseyKnips on Instagram to keep up with his current projects.