The Perfect Appliances for Your Kitchen
Updating your Kitchen? Choose appliances that will set you up for success
Written by Angela Johnson
Photography by Courtesy of Miele and Café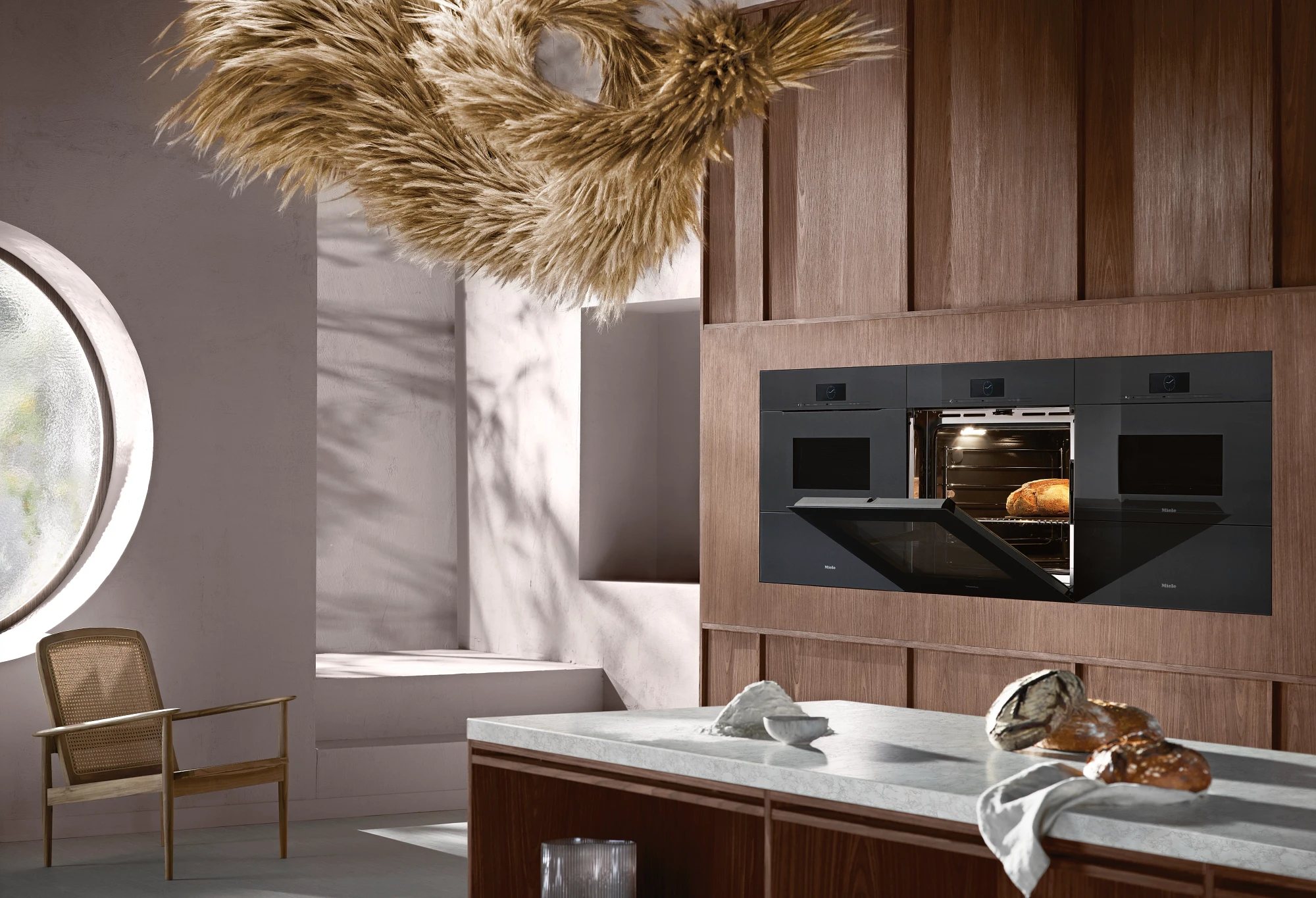 This kitchen, with its collection of wall ovens that can precisely accommodate various temperature settings, is a direct reflection of a home chef. Combine Miele's next-generation technology with its sleek designs—like this gorgeous and high-functioning ArtLine series that is integrated flush with the cabinetry, is handleless, and has a high polish shine—for a minimalist modern dream kitchen at your fingertips. Cambria design shown: AINSLEY™
You've selected your cabinets and chosen the beauty and durability of Cambria countertops. Now, how do you begin the process of choosing the right appliances that will suit both your style of cooking and your style of living? We've looked at lots of options in cooktops, ovens, refrigerators, dishwashers, and more, and sought out insight from Wayne Davis and Kelly Lam of CAFÉ and MIELE APPLIANCES, respectively, to help you make the perfect choices.
WHAT TO LOOK FOR when choosing new kitchen appliances:
Appliance Finishes
Stainless steel continues to be popular due to its durability and classic chef aesthetic. Colors, beyond white and black, including blue, yellow, orange, and more in either a high shine or matte finish, can personalize your kitchen. With Café appliances, you can even choose your own appliance hardware regardless of finish.
Refrigerator Selection
Your refrigerator is your daily workhorse, and it needs to work hard for you. Do you need more room for refrigeration or freezing? Do you need a water dispenser or prefer extra space? Need lots of ice for entertaining? Perhaps choose a separate ice maker. Ask about customization like a refrigerator with a convertible zone that can be set for anything from wine to ice cream.
Efficient Cooking
Purists may still prefer cooking over a gas flame, but induction heat offers precision and leaves your cooktop surface cool afterward. Seek multifunction heating for ovens that combine fan-guided convection, traditional heat, and—in some cases—even microwave tech for the fastest results.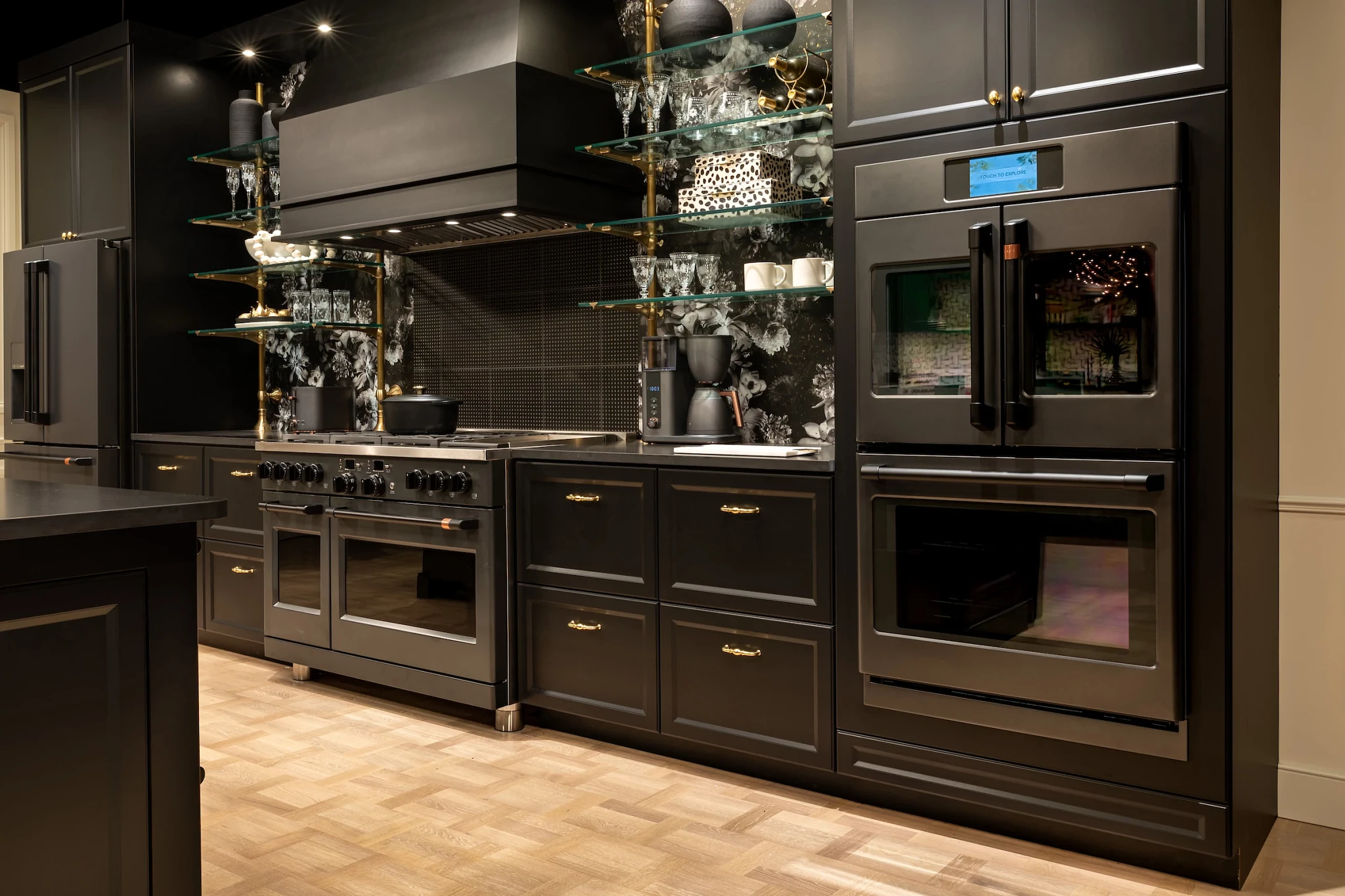 Combine high-quality appliances in matte black with coordinating hardware to get a modernized spin on an old-world look. With a variety of finishes and size options, Café appliances cater to all manner of kitchen design styles. Whether it's new construction or a remodel, the outcome always includes a happy home chef. Cambria design shown: MAMMOTH CAVE MATTE™ (Gensler Product Design Consultant)
what to consider when investing in high-end appliances
You've got the basics covered. It's time for the bells and whistles. But before you invest in high-end kitchen appliances, do your homework. Consider investing in appliances that actually soup up your kitchen rather than simply inflate your budget.
SMART APPLIANCES | Sure, they make it convenient to monitor cooking when you leave the kitchen, but do you want your refrigerator going obsolete as fast as your phone? Don't worry. Modern smart appliances can update remotely without service or replacement.
PROVING DRAWERS | Got some extra area you can dedicate only to bread rising? Probably not. But newer, multifunction drawers can also keep portions ready when someone's late to dinner, warm plates for perfect presentations, and slow cook to perfection.
DEDICATED VENTILATION | There's nothing like the scent of home cooking—until it wafts over to textiles and wall coverings where it settles less freshly. So go ahead, spring for that statement range hood or—for a sleeker profile—consider downdraft ventilation as an alternative.
DOUBLE OVENS | The added space may seem like salvation—unless heat bleeding from one to the other catches your pie crust or dries your drumstick. Fortunately, there are modern ovens that not only insulate against heat escape but allow you to set multiple heat zones within each oven.