Journey to the Pasta
Want to serve Italian-inspired dishes that earn ovations? Hit the high notes by starting with homemade pasta
Written by Paul Hagen
Photography by STEVE HENKE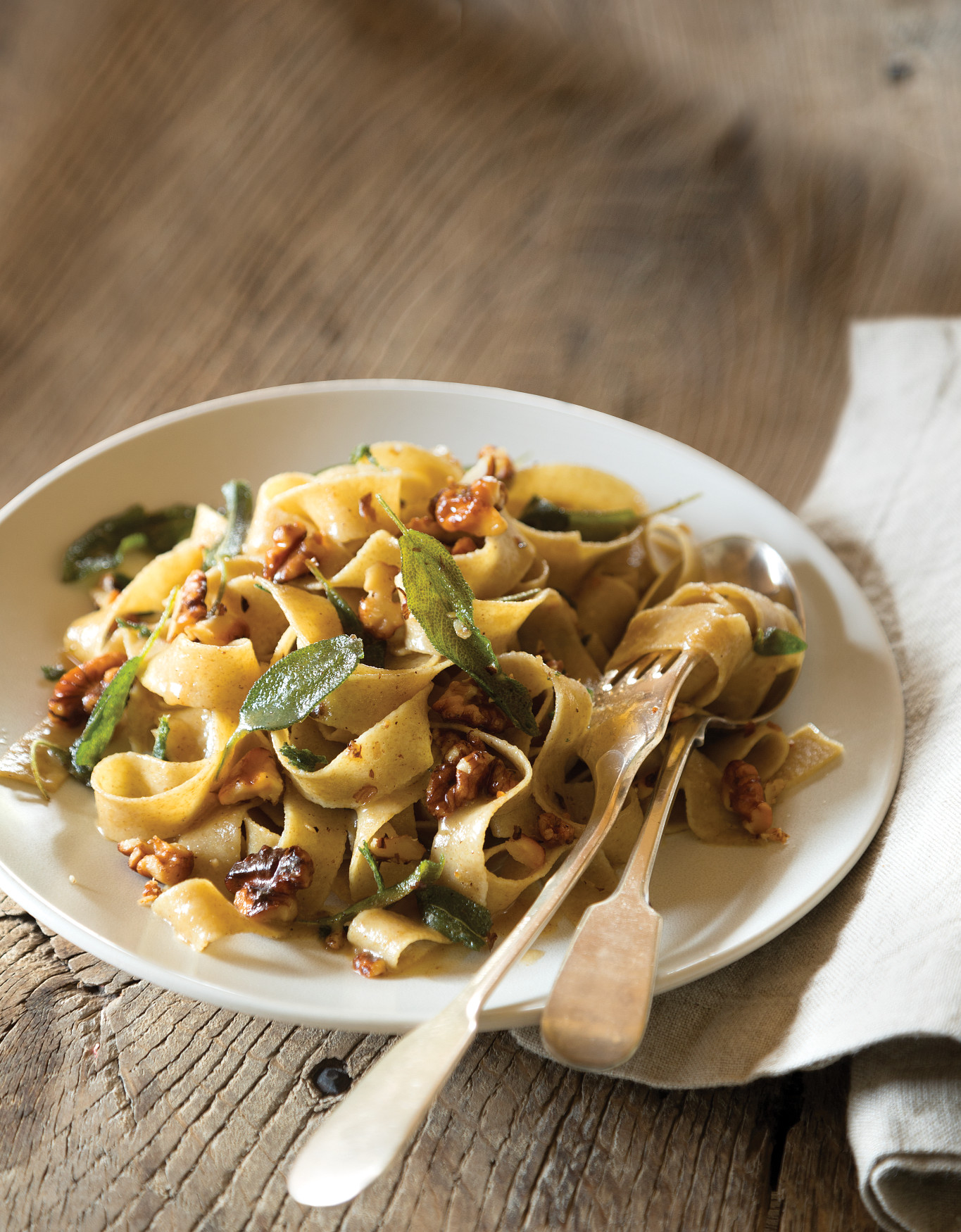 TAGLIATELLE WITH BROWN BUTTER SAGE SAUCE
Serves 2–4
INGREDIENTS:
Salt and freshly ground black pepper
1 lb. homemade tagliatelle (See Classic Homemade Pasta recipe HERE)
2 Tbsp. butter
30 fresh sage leaves
1 c. freshly grated Parmigiano-Reggiano
Walnuts to taste
DIRECTIONS
Bring a pot of salted water to a boil. Cook pasta until it's tender but not quite done. Place butter in a saucepan, lower heat to medium, and add sage. Cook until the butter turns nut-brown and the sage shrivels. Turn heat to minimum. When the pasta is nearly done, scoop out 1 c. pasta water. Drain pasta, add it to the butter-sage mixture, and raise heat to medium. Add ¾ c. of the water and stir. Cook about 30 seconds. Stir in cheese. Sauce will become creamy. Thin with a little more of the pasta water, if necessary. Season liberally with salt and pepper to taste, and serve immediately, passing more cheese at the table.
Optional:
Sprinkle with a handful of walnuts for added texture.
---
Pair Like A Pro | LESLEE MILLER, certified sommelier of Amusée, serves inspired pairings with this pasta:
"This savory and cozy dish deserves to be paired with a perfectly weighted, unctuous red. Try Agriverde Piane di Maggio. This stupendously delicious Montepulciano from Abruzzo, Italy, is backed by black cherry, raspberry, and licorice. A delicious combo!"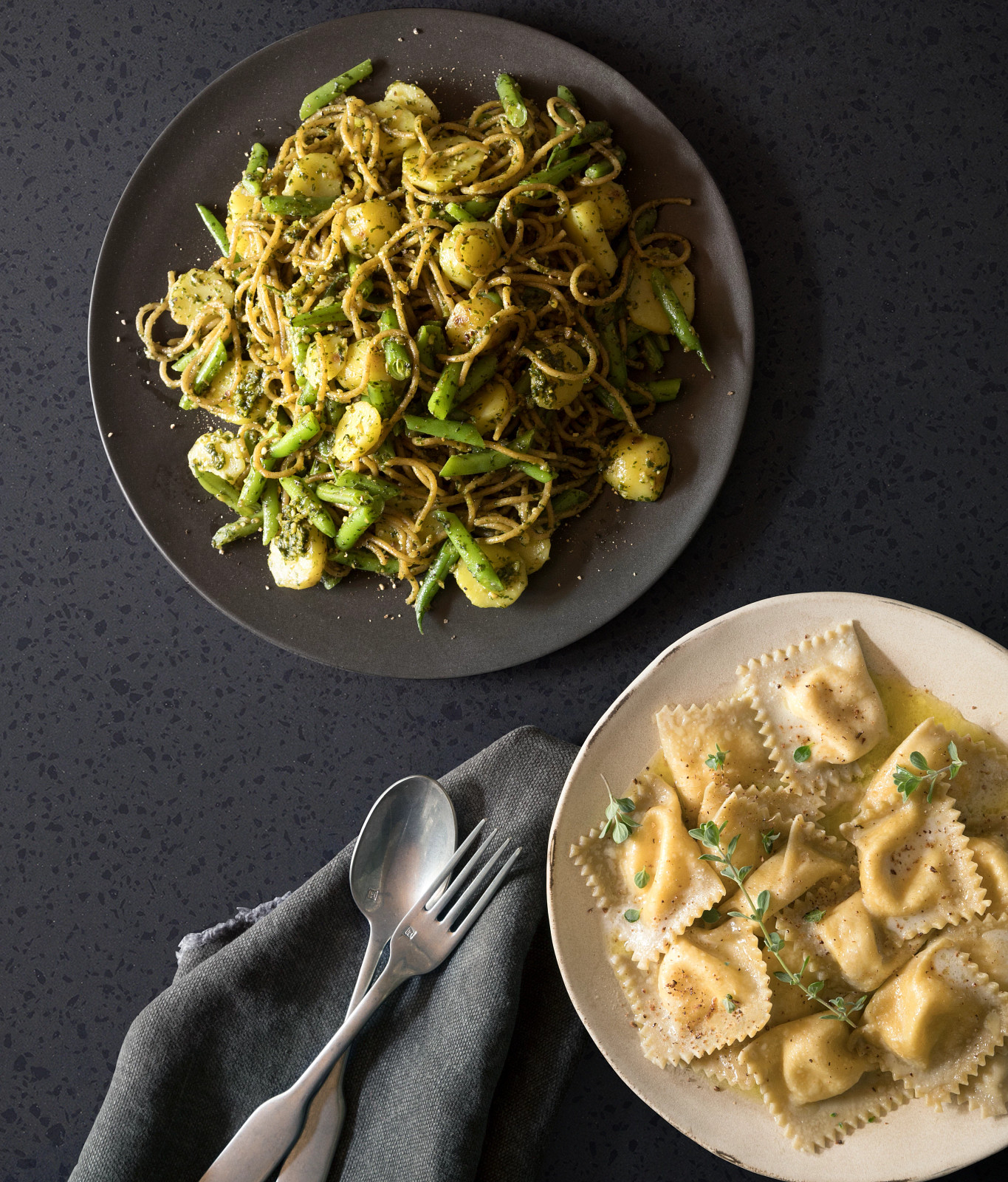 Cambria design shown: Kentucky Coal Matte™ (Gensler Product Design Consultant)
PESTO PASTA WITH POTATOES & GREEN BEANS
Serves 4
INGREDIENTS:
2 c. packed tender young basil leaves
¼ c. pine nuts
1 tsp. salt plus more to taste
2 plump garlic cloves, peeled and crushed
½ c. extra-virgin olive oil, or more to taste
½ c. freshly grated Parmigiano-Reggiano
½ pound small potatoes, peeled and sliced about ¼-inch thick
¼ pound tender young green beans, cut into 1-inch lengths
1 pound trenette (or other long, thin pasta)
DIRECTIONS
Make pesto: Add basil, pine nuts, salt, and garlic to food processor. Pulse until mixture is coarse and grainy. With the motor running, add oil in a slow, steady stream. Add cheese. Process just enough to mix well. If sauce is too dry, add more oil. Taste. Add more cheese or salt, if desired.
Bring 6 quarts water to rolling boil. Add potato slices and at least 2 Tbsp. salt. Cook at least 5 minutes, until potatoes have started to soften. Add green beans, and continue boiling 5 minutes. Add pasta and stir. Start testing. When pasta, potatoes, and beans are tender, drain and turn immediately into preheated bowl. Add pesto. Mix thoroughly. Serve immediately.
---
Pair Like A Pro | Leslee Miller recommends pairing with Vermention/Sauvignon Blanc
"I love matching pesto with a grape like Vermentino to bring out its freshness. Enrico Santini's Vermention/Sauvignon Blanc blend from Bolgheri, Italy, is one of my all-time favorites. Flavors of sage, intertwined with notes of green apple and pear, help make sure that the pesto pops, while also enhancing the snappy flavor of those green beans."
FRESH RAVIOLI WITH NUTMEG & MARJORAM
Serves 2–4
INGREDIENTS:
1 lb. Classic Homemade Pasta (see recipe HERE)
Extra-virgin olive oil
Nutmeg
Fresh marjoram
For the ravioli filling:
20 oz. fresh ricotta cheese
4 oz. freshly grated Parmigiano-Reggiano
¼ tsp. nutmeg
2 tsp. lemon juice
Kosher salt and freshly ground black pepper
DIRECTIONS
Lay a clean kitchen towel or a triple layer of lint-free paper towels on a rimmed baking sheet. Spread ricotta evenly over surface of towels. Top with a second clean kitchen towel or triple layer of paper towels. Press with hands or a second rimmed baking sheet. Let rest 5 minutes. Transfer ricotta to a medium bowl (it should come right off the towels). Add cheese, nutmeg, and lemon juice to ricotta. Season with salt and pepper and stir.
Meanwhile, divide dough into four even sections. Work one section at a time, leaving remaining sections wrapped in plastic. Run dough through pasta machine until the sheet is just under 1/16-inch thick (typically second-to-last setting). Cut sheet in half to create 2 pieces of dough roughly 15 inches long and 5 inches across.
If using a ravioli mold: Place first sheet of dough over metal mold base. Gently, evenly press plastic mold down to make depressions in dough. Fill each depression with 1 Tbsp. filling. Rap mold to remove any air bubbles. Place second sheet of dough over surface and pat down. Run rolling pin over dough until ridges beneath become visible. Flip the mold over and gently peel it away. If ravioli remain stuck, rap the edge of the mold on table. If ravioli do not separate easily, use a fluted ravioli cutter to complete perforation. Cover ravioli with towel to prevent drying. Repeat with remaining dough and continue to freezing or boiling.
If working by hand: Fold first sheet along its midline to make a light crease and re-open. Place 6 Tbsp. filling ½-inch apart along length of lower half. Moisten upper half with a wetted pastry brush and fold over, pressing down to remove air bubbles and create a seal around filling. Using fluted ravioli cutter or kitchen knife, cut between filling for 6 even squares. Cover ravioli with towel to prevent drying. Repeat with remaining dough.
If freezing: Place ravioli on a parchment-lined rimmed baking sheet and freeze completely. Transfer to a freezer bag and store in freezer for up to 2 months. Frozen ravioli can be cooked straight from frozen (add 30 seconds to cooking time).
To cook: Bring a pot of salted water to a boil. Cook ravioli for 3 minutes, or until they float. Reserve ½ c. of pasta water before draining. Return ravioli and reserved pasta water to pot. Add ¼ c. olive oil. Cook on high heat, stirring gently until oil and pasta water emulsify into a creamy sauce, about 1 minute. Serve immediately, drizzling with more extra-virgin olive oil at the table. Sprinkle with fresh nutmeg and marjoram.
Editor's Tip: This sauce is also delicious with store-bought ravioli.
---
Pair Like A Pro | Leslee Miller recommends pairing with Rollhütt Pinot Noir
"A meticulously grown wine like Peter Zemmer's Rollhütt Pinot Noir is just the fit for a spiced ravioli. Grown at a higher elevation, this refreshing gem is loaded with aromas of fresh rose petal and seductive violet to captivate the senses. Meanwhile, notes of cherry, strawberry, raspberry, and a touch of cola also please the palate."
Please call 1-866-CAMBRIA (1-866-226-2742) to confirm design availability.