Invitation Only
Designer Marshall Erb frames fabulous views and exciting art, creating an ideal spot for entertaining
Written by Paul Hagen
Photography by AIMÉE MAZZENGA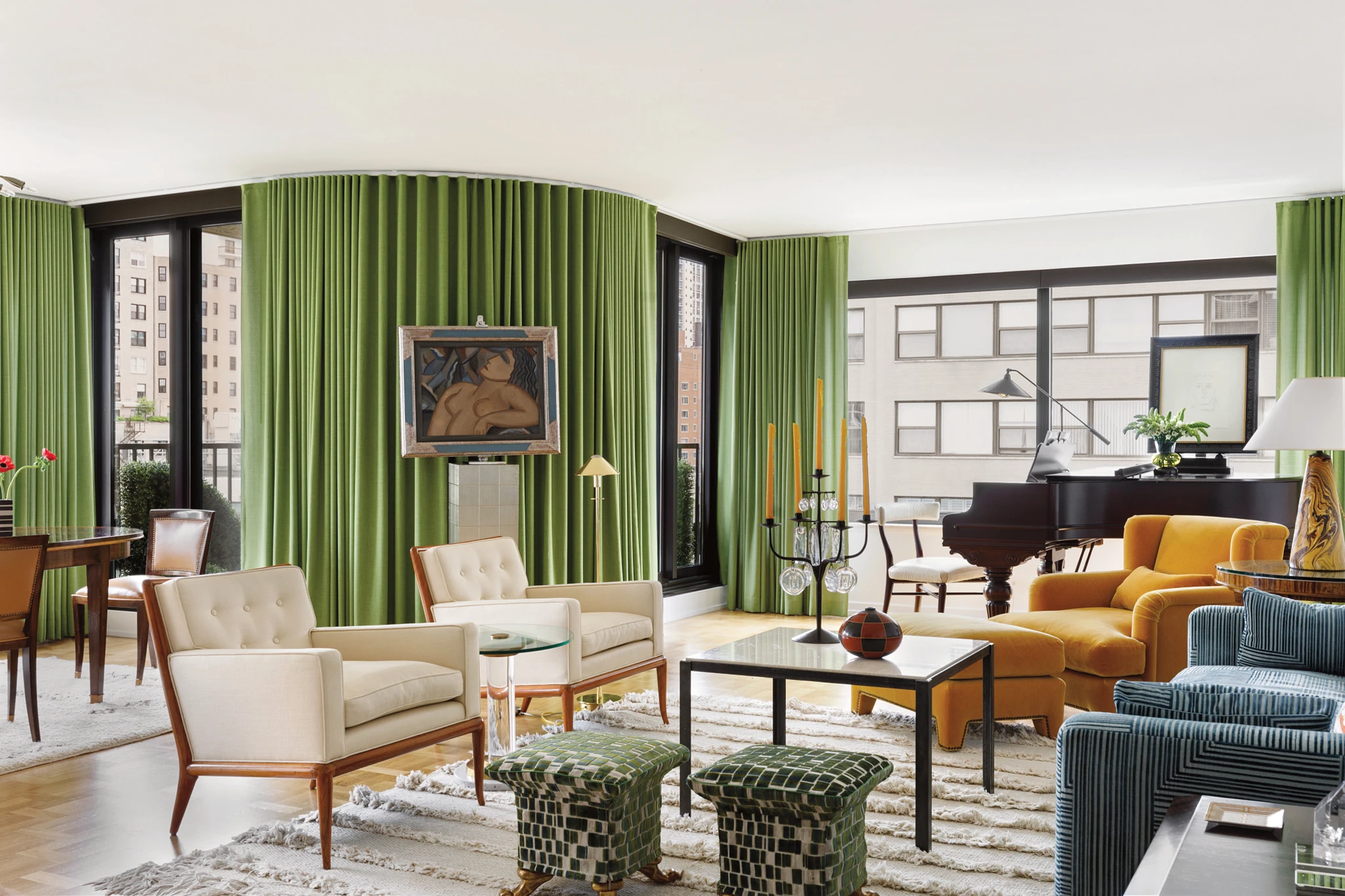 Walk into MARSHALL ERB'S extraordinary Chicago apartment, and you can almost feel a party brewing. Each room is ready to welcome visitors in its own way. "It's a slow reveal," says Erb. "You come in the front door; you make a turn. You go into a gallery, and then you go into the living room, where you've got two or three views." The open-concept living and dining room escorts the eye from a stately piano to the rich patterns of the seating area and on to the formal dining setup. Throughout, one finds exquisite art, curving walls, and verdant curtains framing exquisite views of the lake and city.
As for the kitchen and bath, Erb says that started as a tale of two unforgettable quartz slabs. "Segue to a trip that Cambria hosted for designers," remembers Erb. "We got to see the production facility and all of their designs in person, which is powerful. We're used to looking at three-by-three-inch samples," he says. "And I happened across a couple that I knew I had to have."
Though he'd chosen not to open the wall to the kitchen to keep it separated from folks mingling over cocktails or sitting down to dinner, Erb still wanted the room to be a work of art. He fell in love with the combination of two contrasting black-and-white patterns—Cambria ROSE BAY™ for the counters and a flooring he had recently been eyeing by Artistic Tile. Each is graphically bold and bubbling with movement yet nearly opposite in terms of color story. "It was a little bit of a leap of faith to use those two materials next to each other, both in such bold designs," he admits. But as he saw them fall into place beside the stainless steel cabinets and Macassar ebony wood accents, he thought, "Oh my God, this is amazing!"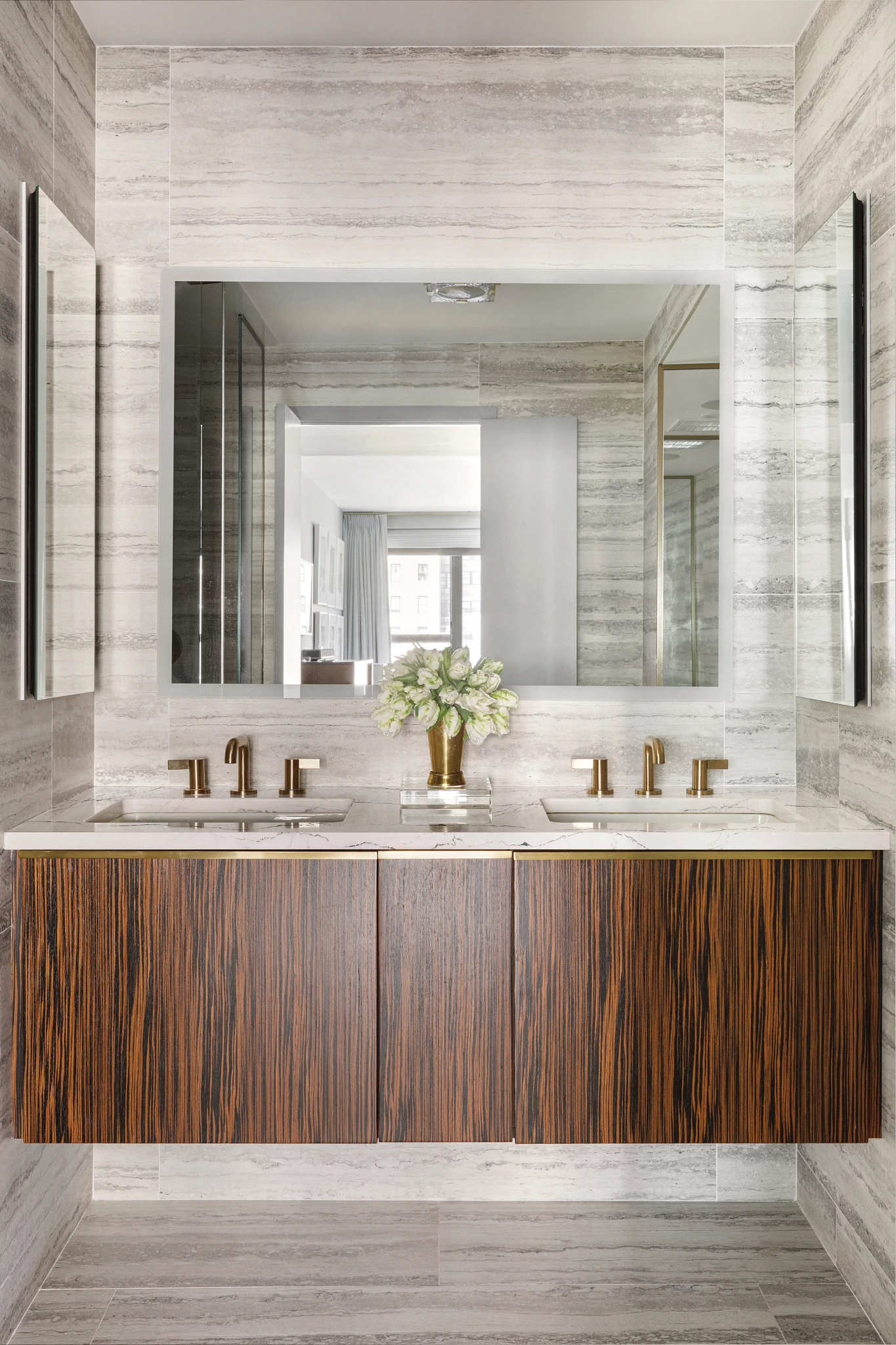 Cambria's ELLA™ countertop with its white backdrop and delicate gray veining feels distinctive but easy, both in design and function.
Erb also carried the Macassar ebony accents into the bathroom. But here, he paired it with a much simpler, lightly marbled, dove-gray surface that he describes as having an "authentic vibe," Cambria's ELLA™. "It makes the whole room feel decorated—simply with the wall tile." The fact that the material is so low maintenance helps ensure household harmony. "That's part of the reason why I chose Cambria—because I never wanted to have a conversation about a stained countertop." And Ella™ provides the classic look of marble WITHOUT THE MAINTENANCE.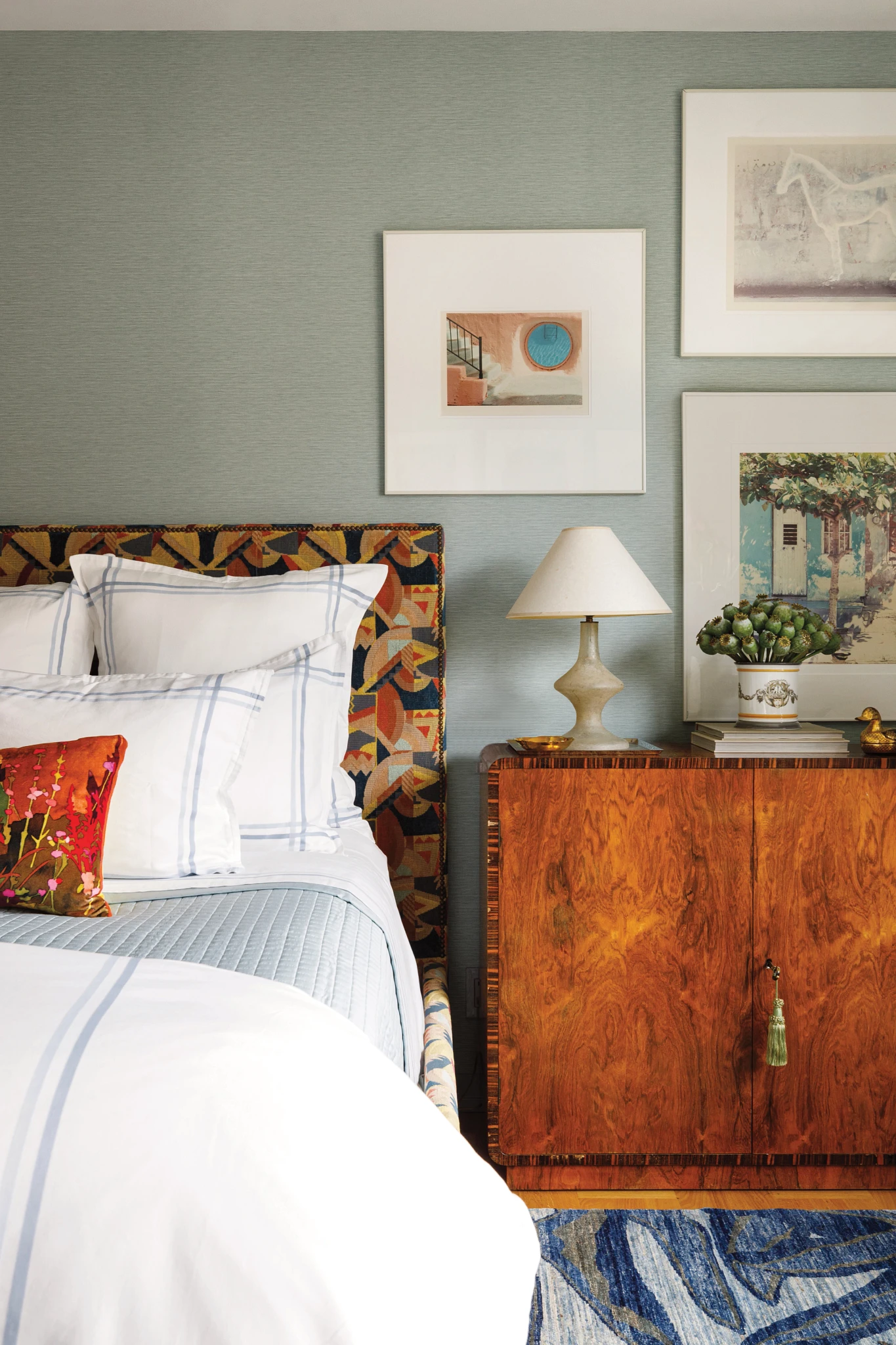 An intrepid upholsterer worked magic to upgrade this vibrant, custom headboard from queen to king by using scraps of leftover fabric from a now-discontinued print.
Other rooms provided opportunities for Erb to revive pieces of his own design history. He calls the bedroom "a distillation of a prior bedroom," its potent patterns also nod to visiting Bangkok with his partner Richard. And in space with soft, heather walls, he says, "we re-created a TV room that we had in Milwaukee." It's also where they display Richard's collection of comic books from the year of his birth. When Richard is giving the tour, he will joke to guests that it's his "only corner." But Erb seems proud—both of Richard's collection and the many ways the apartment connect them to their shared history.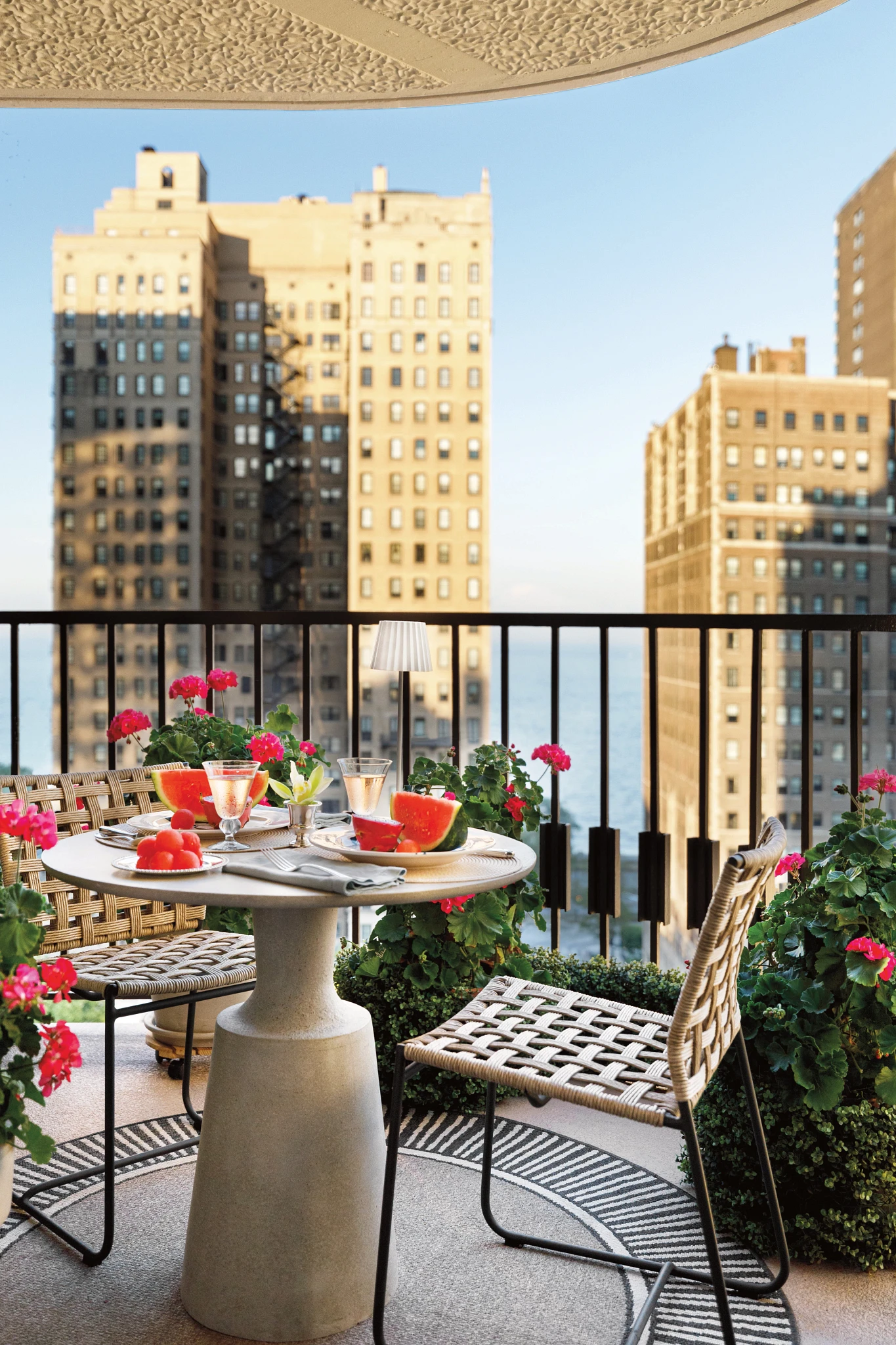 Impressive views of Lake Michigan also function as art, whether ensconced in the TV room or enjoying the balcony.
Soon, there will be more guests to tell. "Our dining table seats six to eight, which is plenty to cook for in my mind," says Erb. "But beyond that, I like to do cocktail parties," he adds. "Pre-pandemic, it wouldn't be unusual to have 30 or 40 people over." And even with its profusion of delicate art on display, Erb always has room to welcome the next visitor without worrying they'll knock something over. "It's flexible enough that you can have a piano player during the party and people can still mingle," he notes. An apartment full of intriguing art, notable Chicagoans, and a fabulous and fully stocked kitchen? We'll be on the lookout for an invitation.