Cambria Style
Into the Woods
A spacious family home brings urban modernism to rural Kohler, Wisconsin.
Dave and Jamie Van Dixhorn wanted the strong statement of a white waterfall island, but were not sold on the upkeep of marble. "With three kids, we didn't want to worry about surfaces being scratched or stained; the ongoing maintenance was simply not an option. So for us, Cambria was the perfect choice," says Jamie.
Cambria design shown: WHITEHALL™
Self-described Chicago city slickers Dave and Jamie Van Dixhorn and their three young children uprooted from the Windy City to the small town of Kohler, Wisconsin, hankering for a complete change of lifestyle. "We wanted to give our kids the childhood we had," explains Jamie. "Playing outside, being a part of nature." But they also wanted to keep a little of that urban feel they had come to love over years spent living in trendy converted lofts: things like open-plan living, huge warehouse windows, and spare, industrial materials.
What they didn't want from condo living was the lack of entertaining space or the continual up and down ping-pong of endless elevator travel. "We thought being on one level would provide more togetherness as a family," says Dave, explaining how they settled on a ranch-style home around a courtyard. (Spoiler alert: it did.) As this was to be their forever home, a single story would also allow them to stay in the home as they age. ("Not necessarily a sexy consideration, but something we had to think about nonetheless," notes Jamie.)
Scouring the market for a woodsy retreat, Dave stumbled upon a picture-perfect plot: two acres of prime woods with big tall oak trees, and even its own creek. They bought it, and so began the 18-month process of razing the existing abode and building their dream home. The goal? "We knew we wanted to design something that was significant architecturally."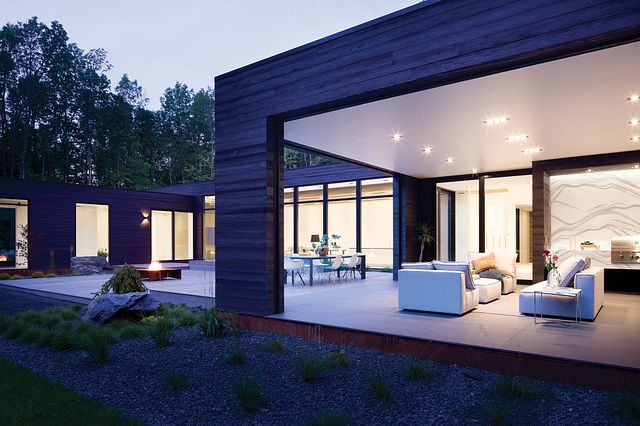 Exterior
The home centers around a generous courtyard. Charred cypress can be a maintence-free option for cladding. It requires no staining, doesn't fade over time, and is naturally resistant to bugs and termites.
From the outside, the house is hunkered down in the landscape, in essence a large black box clad in charred cypress: an ancient Japanese technique called shou sugi ban. "We liked that it was bold," Dave says, "and easy to maintain. Charring makes the wood rot-resistant. There are homes in Japan that have had it for 200 years and their owners haven't had to do anything to them."
The surprise of the house is that this moody exterior of black wood melts away when one walks inside and discovers the other side of the house is wall-to-wall glass. "In the Midwest, where the outdoor season is so limited, being able to have nature surround and almost overwhelm us was so important," Jamie relates. As the seasons change, from autumn's red and gold to winter's bare brown and summer's lush green, it's the view that provides pops of color to the home's neutral design palette. As Jamie puts it: "We don't have a great deal of art. Really, the art is the woods outside the windows."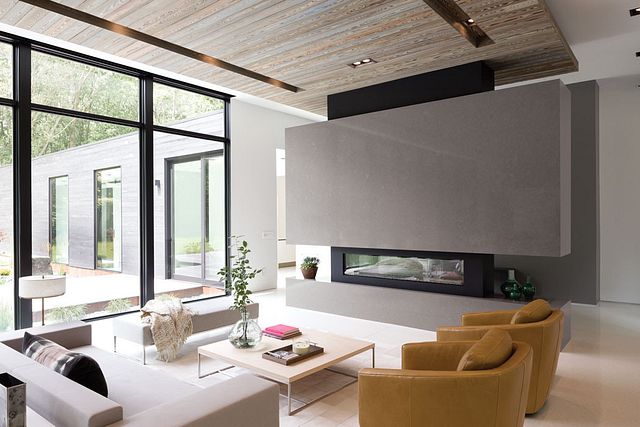 LIVING ROOM
Mammoth seamless slabs of Cambria stone make for a highly contemporary fireplace surround with mega impact. So how would the couple sum up their home? "Tidy!" says Dave with a laugh. "There are not a lot of objects to demand your attention, and that creates a peaceful environment." Love of such modern minimalism—and the demands of a young family—drove the couple's choice of Cambria stone, which tops all counters and defines the streamlined fireplace. 
Cambria design shown:
CARRICK™
---
We wanted the look and feel of natural stone,
but not the worry that goes along with it.
Cambria is just effortless, while still looking the part.
---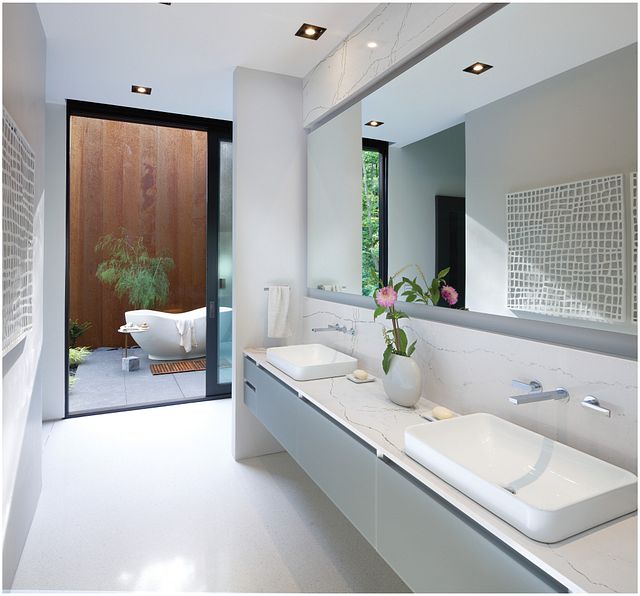 MASTER BATHROOM
"As we were laying out the master, the space began to seem tight—the opposite of how we wanted the house to feel," explains Dave. "So, we put the bath outside instead, and it turned out to be a really cool space." Kohler's Abrazo bathtub was chosen for its ability to withstand the elements, even snow. The backdrop is a wall of rusted Cor-Ten steel, providing privacy from the road.
Cambria design shown:

 ELLA™
Powder Room
The Van Dixhorns kept it local with bath and kitchen products, choosing Kohler's luxury line for the entire home. 
Here, a black-glazed Vox basin is paired with Cambria natural stone in CAMBRIA BLACK™, both a perfect match to the charred-wood wall.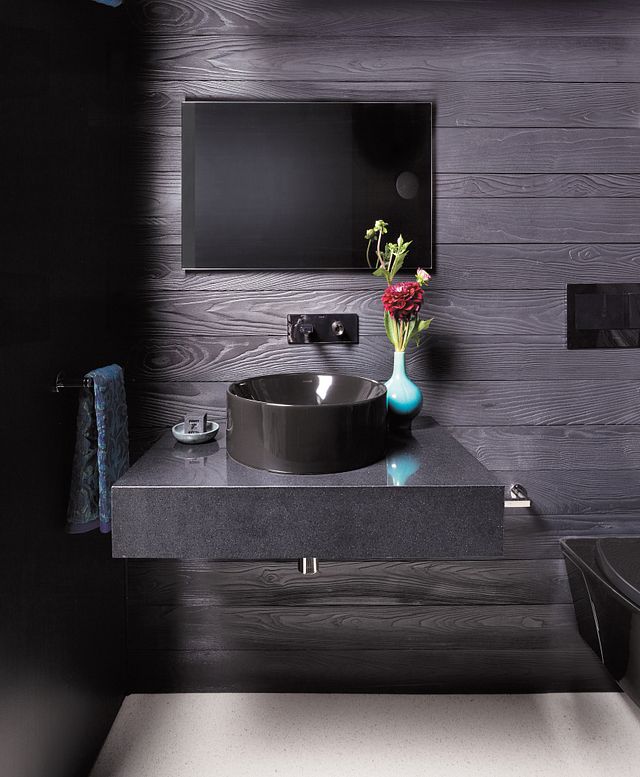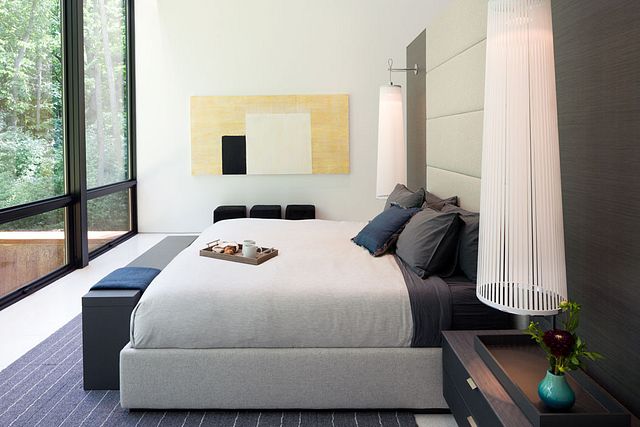 MASTER BEDROOM
The serene master, vivified by a canvas by Chicago artist Adam Siegel, overlooks the property's two acres of woodland. The couple love cozying up by that fireplace come winter. But during the rest of the year, they can most often be found on the expansive porch, whether hosting a dinner for visiting friends, kicking back with the kids, or relaxing with a glass of wine and a good book. It's safe to say, these city slickers haven't looked back.