Inspired by Nature
A sensitive renovation gives a young family's home a more practical layout and a smart, sustainable new design
Written by DIANE CONRAD
Photography by COURTNEY AND CHRIS HARTFORD
It's a conundrum many families have faced: a house that's in the right location and is the right size ... but still somehow doesn't feel like home. "These clients came to me because their house wasn't serving their needs—but they could see its potential," says designer Kathryn Pilon of Chatham, Ontario-based INDEX DESIGN STUDIO. "We spent a lot of time talking about their life and how they currently lived in their home and how they wanted to live in it. And then we took the whole main level down to the studs and started from scratch."
The renovation had two important goals, and one major limitation: The clients—parents of three young children—wanted a more effective main-floor layout with comfortable and practical living, entertaining, and working spaces, and a lighter and brighter look, but they needed to complete the update without changing any exterior doors or windows.
So Pilon worked within the existing structure, removing a long dividing wall down the center of the home and vaulting the ceilings to create an open and airy shell for the new floor plan. Pilon then split the existing living room—a very large, long room—with a two-sided fireplace, creating a multipurpose nook on one end that flows into the kitchen. The kitchen got a redesign, too, with a new center island with seating for six. Finally, the designer upgraded the existing laundry and powder rooms, swapping their locations to enlarge the laundry room and give it a new window.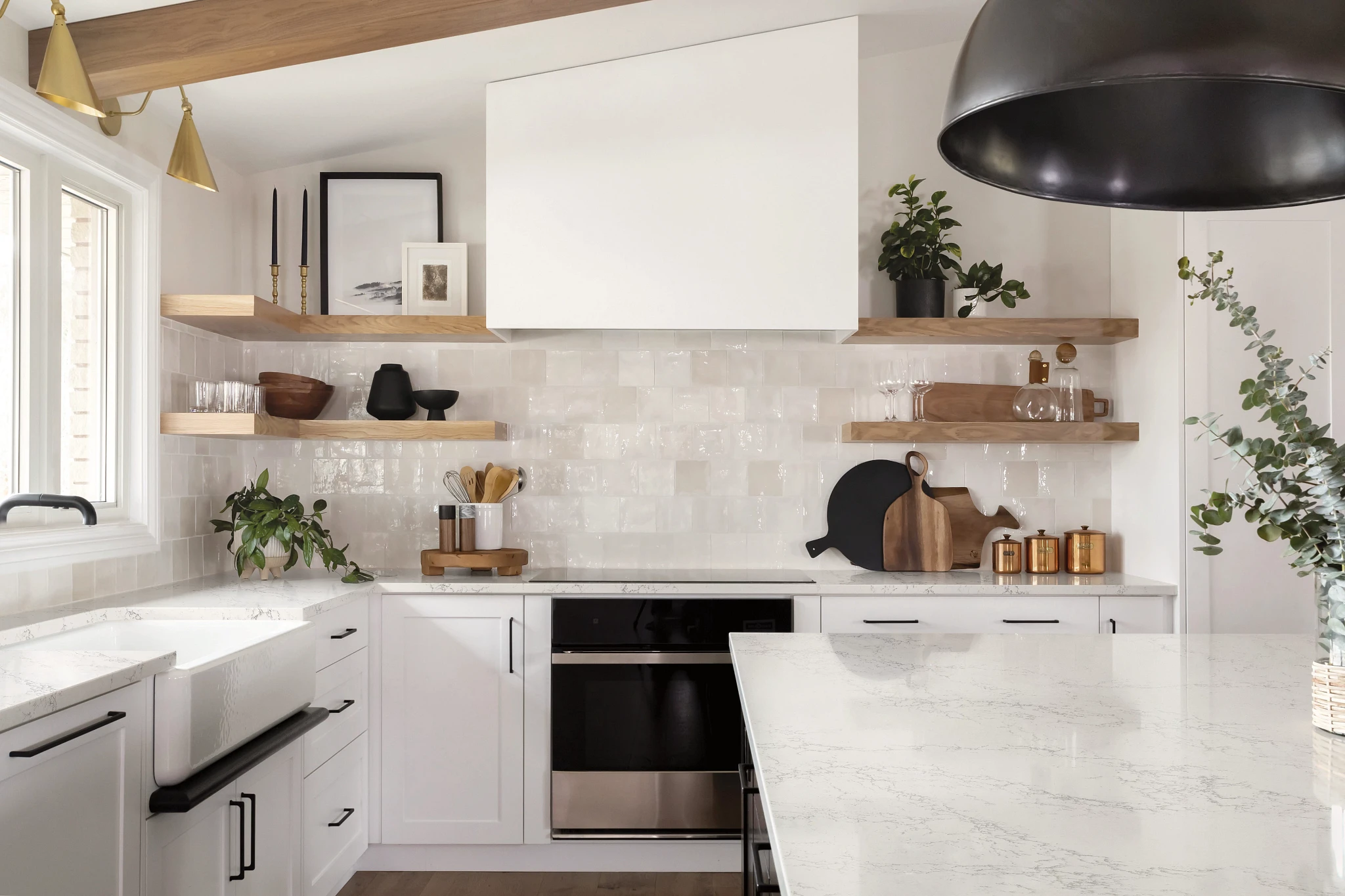 In the kitchen, a white palette is warmed up by a mix of wood tones, metallic accents, and the subtle variations of handmade clay tiles on the backsplash. Cambria design shown: COLTON
With the layout in place, Pilon set about creating a look and feel that fit the family's outdoorsy vibe. "The motto for this whole project was 'inspired by nature,'" she says. "The clients had recently redone their landscaping and love spending time outdoors, and they wanted to bring that natural feeling inside. They were also very intent on choosing sustainable, North American–made products throughout. These priorities guided everything we did."
Those natural influences shine through in every revamped room. In the kitchen, walnut-stained beams lend warmth to the soaring ceiling, echoed underfoot by new oak floors and by floating wood shelves at eye level. The large center island pairs a crisp white Cambria COLTON countertop with a deeply stained base, introducing a third wood tone, "without being too matchy-matchy," says Pilon. On the backsplash, handmade clay tiles introduce varied texture and a bright, reflective surface. Oversize black pendant lights lend drama above the island.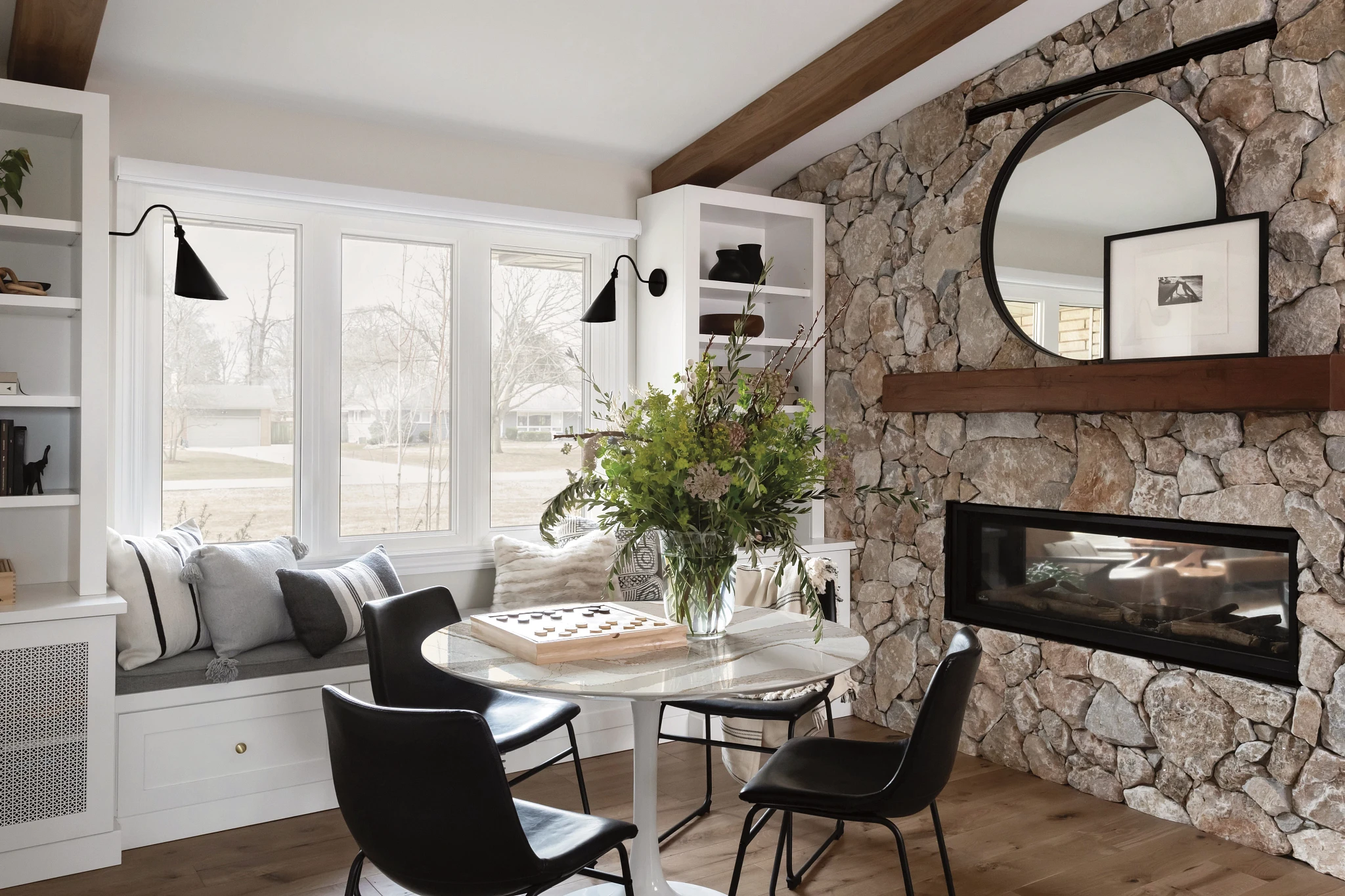 A new double-sided fireplace creates a cozy nook just off the kitchen, a perfect place to curl up with a book or come together for study or a board game. Cambria design shown: BRITTANICCA GOLD COOL™
Flowing from the kitchen is the new seating nook, grounded by a double-sided fireplace of locally sourced stone and brightened by a cozy window seat. It's a flexible, multipurpose room of the type often included in new construction plans, but harder to come by in older homes. "A flex room is a great feature for almost any home," Pilon says. "And it was really important for this family. They regularly host small groups, and this new space gives them another area—besides the living room, dining room, and kitchen island—where people can gather. And it's perfect for the kids to do homework, or crafts, or play games."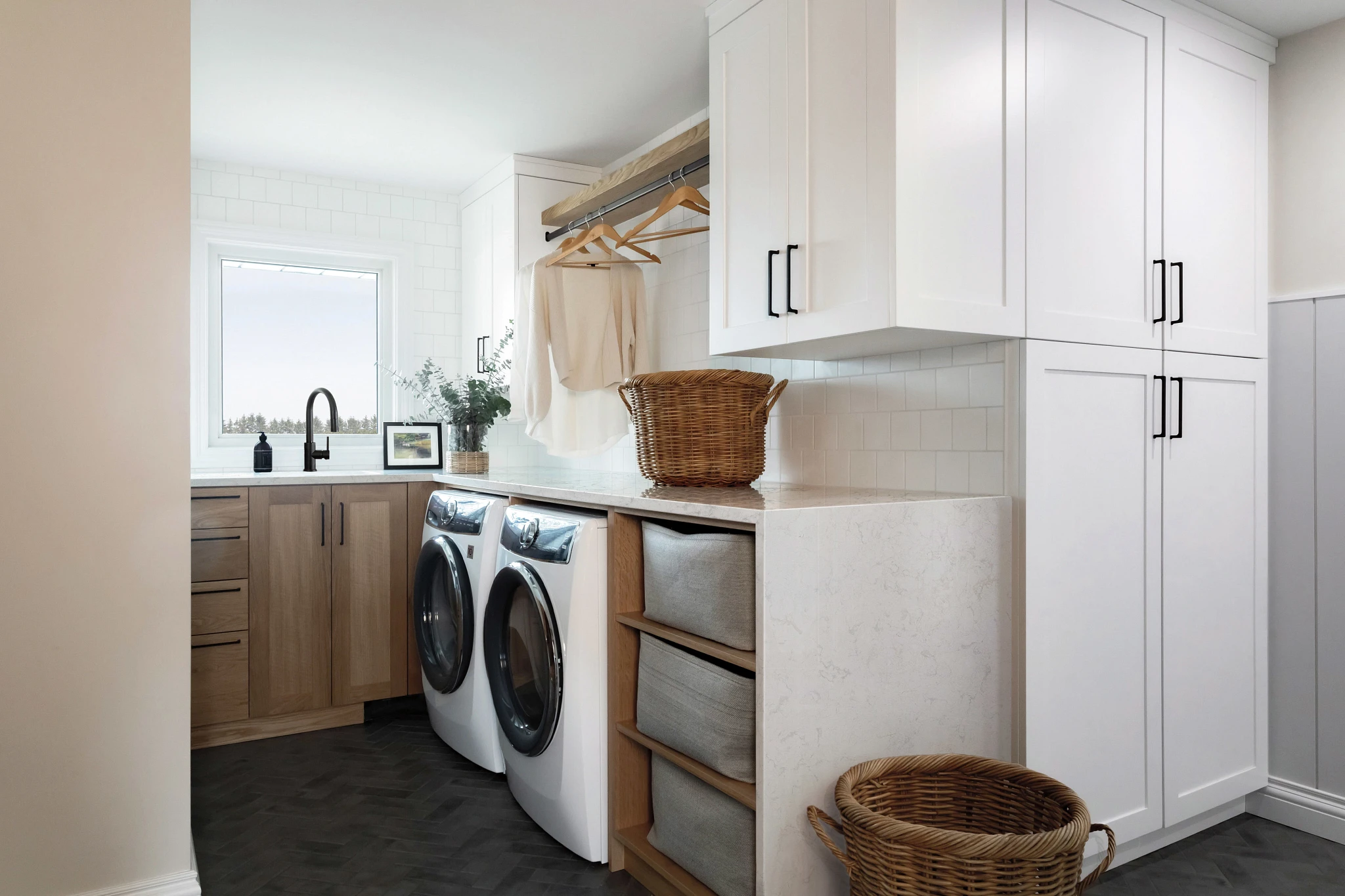 A new window floods the laundry room with light. Conveniences include a drying rod for hanging hand-washables and Cambria's TORQUAY™ on the counters.
Another smart and practical feature for this busy young family: the upgraded laundry room. Pre-renovation, the laundry room was small and windowless, woefully inadequate for a busy family of five. Swapping its position with the existing powder room let Pilon create a combination laundry/mudroom with plenty of light, storage, folding surface—courtesy of Cambria's TORQUAY design—and even a sink.
This reimagined home now fits its family's lifestyle to a T—and it also fits their commitment to sustainability and healthy living. Well beyond having a "natural" look in the interiors, the homeowners wanted their home to be an example of good stewardship of the natural world. "It was so important to the clients to choose materials that they felt good about," says Pilon. "That's why they chose Cambria countertops, for example. They wanted a health-conscious, non-toxic, and long-lasting material—and they loved Cambria's commitment to responsible resource management."
Easy to live in, easy to share, and easy on the planet—this renovation delivered on all the homeowners' dreams. And its natural beauty is easy to admire, too.