In Real Life
ENTERTAINER AND BUSINESS OWNER SARA FOSTER DISHES ON DOMESTICITY
Written by CAROL LINN
Photography by GEORGE HOLZ
Sara Foster wears more professional hats at once than many people do in a lifetime: producer, investor, social media influencer, company owner. But the identity her sunny west L.A. home proclaims most loudly is "happy mom." Family photos of Foster, her husband—tennis pro Tommy Haas, and their daughters Valentina, 12, and Josephine, 7, are everywhere. Bookshelves flank a bedroom-adjacent sofa made just for reading and cuddling. A spacious kitchen with Cambria counters is the prep site for nightly family dinners.
Foster and Haas bought the house before their daughters were born, and it was, she says, "the first place we put down roots." Those roots have proven long-lasting. The house is lovely but unpretentious, and Foster says she sometimes longs for more room and a yard big enough for a pool and a dog. "But every time we talk about moving, the kids cry 'I'll miss my bedroom!'" So not quite two years ago, she opted to bring light to its dark, dated kitchen. New paint and hardware helped, but installing Cambria COLTON on the counters and backsplash, a rich cream inscribed with gold and charcoal, really transformed the space. "I walk in now and feel ... zen," she marvels. "The brightness actually changes my mood."
Cambria, also used on the family room fireplace surround, was a natural choice. Foster's father, music industry legend David Foster, is a longtime friend of Cambria President and CEO Marty Davis, a relationship that Foster enjoys as well. "I love Marty because he's such a family guy!" she says. "Even though his kids are older, they're still his world." She also values a product that's made in America—particularly since she herself became a business owner and knows that option isn't always easy. "I have so much respect for someone who's figured out how to make it work."
Best of all is Cambria's durability. "A lot of cooking" happens in their kitchen, she says, and "my old counters, which were marble, were thrashed. We air-fried a turkey one Thanksgiving, and it left a burn on the marble. I put lemon in my water every morning, and the lemon juice stains marble. With Cambria, I've been able to do virtually anything and my counters still look brand new."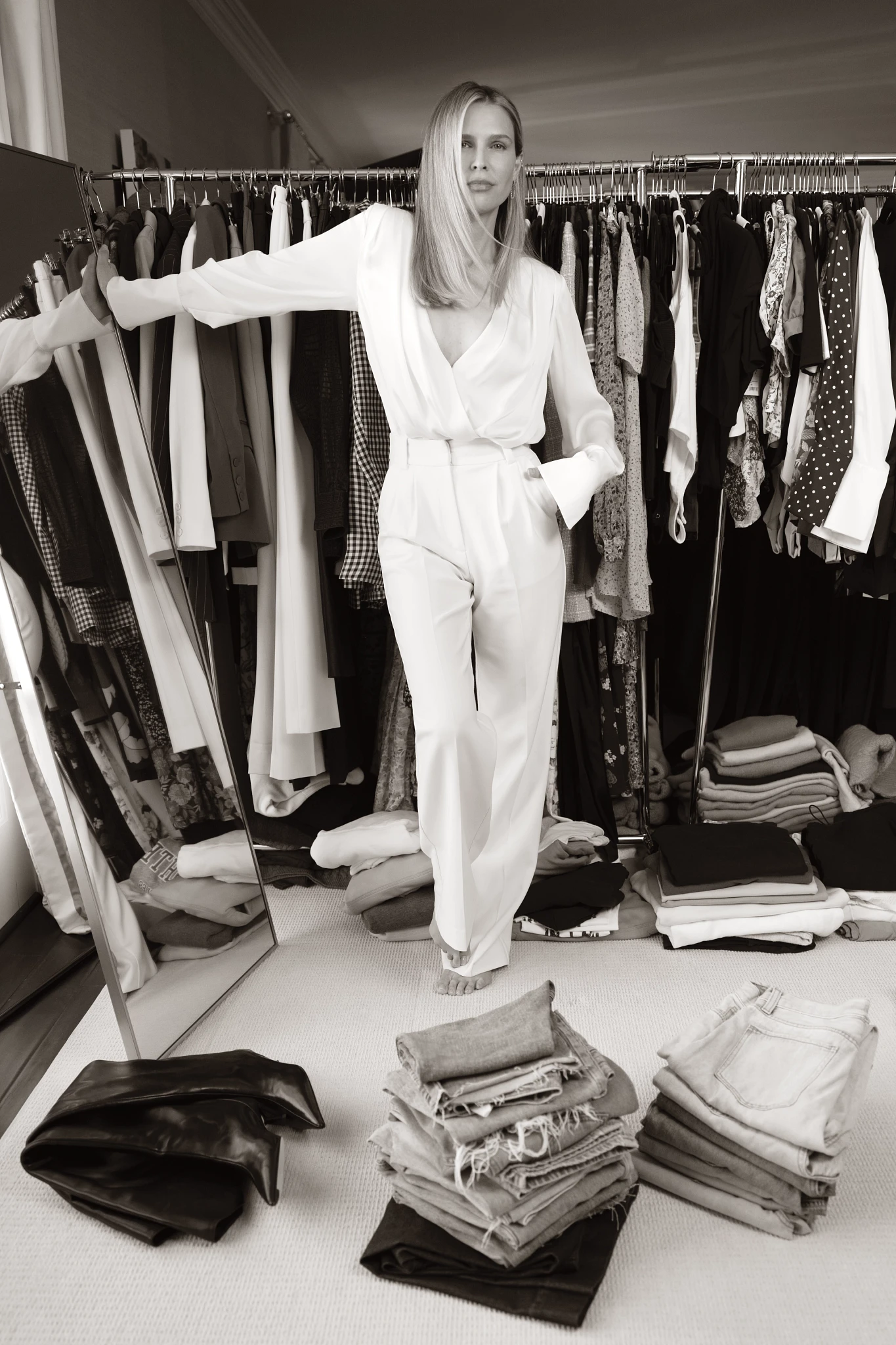 Nothing about Foster's immersion into domestic life was predictable. Her father and mother (actress Rebecca Dyer), divorced when she was five and life afterward was non-nuclear in the extreme. "I grew up with two homes, other marriages, stepchildren, and a lot of people coming and going," she says, adding bluntly, "I got comfortable really early taking care of myself. Now the way I approach parenthood and family is to work really hard to keep the unit thriving and loving. To keep it together at all costs."
The range of her career success was another surprise. She acted and modeled through her 20s, but it wasn't until she was over 30, she says, that "I came into my own." That was when she and her younger sister Erin, a TV writer, took a leap of faith and created a cable TV show for themselves. "We were both in careers where we had to wait to be chosen," says Foster. "We wanted to take back the power."
After Barely Famous, which ran two seasons and parodied celebrity, the glitzy entertainment world, and themselves, a lot of doors opened. Today, the Foster sisters' empire includes the tongue-in-cheek podcast titled the "World's First Podcast," a venture capital fund, and a successful clothing line, "Favorite Daughter," which is sold online and at a variety of stores, including two of its own in the L.A. area. Its classic-casual pieces are aimed, as Foster puts it, "at the woman who wants to feel chic but who isn't going to spend a fortune on a pair of pants."
Of all her successes, becoming a fashionista was the most unlikely. "Erin and I run in real fashion circles, with women who spend a lot of money on designer clothes, but that's not us," she says. But when the global apparel company Centric Brands suggested it might be fun to put some of the sisters' "hilarious" social media captions on T-shirts, her instinct was why not? The shirt emblazoned with "'Favorite Daughter," a poke at sibling rivalry, "sold out like crazy. And we thought 'this has legs.'" The venture is a partnership, which means the details of manufacturing and supply chains are left up to "actual professionals who know what they're doing," says Foster. "But not even a T-shirt gets made without us touching, feeling, and wearing it."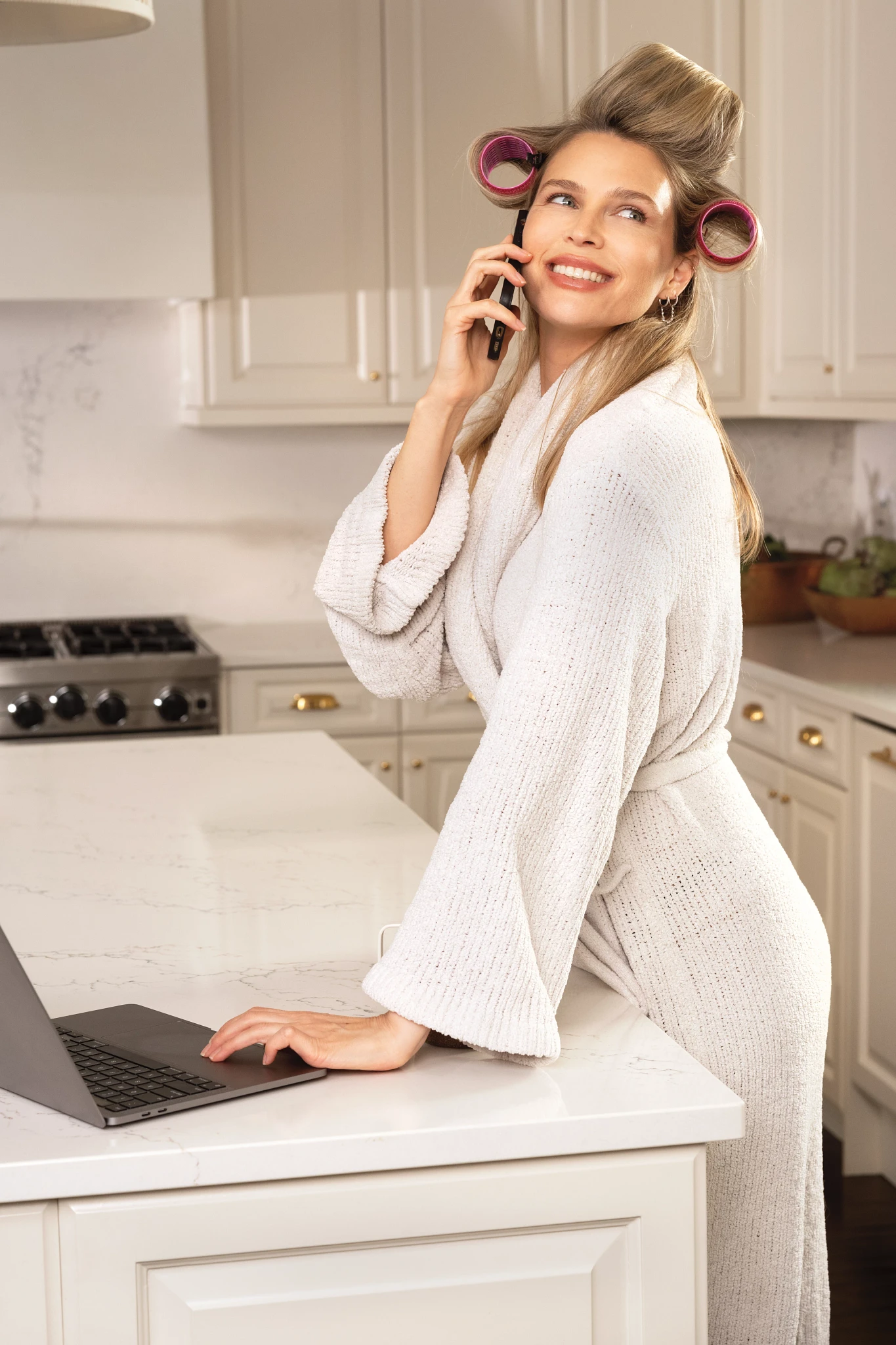 Foster has always been savvy about brand building. "You need more than a great product, you need a story," she says. Her own brand has always been that of a woman who's somehow both spectacularly good looking and accessible. Maybe it works because it seems genuine. The podcast she and Erin produce sounds very much like girlfriends talking: "You quit your job?" they breathlessly ask one very accomplished guest. "Was it scary?" An Instagram photo of Foster in evening wear is captioned, "How quickly the glamour of the night fades when you come home to a dirty kitchen and kids who are still awake." Ask her how she manages to balance her professional and domestic responsibilities, and she sighs.
"In the real world, women work 9 to 5 then go to a night job. Teachers deliver food for DoorDash. I have a nanny and a mother who lives 15 minutes away, the most hands-on grandma you can imagine. Whenever I hear celebrities talk about how hard their lives are, I think 'please shut up!'" She aims to bring that same sensibility to the clothing line that fills her own walk-in closet. "We want to be sitting at a table where everyone feels comfortable. We want to have inclusive sizing. We want everyone to be able to see themselves wearing Favorite Daughter."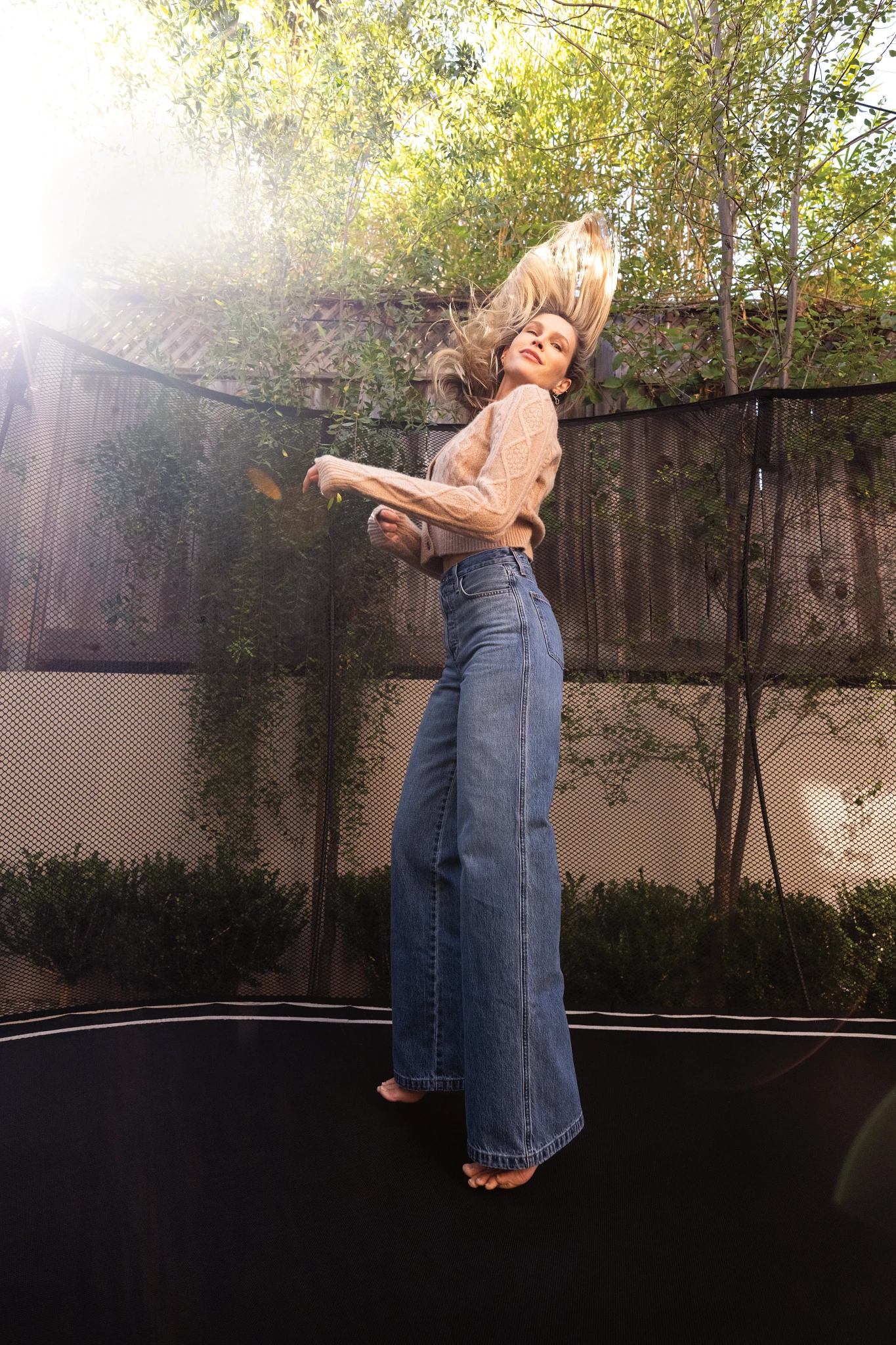 Accessibility goes double for her life as a mom. "You have to be present. I work all day, so I'm home most nights. It's important to me that I put my daughters to bed and that I'm there every morning to get them ready for school. That's time you never get back."
"Maybe I'm overcompensating, but I want them to know they can lean on me forever," she says happily. "I'm going to be parenting my kids until the day I die."