Hand-Applied Color & Pattern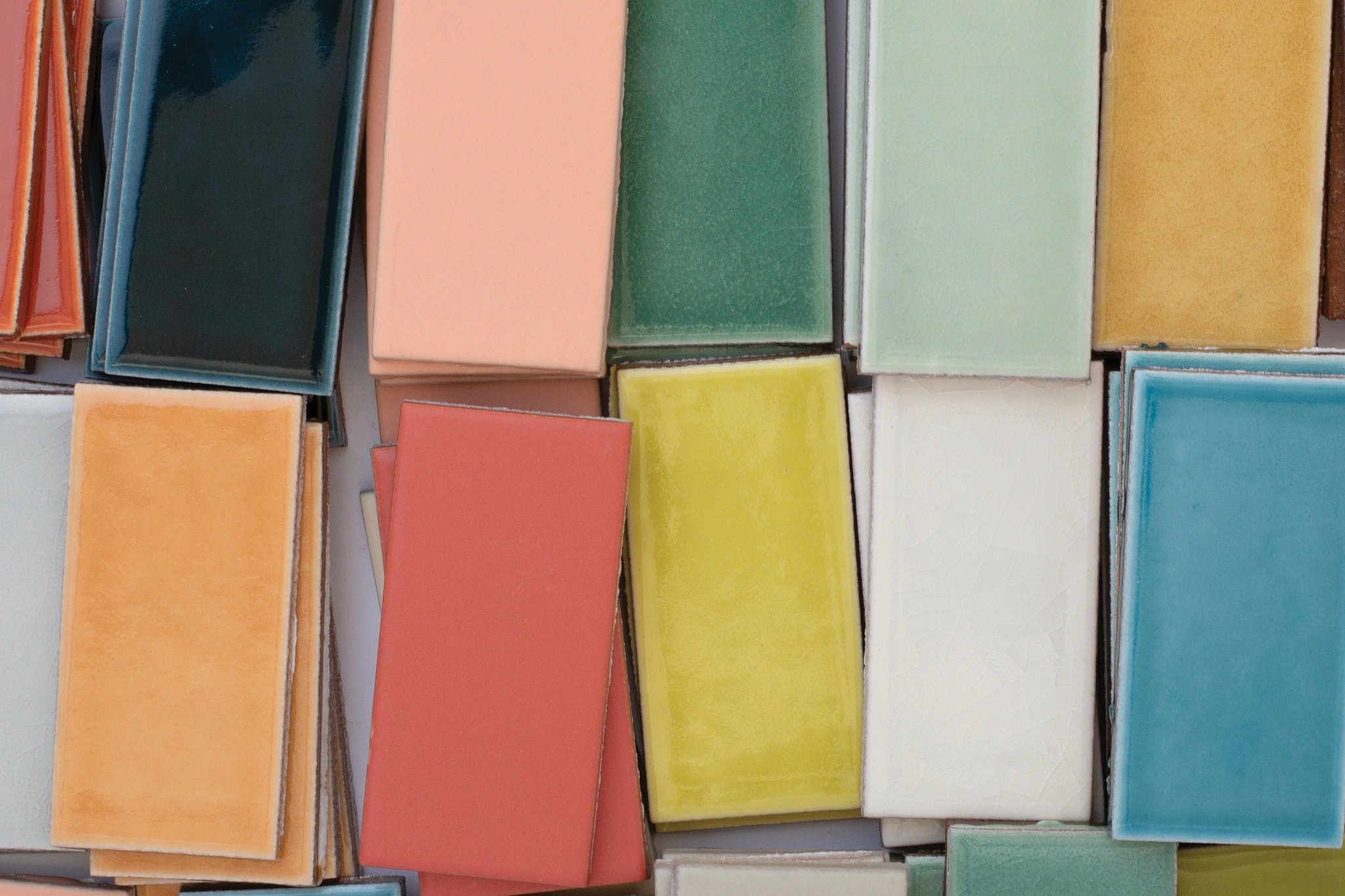 Photo courtesy of Fireclay
The secret to designing a home you love to live in? Giving every space the personal treatment, so you see yourself—your style, your lifestyle—reflected wherever you look. And that means treating walls and surfaces to colors and patterns you love, the more unique the better. Here's a look at three artisanal makers creating inspiring handcrafted wall coverings, tiles, and more.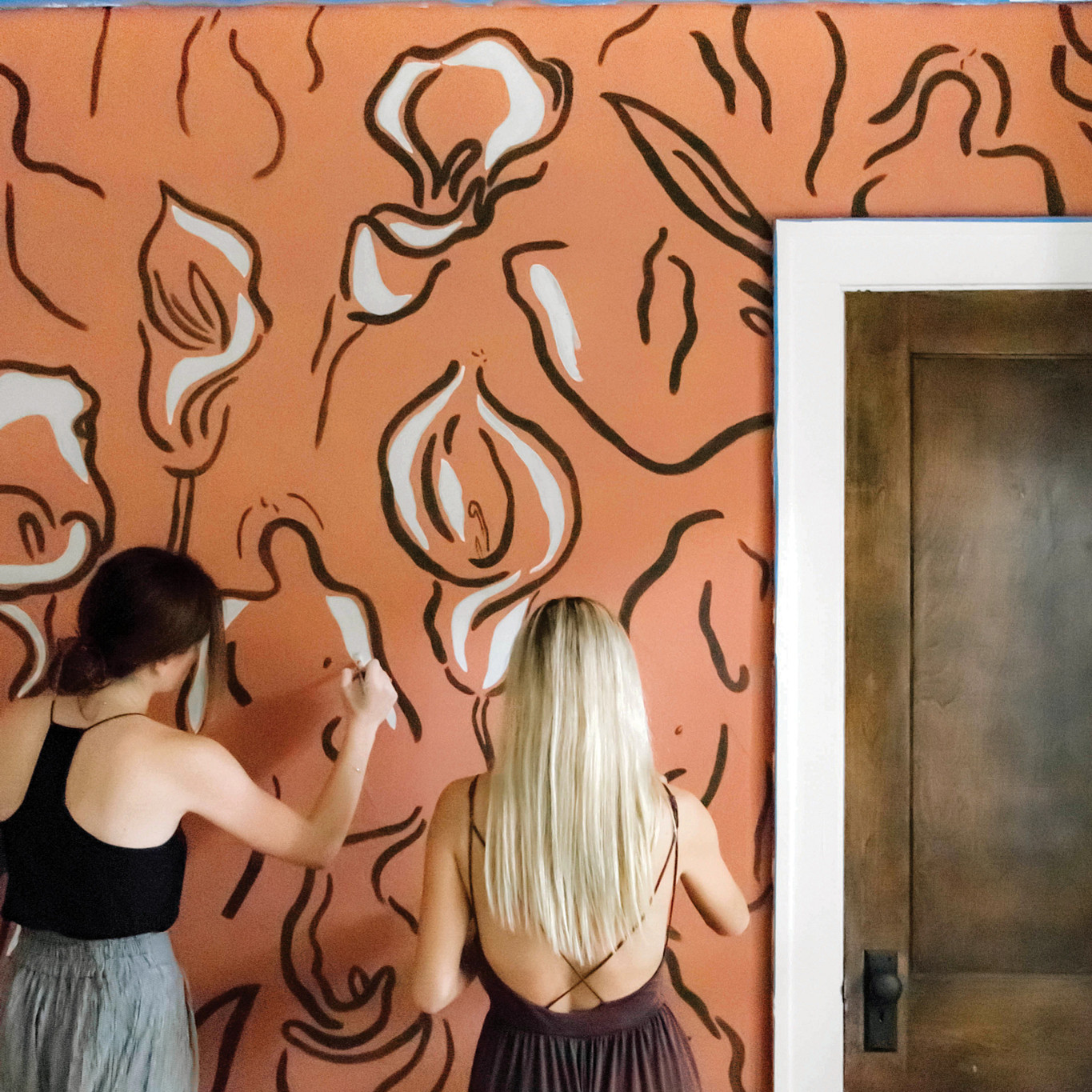 Hand-painted wallpaper by small companies like She She offers the opportunity for personal reflection, creativity, and even expressing heritage. Photo by 2nd Truth
One-of-a-Kind Wall Coverings
Interior architect Jennifer Jorgensen and illustrator Kate Worum know plenty about making a statement by hand. Though they once fantasized about creating super-sustainable wall coverings out of pine needles or birch bark, they ultimately decided to build their company, SHE SHE, around one of the most sustainable resources: their own womanpower. With hand-painted wallpapers as their signature offering, this Minnesota company soon expanded to create other designs and textiles as well.
This customization process, which was once reserved only for the upper echelon of homeowners, has become a more viable option. Whether it be sending in your design to a company that prints wallpaper for you, like Spoonflower, or sitting down for an hour-long ideation session with small companies, like Jorgensen and Worum, the goal of either route is to ultimately provide one-of-a-kind pieces of art that realize those personal ideas. From abstract shapes to natural inspiration to color washes, the limit for these customized walls is really as broad as one's imagination. She She has even created work inspired by some of Cambria's iconic quartz countertop designs, another company proud of its Minnesota roots.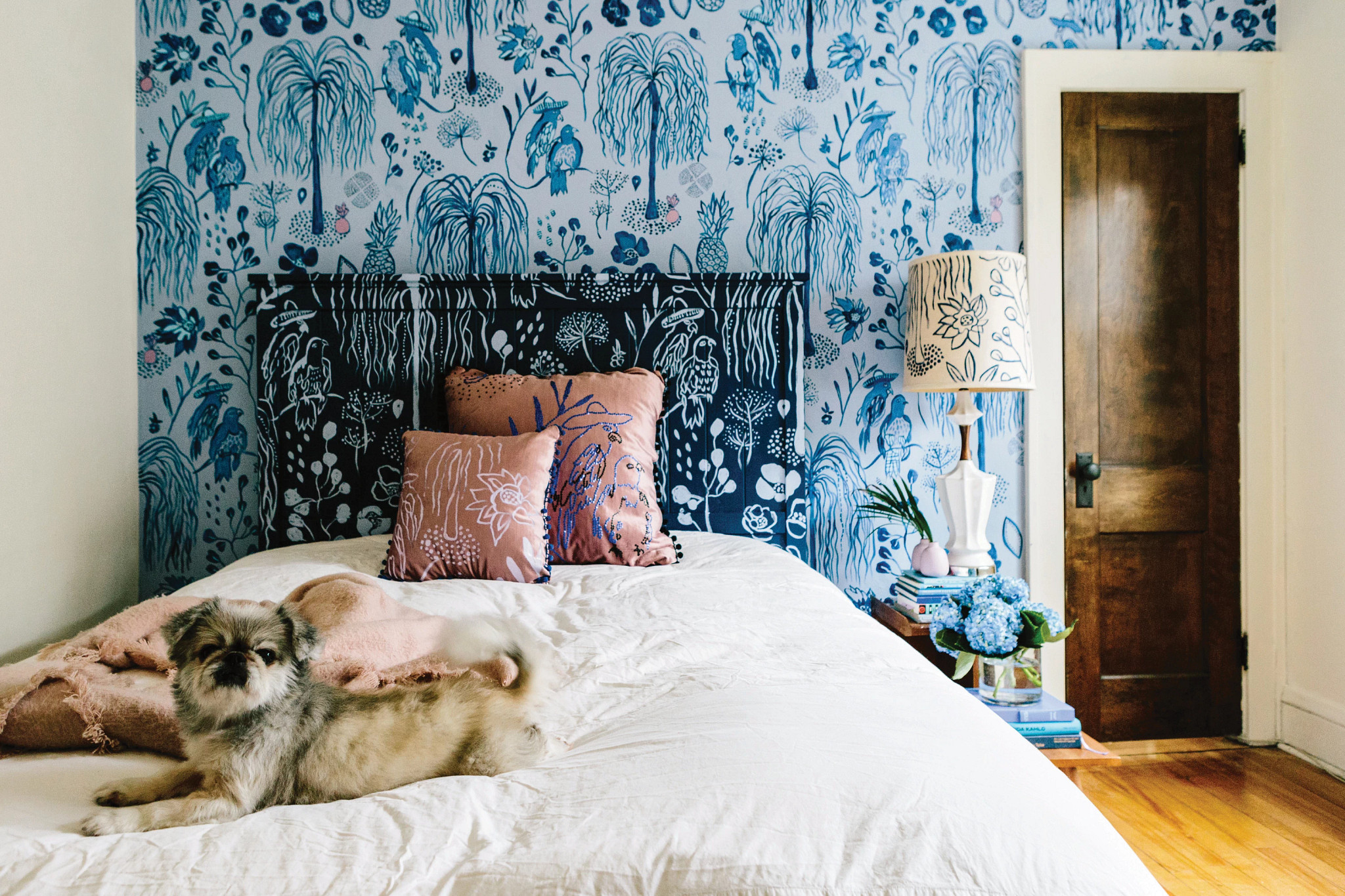 ---
Patterns Inspired by the Past
Perhaps you would have been a perfect fit among the finery of the Victorian era or the feisty flappers of the Roaring Twenties, or just really love the décor and wallpapers of that era? You may not be able to time travel, but your walls can with help from ADELPHI PAPER HANGINGS. Based in bucolic Sharon Springs, New York, Adelphi not only meticulously researches and rediscovers long-lost wall covering patterns, but it also re-creates the papers using materials and methods that honor their vintage origins.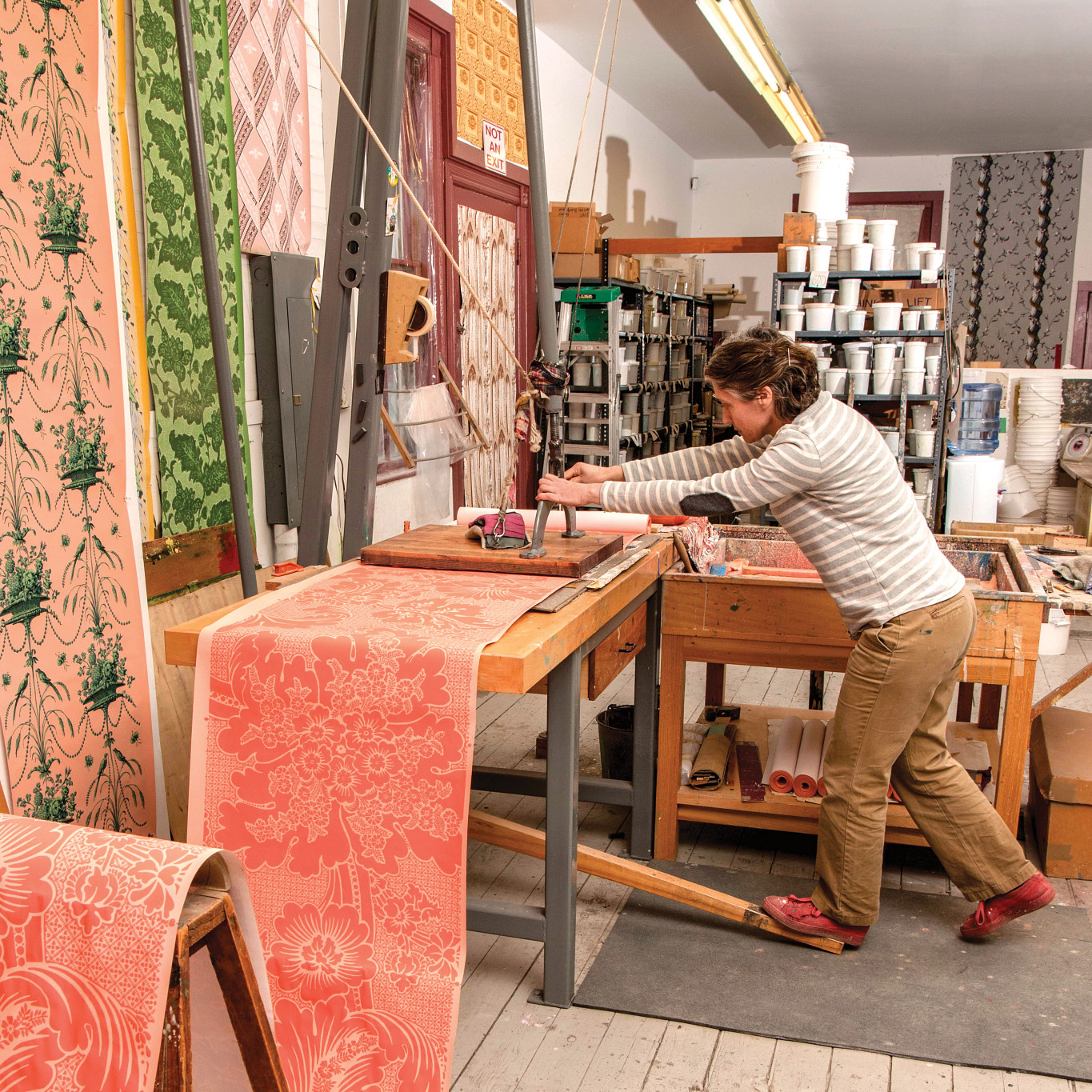 Adelphi applies patterns via carved blocks, pressing and drying repeatedly to layer shapes and colors.
Working on a 19th-century-style printing bench and using methods historically accurate to that time, Adelphi artisans press patterns onto paper using a series of carved woodblocks. For example, their Adelphi Butterfly Chintz requires 27 blocks to achieve all the necessary layers of shape and color. Its paper stock closely matches the appearance, texture, and weight of those used in the 18th and early 19th centuries. Adelphi even uses paint designed to mimic the look and feel of the type once used to create such papers (with a modern twist for ease of use). They even offer seamed rolls for those seeking maximum historical authenticity.
The designs have been exhaustively researched to re-create patterns found throughout archives in the United States, England, and France, in addition to the custom designs they've re-created for clients. In many cases, the first steps in that process involve reconstructing the pattern from samples damaged by everything from their original installation to the passage of time. What's more, Adelphi is so dedicated to authenticity that—unless they determine an original pattern was printed inaccurately—they will not alter it.
---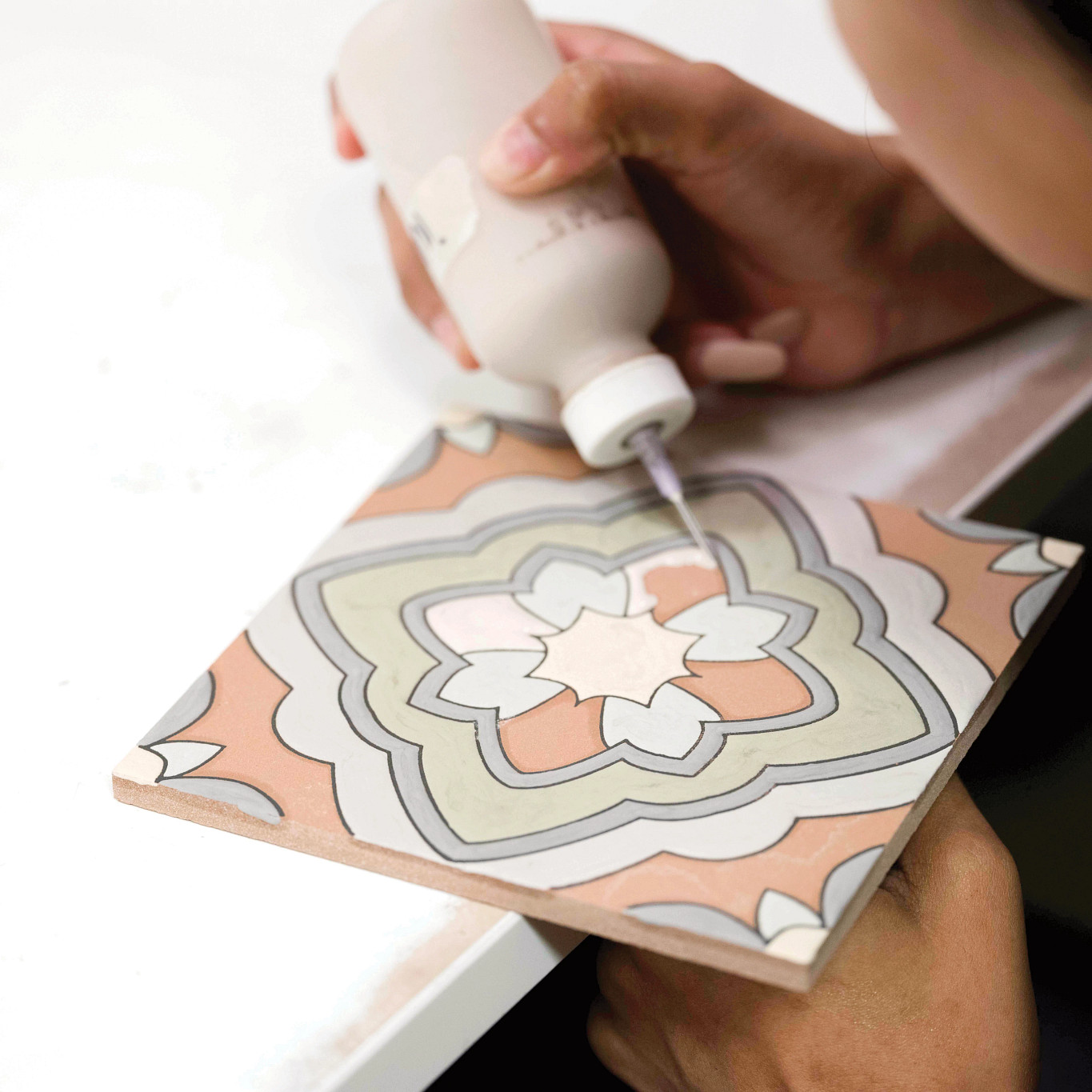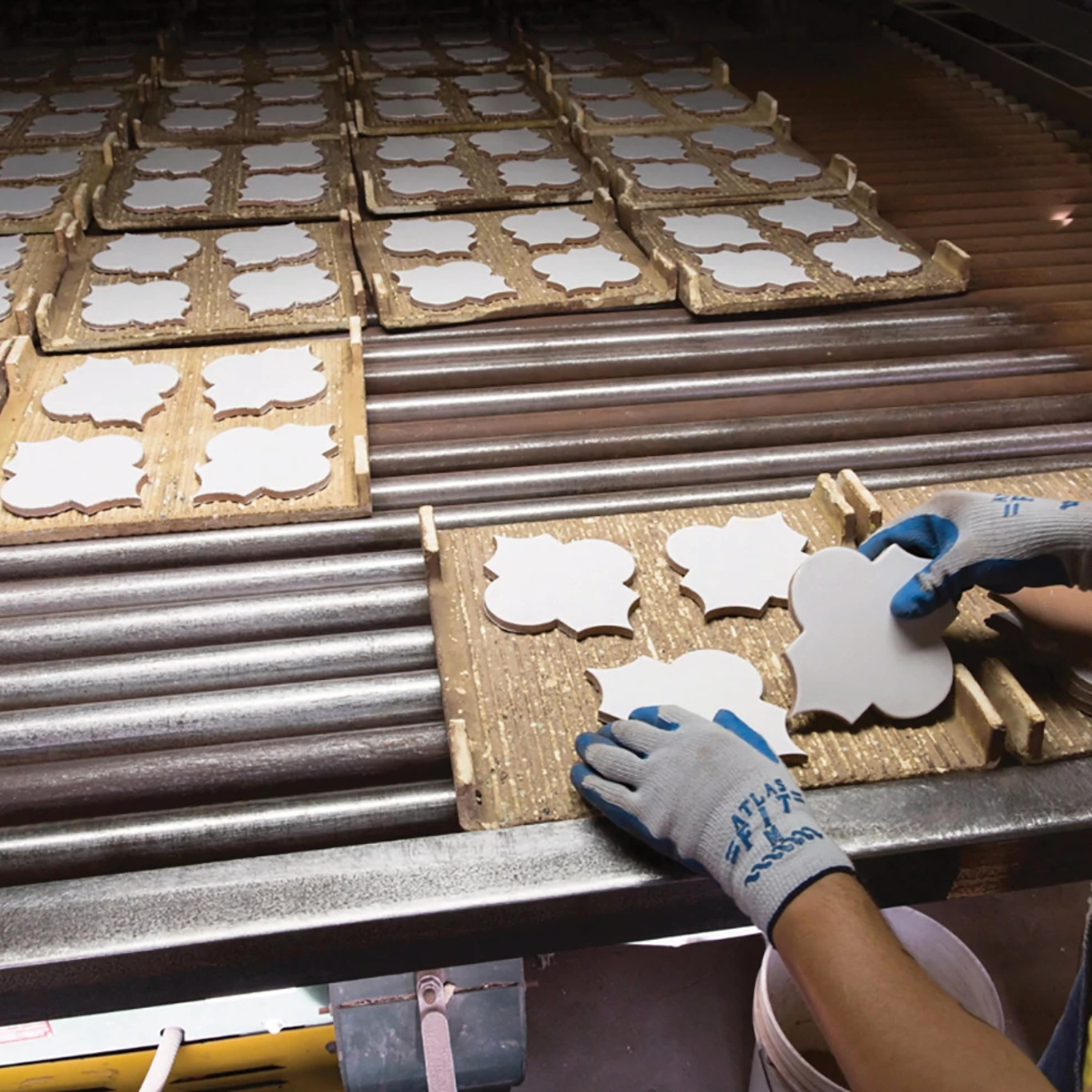 Every step of Fireclay's creation process, from inspiration to handpainting, is shaped by the keen eyes and skilled hands of its craftspeople, making every tile unique. Design by Anne Sage; photo by Monica Wang
Tile with an Artistic Spirit
There's another kind of wall that hearkens back to the oldest forms of shelter known to humans: those made of adobe bricks. These are the ancestors of the brick, ceramic, and glass tile now made by California-based FIRECLAY. Fireclay's Jamie Chappell points out that—though their products come in a much wider array of colors and textures than those made thousands of years ago—both are, essentially, the result of raw materials, sourced from the earth and exposed to heat.
When it comes to embodying a sense of individuality, Chappell notes that, to a certain extent, everything they create is custom. Once a homeowner chooses their colors and shapes, their tiles are then made to order specifically for that project. Fireclay also can develop custom colors, sizes, or patterns for larger projects; Chappell notes this rarely happens in non-commercial situations, however, because the minimum order is large.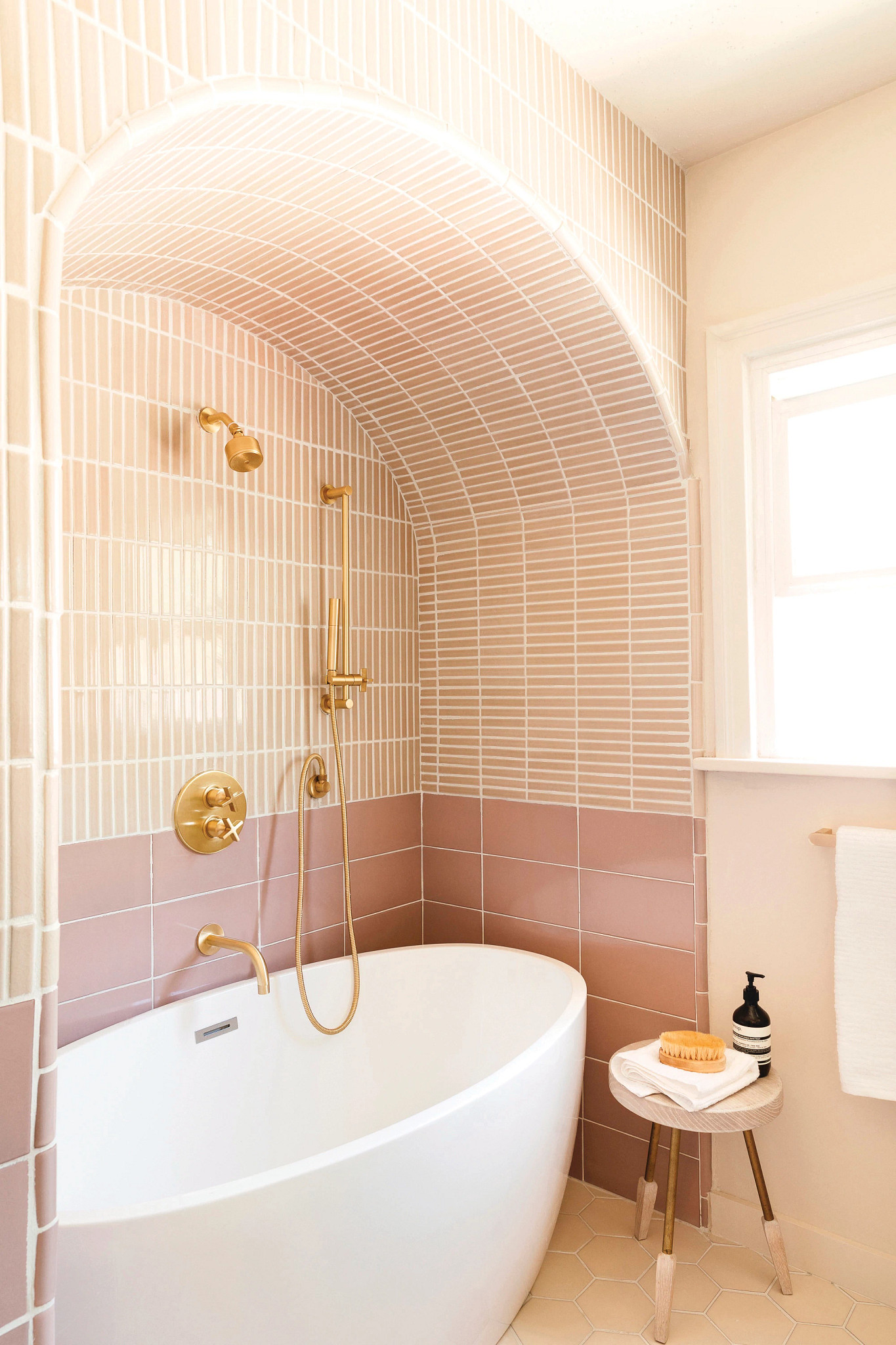 Combining custom textiles and wall coverings can lead to unprecedented levels of coordination.
That said, homeowners often customize hand-painted tiles by selecting which colors to include in their particular patterns. Chappell jokes that most people they work with find the hardest part of the process is committing to final color choices because Fireclay offers 111. Chappell also points out that because applying the glazes that create these hand-painted pieces requires skill, their team includes artistically inclined individuals like hobby ceramicists, photographers, painters, sculptors—even aspiring tattoo artists. And because these artisans bring their own personal style to the pieces, this makes the product even more unique. But beyond achieving a wall covering that reflects personal tastes in color, texture, and pattern, it's worth remembering that anything you place in your home becomes a part of your story. And, if you want that story to feel true, it's important to choose brands that value authenticity. One way in which Fireclay positions itself as an authentic brand is transparency about aspects of its business—from the materials it uses to how it protects the health of employees. Chappell points to Cambria as a similarly authentic brand. She feels that the high design and unmatched durability of Cambria surfaces, the shared values of Fireclay and Cambria, and their shared commitment to sustainability make for a combination of products that would make any homeowner proud.
Next time you look around and feel the urge for a change of scenery inside your home, consider a statement wall. Whether you choose a reproduction of a classic wallpaper from an inspirational space you've seen; or an original, hand-painted design you have created with the help of expert artisans; or a handcrafted tile backsplash over your Cambria countertops that inspires you every time you walk into your kitchen, it's sure to give you a feeling of being where you belong. Nothing creates a sense of home like seeing your space brought to life by design that reflects your unique sensibilities.
---
Wall-American
Nine U.S. companies offering innovative wall covering solutions to suit your style.