Gourmet Grilling
Nothing says summer like grilling up the season's freshest and most flavorful produce
Written by AMANDA LECKY
Photography by STEVE HENKE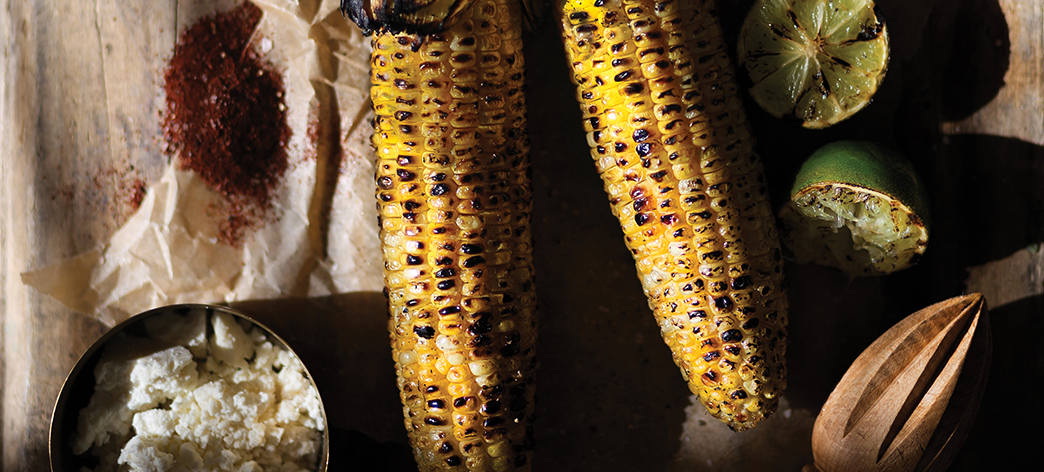 INGREDIENTS
Serves 4
4 ears of fresh corn
olive oil, to brush the corn
1 Tsp. chili powder
dash of salt and pepper
4 Tbsp. plain Greek yogurt or sour cream
 cup grated Parmesan cheese
 cup fresh cilantro, chopped
1 lime, cut into wedges
DIRECTIONS
Preheat grill to medium-high. Peel back the husks of the corn, but do not remove them; remove and discard the silk. Using butcher's twine, tie the husks together, creating a "handle" (see page 52). Brush or spray each ear of corn with olive oil. In a small bowl, combine chili powder and a dash of salt and pepper. Set aside. Grill the corn until nicely browned, about 10 minutes. Before serving, spoon Greek yogurt over the corn, sprinkle with the chili powder mixture, Parmesan, and cilantro. Serve with lime wedges on the side.
GRILLING TIPS
For the sweetest grilled corn, prepare it the same day you buy it, before the sugar in the kernels converts to starch. Rotate corncobs every two minutes as you grill them, to char all sides evenly.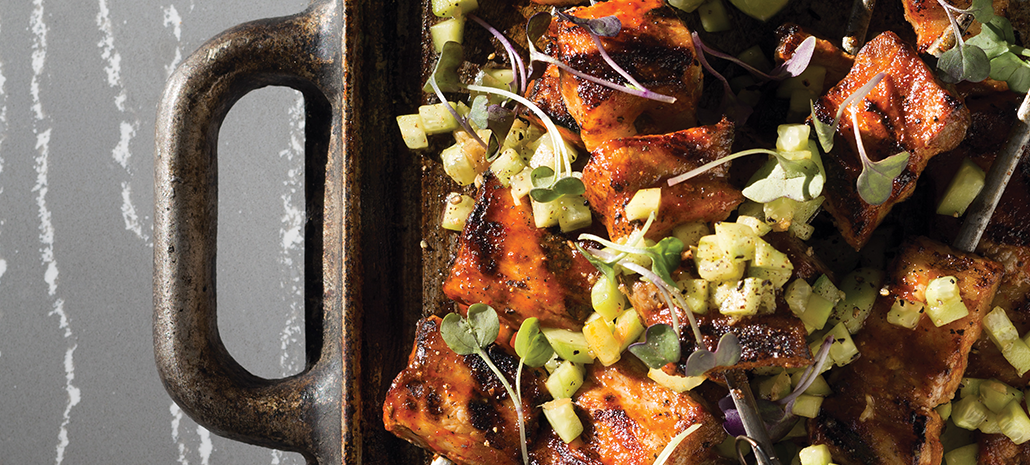 Sriracha Pork Belly Skewers With Cucumber Salad
INGREDIENTS FOR PORK
Serves 4
1 Cup Sriracha hot chili sauce plus extra for serving
1 Tbsp. extra virgin olive oil
2 lbs. pork belly, rind removed, cut into 1-inch pieces
Sea salt
Lime wedges for serving
INGREDIENTS FOR SALAD
Serves 4
4 Lebanese cucumbers (or 1 English cucumber), peeled, seeded, finely chopped
2 Tbsp. white vinegar
1 Tbsp. grated palm sugar (or brown sugar)
1 Tsp. grated ginger
Cracked black pepper
DIRECTIONS
Preheat grill to high. In a small bowl, mix Sriracha and oil. Set aside. Thread 6 pork cubes onto each skewer. Cook skewers for 8 minutes, turning regularly. Brush pork with Sriracha mixture and cook, turning and brushing twice more, for 4 minutes or until charred and cooked through. Make cucumber salad. In a small bowl, mix vinegar, sugar, ginger, and pepper. Whisk until sugar dissolves. Add cucumber and toss well. Top skewers with salad and salt. Serve with lime wedges and extra Sriracha.
GRILLING TIPS
Flat metal skewers will prevent your meat or veggies from rotating on the skewer as you turn them. If using wooden skewers, be sure to soak them in water for at least 30 minutes to prevent burning.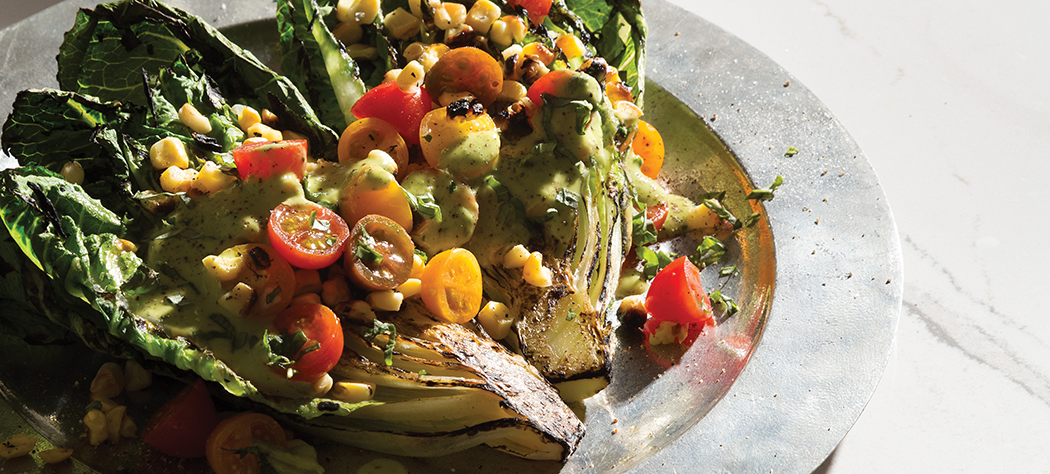 Romaine Salad with Creamy Avocado Dressing
INGREDIENTS FOR SALAD
Serves 4
Grape-seed or light olive oil, for brushing the vegetables and grill
2 Heads romaine lettuce, washed, dried, and cut in half lengthwise
3 Ears of corn, husks and silks removed
2 Cups mixed heirloom cherry tomatoes, halved
2 Tbsp. olive oil
1 Clove garlic, minced
Kosher salt and freshly cracked black
Pepper to taste
INGREDIENTS FOR SALAD
1/2 of 1 large avocado
Juice of 1 lime
1/2 Cup packed basil leaves
1/4 Cup olive oil
1/4 Cup water
2 Tbsp. apple cider vinegar
1 Clove garlic, roughly chopped
1/2 Tsp. Kosher salt
DIRECTIONS
Preheat grill to medium-high. Lightly brush the ears of corn and the romaine lettuce on all sides with the grape-seed or olive oil. Set aside. In a large bowl, combine tomatoes, 2 tablespoons of olive oil, and minced garlic; toss to coat, then season with salt and pepper to taste. Set aside to marinate. When the grill is hot, brush the grates with olive oil. Place the corn directly on the grill and cook for 8 minutes, turning regularly as it chars. Make the salad dressing. Combine all dressing ingredients in a blender and process until smooth. If the mixture is too thick, blend in water 1 tablespoon at a time; season with salt if needed. When corn is done, remove from the grill and set aside to cool. Add the halved romaine hearts to the grill, sliced side down, and grill for 3 to 4 minutes until slightly charred and wilting. Remove from the grill and arrange cut-side up on a large platter. Cut the kernels of corn from the cob with a knife, and sprinkle them over the romaine. Spoon the marinated tomatoes over the corn, discarding any juices that have collected in the bowl. Drizzle the salad with dressing and serve.
GRILLING TIPS
Before grilling lettuce (firm varieties like romaine, endive, and radicchio work best) rinse and dry well as damp lettuce will steam on the grill, resulting in limp leaves. Cut lettuce heads in half but leave the root ends intact to hold the leaves together as you grill.
PAIR LIKE A PRO
Certified Sommelier of sip better, an online tasting club, shares her favorite pairing.
With Corn
2014 Brewer-Clifton Sta. Rita Hills Chardonnay
To round out the flavors of the corn and its fixings, pair with this gorgeous Santa Barbara County Chardonnay. It's toasty, with hints of lemon curd and yellow apple. Creamy and delicious!
With Pork
2015 Broc Cellars Love Red
This Californian wine is just as its label describes: juicy and lovely with notes of bursting red and blue fruits and just a hint of tobacco. The perfect combination with pork.
With Romaine
2016 Garcés Silva Boya Pinot Noir Rosé
For a refreshing pairing, match avocados and grilled romaine with this light Chilean rosé from the Leyda Valley that boasts notes of cherry, strawberry, and tangerine.