Going Off Script
AT HER EAST HAMPTON HOME, MAXIMALIST DESIGNER SASHA BIKOFF HAS A CLOSE BRUSH WITH MINIMALISM
Written by JORGE S. ARANGO
Photography by WILLIAM WALDRON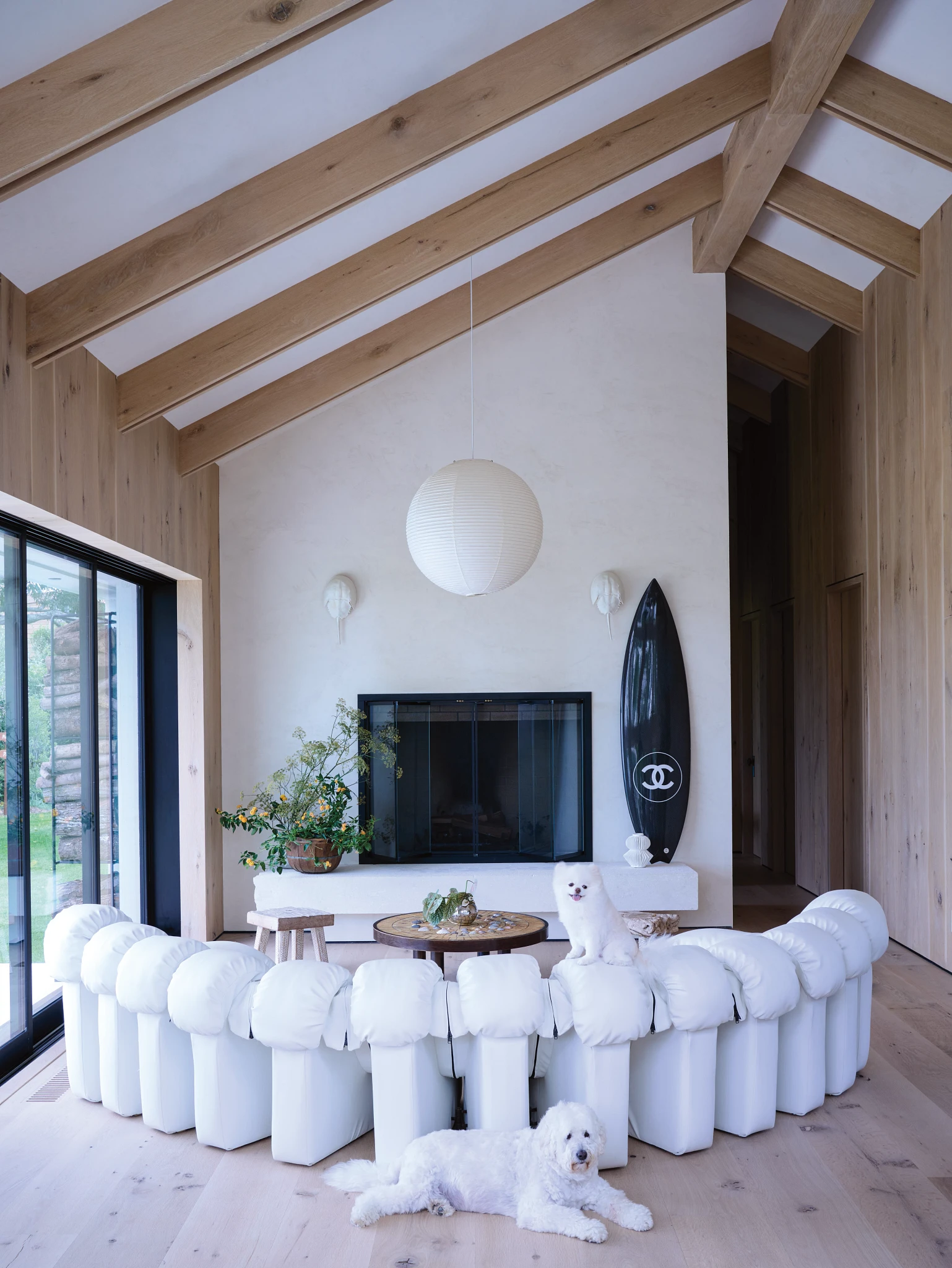 "I'm a Gemini," declares designer SASHA BIKOFF. "I live my life in a duality."
As evidence, she cites the polarity between her Greenwich Village apartment in Manhattan and her East Hampton getaway in the enclave of the Springs. "In the city I live in a landmarked townhouse with a very English turn-of-the-century kind of style, like a cabinet of curiosities sort of vibe," she explains. This interior—awash in pink and chock-full of eccentricities (an ornately painted carousel horse, Campana Brothers Zig Zag chairs, butterfly wallpaper)—hews more closely to the outré style that has distinguished her career.
"But in the Hamptons, I'm my nature girl alter ego," she continues. "There I'm paddleboarding, fishing, swimming. I always have sand on my feet and a wet bathing suit on. It's a bohemian lifestyle where I get down and dirty." To that end, Bikoff asked architects Michael Foley and Cassandra Perez of PLOT-1 to design a pair of modern barn-like structures with high-pitched roofs (the reference for the latter were the region's old stone churches) connected by a large deck.
The resulting architectural envelope of "simple but dynamic materials" such as white oak and Japanese plaster stopped her maximalist impulses in their tracks. "I wanted to challenge myself by practicing restraint," she says. "I didn't want to detract from those materials." Instead, she set out to create what her friends call "Aman Sasha," after the famously serene hotels.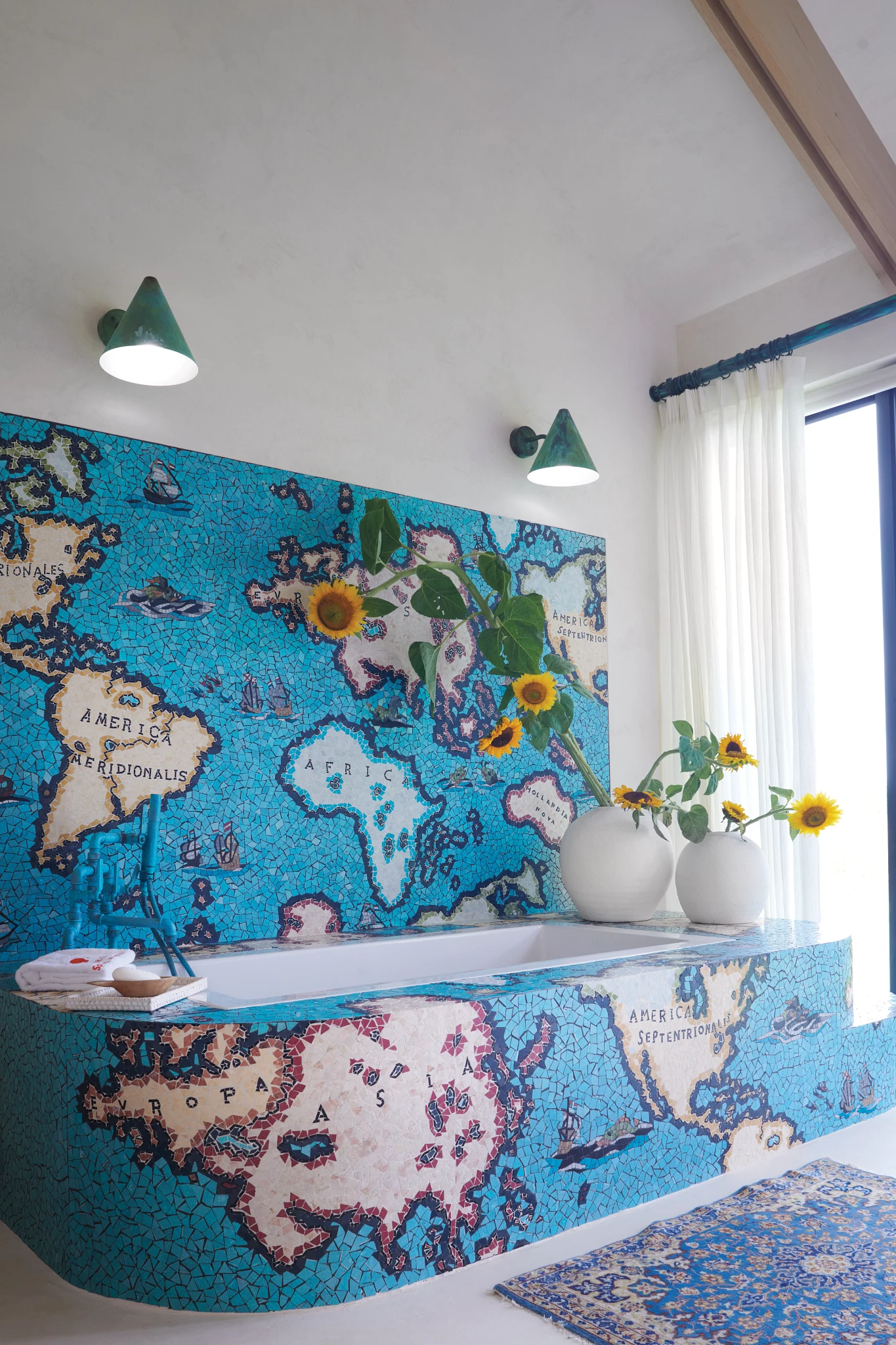 Bikoff's 16th-century Dutch map mosaic-covered tub in the primary bedroom.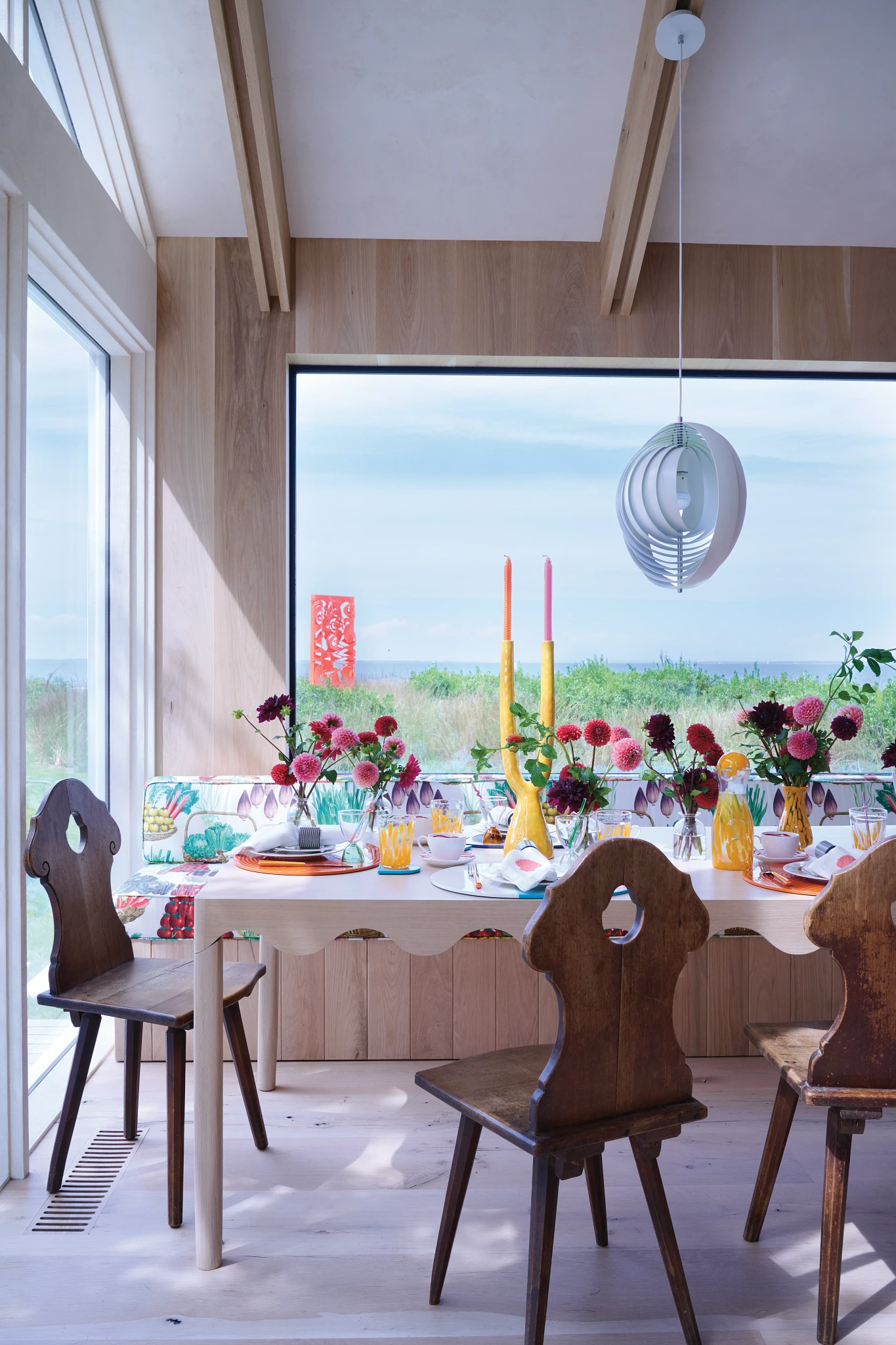 The dining room's eclectic mix includes antique New England boarding school chairs around a custom table inspired by Royère under a Verner Panton pendant lamp.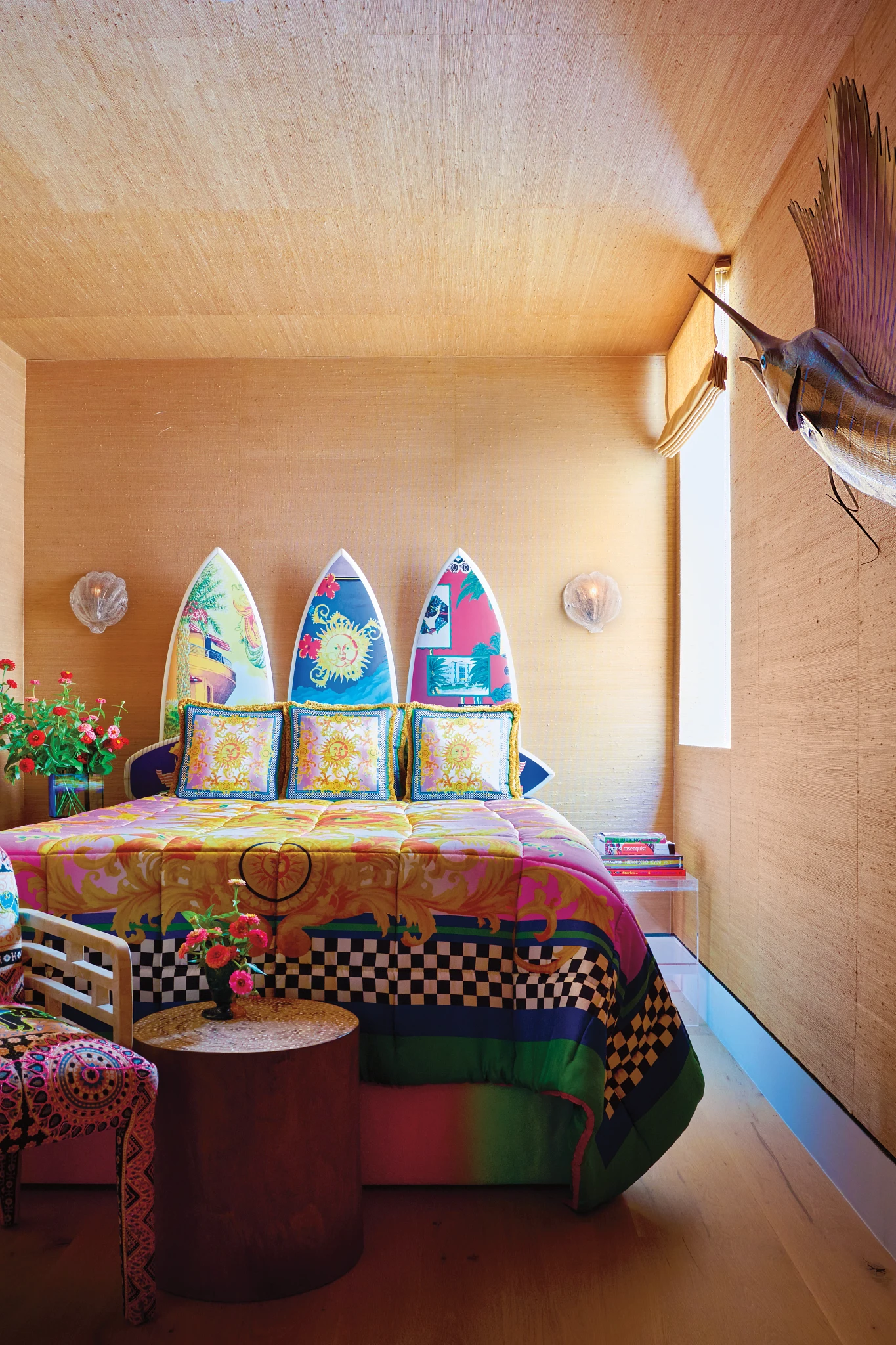 A grass cloth–wrapped guest room boasts a Versace surfboard bed and linens.
Of course, she did allow herself what she calls "my 'boop' moments," flashes of color or eccentricity here and there. These include a bathtub actually in her bedroom covered in a mosaic reproduction of a 16th-century Dutch map (part of her collection for New Ravenna); an Indonesian bed by the pool; a guest room bed with a surfboard headboard from her collaboration with Versace (and a taxidermy sailfish she caught herself on the wall); cast resin horseshoe crab sconces, and a 1960s Roger Capron tile-topped table in the all-white living room.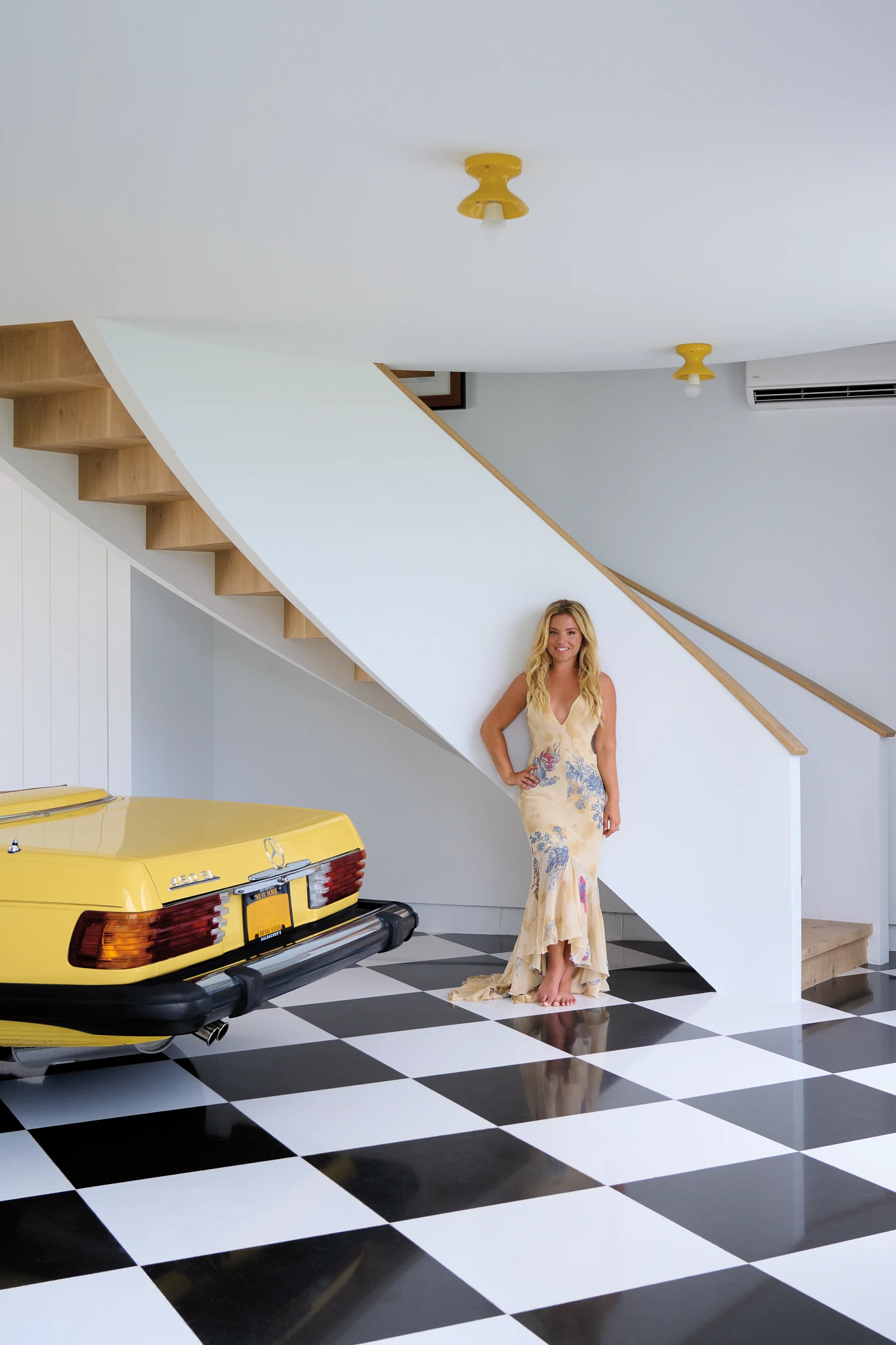 Designer Sasha Bikoff in her garage with a dramatic black-and-white Cambria-tiled floor. Cambria designs shown: MINNESOTA SNOW™* and Montana Midnight™*
But while her "boop" moments add pop and glamour, they are calibrated within a larger context of the nature-loving narrative she is telegraphing. Take her 1975 canary yellow 450 SL Mercedes. "I consider it a piece of art," observes Bikoff. "I've had it since college, and I wanted a great space for it. But that space had to be multifunctional too." So, Plot-1 created a two-story structure, the ground floor of which boasts a checkerboard floor made of Cambria MINNESOTA SNOW* and Montana Midnight* tiles.
"It's always been my dream to have a black-and-white diamond-patterned floor," she says. "It feels very classic American. It's dramatic but doesn't detract from the natural ambiance of the house because it feels appropriate to the time when houses and churches in this area would have been built." True to her aim, she can roll the Mercedes out and hold a party in the "barn" (serviced by a lemon-merengue yellow kitchenette in the upstairs guest suite). She has also had yoga classes there and used it as a painting studio.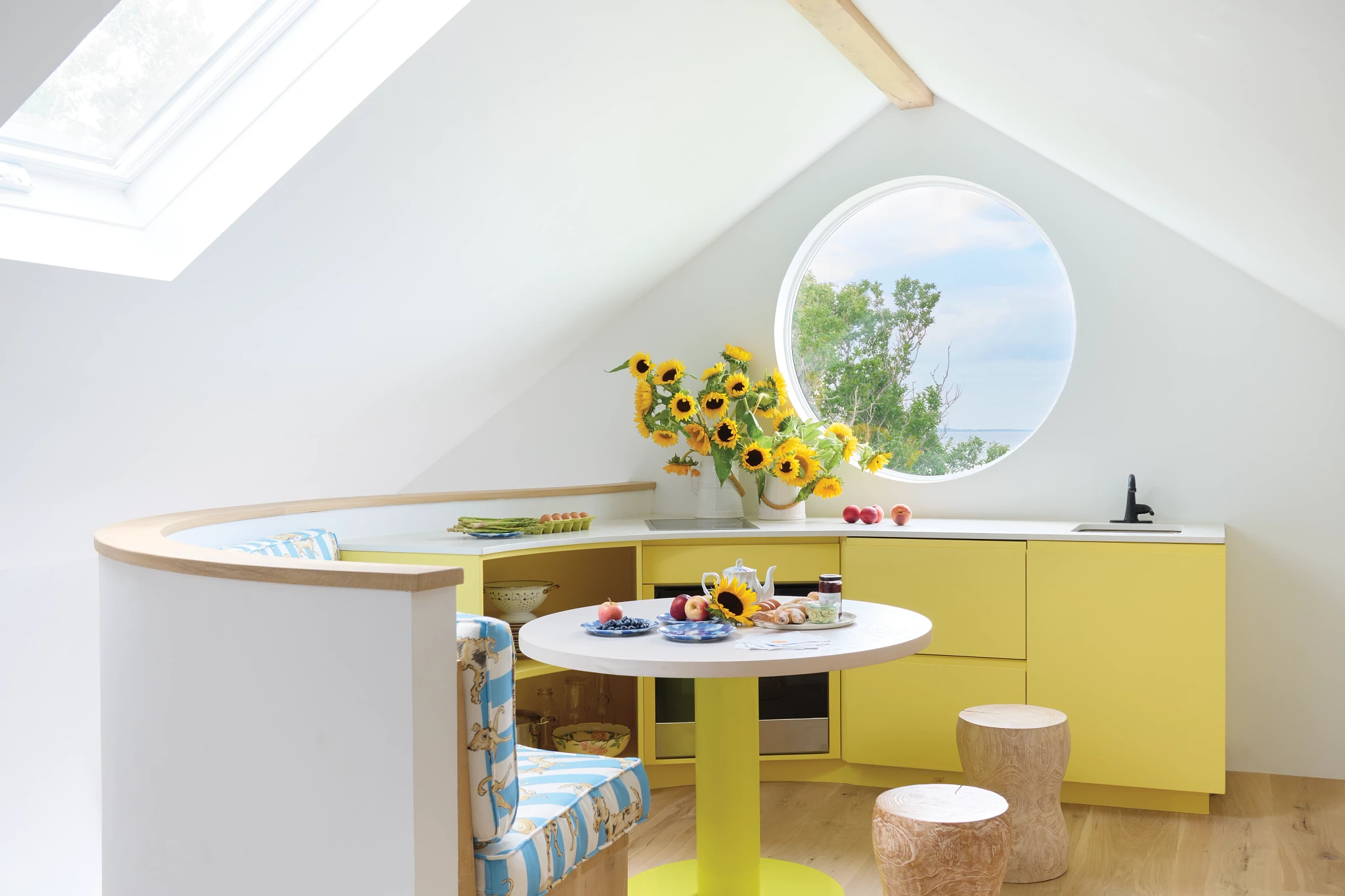 Bikoff collaborated with St. Charles Kitchens on the guest suite's lemon-colored kitchen. A round window was at the top of her wish list for the house.
"As a designer, I'm continually trying to challenge myself and create new ideas from my old ones," Bikoff says. "Normally I'd create a narrative and just keep adding layers. Here I knew that rabbit hole would be dangerous."