Global Chic
Cambria Style Editor in Chief LouAnn Berglund connects with designer Svetlana Ryseva to discuss her featured project in Tyumen, Russia, as well as international design trends
Written by LouAnn Berglund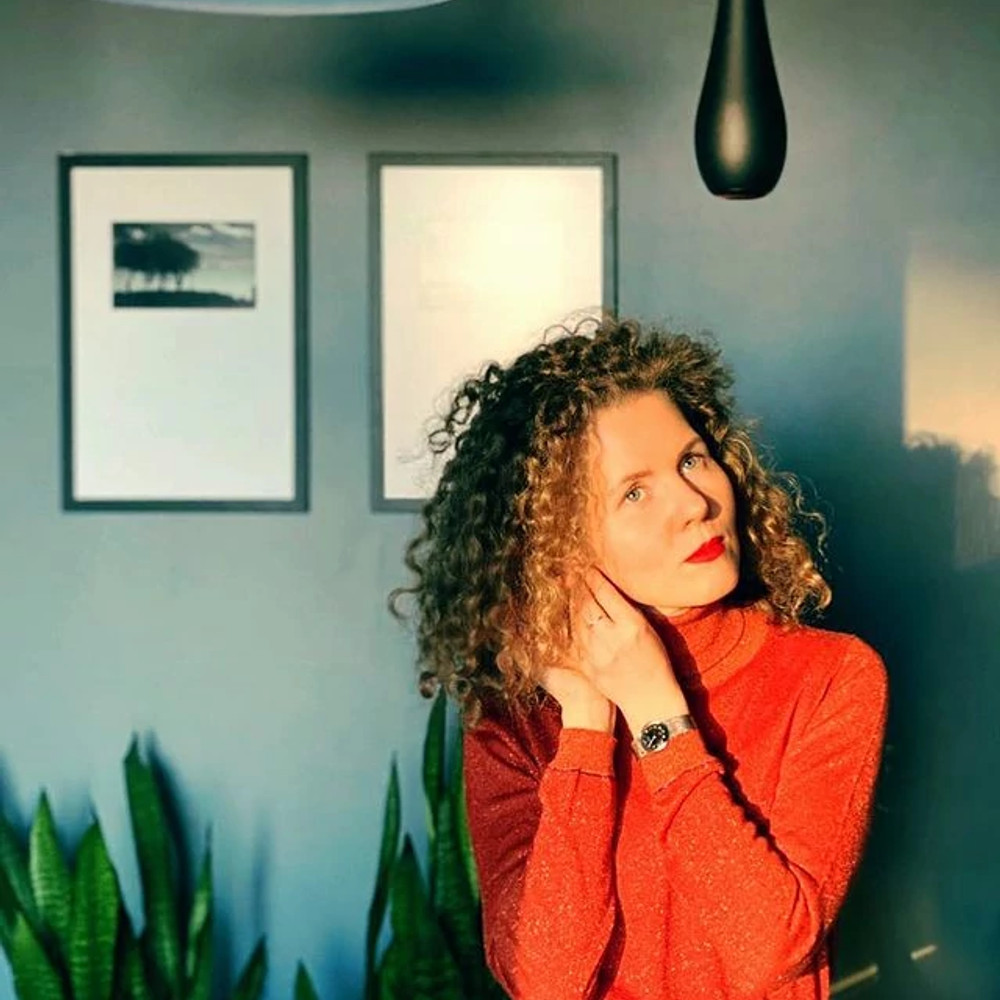 Cambria Style: What inspires you when you are creating a space?
Svetlana Ryseva: It all depends, really. If I'm working on an individual interior design project, then I get inspiration from the customers themselves, their different personalities and characters, their desires, passions, and interests. When I'm doing a public space, I'm driven by the possibility of making a statement, expressing myself, and being brave about it.
CS: What design movements or designers do you look up to?
SR: I follow world-renowned designers such as Pierre Yovanovitch, Kelly Wearstler, Studiopepe, etc. with great enthusiasm. However, I'd also like to give credit to some Russian designers, who are of great interest to me too: Supaform, Rim, Eduard Eremchuk, Olga Engel, Irakli Zaria.
CS: What is your favorite design style?
SR: I like all modern and contemporary trends and tendencies in design, so it's very difficult to put my finger on one. Recently, I've become really interested in everything that Six N. Five studio does.
CS: What do you see as the main differences between Russian and design styles in the United States?
SR: I think nowadays it's very difficult to identify a pure Russian style, or any other country's style. People are traveling more and more now, all world cultures overlap, and countries are getting closer to each other (obviously, I'm not talking about geography and politics here), we all use the same media tools. I think Russian people have become a bit estranged from their traditional culture in everyday life. They easily absorb new tendencies from abroad, although right now the mid-century style is in fashion, and Russians are not keen on this as they want their interiors to be disconnected from their own past and the history of their country, so they prefer them to look new and fresh. Of course, I'm not speaking for everyone here, and don't want to generalize. There are always exceptions, like cosmopolitan and eclectic trends. In my view, Americans are more inclined to refer to their past experiences or the past of their country, which is quite recent from the historical point of view. I think in their everyday life American people are more considerate with things that have a story behind them, they have more understanding and are more appreciative of them. Russian interior design is still looking for its own style, and is very much influenced by constructivism. On the other hand, it's a bit reserved and restrained: the colors and the forms are all there, but it lacks an emotional quality to it. I am speaking in generalities here. This doesn't concern the Russian designers and their works I mentioned above.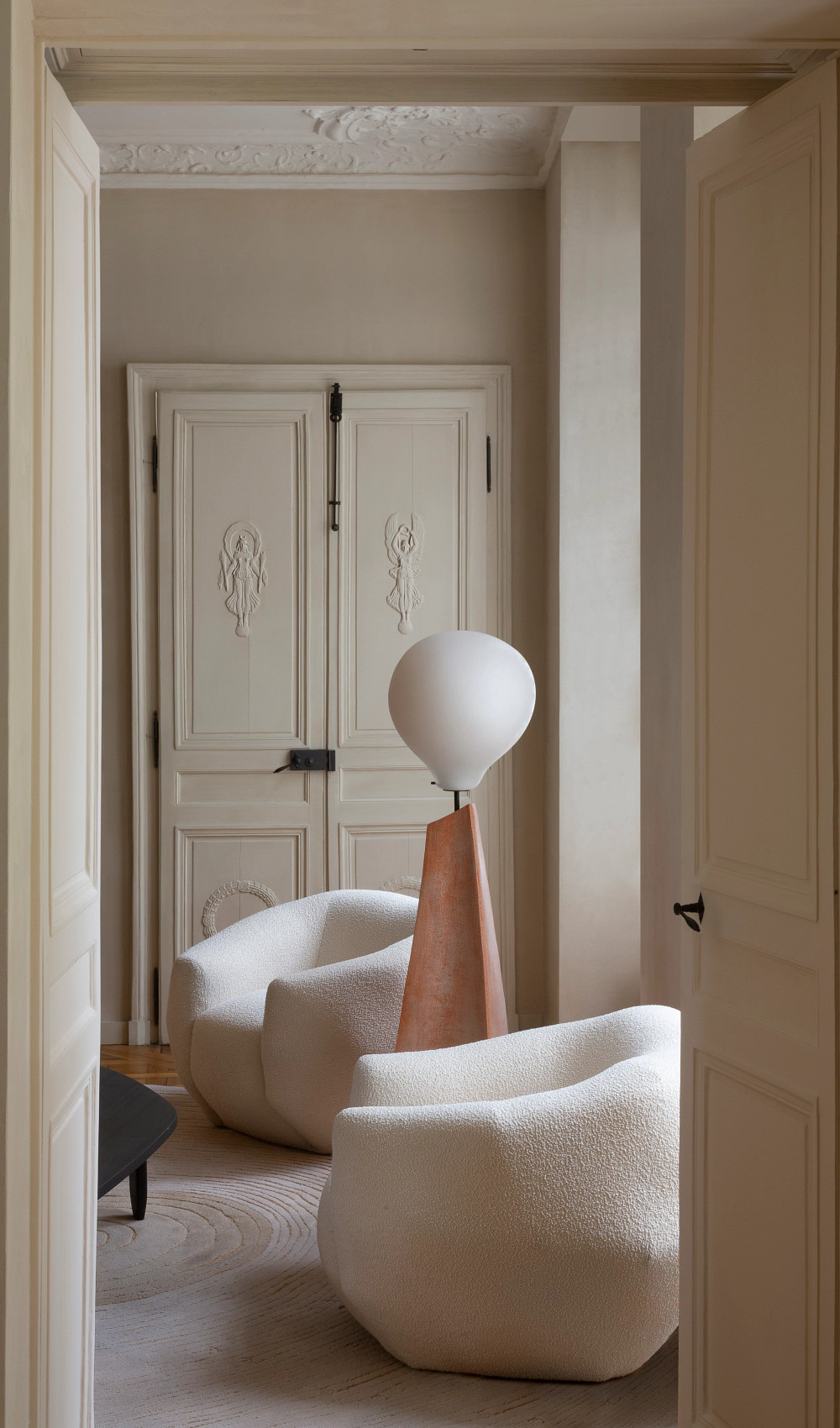 Ryseva is inspired by designers like Pierre Yovanovitch and Olga Engel.
Photography by Jean Pierre Vaillancourt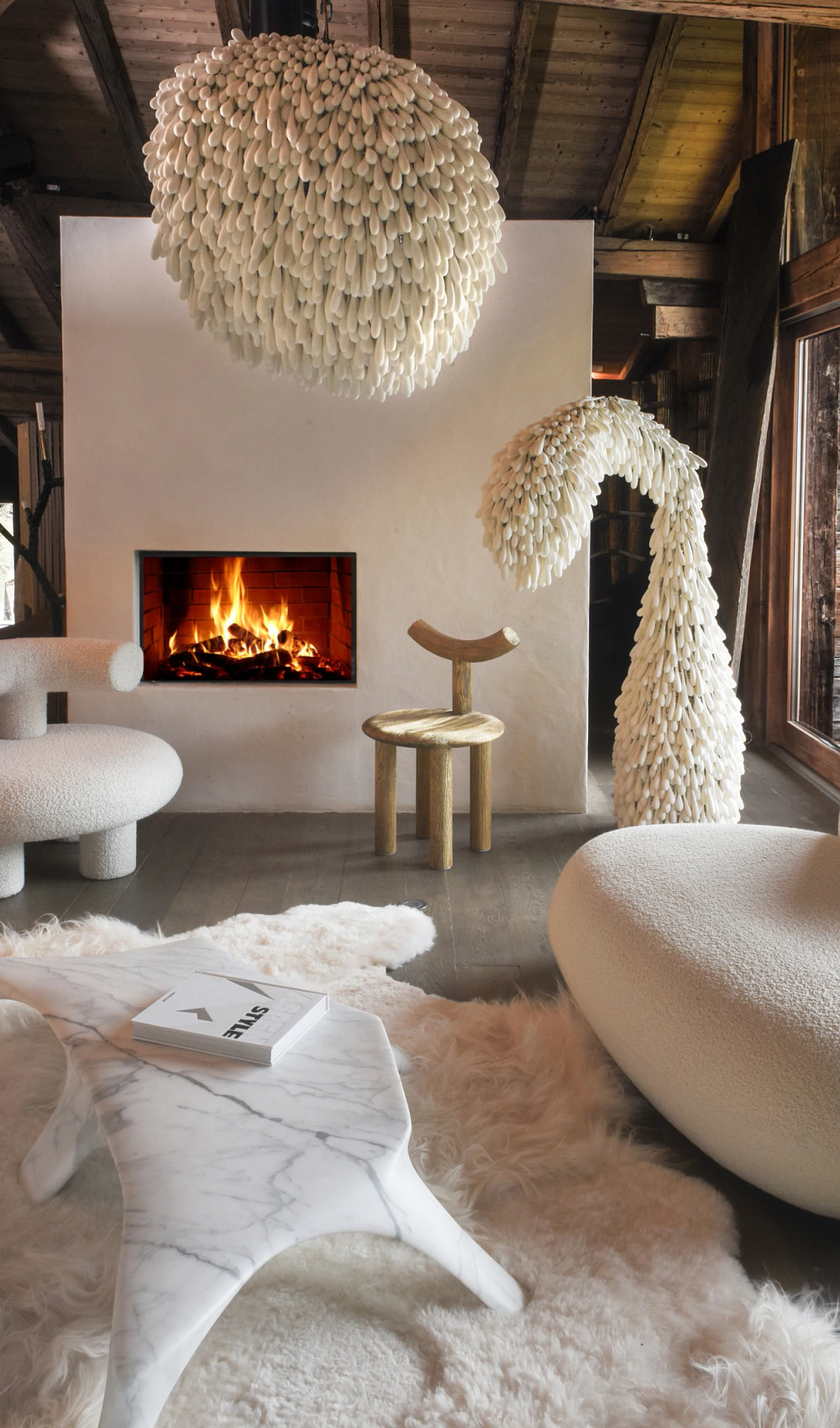 Photography courtesy of Olga Engel
CS: Share with us your inspiration for the color palette for your Tyumen project.
SR: When I was surfing the [Internet], I came across this [picture of a red fan parrot] and a couple of works by Amoako Boafo, an artist from Ghana. That's when I thought of my clients—it all fully reflected their personalities, even though they might seem like very calm people when you first meet them.
CS: What is your favorite space in the home?
SR: My favorite would be the bathroom in the master bedroom. It came out very intimate and suits all needs: it feels good to get ready for the day in the morning, yet equally calmly prepare for sleep at night in there.
Ryseva's Tyumen design project bathroom. Photo courtesy of Studio Lynx
CS: What was the biggest challenge in designing this project?
SR: The customers proposed only a limited brief. It just so happened that they'd had their third baby by the time the work on the design began. Therefore, the main task from the clients was to allocate three separate rooms for each of their two daughters and their newly born son, as well as a separate area for arts and crafts, along with a laundry room, a pantry, and a large walk-in closet in the hallway. There are four bedrooms in the apartment (one master bedroom and three kids' bedrooms), one common space (the living room), and the kitchen.
CS: What was the overarching design theme of this project?
SR: It is the colors. They are quite unusual for the interiors of this particular city, where it is usually dull and lacks a lot of contrasts outside the window for almost seven months of the year.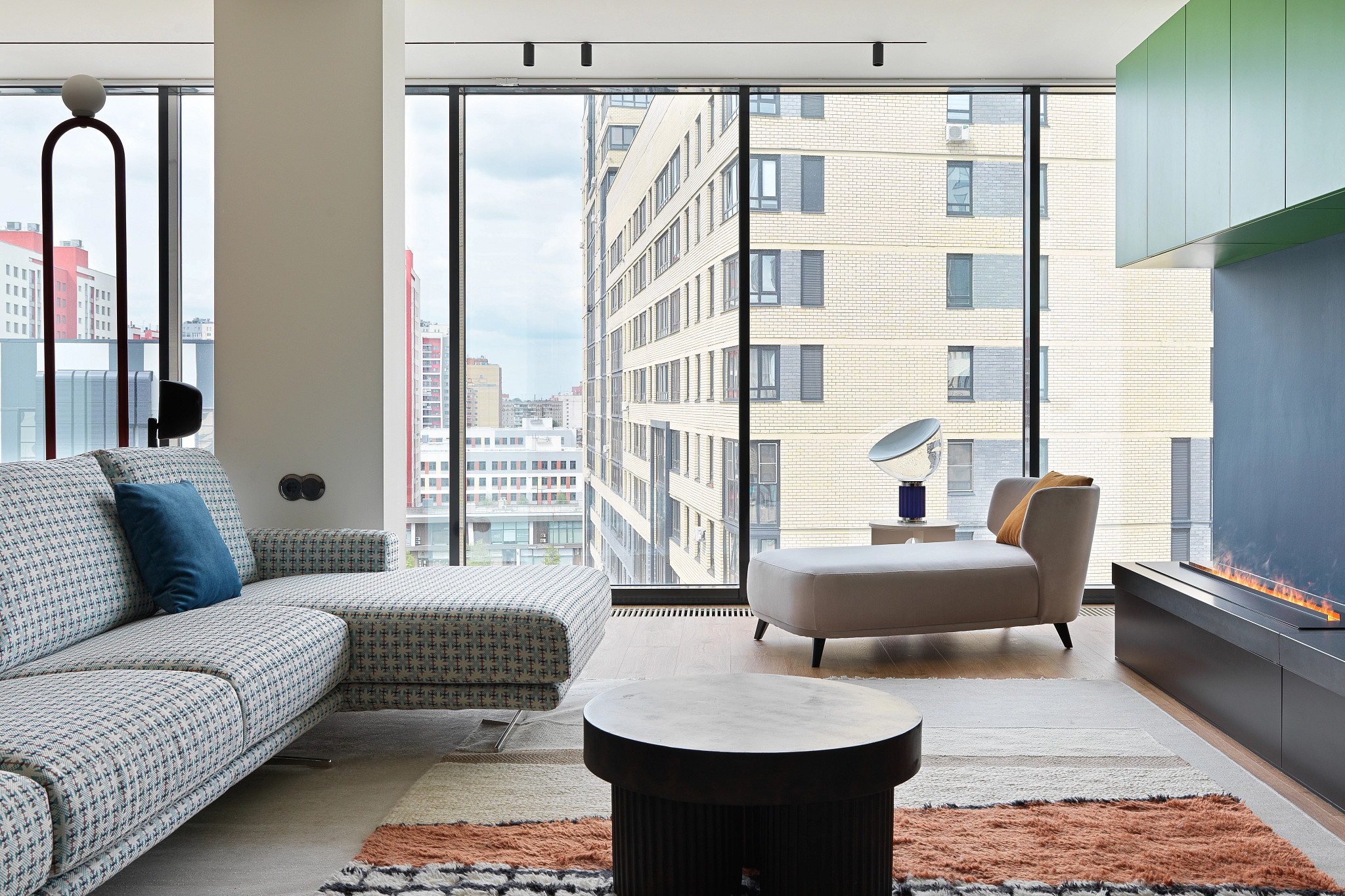 Color in Ryseva's Tyumen design project family room amplifies the contrast to the home's more muted views. Photo courtesy of Studio Lynx
CS: What, if any, design elements did you try to carry through the entire project?
SR: All along working on this project, I was trying to maintain the color, to balance it out, to be in agreement with it, not to overdo it, but not to begrudge it at the same time. Also, I wanted to give the project an impulse and energy for many years to come.
CS: The living areas and personal areas have a different energy for the adults—they seem a bit quieter. Can you tell us about that?
SR: Most of the walls of the apartment are painted, only in the girls' rooms and the master bedroom is wallpaper used to achieve more intimacy.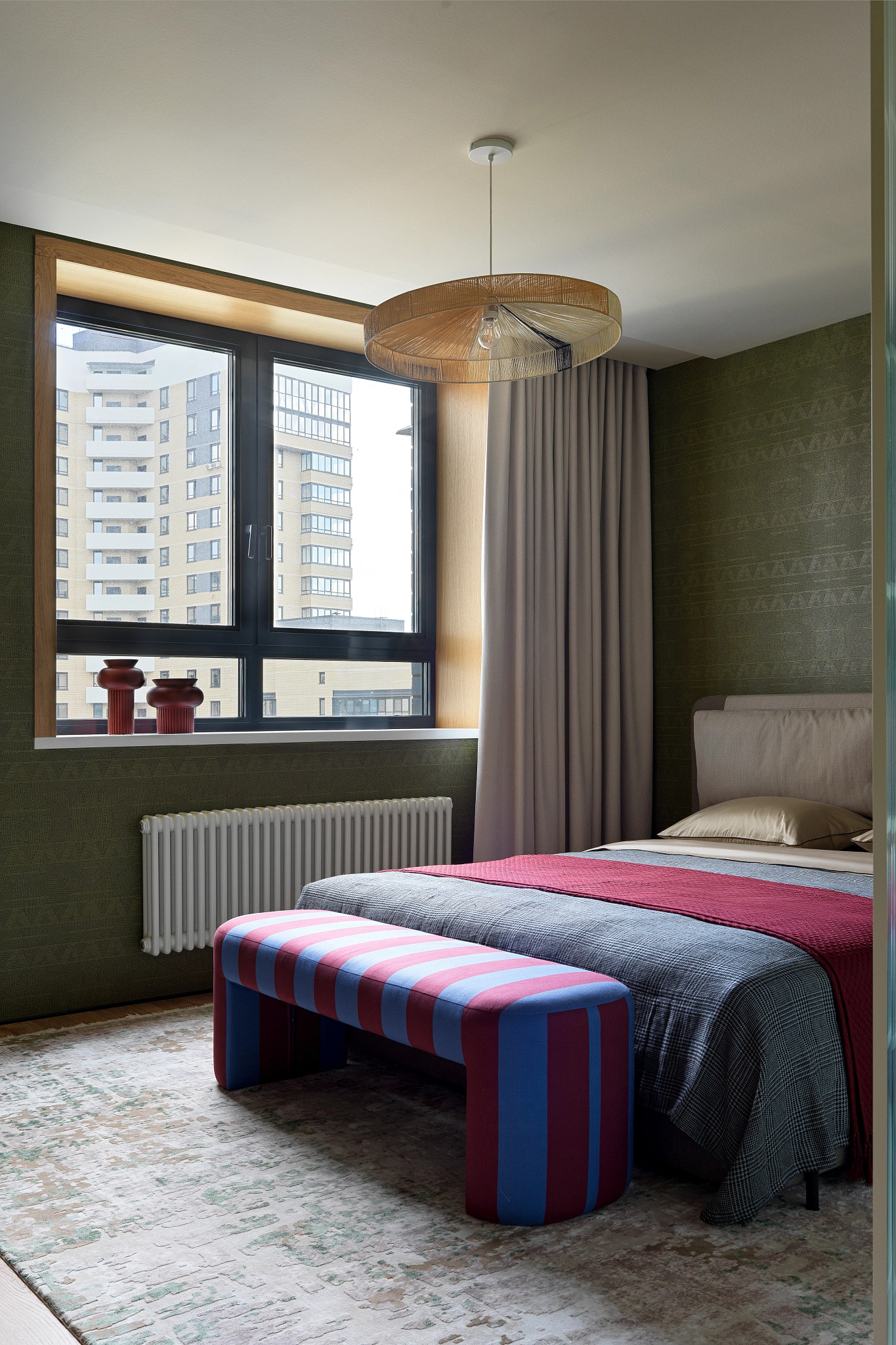 Wallpaper adds a sense of intimacy in Ryseva's Tyumen project master bedroom. Photo courtesy of Studio Lynx
CS: It sounds as though with an active family, durability was a very important aspect when choosing materials. Can you tell us about why you chose some of the materials you did to ensure they were a good fit for the family's life?
SR: As a floor covering, the customers persuaded us to use quartz and vinyl, referring to their young children and their many exploits.
CS: As a designer, what are your favorite benefits about Cambria?
SR: I love the textures—they are fascinating. They are memorable and inspire positive feelings.
CS: Rose Bay™ by Cambria is a very graphic and bold design. Can you tell us what drew you to that design for this project?
SR: For this project, I was looking for something that would surprise and impress me personally, that would draw my attention too. The more so because I wanted to re-create the brushstrokes from the Amoako Boafo works (as he painted people's figures with his fingers) in one of the textures in the project. When I saw Rose Bay it was like a wow factor—that was exactly what I needed!
CS: What are three things that may surprise people about interior design in Russia versus interior design in the US?
SR: There are a lot of monochrome projects in Russian designs. You get white ceilings in most of them in spite of the wall colors, and they lack items with a history. In American interiors, almost all the kitchens have an island (it's a very important element for American people, I think). Also, American projects are filled with big space-consuming sofa-units and armchairs, which is not typical for the Russian ones.
CS: Can you tell us about any trends you see happening in interior design?
SR: Apart from sustainability and recycling, I see a surplus of items which are just functional and pretty. It's not enough anymore, moreover, it's not important anymore. People want emotions from their interior objects, from the interior itself, from what surrounds them, they want to be among immersive installations, they want to be the main characters, to play the main part in the unfolding scenes. Therefore, the items that are less functional, but that are more art-like can bring interior design to the next level. I like where the world of design is heading to, and it is doing it at a very high speed, and I'm excited about it and excited to take what it has to offer to me. Design will save the world!/
You can read the FULL STORY HERE about this home designed by Svetlana Ryseva of Studio Lynx.